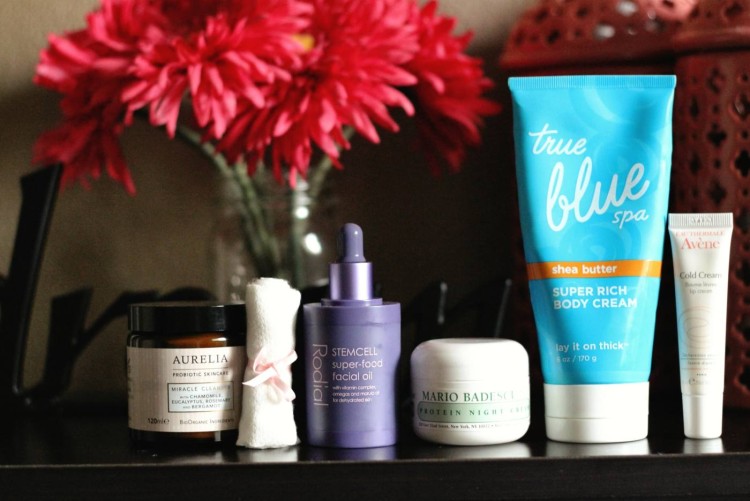 I don't know about you all, but I am one of those people who enjoy the cold weather. In Southern California, cold weather is almost a bit of a rarity.  I know, I know.. However although I am a huge fan of the cold weather, my skin is not a fan so much of the cold weather- at all!  After many weeks of wishing for cold weather, I finally got my wishes taken care of; and let me tell you- the skin is not so happy. The freezing cold Santa Ana winds are piping into high gear, and wind burn and dry skin are kicking things up a notch. I figured after a few days of dry, semi starting to flake skin; it was time to bring out the big guns. Ladies and Gents it is now time for a bit of Cold Weather Beauty Essentials…
Cold weather, moisturizers- its a done deal. They go hand in hand like Peanut Butter & Jelly.  I know cheesy reference. Where oh where to start? A moisturizing cream cleanser packed with essentials oils and lovely scents of bergamot, chamomile, eucalyptus, and rosemary
Aurelia Probiotic Skincare Miracle Cleanser
**- $53 USD- is hands down one of the most ah-mazing new skincare products I have tried. My uber-dry skin is literally drinking this product up. This creamy cleanser is seriously phenomenal. This cleanser seriously is life changing on the face. Skin is soft, smooth and with probiotics this cleanser does such wonders to the skin. Soft, supple skin- check!
Topped with a nice light layer of
Rodial Stemcell Super Food Facial Oil
– $80 USD- for some extra added oomph. A unique blend of antioxidant, Vitamin A, B5, C and E this beauty oil packs a serious punch. A few drops of this oil on the skin, and instant hydration and moisture- check! Lathered with the final layer of SOS beauty- bring in the big guns for the added moisture overnight with
Mario Badescu Protein Night Cream
– $20 USD. A nice dollop of this moisturizer and skin is soaring into high moisturizing gear. Intense moisture packed with Vitamin A and D, this moisturizer is phenomenal on the skin.  A bit of collagen thrown into the mix and this moisturizer helps even the skin tone, add hydration, and plump the elasticity.  Triple moisturizing match-check!
For the body I have been topping the skin with
Bath & Body Works Super Rich 'Lay it on Thick' Body Cream
– $20 USD. This ultra rich, Shea Butter infused body cream has been keeping my limb in tip top shape.  Lip-wise I have been turning to
Avene Cold Cream Lip Cream
– $16 USD.  This lip product has been keeping my lips chap-free and nourished even on the windiest of days. Ultra thick, it layers the lips beautifully and keeps them hydrated for hours -dayum.  As I am writing this, I am ready to get all moisturized and hibernate in moisture for the rest of the year. Cold weather I am ready for you, I have my cold weather beauty essentials ready- bring it on!
**PR Sample