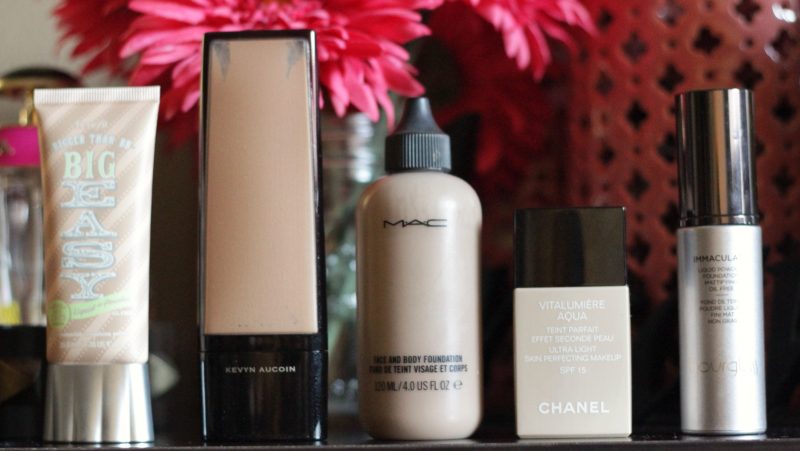 Let's talk about foundation! I have never been one to love foundation, to be completely honest. I have always felt like I was wearing a mask when I wore foundation, so I started my makeup journey with a powder fascination. But through time and shifting into tinted moisturizers to light-weight foundations to heavy duty foundations- and now I am official foundation convert. Funny how things change… Since I have come to love foundation especially on those no-makeup looking days, I have learned to appreciate it and how it can take the skin from drab to fab with a bit of foundation magic. Here are a few products that I have been loving lately, time for Covering the Bases: Foundations & Tinted Moisturizers…
Starting with the least amount of coverage of the bunch- Benefit Big Easy– $38 USD,  this product is a liquid to powder like finish. Light and airy on the skin and literally helps bring a bit of oomph to the skin within seconds. The product melts into the skin like a dream cream. I have found that you can also use this as a primer, to help prep the skin for a bit more coverage. Hands down loving this product lately.  Next up is Kevyn Aucoin The Sensual Skin Tinted Balm– $48 USD, this is a bit more coverage yet still in the light-weight on the skin. Treats, protects and tints the skin with the utmost  dreamy buttery like texture.  This tinted balm conceals imperfections and is just dreamy. I am super obsessed with this tinted balm as it calms the skin, helps induce a delay in aging and increase cell longevity. Simply AMAZING!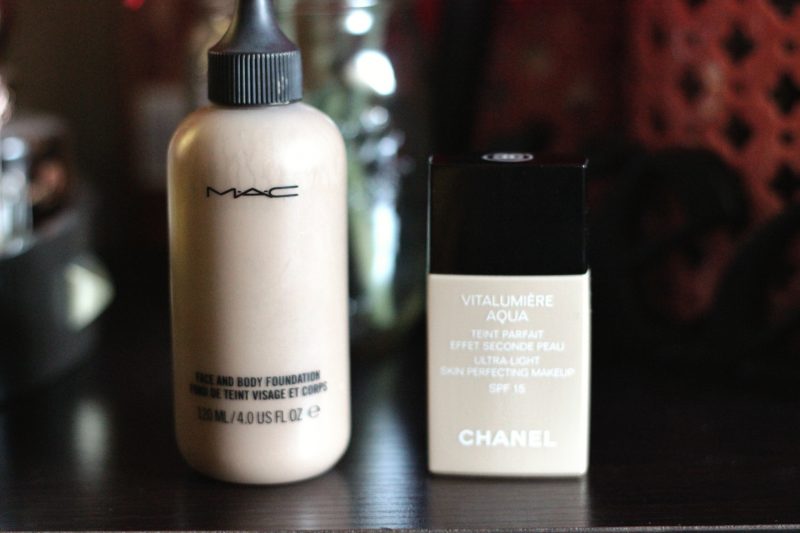 Moving forward to the light to medium category in foundations- first up in a long time favorite. MAC Cosmetics Face and Body Foundation– $27 USD, is a solid light to medium coverage that is build-able on the skin. I love that this foundation you can add layers without it ever looking creasy or cakey on the skin. I have found that this is actually a long lasting foundation that is also pretty water resistant- perfect for those ultra hot months. Being as it a makeup artist kit favorite this foundation is a staple in my makeup stash. Next up is Chanel Vitalumiere Aqua Foundation– $45 USD, this is one of those foundations I absolutely adore. Light on the skin, with a medium dewy finish. It enhances your natural beauty of your skin, and literally just allows skin to breath but makes it look just stunning. A light water based foundation this Chanel foundation is one of my absolute favorites. The staying power is not all day wear, and you will need a bit of touchup action during the day, but it is seriously a great foundation. Light and fresh on the skin and a must have for those beauties that love a dewy finish.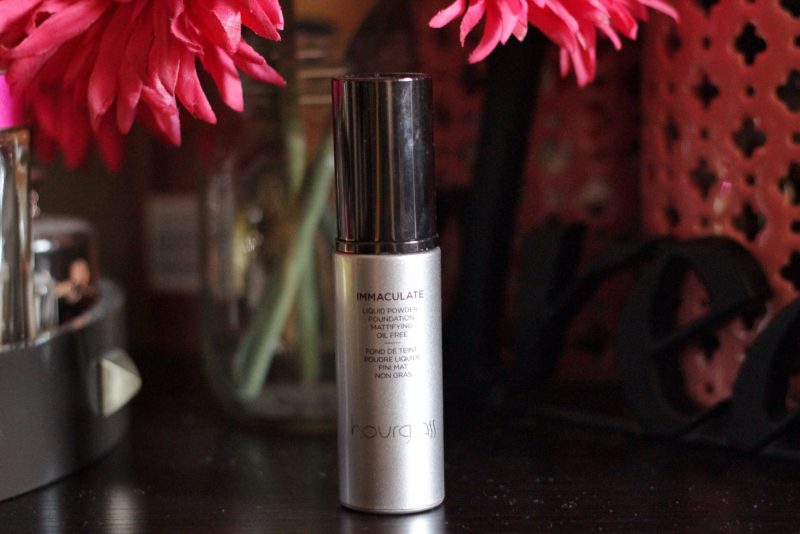 Last but not least a full coverage foundation in the mix. Hourglass Immaculate Liquid Powder Foundation– $55 USD, hands down a MUST have! This foundation is seriously phenomenal especially if you are  oily skinned babe. Absorbs oil, blurs imperfections and delivers a gorgeous velvety-matte finish on the skin. Stunning! This is my serious go to foundation on those nights when I am going out, or when my skin needs a bit of extra oomph to it. When applied to the skin, this foundation immediately transforms skin into a gorgeous canvas. On the days that I want a full coverage but with a bit of a dewy finish, I have been mixing a bit of Big Easy into the mix and let me tell you- AMAZING results. I am obsessed!
So there you have it, a few of my favorite foundations that I have been loving lately. Covered the bases from BB to tinted moisturizer all the way to full coverage.  What are your favorite foundations and tinted moisturizers, I would love to know?