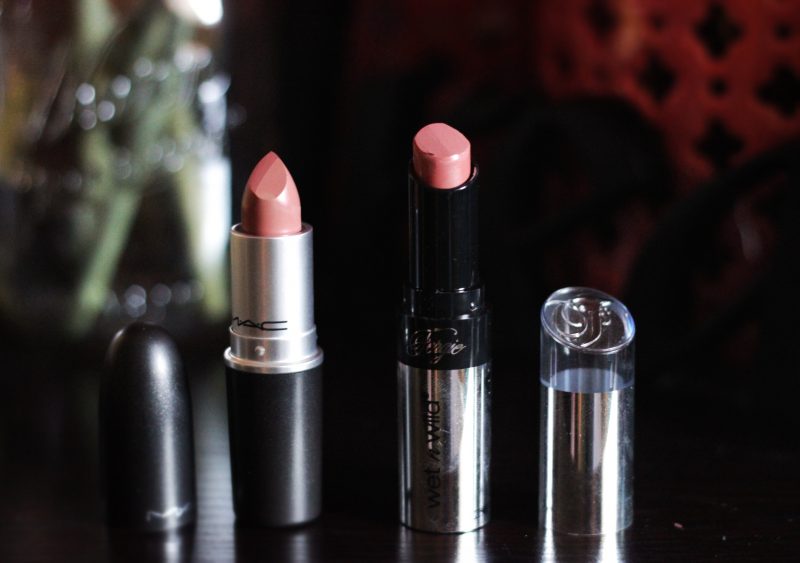 Weekends usually consist of the usual nights out with my friends. My usual go to look for a weekend night out with my girls, is a solid nudeish pink lip. A bit of a neutral bronze eye paired with a nudeish pink lip, has been my go to for years. This week's installment of High vs. Low Beauty is an ode to my favorite lip trend-a your lips but better lip. So keep reading as we explore a MAC Dupe: Velvet Teddy…
A perfect pinkish-nude shade that literally looks phenomenal on everyone. Not too pink, not too nude but a just perfect shade of natural lip color. MAC Velvet Teddy– $16 USD, is a deep tone beige, matte lip color that literally is the epitome of natural looking lips. Two parts creamy, and equally gorgeous this shade is one that will always be in my makeup arsenal- I admit I have backups.  Like many of us MAC lipsticks have been a key in our makeup collections for quite a while- we have all have the overly pink lip phase, and of course the opalescent lip phase- however as time grows, I am finding I seek a simple, nudeish pink lip. So when I was out recently at the drugstore, and saw the perfect dupe- I knew I had to share.
Upon first look Wet-n-Wild Bebot Love– $2.99 UD, looks a bit more pinkier than MAC Velvet Teddy. However when swatched this shade is the perfect pinpoint of pinkish nude. The color is a tad bit deeper in the beige when applied to the lips, although it seriously matches my lip color almost exactly- and let me tell you. It is a solid people pleaser.  The formula of the Wet-n-Wild shade is long lasting with some serious stay time. Not as matte as the Velvet Teddy, however it has a slight subtle ounce of oomph enhancing sheen.
The color reminds me of MAC Brave mixed with the brown-y tones of Patisserie. Simple, stunning and gorgeous on the lips. Lip enhancing, perfect for both day and night- you can't really go wrong.  A subtle neutral glow on the lips. I think I call this the perfect pop on shade and another dupe success!  Have you tried Wet-n-Wild lipsticks?