This post has been sponsored by Madam C.J. Walker Beauty Culture, all thoughts and opinions are my own.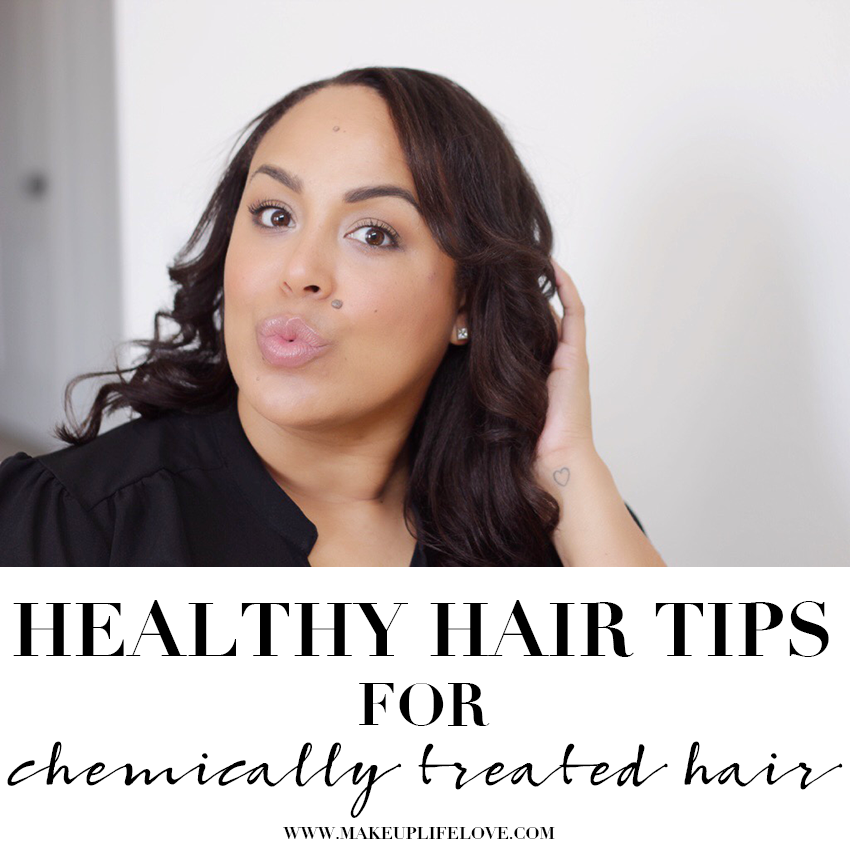 Let's chat a bit hair today, shall we? Hair- is just one of those things that can be your best friend or it can be your worst enemy. I know for me, it is a solid toss up as there are days that I wake up immediately and know it will be a "GREAT hair day". However, there are those days I wake up and hate everything about my unfortunately unruly, damaged locks. So with that being said, today I have gathered some of my favorite hair tips and tricks that have worked for me when managing chemically-treated  hair.
You're probably wondering what exactly chemically-treated hair is, right? Well it can be a variety of things that count as "chemically-treated" such as highlights, hair dyes, perms, and chemical straighteners such as a relaxer. In my case I have chemically-treated relaxed hair, meaning I chemically change my hair's texture, and overall look every so many weeks via a salon visit. I have been doing this for quite many years now, as my hair in its natural state is very curly and coiled. I used to spend hours, upon hours flat ironing and straightening my hair and the moment I would get sweaty or the weather turned- poof- there went all my hard work. So I made the decision to alter my hair texture in a manner that works for me. Now flat ironing is much quicker and my hair doesn't freak out the second it seems a bit of humidity or weather change.
With all that being said, I have gathered along the way some very useful tips and trick that seem to help my hair both feel and look healthy.  I am by no means an expert, as these are just things that work very well for me. What are some of your favorite products.. I'd love to hear about them! Let's just right in…
TIP 1: DITCH THE (DAILY) SHAMPOO
While many people HAVE to wash their hair daily, us gals with damaged, dry, color-treated or chemically-treated hair NEED to lay off washing daily. Studies have proven that washing your hair daily can be super drying to your hair and it can strip hair from it's natural oils (the ones you want- TRUST).  Since I do chemically-treat my hair, my hairdresser recommended washing my hair once weekly, maybe twice if my hair really feels to need it. In between days or after workouts, I use dry shampoo. I can honestly tell you, that NOT washing my hair daily has really cut back on having dry ends and breakage.
If you are wondering what a great dry shampoo is, I have tried and loved this one. However, I recently started using this one and I am loving it a ton. For special occasions, I save this one, as it literally smells AMAZING.

TIP 2: EXFOLIATE YOUR SCALP
As I stated above I tend to have dry hair, which as you know comes sometimes with a dry scalp. Which in return often leads to a flakey scalp at times. I have been reaching for the Madam C.J. Walker Beauty Culture Dream Come True Scalp Exfoliator*, let me just say this has become a solid staple in my weekly wash routine. Not only does this product smell literally like heaven, it also works like a dream come true to remove buildup and flakes all while soothing a dry scalp. You can also use this as a detoxifying treatment as well to help cleanse, revitalize and rebalance the scalp.  It is super easy to use. Prior to shampoo, you just use about a quarter sized amount of this treatment on the scalp massaging it in with the fingertips. Let it sit on the scalp for 10-12 minutes, and rinse. Afterwards you wash hair like normal- easy peasy. This stuff seriously ROCKS!

TIP 3: DEEP CONDITION WEEKLY
Hydration for your hair, is SUPER important. If you chemically treat and use heat on a recurring basis, then hydration is a MUST for your hair. Keeping your hair properly nourished helps prevent breakage, and those pesky flyaways (caused by breakage). I have been loving and I mean LOVING the Madam CJ Walker Dream Come True Wonderful Deep Conditioning Masque*. This tub of heavenly goodness is legit hands down the best smelling conditioner I have ever smelt. OMG it is sheer amazingness. I have gotten so many compliments on how amazing my hair smells and how healthy and nourished it looks since using this product. I absolutely love the way this makes my hair feel.  You can use this masque as often as you feel you need it. I have been using it once a week, as it has significantly helped with my breakage, split ends and making sure my hair is not a frizzy hot mess at times. Seriously this might be making my holy grail hair product status.  

TIP 4: AVOID HEAT & PROTECT
Now this is hands down one of the best tips I have received ever, especially since I already chemically straighten my hair.  Cutting the heat out of just ONE product that I was already using, whether it be the hair dryer, flat iron, curling wand of any of the array of heat tools I already have in my arsenal has made a huge difference. I decided to ditch the extra step of a curling wand, because let's be honest- I NEED to blowdry my hair and for extra smoothness I like to flat iron my hair, so letting my curling wand go has been a bit easy. Since I have learned how to do some simple flat iron waves and curls, this tip has been exponential in helping me stop breakage.
I have been applying the Madam CJ Walker Brassica Seed & Shea Oils Silkening Blow Out Creme* , while my hair is still a bit damp. Then I equally section my hair and blow-dry it out with a flat brush. This heat protective blow out cream is phenomenal as it has been a saving grace to protect my hair from heat damage. I feel like since using this my hair is not only smoother and softer but it also blow dries a lot faster with this product than without it. Try it for yourself and let me know what you think!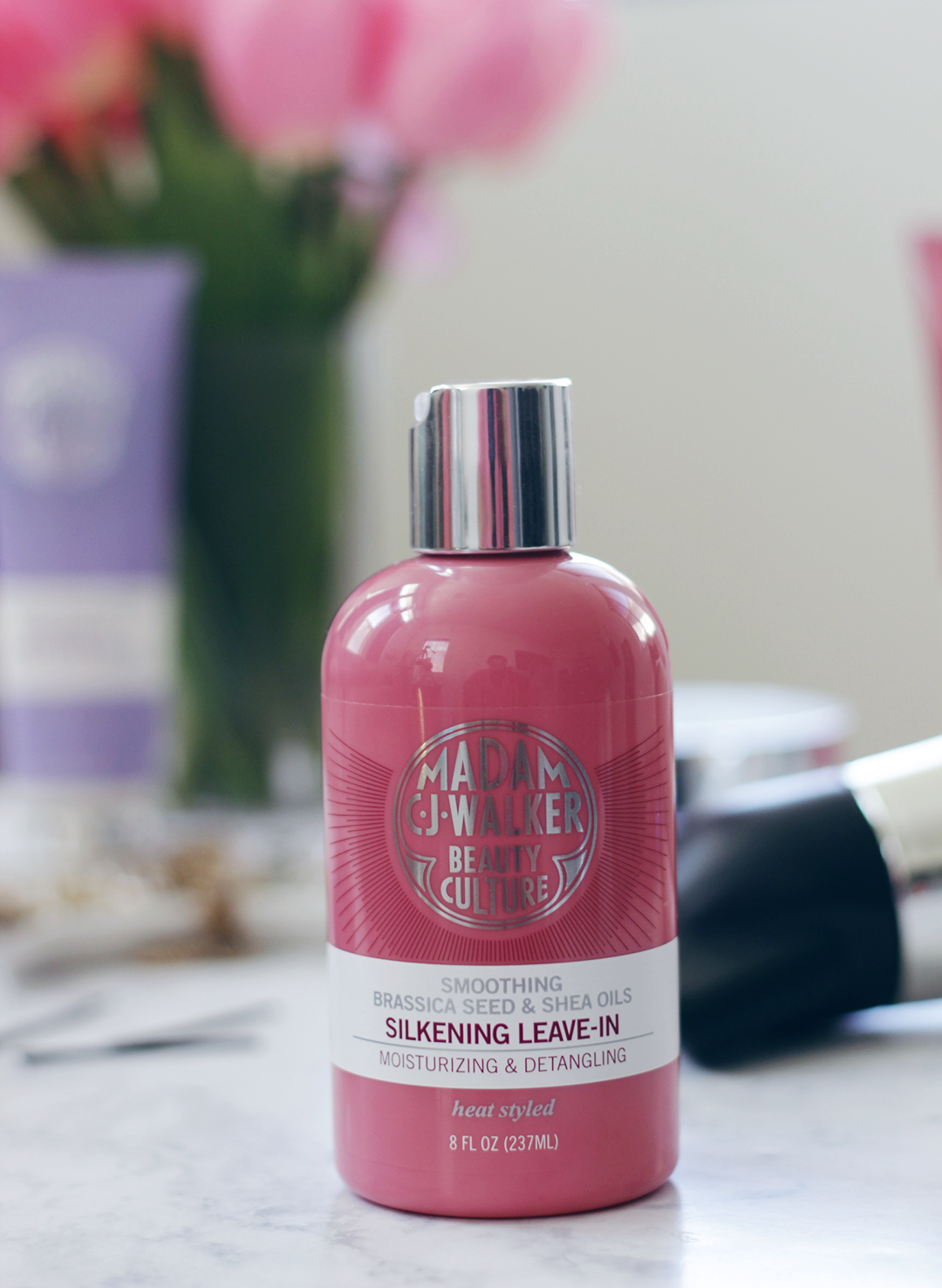 On days that I am feeling a bit 'less is more' and I am in major need of a break from all heat, I have been loving the Madam CJ Walker Beauty Culture Brassica Seed & Shea Oils Silkening Leave-In*.I apply this while my hair is slightly damp, followed with throwing my hair up in a loose bun or a french braided ponytail. Sometimes by the next morning I will maybe take a 3 minute boost from my blow dryer on low to ensure that my hair is completely dry.  When I take my bun down or braid out, I am left with easy beachy waves, or loose curls. One word- OBSESSED! The best part of this product is that is creates a moisturizing foundation for styling and it is the perfect companion for smooth heat styling without adding any buildup thanks to the Natural Silicone Alternative – Brassica Seed Oil's excellent antioxidant profile results in a natural shine, smoothness and silky softness without the potential for buildup.When used with my Wet Brush I have found that this products helps my hair remain detangled and super soft. I am OBSESSED with it, and the smell is like surreal. This product smells SOOOOOOOOO good, that I wish I could eat it. Seriously every dry hair, damaged hair, chemically-treated haired gal NEEDS this in their hair care regimen.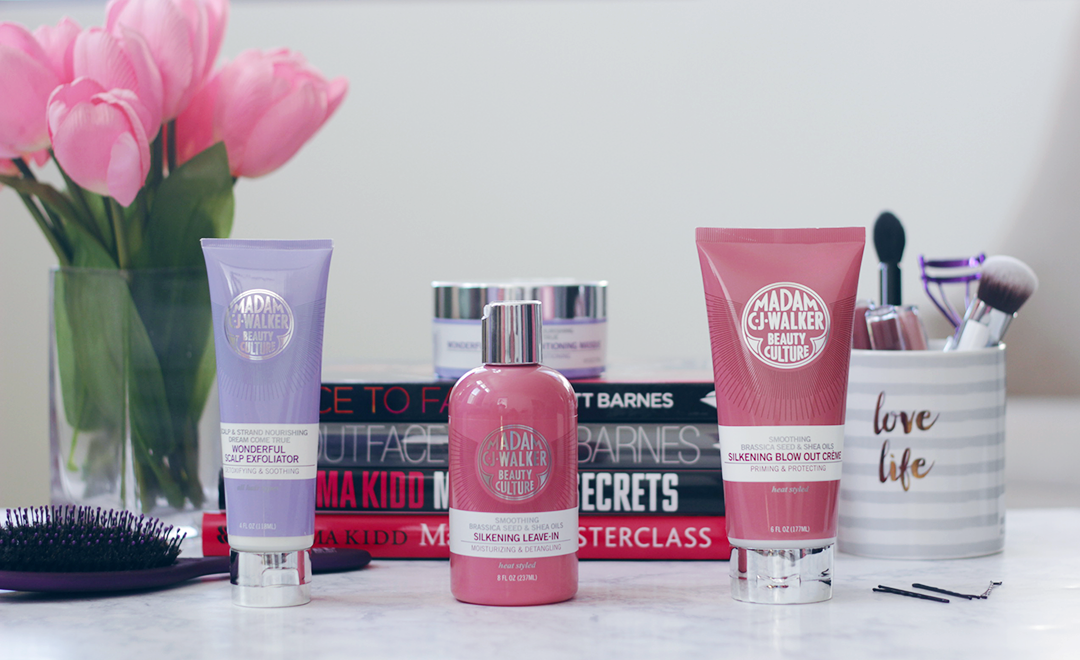 So there you have it, four easy tips and tricks that I have found work wonders for chemically-treated hair. I have been practicing these tips for sometime now, and I feel like my hair is getting much healthier than the straw like feeling it was a few years ago. Thanks to a few new Madam CJ Walker Beauty Culture additions my hair is on the way to healthy, happy and damage free zone. You really need to grab a few of these products and try them for yourself- and let me know how life-changing they are for you! Madam CJ Walker Beauty Culture contains a few different lines that are designed to address specific hair needs. The line of products consists of four collections that address the cleansing, treatment and styling needs of all hair textures. These include three styling collections formulated with six multi-tasking oils that  help nourish, condition, detangle and seal in moisture. 
Brassica Seed & Shea Oils Collection 

(Smoothing/Style-Extending)

Coconut & Moringa Oils Collection

 (Frizz 

Fighting/Humidity-Blocking)

Jamaican Black Castor & Murumuru Oils 

Collection

 (Curl-Defining/Moisture- Sealing)

Dream Come True Collection

 (Scalp & Strand Nourishing) treatment collection.
Madam CJ Walker Beauty Culture products can be found at select Sephora stores, Sephora.com and online HERE. To check for stores that carry this amazing brand, CLICK HERE.  Curious about this brand? CLICK HERE for a quick video behind the brand and to see the other lines they have available. Have you tried any Madam CJ Walker Beauty Culture items yet? If so I'd love to hear your thoughts… 
[otw_shortcode_divider margin_top_bottom="30″ text="SHOP MADAM CJ WALKER BEAUTY CULTURE" text_position="otw-text-center"][/otw_shortcode_divider]

Thank you Madam CJ Walker Beauty Culture for sponsoring today's post. As always all thoughts and opinions are my own. 
*PR SAMPLE
[ReviewDisclaimer]
Chemically Treated Hair Tips Healthy Hair Tips Madam CJ Walker Beauty Culture