Disclosure: This post is written in partnership with Estee Lauder. All thoughts, opinions and tips are my own.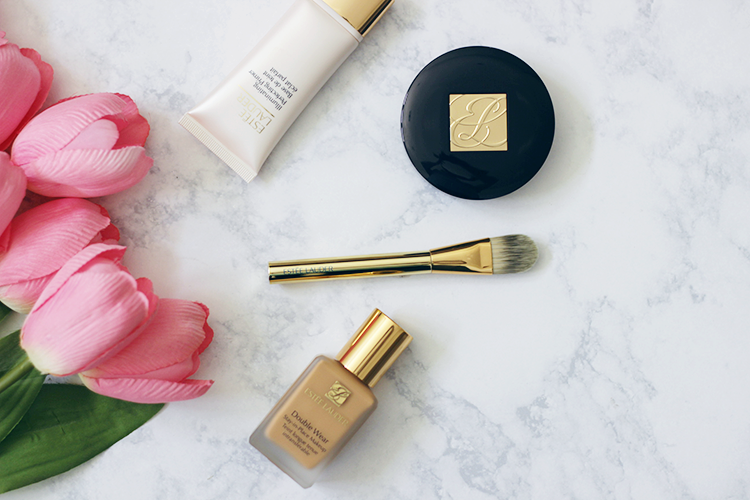 Lately I have been giving a few foundations and bases a go recently, but one foundation has been topping the charts and becoming a everyday staple in my beauty routine. In my everyday life, I don't usually have a ton of time throughout the day between running around at my daily job in Corporate America all the way to blogging events to continuously check my makeup. Foundation for me is usually not a huge option since I don't like anything that feels like a mask, and powder usually just doesn't seem to have any staying powder. So imagine my surprise when I found a long-lasting gem in the form of Estee Lauder Double Wear Stay In Place Makeup…
So lets talk a bit about my history with foundations. From the time I started to wear makeup I have always been a bit weary of foundation. Throughout the years I have found a few favorites that I tend to go to, but none of them can compare to this long lasting dream liquid in a bottle. Estee Lauder Double Wear Stay In Place Foundation, is hands down the one foundation that I have found I can apply in the morning- and lets be honest 4:30 in the morning is early– all the way until I come home late at night- sometimes can be at 10:30 pm. This foundation has proven to have a power punch with its 15-hour staying power. The weather in Southern California has been beyond wacky lately ranging from ultra humid to a moody rainy day- but never once did my foundation stray- amazing!
Like all Estee Lauder bases I have tried, its line is simply phenomenal for a shade range. Recently I had the pleasure of heading to my local Nordstrom and stopped by the Estee Lauder counter to get my perfect shade match with their new iMatch technology. The counter manager – shout out to Kylie, who took the time to talk to me about the new Estee Lauder iMatch technology and achieving your perfect shade in the Estee Lauder line. The new Estee Lauder iMatch technology is the innovative tool that the Estee Lauder counters have started using to help people find their perfect color match. This technology takes literally a few minutes and you are left with the perfect shade for your skin tone. Being of a mixed race, I tend to have issues when it comes to finding the perfect foundation as many people try to put me in shade that are either too pink based, too yellow based or too red in undertone making me look a bit muddy or ghostly. The Estee Lauder iMatch technology sums up your shade by finding the following:
Skin Intensity Tone (ranging from light to dark)
Skin Undertone which ranges from Cool- pink undertones, Neutral- even skin tone that isn't pink or yellow, or Warm- golden tan or olive undertones
The entire iMatch process takes literally all of 5 minutes as a innovative tool is held across 3 areas of your face to ensure a perfect match. A picture is taken of your cheek against the jawline, the cheek, and the forehead. The iMatch machine then shows the 3 options it chose for you based on your photos. Kylie told me that as a extra measure based on what kind of coverage you want in your foundation and your skin type that a swatch test of two is the best way to confirm. We tried both 3W1 Tawny -which ended up being a bit too pink and 3W2 Cashew –the perfect match! And let me just say this match is pure perfection! I grabbed a few other products from the Estee Lauder counter as well: Estee Lauder Double Wear Stay-in-Pace Powder Foundation in the matching shade 3W2 Cashew, and the Estee Lauder Illuminating Perfecting Primer which is sheer amazing candlelight in a tube.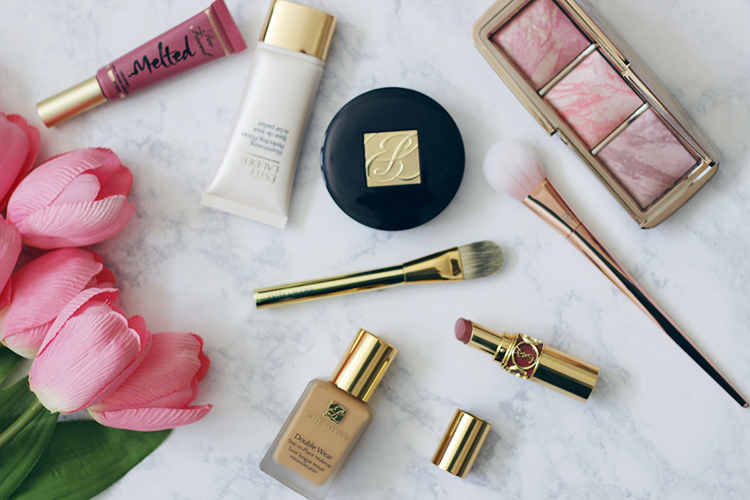 I recently went to a Oscar's viewing party and let me just say the staying power of my new Holy Grail foundation was put to the test as it was a long day filled with fun, dancing and tons of "who are you wearing". Not only did the foundation stay put ALL night, but it looked just as amazing when I walked in the door at 2 am as well. An added bonus is this foundation barely rubs off on clothes- which is AMAZING especially when you're hugging and air kissing plenty of people all night and of course you never want to be embarrassed after a hug, leaving someone's sleeve full of your face makeup. All and all I think I may have found my HOLY GRAIL!
A bottle of the stuff will set you back $37 USD but will last you such a long time. Estee Lauder Double Wear Stay-in-Place Makeup is available at all Estee Lauder counters and online. I am grabbing the entire Double Wear Stay-in-Place Makeup by the horns and falling in mad love.
Have you tried the Double Wear Line? I promise you won't be disappointed, it will be your new favorite foundation! Trust!
Want more information on all things Estee Lauder? Head over to their social media sites and drop them a line on Facebook,a shout out on Twitter or follow them on Instagram for Behind the Scenes things with everything #DoubleWear #ReadytoWear

[thefeedproducts style='four']
*Thank you Estee Lauder for sponsoring this post. As always all opinions are of my own and my own only.
[ReviewDisclaimer]