Can I just start of and say HAPPY MARCH, while I am NOT a fan of this crappy time change and losing an hour of much needed sleep. I am a fan of the sun staying out longer and the weather finally normalizing around Southern California. With the weather changing, it also usually means a change for my skincare regimen. One step I so far can NEVER and I repeat never imagine not being in my life is a good facial oil- I have loads of backups and enough oils to oil up at least for the next 5 years. I know it's a problem, ha ha … Thinking back on skincare, when Josie Maran released the Argan Oil, I remember thinking "who the hell would ever want to put oil on their face? No one wants to be more oily, do they?" Cautious as I was, I eventually jumped on the bandwagon, and now I cant imagine being without a good facial oil- bonus points if you can use it on your body as well. Plumper skin which of course helps mask the fine lines and wrinkles, and of course a dewy face in the morning is always a great thing, so imagine when a new set of oils came across my desk, and they give the skin a bit of a boost-Bring On The Oils….
They are from a brand called Oil Essentials and they have a new line of AMAZING natural beauty oils that literally are a one-stop beauty shop. These vials of amazingness are deigned to help add a bit of boost to your current beauty regimen with your daily oils, moisturizers or body butters to help amp up their hydrating properties. Something about playing mad scientist gets me all giddy- reminiscent of this post here. The two beauty boosters I got to try were the- Seabuckthorn Berry & Borage* blend and the Omega 3, 6,9 & Evening Primrose* blend. The Oil Essentials Seabuckthorn Berry & Borage blend, is a beautiful blend of sea buckthorn berry and borage seed oil that combined with a bit of avocado and meadow foam seed oils to help boost maximum hydration to the skin and add a bit of shine to the hair. I love everything about this oil. The scent is simply AMAZING and the hydration this stuff brings to the skin is PHENOMENAL! I had a dry patch on my side for some strange reason, and this stuff helped heal it within literally a day or two. My skin is soooooooo unbelievably soft and supple. I adore this oil.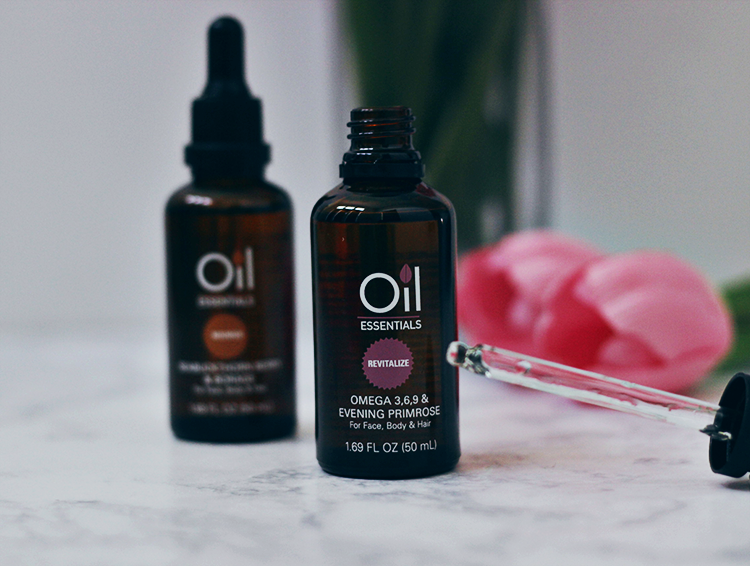 The other blend I got to try has become my new favorite is the Oil Essentials Omega 3,6,9 & Evening Primrose blend– this stuff simply rocks. A amazing and revitalizing blend of the evening primrose, sunflower seed oil, and loads of Omega 3,6,9 oil to help cure dry skin, even out the skin tone, reducing blemishes, and helping the skin maintain elasticity, it also helps strengthen and moisturizer the hair and scalp. I have been using this daily before going to bed on my face, and also adding it to my scalp for a bit of a scalp massage action all while hydrating my hair. This blend has a super light scent that you cant really smell much, unless you focus on it. It is uber light on the skin and just leaves your skin glowing with radiance. I am obsessed! Needless to say I am OBSESSED with these oils and the blends are phenomenal. There are a total 6 different Oil Essentials oil blends:
Seabuckthorn Berry & Borage
Omega 3,6,9 & Evening Primrose
Neroli & Avocado
Argan & Wheat Germ
Sweet Almond & Macadamia
Lavender & Rose Hip
The price range is simply amazing at $12.99 USD for 1.69 fl oz of these bottles of goodness. I already have my eyes on Lavender & Rose Hip and Neroli & Avocado, actually I want them ALLLLLLL, literally the entire Oil Essentials line! The list can go on and on, that's for sure.. These oils are available at Rite Aide, Target.com, Walmart stores, and H-E-B stores. Trust me you will be obsessed….
Have you tried Oil Essentials? Which is your favorite blend? What is your favorite facial and body oil?