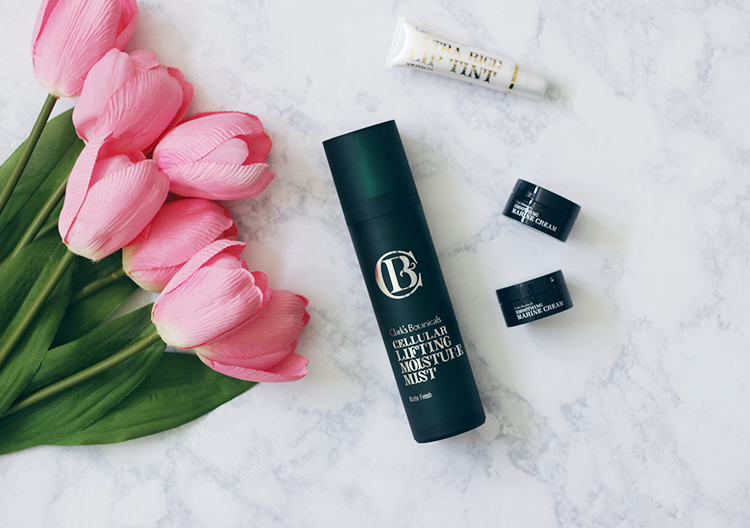 Ignoring the fact that this winter has been one of the wackiest I think I have experienced in Southern California in quite some time. One week we have rain, the next week we have soaring temperatures, followed by fog and just over all weird weather. Now you all know I am no stranger to skincare products- in fact they are taking over, ha ha.. But there is one brand that I have been testing and finding myself loving big time- and trying to comprehend why it's not talked about more. So let me just jump right in, with a bit of New Love: Clark's Botanical's…
Now if you have been a long time reader you know that Clark's Botanicals is no stranger over here. I have talked about my LOVE for the Anti-Puff Eye Cream*, but then I never really spoke much about the brand after that. I am not sure what or why I jumped into another skincare regimen- it happens, however when Gloss48 gave me the chance to test out some goodies from the brand, I jumped- literally jumped- with glee. So let's start with a bit of a breakdown of the brand.
WHO IS CLARK'S BOTANICALS: Clark's Botanicals was a brand that was started after the founder Francesco Clark lost his ability to sweat. Because of this he battled clogged pores and chronic breakouts-which we all HATE. After endless tries of everything ranging from pricey skincare products all the way to endless prescriptions, he turned to his father. His father was a physician trained in both Western Medicine and homeopathy- together the two developed a line of botanically based formulas that are effective in both anti-aging and clearing skin. One of the best things about the Clark's Botanicals is that a percentage of the profits go to the Christopher Reeves Foundation. I don't know about you, but I do LOVE skincare that comes with a conscience.
THE LINE UP: Now I know what you think when you hear the words "line up" a complete line of endless talking about products again, Jamie? Never fear, today's line up consists of four skin staples you NEED now. First up, my dream mist in a bottle. Literally a DREAM, the Clark's Botanicals Cellular Lifting Moisture Mist*, is hands down AMAZING. Now this stuff is not the over glorified tap water in a bottle like many other facial mists, this stuff is the REAL DEAL. A unique formulated blend combined with Swiss Apple Stem Cells to help combat aging, Entermorpha Compressa Extract to help aid in the production of collagen and reduce inflammation, Porio Cocos Polysaccharide to help plump the skin full of oomph, Algae Extract Pullulan for some extra firming, and Hyperidum Perforatum Extratc to help boast both soothing and anti-bacterial properties. Now you're probably thinking, what the heck are those ingredients? And why should you care- you're just misting your skin? Well you are right, you are misting your skin with a bunch of botantical extracts but one thing you will notice is that the skin feels AMAZING afterwards. Literally within moments, your skin literally feels hydrated, plumper, firmer and tighter- NOT once dry or stripped. Since using this facial mist, I have noticed my skin literally hold moisture so much better; it also soaks in my serums like a dream. Needless to say I have since stocked up and have one in my desk at work- cause you never know when you need a bit of freshening up, right?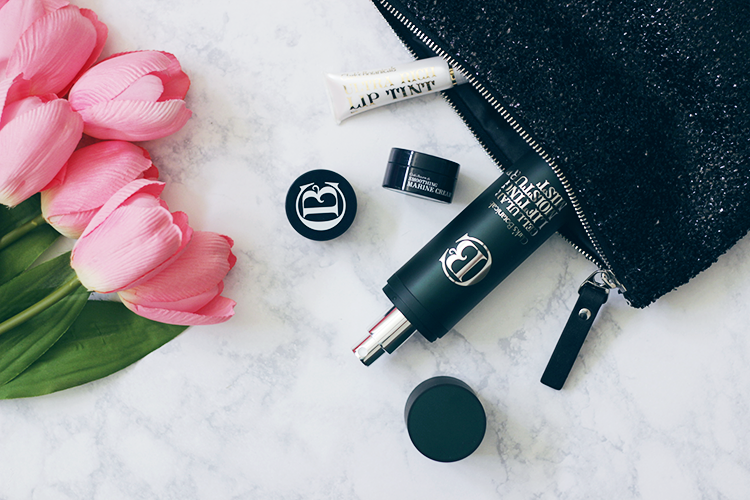 The next two products I tried are the Clark's Botanicals Smoothing Marine Cream and the Clark's Botanicals Intense Radiance Mask. Now let's talk about these two- O-M-G, they are amazing. I have them on my list to grab the full sizes of these products because they ROCK. So I have been having a few breakouts lately due to hormones and stress, and let me just say this- I am pretty positive the Clark's Botanicals Smoothing Marine Cream helped clear the pesky breakouts away. This cream is an ultra rich, hydrating yet gentle exfoliating cream. A blend of Glycolic and Algae Extracts literally help clear the skin as well as soften the appearance of fine fines, all while soothing stressed out skin. I am obsessed and have been using my deluxe sample sparingly while waiting for the postman to drop the full size in my box. The Clark's Botanicals Intense Radiance Mask, is some serious power packed in a mask. Now you know I LOVE a good mask, and this one does NOT disappoint at all. If you are looking for smoother, brighter, more luminous skin then you NEED this in your life ASAP. I know I sure do! White Genepi Extract to help clarify the skin, Algae Extracts to help lift, and Tri-Peptide Complex to help revitalize the skin. This mask simply rocks!
Last but not least one product I have had on instant replay lately is the Clark's Botanicals Ultra Rich Lip Tint in 24K Kiss, I mean who doesn't love a good gloss? This lip gloss is by far the most luxurious one I have tried in a while, and it shimmers in the most gorgeous way with little hints of gold flecks. It's the perfect amount of sparkle, NOT sticky at all, and loaded with goodness ranging from Shea Butter, Aloe Leaf Extract, Jojoba, Sweet Almond Oil, and Marine Collagen Microspheres to help deliver long lasting hydration. I carry this baby EVERYWHERE and am OBSESSED with it. Where has this lip tint been all my life? Not sure, but one thing I do know is I will NEVER go without it. So there you have it my obsession is starting with Clark's Botanicals, so expect to hear tons more soon.
Lusting to learn more about this brand, then head over to Gloss 48. Gloss 48 launches new, indie beauty daily. Discover the best new beauty products you have never heard of. The best part- the first seven days that products are on the site, they offer an AMAZING promotional discount. Imagine that; try new products without breaking the bank-score! All new members will get $10 off their first order of $30 or more. So head over NOW!
SHOP THE POST: