Post Sponsored by Lunchbox. Opinions are 100% my own.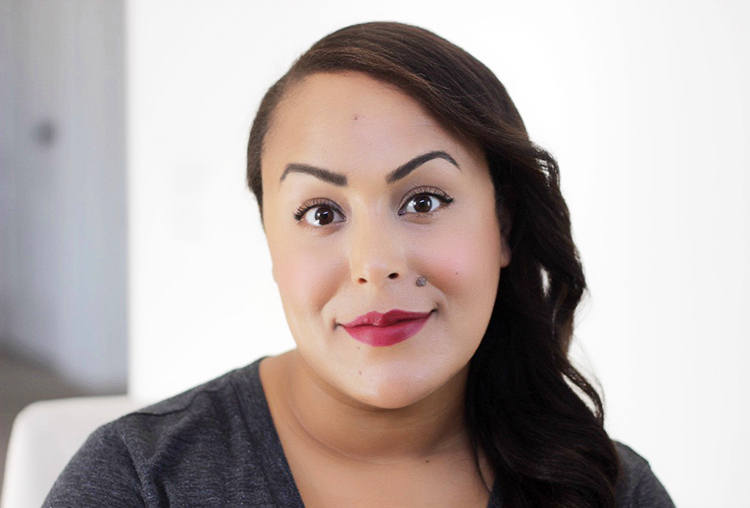 Unleash Your Inner Stylist & Rake in Great Savings with TRESemmé This Fall. Walgreens is starting the season off right by offering amazing savings on your favorite TRESemmé products. Good products at great prices, this seems like a perfect time to try out a new look, like Perfectly (un)Done Waves…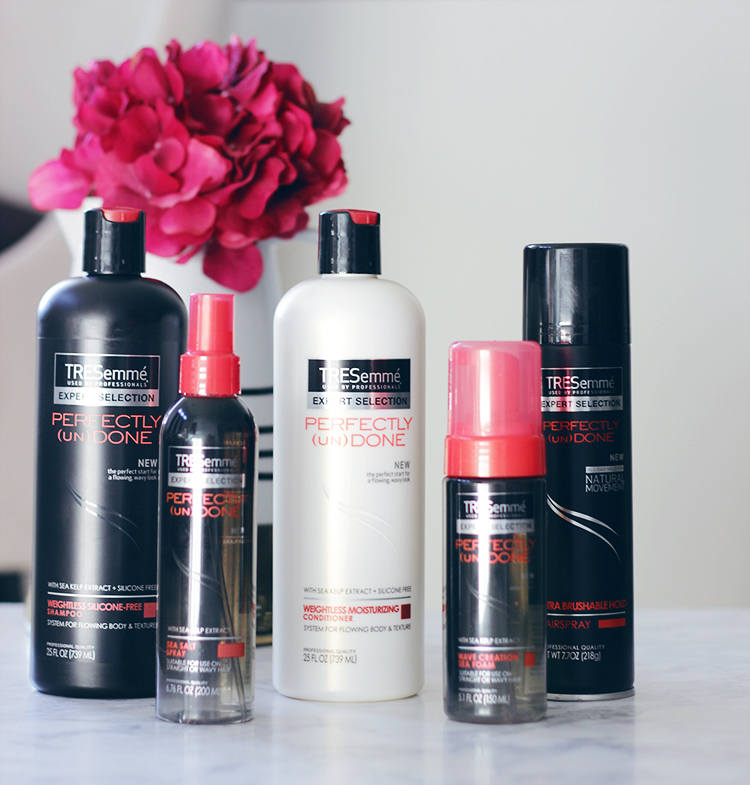 When it comes to my hair, only the best will do- I know that sounds fussy, BUT when you have hair like mine (dry and damaged) you can only use the best. So imagine when on a recent shopping outing at Walgreens I ran across the most AMAZING deal on some of the best products around- literally I was jumping for joy! I mean you really can't beat a (2) TRESemmé base products for $8 USD OR (2) TRESemmé PERFECTLY (un)DONE products for $10 USD– Offer valid 9/27/2015 until 10/3/2015. After New York Fashion week and the Emmy's I have wanted to experiment with a new going out/night time hairstyle.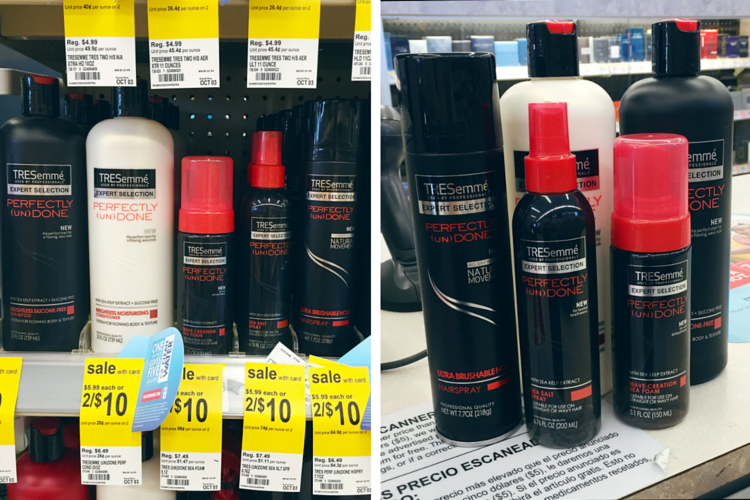 This year the Emmy's red carpet was full of gorgeous Old Hollywood waves, and NYFW was full of dreamy boho waves, quick and simple hair-dos and of course lots of knots, so I figured what better time to test out some hair trends and what better way then to do it with TRESemmé hair care products. So sit back and get ready to grab a curling iron let's jump into HOW TO achieve Glamorous Hollywood Waves with the TRESemmé PERFECTLY (un)DONE Collection.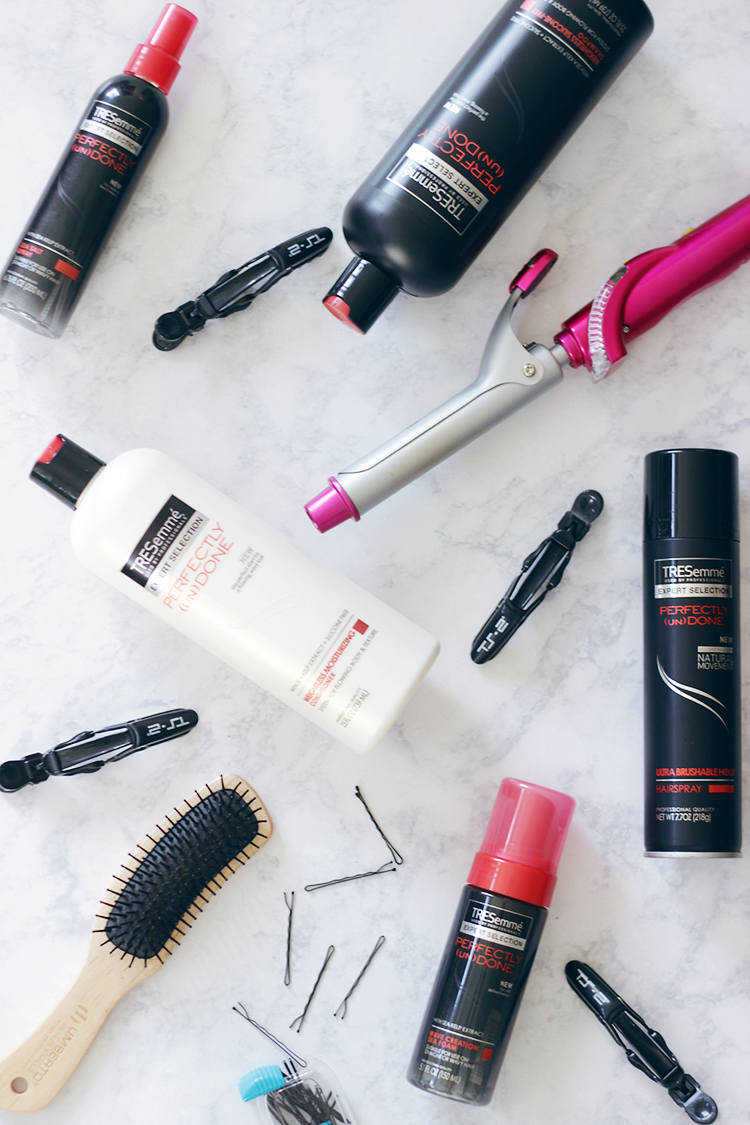 One thing I do know is how much I love how a wavy hairstyle looks beautiful without trying to hard. I want that look, but I always tend to go back to my trusted hairstyles because they are easier to achieve. However, now the wavy styles are made simple with the new TRESemmé PERFECTLY (un)DONE Collection. These salon-quality products weightlessly infuse hair with Sea Kelp Extract and activate to form natural-looking waves in each strand, for an all over gorgeous waves look. I am seriously a fan of TRESemmé products, so the PERFECTLY (un)DONE line is pure perfection when trying to achieve easy, wavy hairstyles. Inspired by a few of the gorgeous gals strutting their stuff on the Emmy's red carpet, I decided I wanted some super gorgeous Glamorous Hollywood Waves. Thanks to using the TRESemmé PERFECTLY (un)DONE Collection makes it super easy.
STEP 1: CLEANSE AND CARE
Creating the perfect base for waves is to start by using the TRESemmé PERFECTLY (un)DONE Weightless Silicone-Free Shampoo and Conditioner. The advanced conditioning molecules within the shampoo and conditioner are designed to work without any silicone, so hair is left feeling nourished but never weighed down. It is the essential step for PERFECTLY (un)Done waves.

STEP 2 + 3: PREP AND BLOW DRY
In order to give the hair some much needed volume and texture adding the TRESemmé PERFECTLY (un)DONE Sea Foam from the hair root all the way to the tips. Enhanced with Sea Kelp Extract this awesome foam helps give the hair a nice blend of texture and volume preparing hair for blowdrying. This is a major key to achieving soft, lightweight bouncy waves.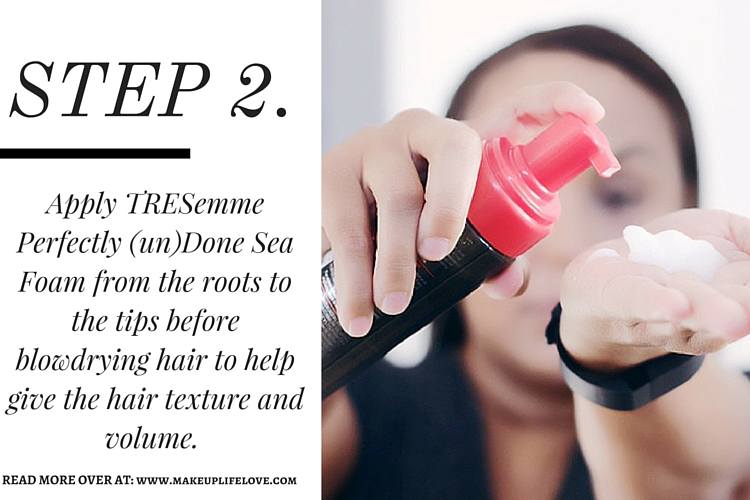 STEP 4: CURL + PIN HAIR TO PERFECTION
Curling ½" sections of the hair and pinning the curls in place helps hold heat for a even longer lasting curl while you curl your hair. Once you have completely curled the hair, wait about 5 minutes before releasing each curl.

STEP 5: BRUSH AND SPRAY
The final step in achieving Hollywood Waves is to lightly brush the hair with a wide toothed comb, separating the hair without damaging the curls. A light spray of the TRESemmé PERFECTLY (un)DONE Ultra Brushable Hairspray to the hair helps lock the hairstyle and control frizz. Designed to protect your waves from any frizz, flakiness or stiffness, the hairspray is super soft and gentle on the hair allowing it to be ultra brushable. What better way to lock in your hairstyle, then with a phenomenal hairspray? Every twist, turn and twirl your hairstyle will stand the test of time thanks to this hairspray.

With the help of the TRESemmé PERFECTLY (un)DONE Collection  getting Hollywood Waves has never been easier and quicker.  5 easy steps before you are channeling your inner Hollywood starlet, a girls night out has never been more chic.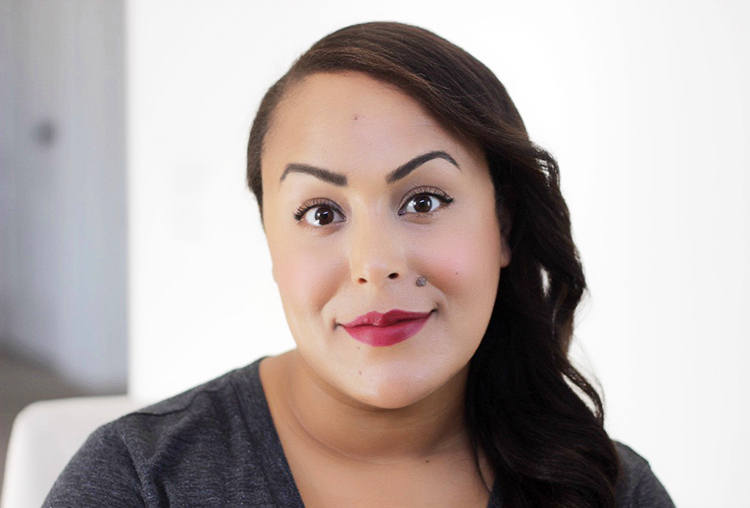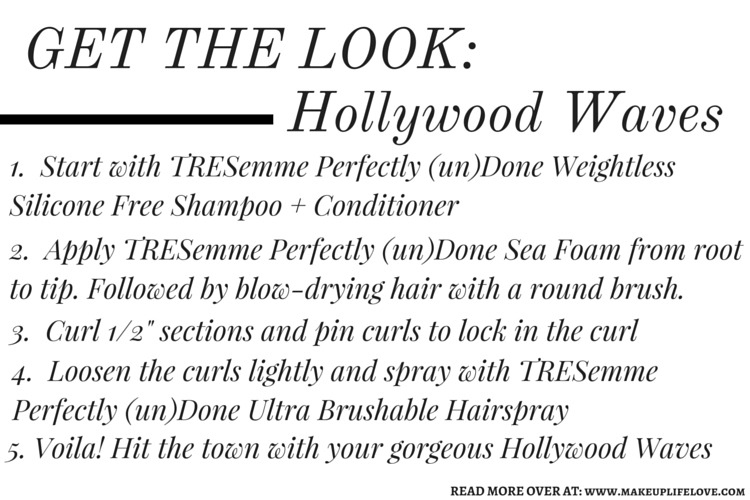 So what are you waiting for? Head over to your closest Walgreens stores and be sure to take advantage of exciting TRESemmé offers at Walgreens this fall: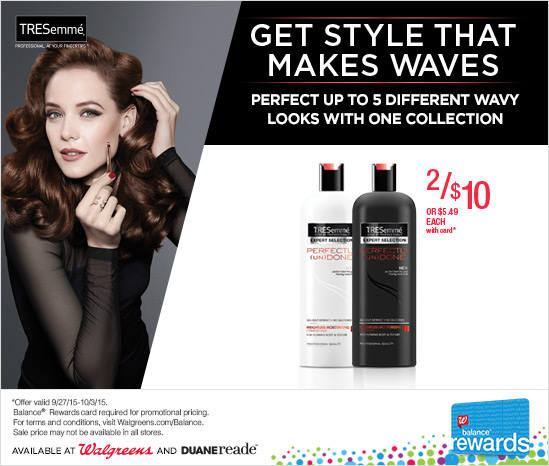 Want to see more on how the TRESemmé Pros create all their gorgeous hair style using the TRESemmé (un)Done Collection? Get the waves you see on the runway with the NEW TRESemmé PERFECTLY (un)Done Collection, available at Walgreens. Follow the links below to the following videos for tips on how to achieve PERFECTLY (un)DONE hairstyles.
GLAMOROUS HOLLYWOOD WAVES: 
See How to Get –PERFECT BEACHY WAVES HERE: http://www.youtube.com/v/yrkOgKXtALc
See Hot to Get BEAUTIFUL BOHO WAVES HERE: http://www.youtube.com/v/3Q5CXATQMxo
So what wavy inspired hair style will you be attempting? Hollywood Waves? Boho Waves? Or Perfect Beachy Waves? Let me know in the comments below…
[otw_shortcode_divider margin_top_bottom="30″ text="SHOP HOLLYWOOD WAVES" text_position="otw-text-center"][/otw_shortcode_divider]

This post has been sponsored by Lunchbox. As always all thoughts and opinions are 100% my own.
[ReviewDisclaimer]