Today's post has been sponsored by HiMirror via the PRIMP Network. All thoughts and opinions are my own. #PowerPrimper #HiMirror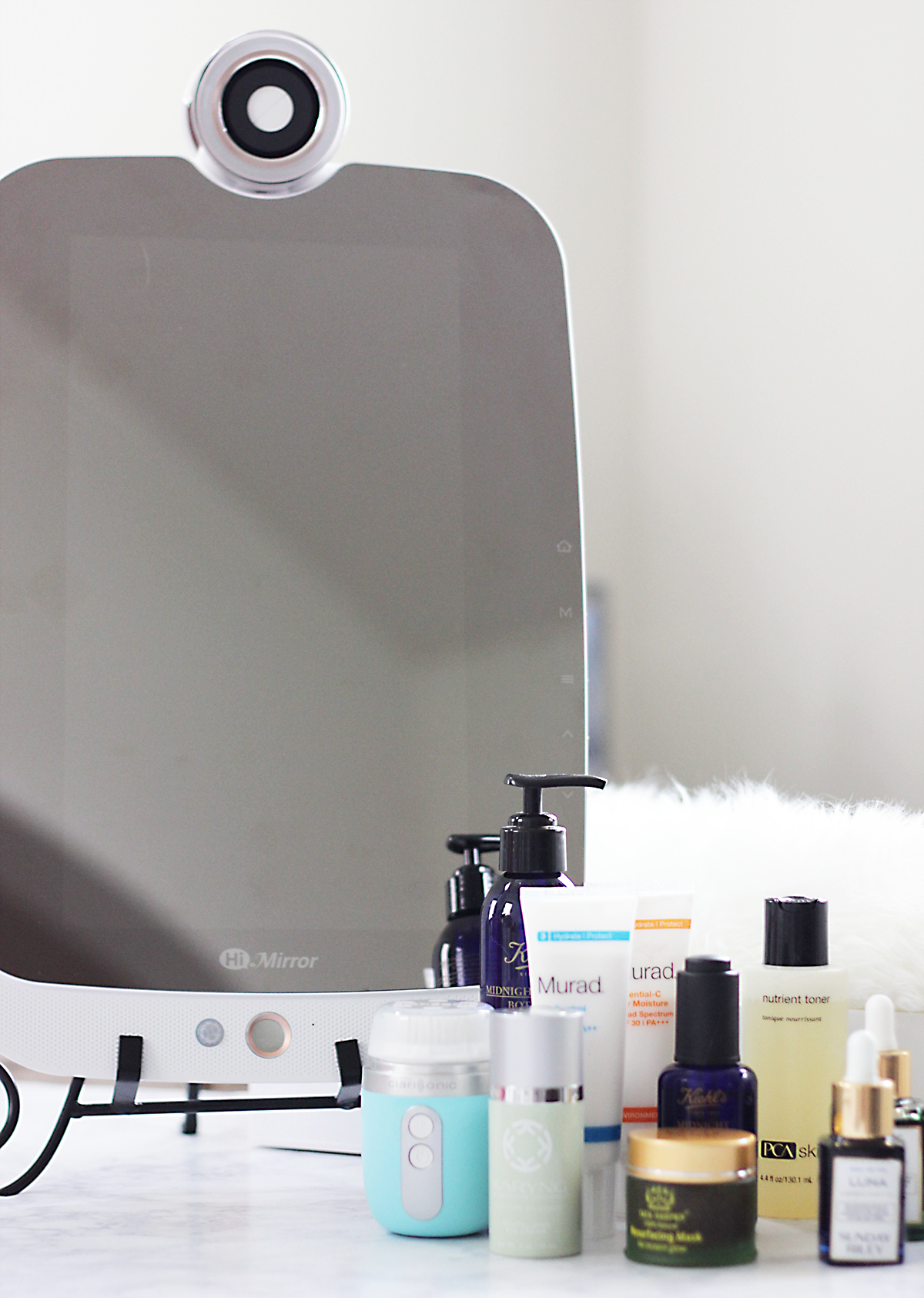 I don't know about you, but I am a HUGE lover of beauty gadgets- in fact, I have an upcoming beauty gadget series coming soon- I mean something about a beauty gadget gets me a bit giddy. I mean the range cleansing brushes, anti-aging devices, skin care helpers, and oh so much more are currently making a MAJOR wave in the beauty industry, and I get it! I can see why beauty gadgets are making waves because let's be honest- who doesn't want the latest and greatest to help whip your skin or makeup routine in shape quicker, faster and more effective? Recently I was given the chance to try out a beauty gadget that is unlike any other beauty gadget in the form of HiMirror, and let me tell you guys this mirror is something totally innovative that works perfectly with my current skicnare routine, let's see why…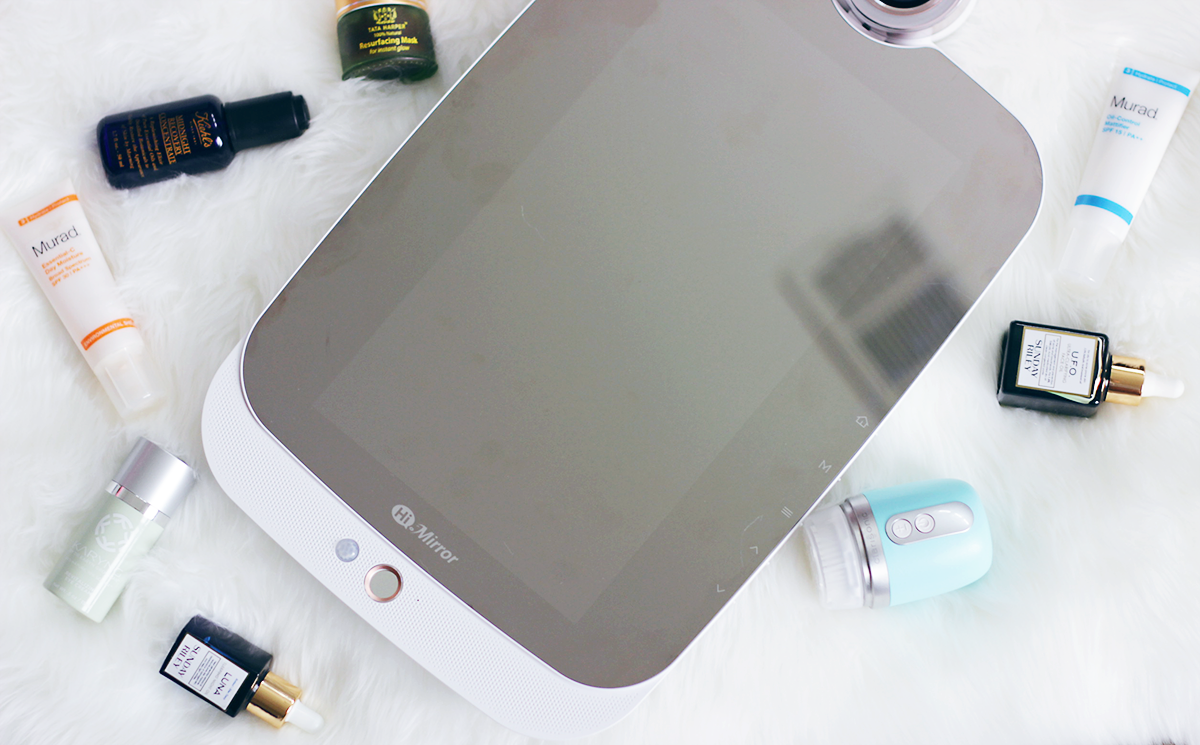 Imagine this- a mirror that can scan your face, analyze your major skincare concerns and help suggest a routine based on your results and concerns in just under 10 minutes. How would that sound to you? Amazing, right?  Not only that but what about something that measures your skin improvements over time with just a few quick scans? Awesome! You're probably wondering does something like that ACTUALLY exist? Up until now, the answer was no, but thanks to HiMirror, it exists now!

The HiMirror is a 14" LCD panel screen that weighs 5.5 lbs, is equipped with a high-resolution camera, built-in speakers and a microphone.  The mirror needs to be installed completely vertical aligned at eye level and plugged in 100% of the time. However, the cord is a bit short, so an extension cord is a MUST HAVE! I found that a picture holder can help hold my mirror vertically like it needs all without having to be drilled into the wall or mounted on the bathroom mirror.  If you live in an apartment where drilling holes in the wall is not allowed or you are scared (like I was) to mount it on the bathroom mirror then a great thing to go grab is a picture holder from like Hobby Lobby or Michaels. Trust me it does a GREAT job holding it up vertically and making vanity friendly to use.  Once you have your mirror installed via mounting on the bathroom mirror, mounting to the wall or my little DIY attempt, you need to connect the mirror.  To connect the mirror it is simple. The mirror connects via WiFi and has an app (available on both iPhone and Android) that works simultaneously with the mirror.  Once you setup your account and pair the mirror, the mirror has facial recognition and voice login to help make logging much quicker. Let's talk about how stunning this mirror is. I mean seriously this mirror is GORGEOUS with the rose gold accents on the camera- at first I was weirded about the camera – you know privacy – but the camera closes securely with its privacy feature of just twisting shut.  Once you are completely set up- then you are ready to go. The HiMirror literally within minutes electronically tracks your skin and gives you a full skin analysis.  It's like having your own doctor in your mirror- pure genius!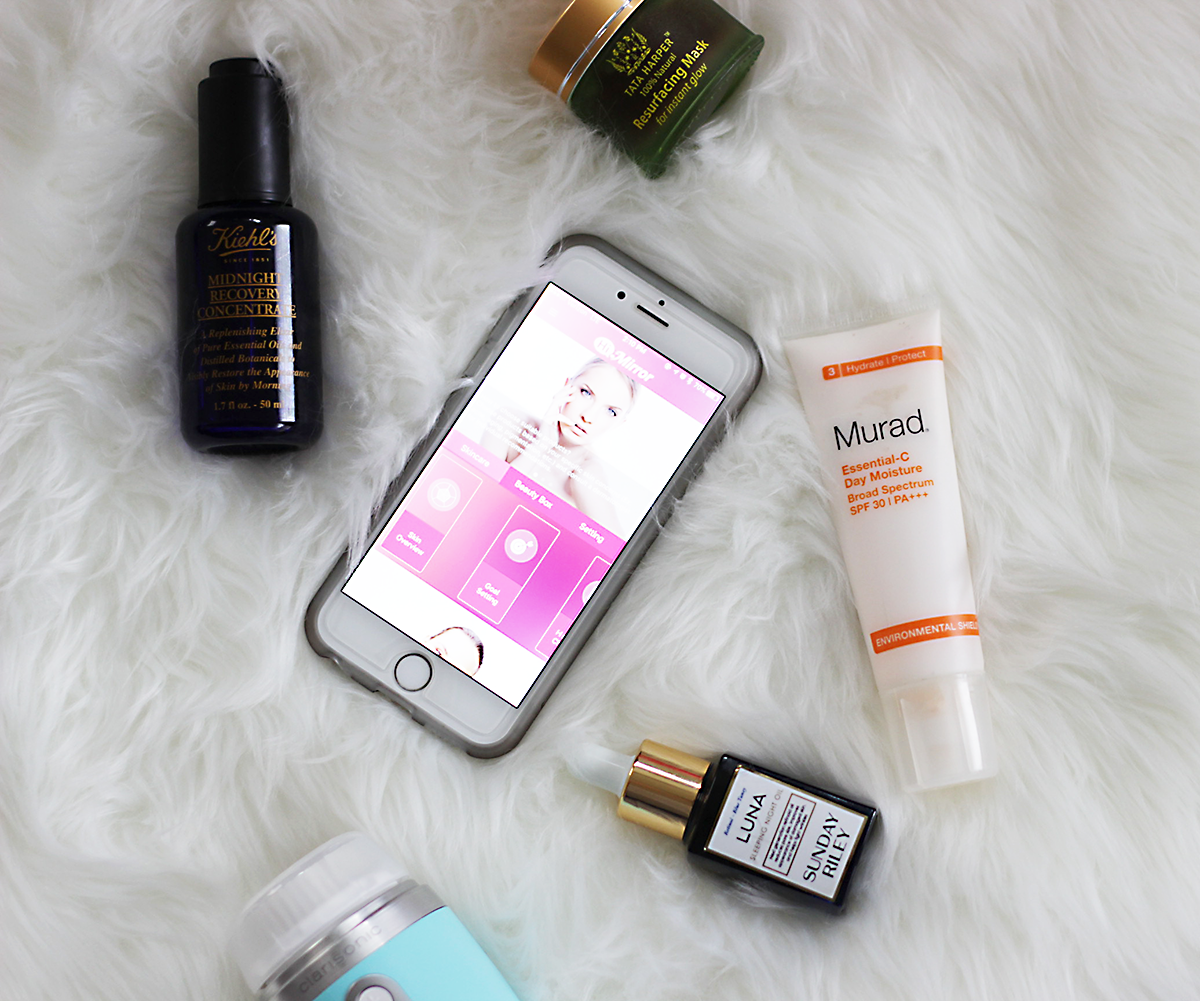 The HiMirror specifically tracks and measures the following skincare concerns:
Dark Circles

Red Spots

Dark Spots

Fine Lines

Wrinkles

Pores

Complexion
Once your skin has been assessed and your skin measurements the mirror then helps you address your concerns by giving you a detailed analysis of five major skin synthesis: Clarity, Brightness, Healthiness, Texture, and Firmness. Each synthesis is graded on a scale of 0-100 with 100 being the best. Once your existing skin analysis is being tracked, the HiMirror will continuously track the progress of your skin and the improvement by showing you graph analysis and photo comparisons. I told you it was SUPER innovative!

ARE THERE ANY CONS TO THIS AWESOME MIRROR?
I will admit one thing that took a lot of getting used to was the hand gestures to help navigate the mirror. In fact, I wish that it was touchscreen because it would make navigating it so much easier. However, I learned that if you navigate the mirror in almost a like a magical wand like motion.  Once you get the hand gesture down you, this mirror literally is game changing.   One thing I think is awesome is that as time goes on the mirror will continue to update and get some really cool new features like: My Beauty Box– an innovative way to input your current skincare regimen and products you are using- which when correlated with the skin analysis tracking you will never wonder if that miracle potion in a bottle for anti-aging is "actually" working, including on the go with the HiMirror app. Since the mirror is an awesome size and actually works as a normal mirror- image getting ready with Spotify playing in the background- awesome, right? Talk about the perfect getting ready mirror!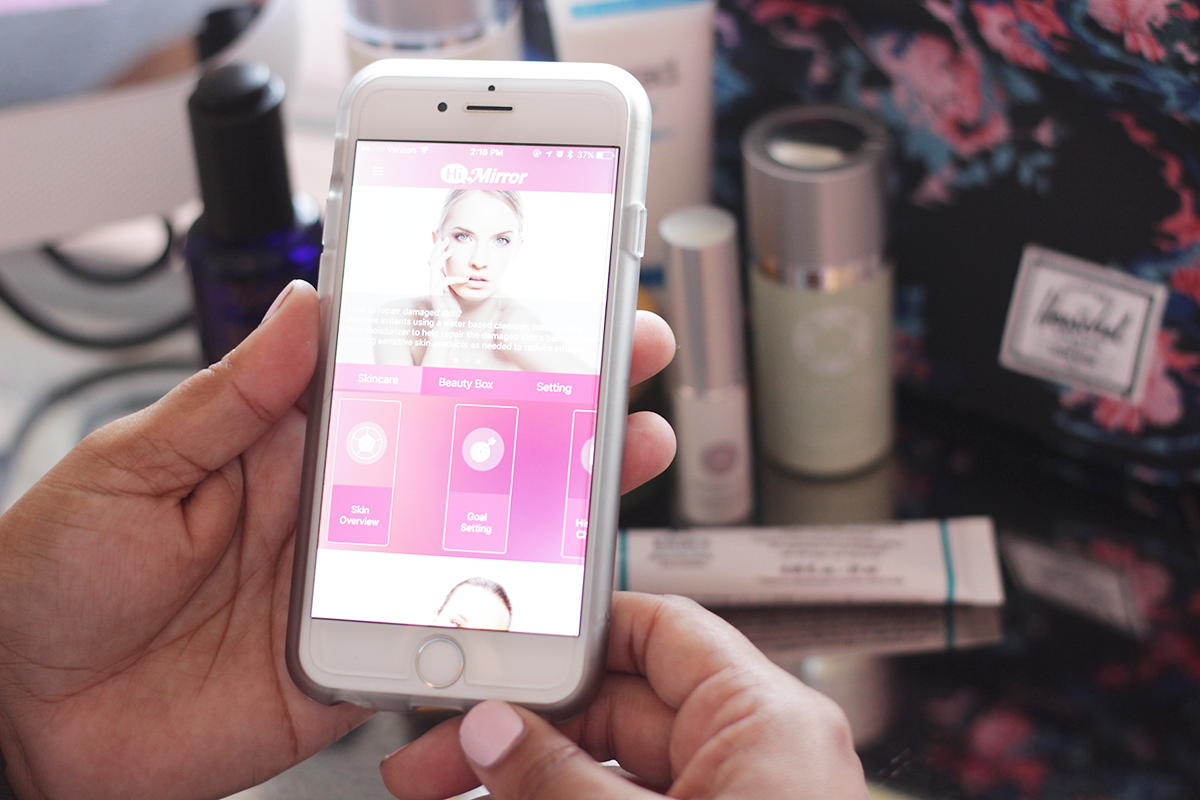 HiMirror sells for $189.00 USD currently on www.himirror.com- which some might say is a bit pricey, but if you think about innovative features it has currently and will have, and the knowing of your skin health at all times- $189.00 is almost nothing.  Needless to say, the HiMirror is the perfect addition to your beauty and skincare stash if you are a massive skin junkie and are always wondering if the countless dollars you spend on skincare products are really working. I don't know about you, but I'd say this is a major step in the direction of skincare innovation. For an awesome step by step tutorial on how the HiMirror works check out my fellow #PowerPrimper Kalei and her AWESOME YouTubr video HERE.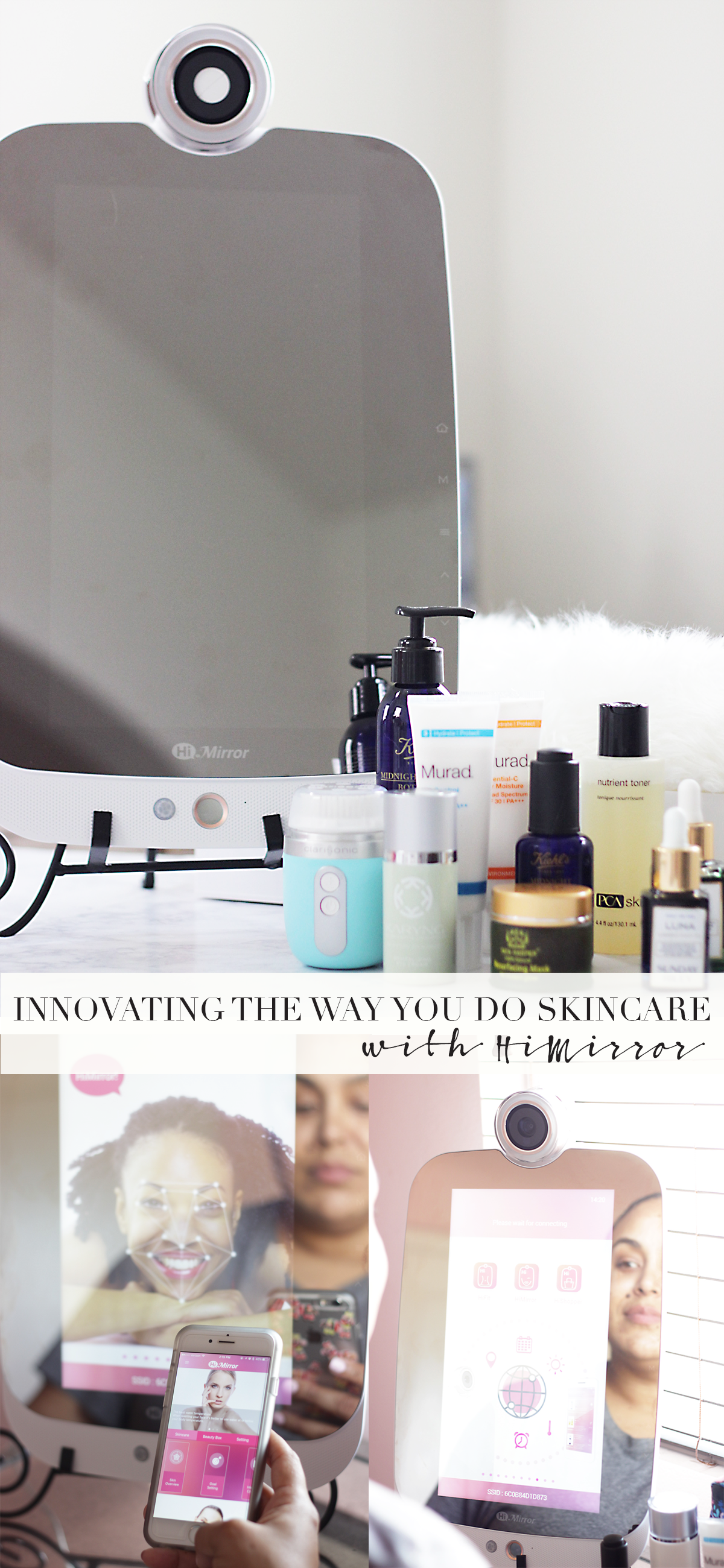 Today's post has been sponsored by HiMirror via the PRIMP Network. All thoughts and opinions are my own. #PowerPrimper #HiMirror
*PR SAMPLE
[ReviewDisclaimer]