On the market for a new face primer? Check out the face primer that will change your makeup and your mind about face primers forever thanks to ISH face primer. Here's why…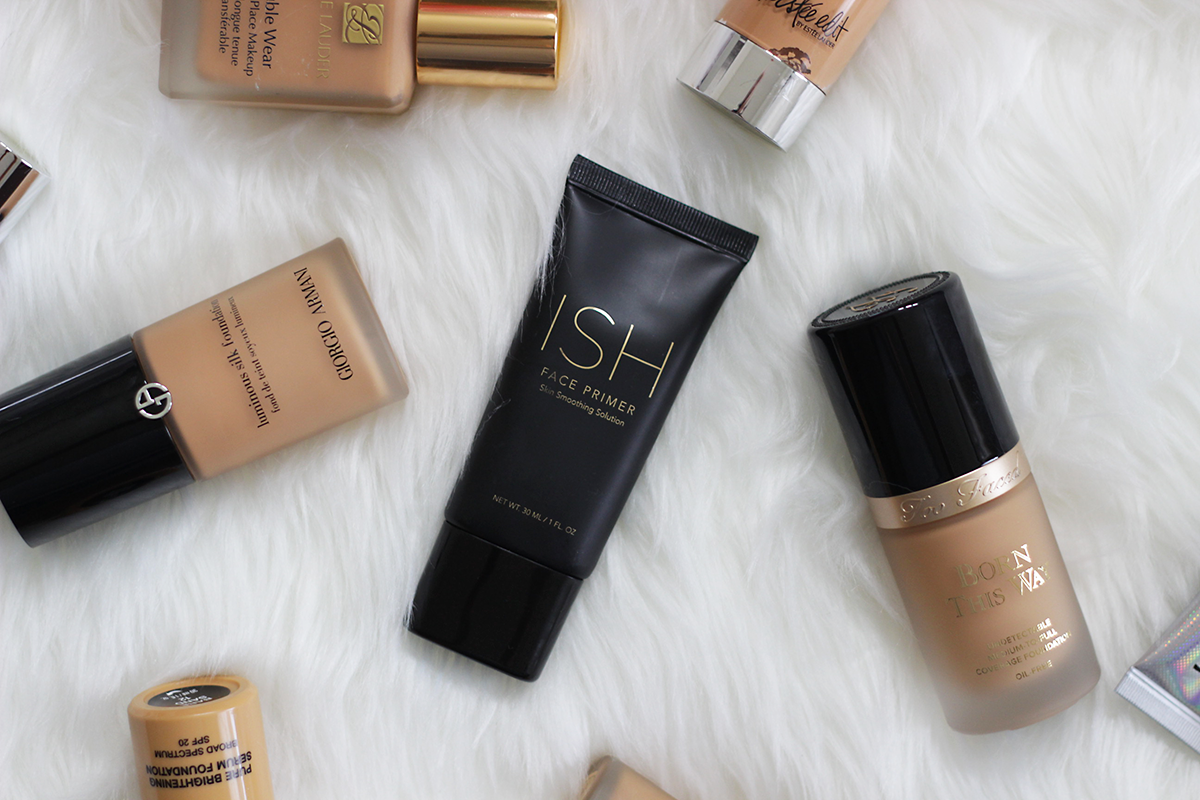 About a month or so ago I discovered probably a product that I probably never thought I would be NOT able to live without. I've mentioned in the past makeup primers and my thoughts on a few of them- but I have never actually been a huge primer kind of gal.  Something about my picky skin and primers just don't get along at times– so I often pass on them when it comes to doing my makeup application.  I mean when it comes to makeup primers there are usually people who are MAJOR fans or there are those -like myself- that are on the fence about WHY we actually need a primer. However, when I was introduced to a life-changing face primer named ISH created by celebrity makeup artist Joey Maalouf, all previous agitations I had with primers flew right out the door. Here is why….
Back in the day, I was a HUGE and mean HUGE fan of trying to find a long-lasting primer that literally would act like spackle on the skin and make my makeup stay put ALL-DAY-LONG. Then I ventured into the obsession of a dewy base and the search for something for that would help give me glow and radiance– or with a side of oily skin, it gave me a DISCO SHINE for skin– epic fail! However when I applied the ISH face primer to my skin it was like the perfect combination of last-power and hydration. It was literally like a miracle had touched my skin and blessed it with everything I had wanted and more. But why?
When it comes to adding a primer to our complexions most people are looking for something that either hydrates, soothes, hides/blurs imperfections, or just evens and smoothes the complexion for great looking skin; but what ISH face primer does it all of the above.  Hydrating-check, adding long lasting power to your makeup-check, blurs imperfection- check, all while NOT feeling like a mask on the skin.  First application on the skin, it literally glides into the skin effortlessly, almost with a just cooling effect- sort of like a gust of wind to your skin- nourishing the skin along the way to help you prepare the skin for foundation, concealers, powder and everything else you want to throw on top- ISH can handle it all.  The best part of it all- there is NO silicone in this primer at all. Say whattttt? I don't know about you guys, but silicone and my skin are NOT friends as it gives way too much of a all day slippery feeling- and for me it does NOT give long-lasting power, but ISH face primer is literally AH-MAZINGNESS!
So what's ISH face primer made of?  That my friends is what makes ISH so unique. Water is the chief ingredient followed by a unique blend of minerals and brightening components to help give the skin an instant dose of hydration with a side of brightening and correcting as the day goes on. I am OBSESSED!  I have been rocking this primer alone sans makeup to help give my skin a nice blurred, perfect look to it or I have been using it under my makeup to help prime the skin to perfection before makeup. I actually learned the other day that you can add it as a mix into my foundation to give it a slight makeup like tint- almost tinted moisturizer like. Let me tell you- it's soooooooo good!
Using ISH face primer has been literally game-changing, its soothing and mattifying in the areas I want, yet it gives me a bit of a radiant finish to my makeup in all the right places to help give the perfect "your skin but better" look.  I am HOOKED! So long story short if  you guys if you are in the market for a new face primer- you need and I repeat NEED to stock up on ISH face primer immediately. Literally if you are like me, it will change your mind about face primers or like the words of Joey's star client Rachel Zoe- this primer is BA-NAN-NASSSSS!
So that has me asking you all – what's your favorite face primer? Let me know in the comments below….
ISH Face Primer available at ishbeauty.com for $26 USD.
[otw_shortcode_divider margin_top_bottom="30″ text="WORKS WELL WITH" text_position="otw-text-center"][/otw_shortcode_divider]

*PR SAMPLE
[ReviewDisclaimer]
Best Face Primer Face Primer Iamsmokinghot ISH Beauty ISH Face Primer