Today's post is sponsored by Mirum Shopper. All thoughts and opinions are my own.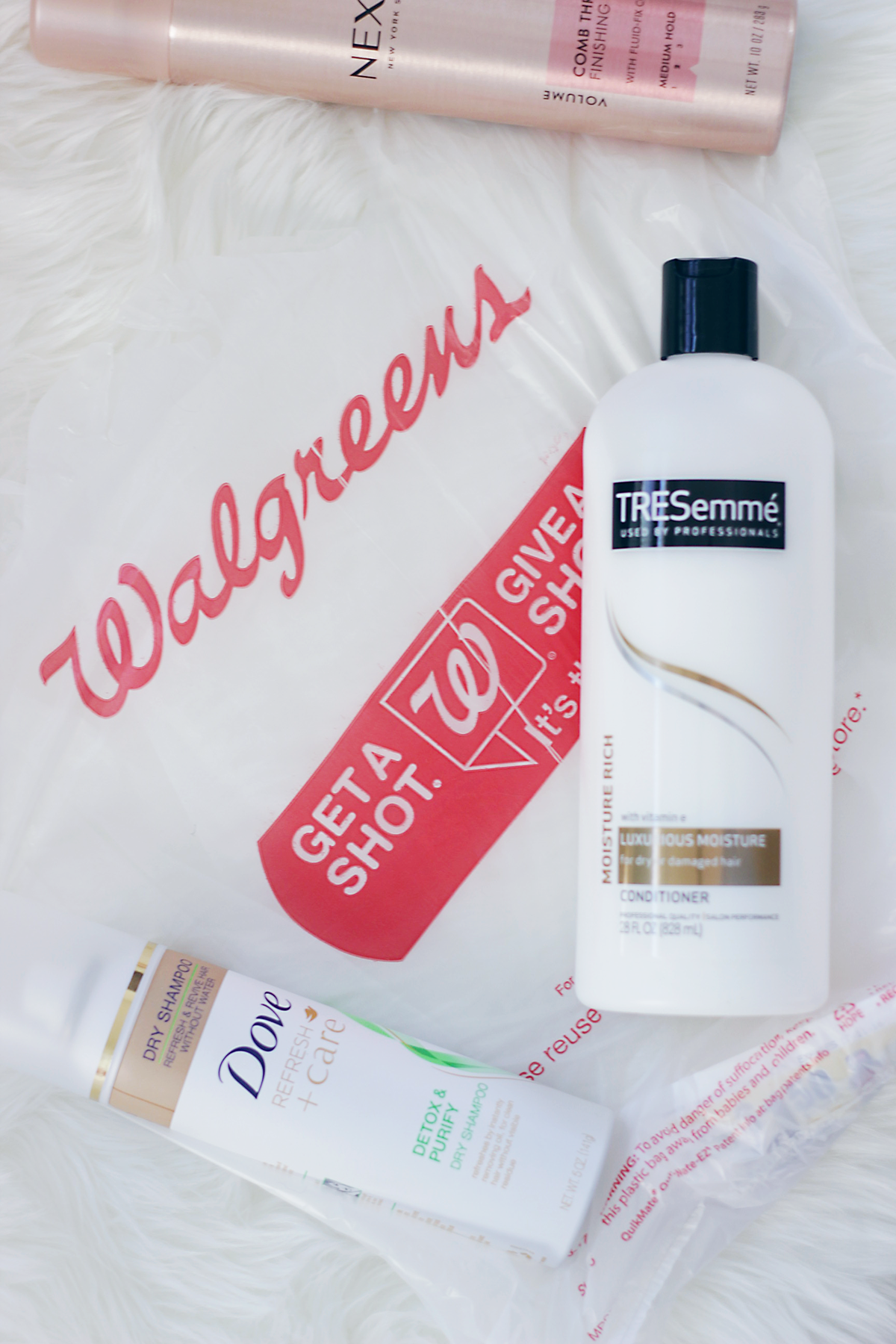 I don't know about you guys but I am SUPER excited about Fall. I mean living in SoCal our Fall is very scarce and still considerably warm compared to other sides of the country. However, when it comes to Fall- easy hairstyles are the rage.  I mean one minute you can be chilling by the beach with your hair in a bed of beachy waves, the next minute the crazy Santa Ana winds kick in, and instantly you need a bit of a hairstyle change STAT. I don't know about you but I for one HATE having my hair blowing crazily in the wind, getting all tangled- especially I have tons of texture in my hair. So today I partnered up with Walgreens, to share with you a look that I have been rocking as its runway inspired and oh-so-easy. Let's get into my version of the Easy Transitional Textured Ponytail…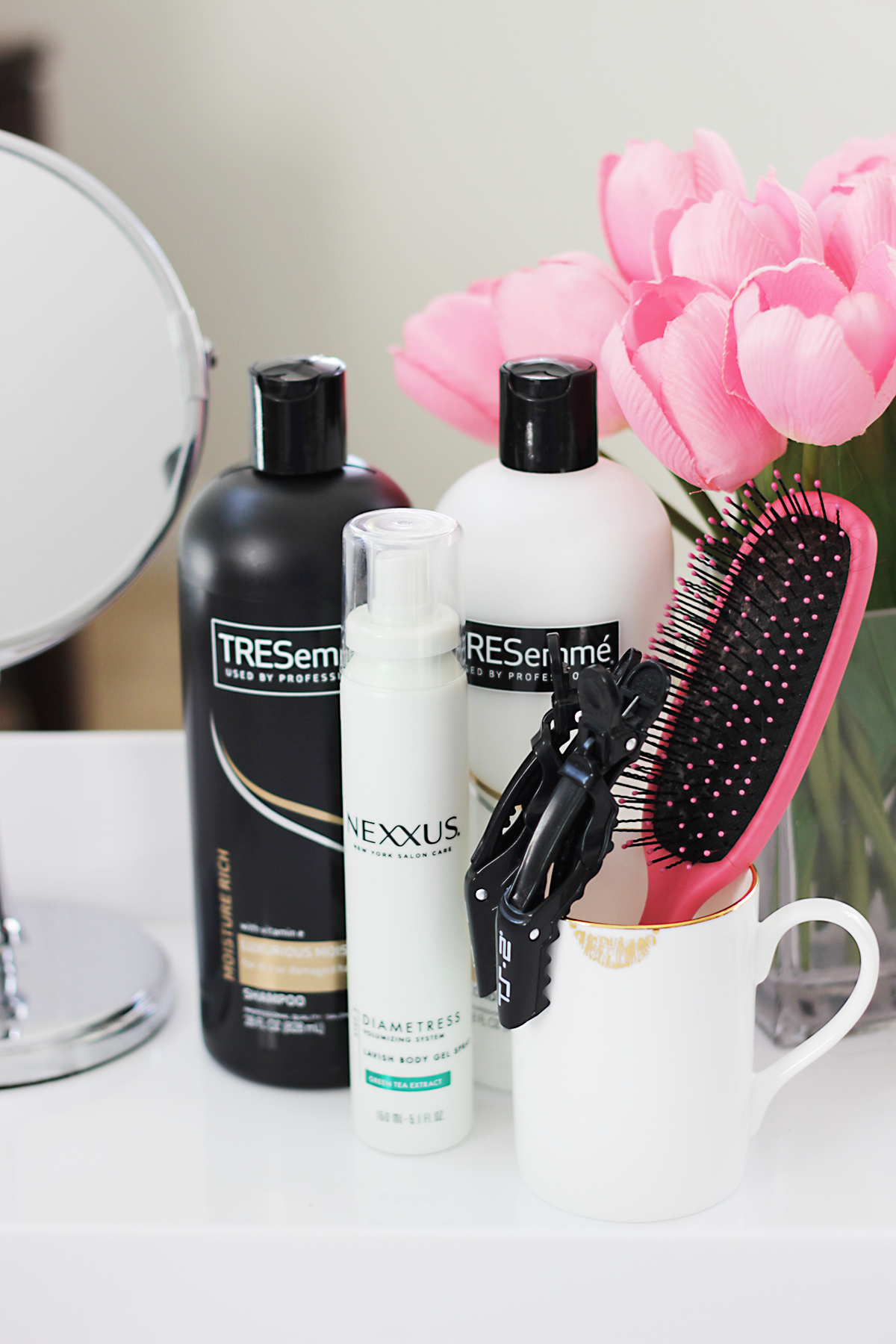 When it comes to textured hairstyles, I am always a fan- especially since my hair is pretty textured in large part to being born with ULTRA curly hair. Since I get my hair chemically straightened, my hair at times can be a bit on the flat side- so for me transitional textured hairstyles are rocking my world this Fall. This runway inspired textured ponytail is literally so easy, and literally takes about 5 minutes to achieve from start to finish.  

STEP 1: HAIR PREP
When it comes to my hair, I am always lacking moisture- I literally NEED alot of it, at all times. I suffer from dry, chemically textured hair, so bring on the moisture. Recently I was at one of my favorite local Walgreens  to grab a few of my hair style necessities. The best part about Walgreens, is that they have AMAZING deals- especially the beauty deals-  and you know me- I LOVE BEAUTY! While I was at Walgreens I picked up a few bottles of my favorite TRESemmé® Moisture Rich Shampoo & Conditioner, this shampoo and conditioner duo is AMAZINGNESS to help give hair a extra bit of hydration- and my hair LOVES it.

STEP 2: GIVE HAIR TEXTURE & VOLUME
Since my hair is often lacking a bit of volume and body, I am OBSESSED with grabbing my Nexxus® Diametress Lavish Body Gel Spray, you guys this stuff is AMAZING! Not only does it smell phenomenal but it also helps give the hair the most amazing amount of oomph on damp hair. I like to spritz this body giving spray to my hair while slightly wet, then allow it to air dry for about 15 minutes, followed with a bit of blow drying. Usually I will lightly curl my hair to help give me a bit of beachy waves, and then out the door I go. However, since I am sharing with you a bit of a transitional hairstyle for those days you need to change it up midday after you have been running around but don't want to rock a traditional ponytail. Let's jump in on how to rock a Easy Textured Ponytail…

HOW TO ACHIEVE THE MIDDAY TRANSITIONAL EASY TEXTURED PONYTAIL
In order to achieve this easy textured ponytail, you need to take your beachy waves and pre-prep them with a bit of Dove Refresh & Care Invigorating Dry Shampoo to help give the hair a bit of midday boost. This dry shampoo is seriously, hands down one of the best dry shampoos I have in my arsenal- and it smells SOOOOOOOO GOOD!
Followed with a bit of my trusty Nexxus® Diametress Lavish Body Gel Spray on dry hair giving my hair a bit of extra texture before gathering hair into a low side ponytail. Once hair is gathered in the ponytail I separate the hair into two sections and start weaving hair from one side to the other creating a fishtail like braid. About two inches down grab a hair elastic. Then the texture trick begins- open the center between the two and fold remaining hair into the hole to create a textured like twist. Pull on the hair in between the folds to help loosen it up. Go down another two inches and add another elastic and repeat. Since I was lacking on time before heading out the door, I didn't get a chance to grab bobby pins to wrap hair around the elastics to cover them and pin them with a bobby pin.  Last but not least, to finish this easy style off is a bit of Nexxus Comb Thru Finishing Mist– I mean this finishing mist is the BOMB! It smells awesome, works great and literally is comb-thru all while giving you a bit of va-va-voom volume. I am HOOKED! Literally it's 1,2,3 and you are ready to head out the door with this runway inspired textured ponytail for the Fall…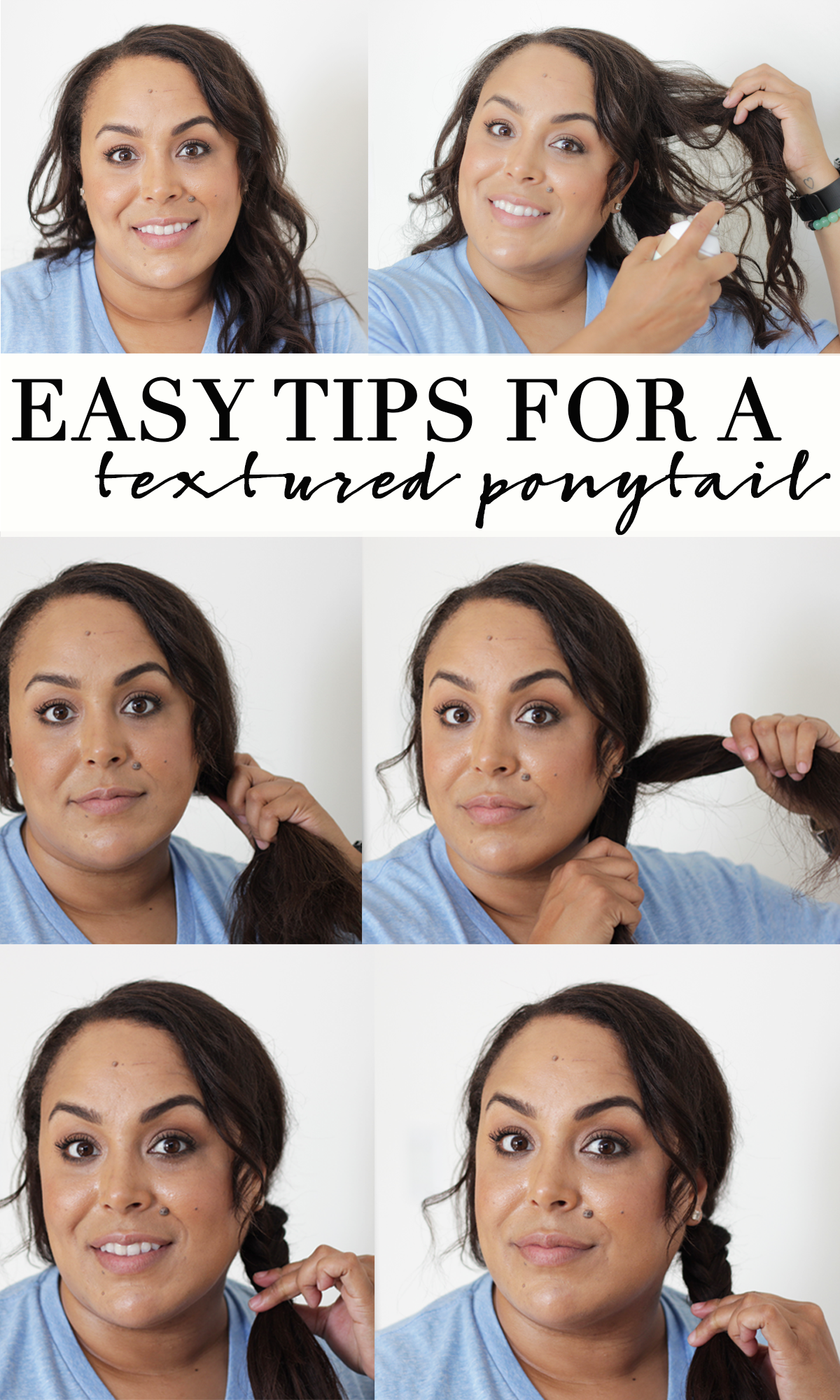 If you need more fall hairstyle inspiration, be sure to head over HERE and check out the Walgreens #GetYourStyleFix for more textured hair tutorials. While you are out it check out the deals of the week- Walgreens has some serious great offers and deals happening NOW and be sure to stock up on all your haircare needs. Especially if you are OBSESSED with Nexxus®, TRESemmé®,  Dove or Suave– you'll run into some amazing deals and savings and grab yourself a new fresh Fall look!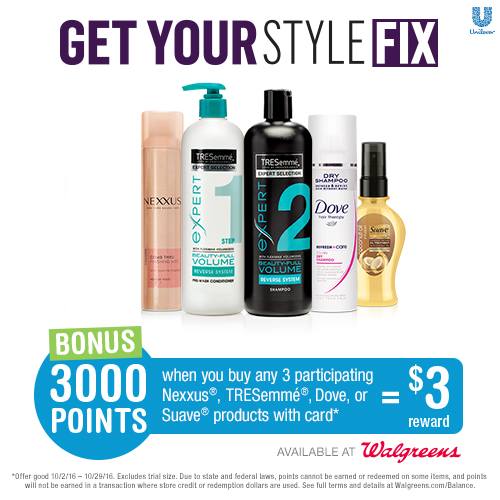 Buy 3 Nexxus®, TRESemmé®, Dove or Suave® products, get 3,000 Balance Reward points
Offer good 10/2/16 – 10/29/16. Excludes trial size. Due to state and federal laws, points cannot be earned or redeemed on some items, and points will not be earned in a transaction where store credit or redemption dollars are used. See full terms and details at Walgreens.com/Balance.
TRESemmé® is 2/$8 on select products or 2/$10 on premium products.

Offer good 10/9/16-10/15/16. Balance Rewards card required for promotional pricing.
Today's post is sponsored by Mirum Shopper. All thoughts and opinions are my own. #GetYourStyleFix
Dove Fall Hair Hair Care Hair Tutorial Nexxus Runway Inspired Hair TRESemme Volume