This post may contain an embedded affiliate link. For more information please check out my disclosure policy.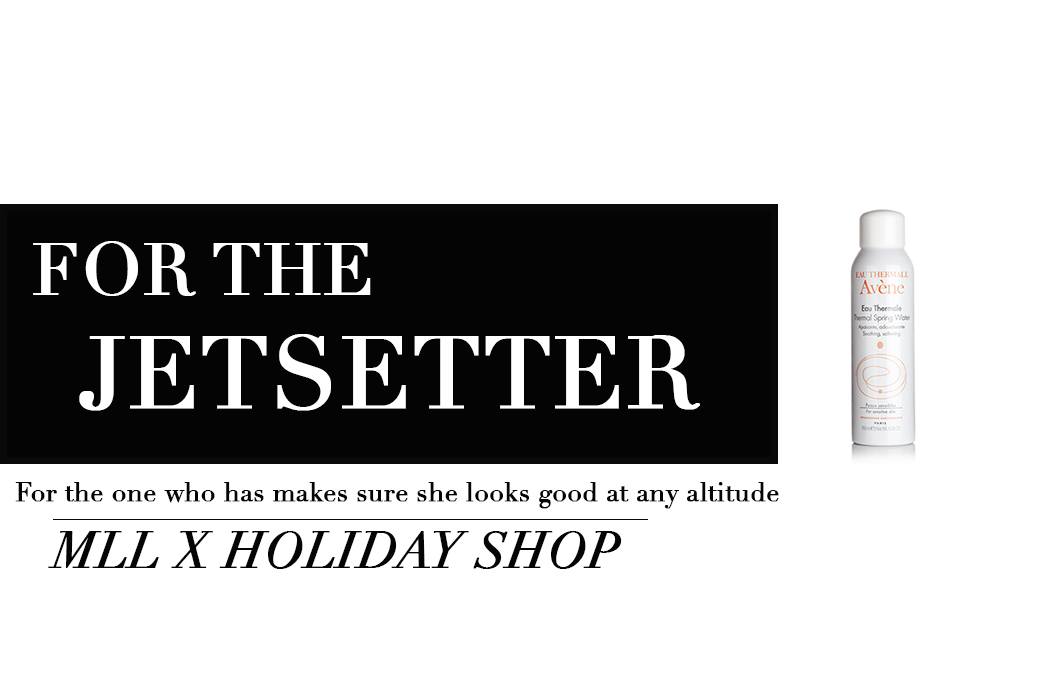 O-M-G, you guys! Can you seriously believe that as of today we have literally less than 3 weeks until it is Christmas!!!! Seriously I know I have said it multiple times before, but this year is FLYING by way too fast. I almost feel like Black Friday and Cyber Monday were long ago – although it was literally last week. However, it is time for us to keep going with our MLL 2016  Holiday Gift Guides for some gift-giving inspiration OR you can always head to the MLL Holiday Shop and shop all MLL favorites that have been featured in our holiday gift guides.  On gift guide, I am always so excited about is the Jetsetter. Since I travel often for work and pleasure, the jetsetter gift guide is always one of my favorites to share. I have a trip coming up soon, so I figured this would be the perfect time to throw together some of my tried and true favorites (including my awesome favorite travel brush set ) to help you gather some gift giving ideas for the jetsetter on your list-  you know the friend who always looks fabulous from any altitude.
Now I am SUPER particular when it comes to my jetsetter travel necessities- I like to have everything I need readily available, as well as be ready for anything that might arise- let's be honest- when you are traveling, anything and EVERYTHING usually happens when you least expect it– so I always like to be ultra-prepared. From my passport (and this ADORABLE passport cover), to the much coveted sleeping eye mask, and in-flight skincare regimen*, to my favorite travel brush essentials* (which literally have you covered from foundation to eyeliner and come in a awesome brush roll- can you say VERY travel friendly) to get you ready at a moments notice before landing, I have to be prepared at all times. I am bit overly picky when it comes to travel beauty products in particular- my skin hates random hotel products, so I always carry this curated essentials kit, to help ensure that I am covered from head to toe.
For ultra long flights I NEED  a comfy neck pillow, and of course headphones– these are a must on any flight over 2 hours- especially these noise cancelling headphones (literally I will buy a pair and overpay at the airport if I forget mine), a backup phone charger– MUST HAVE at all time, I also always need the perfect soft scent* to help freshen up before landing, as well as a GREAT hand cream* – (nobody has time for dry hands-right?) , a  great facial mist to help stay hydrated at all times –Hello long European flights– seriously if you don't care a facial mist on a flight- you must- it is LIFE CHANGING when you arrive at your destination.  I tend to carry everything I need for my flight (beauty-wise) in this super cute and spacious makeup bag. For my actual carry on I am OBSESSED with this carry-on and this backpack*, it is the perfect size to hold everything from magazines, to my in-flight beauty essentials to this cute blanket to make sure you are covered from the weird in-flight temperature fluctuations.
When traveling I have started to become SUPER fond of these "TO WASH" bags to help keep my dirty clothes separate from my clean clothes- I used to always use a gift shop bag- but let's be honest- these are way cuter and fancy for sure. Finding this bag scale was literally life changing as well a money-saving from all those over-sized bag fees-  hello $75 for being 1.2 lbs over, these space saving bags have also helped make a MAJOR difference in the way that I come packed and prepared. Heck, I might (big MIGHT) even be trying to travel for 7 days in just a carry on- we shall see if that happens– until then don't forget to shop my jetsetter favorites below, and check out all the other gift guides I have put together this year! You can also view all my holiday gift guides on my HOLIDAY tab as well!
[otw_shortcode_divider margin_top_bottom="30″ text="JETSETTER GIFT GUIDE FAVORITES" text_position="otw-text-center"][/otw_shortcode_divider]

2016 GIFT GUIDE SERIES
2015 GIFT GUIDE SERIES
*PR SAMPLE // SPONSORED
[ReviewDisclaimer]
Holiday 2016 Holiday Gift Guide Holiday Gift Guide: Jetsetter Holiday Gift Guides Jetsetter Gift Guide