Today's post is sponsored by BabbleBox.com on behalf of Single Edition Media. All thoughts and opinions are of my own.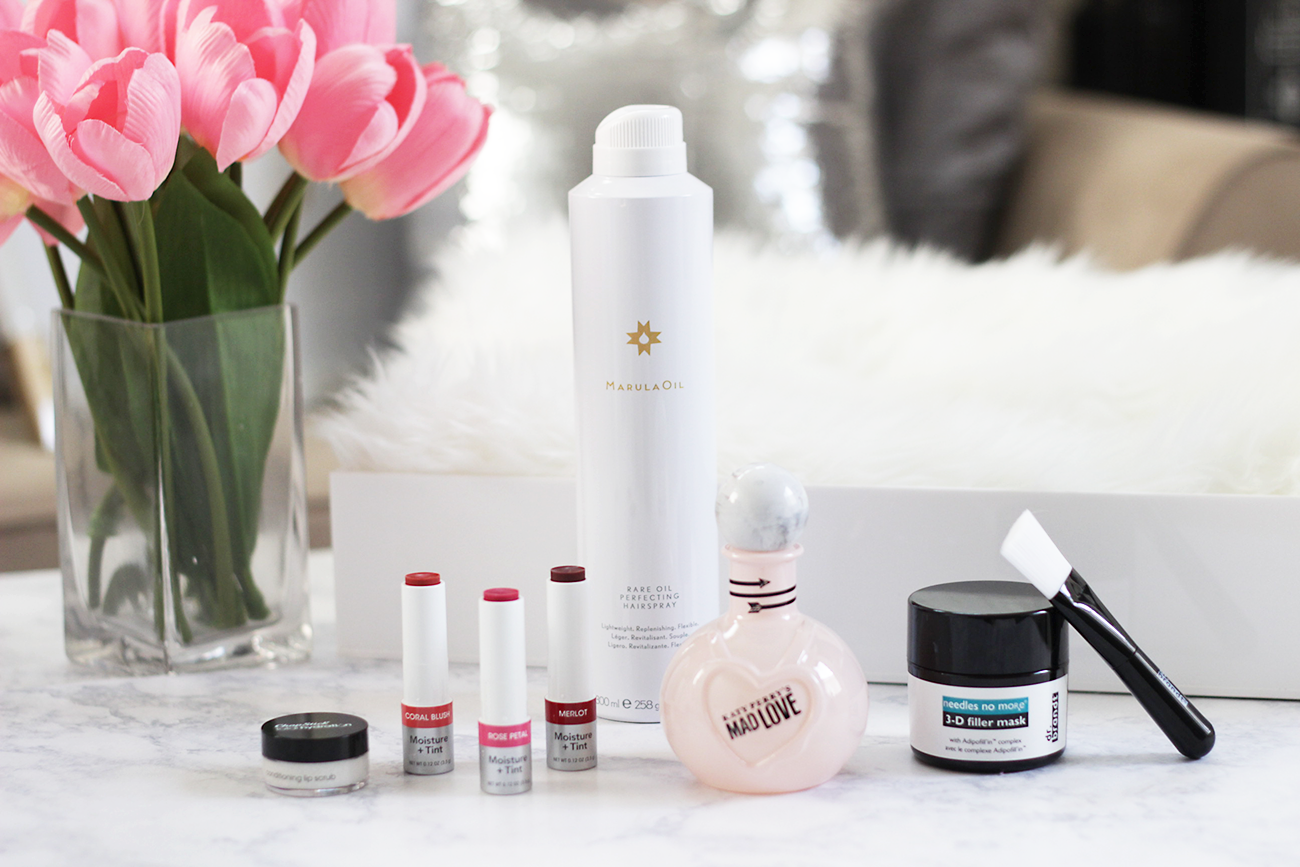 I seriously can't express how much I love the holidays, I mean something in the Southern California air – and maybe the fact that we have gotten some cooler weather lately- just literally screams 'HOLIDAY SEASON'.  Recently I have been focusing on what to get other people, and taking advantage of those holiday deals in time to save some money- that I lost a bit of track of what I actually need.  So today, I decided to turn the focus on YOU/ME! During the holiday season, everyone is so worried about what to get one another, that they often forget to turn the focus on themselves. So in a better effort to sharing the holiday joy with myself included,  today I partnered up with BabbleBoxx again to share with you the Party Me Pretty Box which focuses on all things beauty to help YOU  get ready for the holiday season.

PARTY ME PRETTY TIP #1: THE MOOD CHANGING SCENT
Every girl knows that when it comes an ME present, it is ALL about that scent. A scent came help change your mood, enlighten your day or help cement a memory within your mind based on that scent. One scent I am OBSESSING over this year is Katy Perry's MAD LOVE Fragrance. First things first, let's talk about the bottle alone. O-M-G, this bottle is absolutely stunning and gorgeous on a vanity! From the beautiful pale pink body to the marble top, it scream HELLO GORGEOUS! Developed in collaboration with Katy Perry this playful sexy floriental fruity fragrance is the perfect blend of beauty and succulence: notes of Lady Apple Sorbet, Sun-Kissed Jasmine, Coconut Wood and Sandalwood all create the hypnotic aroma of beauty that this scent encompasses. Seriously this scent is the perfect scent this holiday season to help take you from day into holiday party nights- it also makes for a great gift giving idea for the scent lover you know.

PARTY ME PRETTY TIP #2: BEAUTY STARTS WITH THE LIPS
Since the weather is kicking up a notch in Southern California and almost freezing in other areas of the U.S, cold weather usually means DRY, CHAPPED LIPS! Thankfully, one brand that is always there to count on is ChapStick®. I don't know about you but I have been using ChapStick® since I was little, and now- O-M-G, they have sooooooo many awesome options.  When I opened the BabbleBoxx Party Me Pretty Box,  I literally screamed because- let me tell you ChapStick® dreams came true. I have literally been wishing that ChapStick® would make a lip scrub- so let me introduce to you the ChapStick® Total Hydration Conditioning Lip Scrub. I am OBSESSED!!!!! Say hello to healthy, youthful, NON-chapped lips this year. This lip scrub gently exfoliates and conditions the lips to help leave them feeling silky, soft and baby soft smooth. The unique blend of Sugar Crystals, Maracuja and Coconut Oils, Shea Butter and Vitamin E with the refreshing Peppermint Scent and Flavor literally NEED to be a MUST HAVE in every stocking this year. It is SOOOOOOOOO good and your lips will thank you!
Another AMAZING product that ChapStick® has introduced is the ChapStick® Hydration Moisture and Tint– these are seriously GENIUS! A vast array of shades to help you have a hint of color paired with ultimate hydration the ChapStick® Hydration Moisture and Tint, will keep you looking fabulous from day to night or party to party. I have been keeping the shade Rose Petal in my handbag and Merlot on my vanity to help give me a boost of darker lips for holiday parties and evening gatherings.  Trust me the saying is true- When your lips are hydrated- lipstick will last so much longer- and the staying power of these is AWESOME!

PARTY ME PRETTY TIP #3: SKINCARE MASKING
When it comes to skincare- the first thing I instantly think of is a GREAT skincare mask. However, when it comes to the holidays the first thing I think about is ' HOW am I going to hid the signs of aging for holiday pictures- you know those extra smile lines that are starting to creep up on you- luck for me there is a mask that can help prep your skin and save the holiday picture taking season.  This my friends, is liquid gold in the form of  Dr. Brandt Needles No More 3-D Filler Mask. Let's talk about WHY it is so seriously phenomenal for a minute. Dr. Brandt Needles No More 3-D Filler Mask, is a revolutionary cosmetic leave-on mask that counteracts the effects of gravity in the lower half of the face. It is intended to visually revolunmize, reshape, fill, plump and smooth the laugh lines to help instantly take on a more youthful appearance.  The unique formula contains hyaluronic acid to help give the skin some oomph and hydration all while it works its magic.
Curious how to use it? All you have to do is after cleansing, on each side of the face draw an inverted triangle. Brushing the mask into the skin from chin up to the cheekbones all while targeting the hollows of the face. You can also gently pat into areas that need more of the 3-D filler. Leave the mask on the skin until it absorbed. Follow it up with your usual moisturizer and/ or makeup routine- simple as 1,2,3.  ADDED BONUS: SAVE 20% OFF NOW USING CODE: BABBLE3D.  When used daily, you will literally visibly see added volume to help plump the skin and smooth out those pesky smile lines. You'll also notice that the 3D mask helps reshape the natural facial contours over time.  What better way to PLUMP UP the volume in your skin than going the natural way- trust me your skin AND holiday pictures will thank you!

PARTY ME PRETTY  TIP #4: HEALTHY, FRIZZ FREE HAIR
Soooooo I am a long time sufferer of some dry, damaged hair. I mean seriously my hair has been through the ringer when it comes to dry and damaged.  When it comes to the holidays I am usually not overly excited because holiday parties mean I also need hair that will stand the test of time. However, styling products usually leave my hair feeling worse than it was before I styled it, until now. Seriously my friend, it is time to rejoice! The MarulaOil Rare Oil Perfecting Hairspray, is literally a godsend from the hair gods. This flexible, layerable hairspray helps replenish the hair while it holds- genius! The fine mist effortlessly adds a perfect finishing touch to any style without leaving hair crunchy or harsh feeling.  Seriously it's like MAGIC on your hair! This unique hairspray is infused with pure, cold-pressed marula oil to help replenish your hair as you style, but also deliver the hair some protective antioxidants and oleic acid for instant taming, softness and manageability.  That's not all, this finishing spray ALSO helps resist humidity and fight frizz all while giving hair a lovely little dose of natural shine – see what I mean about being a godsend!
I have been applying this wonder product to dry hair after being styled, and literally is it hands down one of the most amazing finishing sprays I have come acrossed. Trust me this product is perfection in a bottle for all hair types including my dry, damaged hotness head of hair. I am OBSESSED!! Bye bye frizz and hello holiday perfect hair.
The holidays are already chaotic, sometimes you just need to take time and give yourself some solid ME-TIME.  Pamper yourself this holiday season and incorporate some of these ME-TIME Holiday Party Me Pretty Tips- I promise you'll make it through the holiday season looking rested, de-stressed and oh-so gorgeous.  Do you have any ME-TIME Party Me Pretty Tips? Let me know in the comments below…
Love this post? Pin it for later here: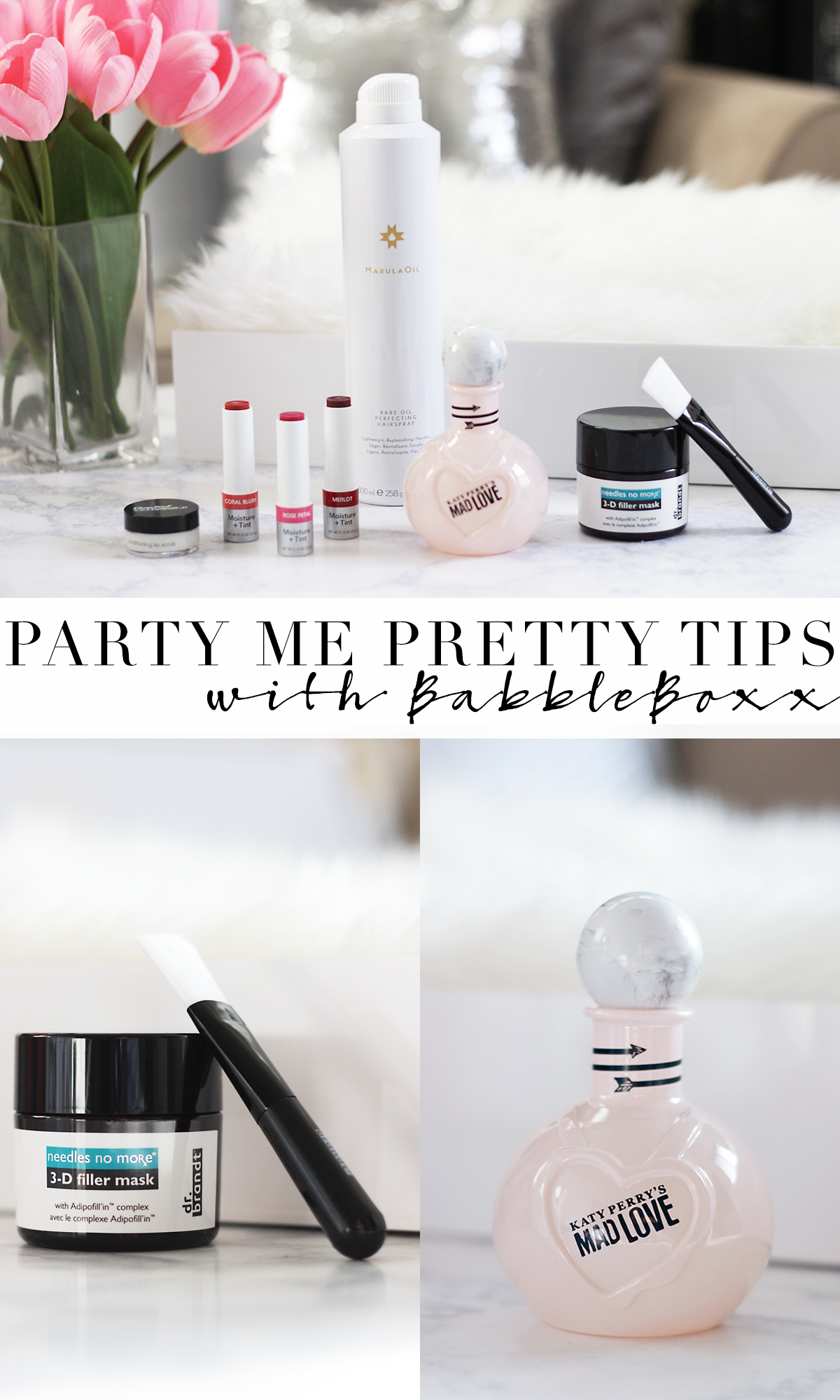 *PR SAMPLE 
Today's post is sponsored by BabbleBox.com on behalf of Single Edition Media. All thoughts and opinions are of my own.
[ReviewDisclaimer]
BABBLEBOXX ChapStick ChapStick Hydrating Scrub Holiday Holiday 2016 Katy Perry MAD LOVE Fragrance Party Me Pretty BabbleBoxx RareMarula Oil Perfecting Spray