Alright you guys, lets talk a bit about fitness. *cough, cough, groan*. You all know that the heat is kicking up a notch in Southern California, and with hotter weather comes – time to get in shape mode. I obviously have a serious love for food, or what I like to call 'the finer things in life' well besides makeup- obviously! With summer knocking on my doorstep in a few short weeks, I decided it was time to kick up my healthy game and start a plan of action. One month til the official start of summer, so I better get ready, and what better way than A Kick Start to Fitness with Pop Sugar Must Have Snacks by Nature Box….
You know the saying:  To get fit you have to exercise and eat healthy. Ummmmm… yeah it's not all that easy, especially if you like food- just saying! Since I am a girl who loves to eat, when I was at the gym recently talking to one of the trainers he kept saying a new saying, I am living by- 'In order to lose weight its 80% what you eat and 20% fitness/exercise', so with that being said he also threw in 'in order to lose weight you have to feed your body' and by was I in heaven with that saying. So in conjunction with my current fitness work out routine, I was sooooooo ecstatic to find probably one of the most genius things ever- Pop Sugar Must Have Snacks by Nature Box– $19.95 USD,  this box is seriously AMAZINGNESS. A specially curated box that contains not one, not two, but five Nature Box snacks that are super….. drumroll – HEALTHY! I mean when you in a hurry and on the go, snacks are the best thing to keep fueling your body-as the trainer would call it. I was given the opportunity to test out a Pop Sugar Must Have Snacks by Nature Box box recently and man oh man, I will be coming back for more.
Lets talk about the details of this amazing box. Five generous sized snacks all for the low, low price of $19.95. This box contained:  Lemon Pucker Pistachios– amazing; Pop Sugar Must Have Trail Mix-a total favorite; Seaweed Rice Pops– super yummy; Dried California Peaches– very good, yet a bit different;  Blueberry Almond Bites– OMG my favorite. Each box is about 3.5 – 4.0 oz which is a steal at about $4 a bag for the $19.95 subscription. It seriously had me trying snacks I never would have, and I am sooooooo IN love with some of them.  Out of all the snacks the one I cared for the least was the Dried California Peaches, I just a bit way too into actual fruit to enjoy the dried out kind. Something about the taste of a dried out peach just doesn't compare to the juicy taste of a ripe one. I have already placed my order for a second box, since I seriously have fallen in love with this box, and its effortless push to kick start my fitness with healthy eating. Right now for a limited time, you can get your own Pop Sugar Must Have Snacks by Nature Box for 50% off by clicking here! I don't know about you, but $10 sounds like a perfect price to test out this AMAZING subscription box of heavenly food goodness.  It's a win, win- healthy food, you can eat and get healthy!
Have you tried any subscription boxes of food? If so, please let me know…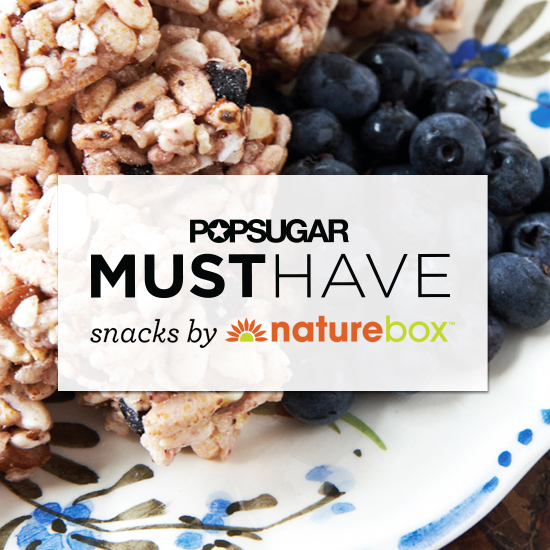 **POPSUGAR and NatureBox provided me with a complimentary POPSUGAR Must Have Snacks by NatureBox box. The opinions I have shared about the box are my own, and POPSUGAR and NatureBox did not tell me what to say or how to say it.** All opinions and thoughts are my own. For more information view my Disclosure policy here. **