Here we go y'all…another Monday, and hot as hell weather as we venture into August. This weekend has totally flown by way entirely too fast. In between being a solid lazy a$*- we all have those days right? To watching reruns of the new addicting show on E called 'Botched'- I promise if you can't seen it you are totally missing out and will be hooked. Anyhow, this weekend between indulging in way too much tv, enjoying the hot sunshine that Cali had to offer, I also was on a mission to update my closet. I have some serious closet envy a lot lately. I want a gorgeous yet practical space that I can find everything I want and need within seconds. Since I am currently seeking my future home sweet home, I figured it was time to start getting some serious inspiration. So to start this week off I am changing things up and stepping away from beauty for a minute, as I seek inspiration and find my idea behind my dream closet….When I think of my dream closet space, I often think of color coordinating clothing, a beautiful center space filled with accessories, and a solid shoe and handbag wall. However unless I win the lotto tomorrow (fingers crossed) I highly doubt that space will be attainable since the real estate cost of California is ridiculously expensive- unless I decided to forgo a guest room and convert a bedroom into a closet. It is always an idea.
Since I have a major and I mean major decorating itch, I will probably be showing my entire home inspiration on here as I gear up for a move. I am thinking gorgeous hardwood floors, white walls, stainless steel appliances, and of course that beautiful closet. Anyhow here are a few closets that I am absolutely jealous of in all shapes and sizes.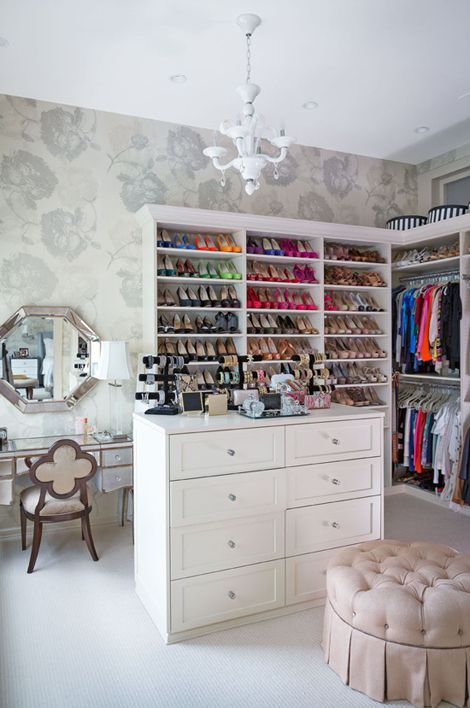 Obsessed with the idea of turning a room into a closet like this one from Bethany Frankel. A perfect alternative if you have a spare room that is not in use. Love that the makeup vanity area is inside the closet too.
This very organized and showroom like closet of Yolanda Foster from The Real Housewives of Beverly Hills- it is simply stunning. Glassed in clothing area, dressers, a center island and a sitting area. I mean and look at the phenomenal shoe and handbag area. I am dying over here at how amazing it is.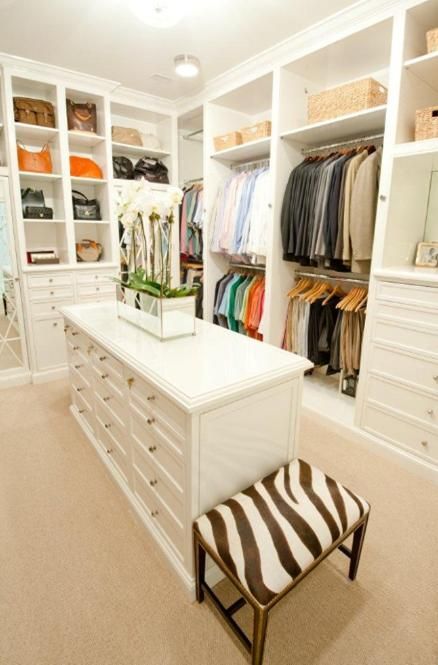 This closet is simple, crisp, clean and gorgeous. I am obsessed with this closet. Drawers all over the closet, with an accessory island complete with a few open spots to showcase handbags. Simply gorgeous and beautiful! I am utterly obsessed with these closets and have serious closet envy. Streamlined and gorgeous all three of these closets are my inspiration of what I want in my upcoming move. An open space with tons of storage so that it will look clean at all times, topped with an area that I can sit and get ready. The only thing I would add would probably be a three-way mirror a la Mariah Carey style, but for now this is a starting point. In the mean time here is a great read on how to transform your closet in five easy steps.
What is your dream closet? What do you look for in closet inspiration?