It's been a bit of a while since I have checked in with a full blown skincare update. I know you are probably thinking 'really Jamie you talk about skincare all the time', and you are right- I kind of do! Something about skincare just has me addicted and on the quest to perfect skin. But in all realness I have been missing a little something from my skincare routine. Since the weather lately has been a bit wacky, my skin has been taking a bit of a wacky attitude on as well. Some days its a bit dry, and some days holy wow I am oily. Usually I can test out a few products and know within a few weeks whether or not my skin agrees or if it just simply HATES it – seriously y'all the process is real- but this one was worth the wait, I promise…
Let me give you a bit of a quick run down on my face first. Between picking at nothing- I seriously need to take the magnifying mirror AWAY, to my chin and nose yelling 'MOISTURIZE ME NOW'- my skin is in a bit of a phase. I am not sure where or what I am falling under- which leads me to the point of this post. I recently discovered SKIN INC and added some amazing additions to my current stash. Skin Inc. is a brand that literally is like no other. It is the world's first skin supplement bar. What does that mean you might ask? Well let me tell you, it is a fuss free regimen comprised of high concentrated, pure, active and extremely innovative serums that are designed just for your skin. Containing NO parabens or scents, Skin Inc serums literally deliver maximum results and boy do they offer those results quick! I am seriously OBSESSED! My skin is loving #mydailydose as it is hydrating in all the right places, protecting my skin and helping calm and soothe my skin as it freaks out sporadically during this weather transition. Literally this is one product that has me waving my hands high in the air, screaming ' hold up… this is rocking my world' .
Here is a quick rundown on how to discover your skin identity using the Skin Inc analysis questionnaire- its quick, efficient and to the point.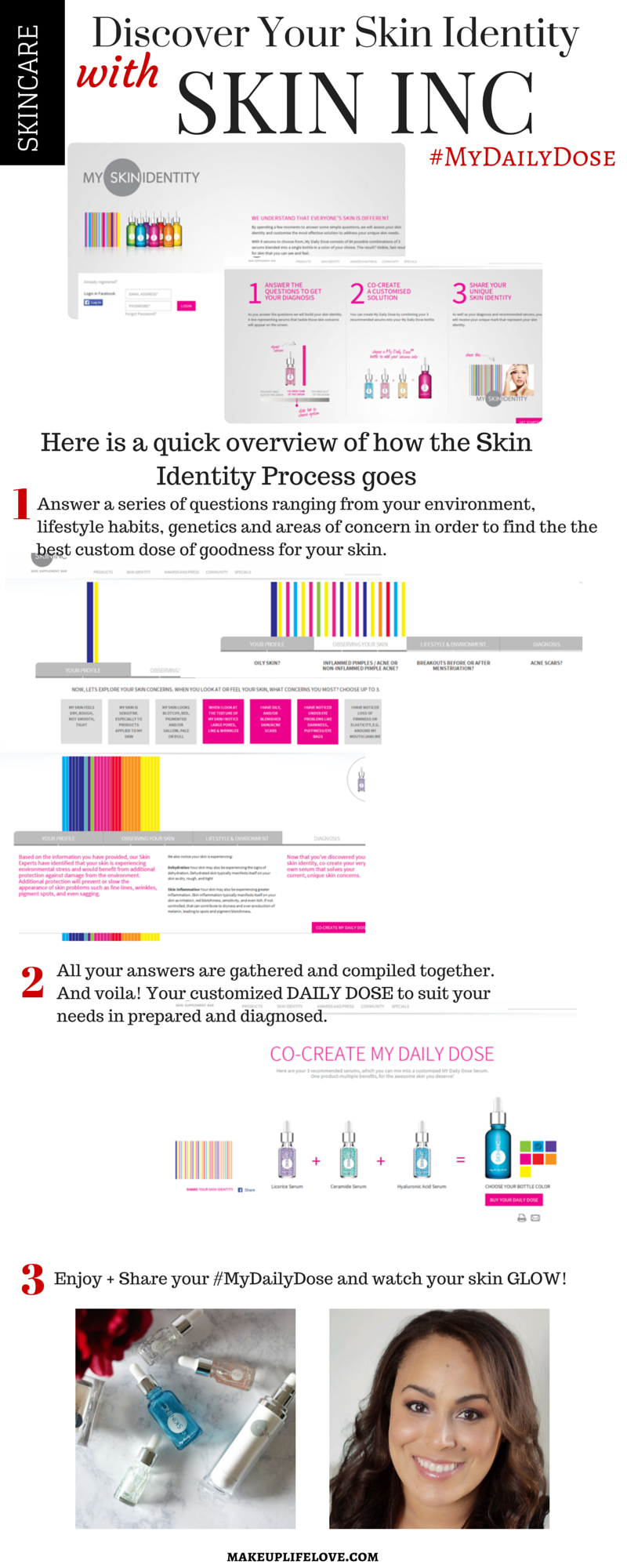 Whoa, girl. Was that a rave of all raves, or what? The addition to SKIN INC in my skincare stash has been a truly and utterly positive move for my skin. It is supple, hydrated and on the fence of feeling perfectly normal- is that such a thing? Either way, I am a true convert and I can't wait to introduce you to some other wonderful additions next week that I have been testing from the line and loving tremendously! So stay tuned y'all because I gotta feeling that this may be the ONE- I got a blank space baby, and Skin Inc I'm writing your name…