Today's post is sponsored by Mirum Shopper. Opinions are 100% my own. #Cheers2HealthyLips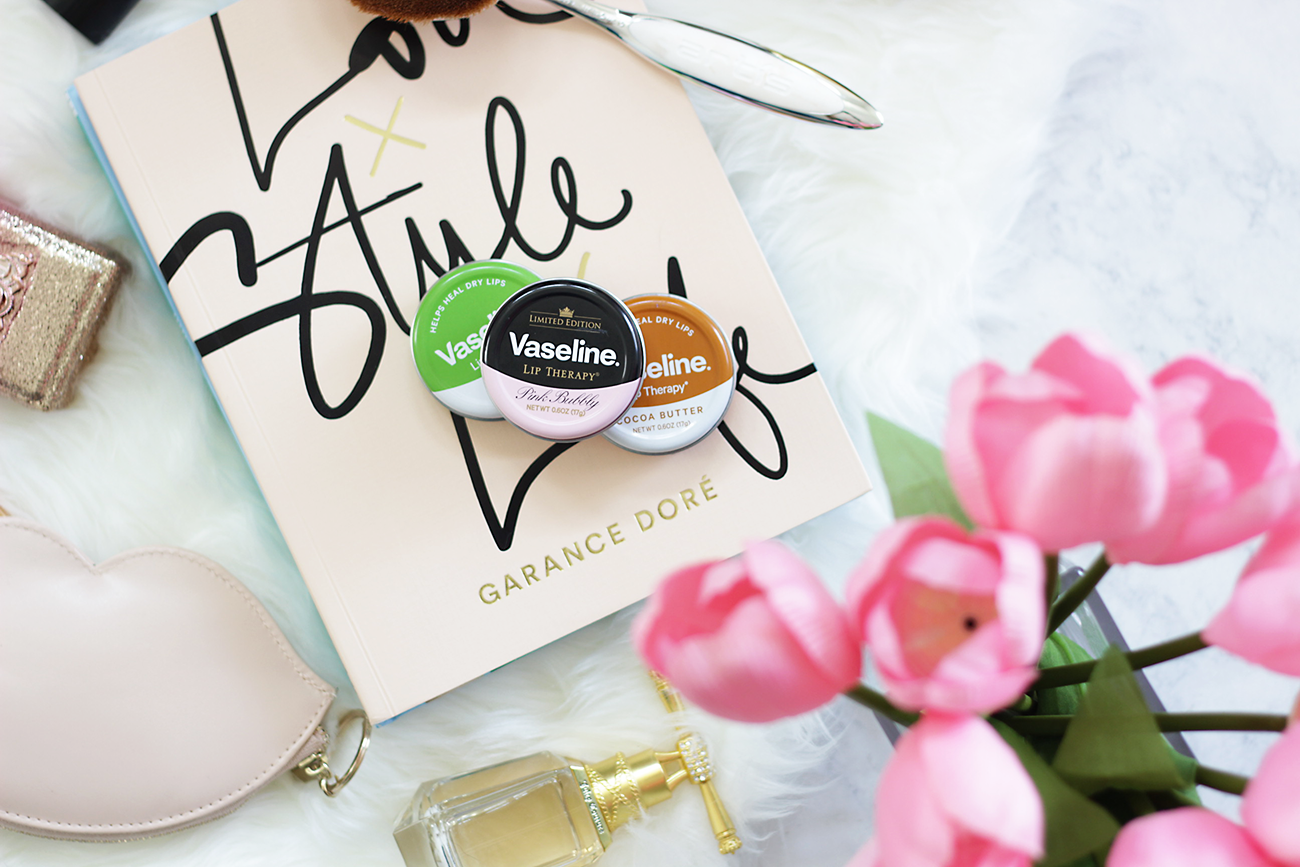 OMG you guys! Lately, summer has been kicking my butt. I don't know about you guys but the heat in SoCal is blazing- seriously the struggle to stay cool is real- and of course when it comes to hot, scorching weather it usually means that my lips venture to the dry side of the spectrum.  As you all know I am ADDICTED to lip balms- I mean really something about the texture, the feel, and the flavor is just divine.  Today I have partnered up with Vaseline to bring you a whole new flavor and let me just say- IT'S AMAZING!  So sit, back grab and drink and let's pop some pink bubbly…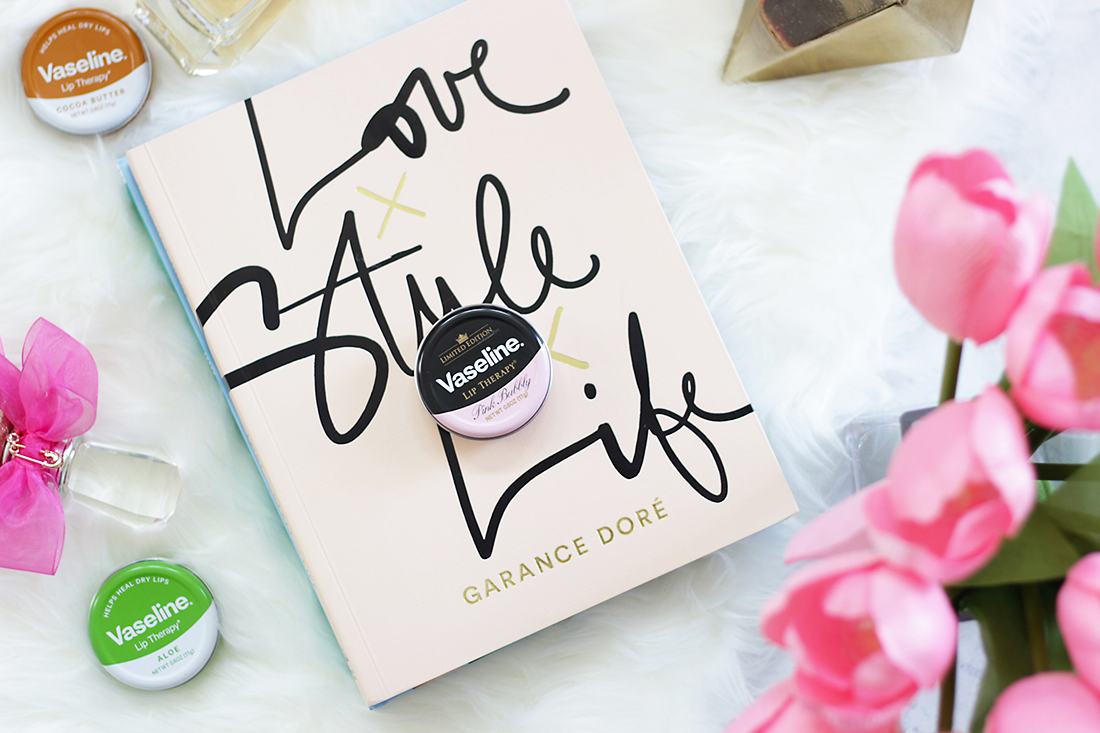 Recently when I was on a makeup outing stalking my local Walgreens for a few beauty launches, I ran across probably the most, if not BEST new launch EVER! Hot weather usually calls for a little bit of fun in the sun and sipping on your favorite Rosé wine, and now Vaseline has a limited edition Pink Bubbly  flavored lip tin. I mean what else could you ask for? Housed in pretty pink packaging and packed with a PHENOMENAL scent! I for one, am OBSESSED and might have stocked up on a few extras ( You know me and limited edition items).  Seriously, though I can't get enough of this beautiful rosé shade, not to mention it smells sooooooo good. I literally have to keep myself from licking it off once I put some on.  One of my favorite ways to use this in my existing beauty routine is to glide this AMAZING lip balm over my favorite lipstick color to give lips an A-­list color that shimmers, or use over bare lips for a more natural look. The gorgeous rosé shade has the perfect amount of color and slight shimmer. I am seriously so IN LOVE with this shade and my lips are thanking me.
Currently, the Vaseline Lip Therapy Tins are available in four additional types- Original, Cocoa Butter, Aloe, and Rosy Lips, and of course, the limited edition Pink Bubbly which is sold exclusively at your local Walgreens. If you aren't too familiar with the Vaseline Lip Therapy Tins then let's break down a bit of their amazingness and why you NEED them ASAP shall we?
Clinically proven to help heal dry lips

Non-Sticky lip treatments that they leave lips ultra soft

Product literally melts into the lips to lock in moisture for a super soft and supple feel

The limited edition

PINK BUBBLY

contains hints of wine extract for not only a delightful fragrance but also an incredible flavor to give you a perfect, kissable pout that is intensively moisturized and ultra smooth.
Besides the fact that the Vaseline Lip Therapy Tints are simply amazing and the new Pink Bubbly addition is a must have in your beauty bag this summer, let's also break down a few simple beauty hacks that Vaseline Lip Therapy in Pink Bubbly can keep you beautiful all summer long.

BEAUTY TIP 1: TAME EYEBROWS
Now you all know me and my eyebrows. I mean at times they are just like fuzzy caterpillars and let's just say these little caterpillars refuse to be tamed with brow gel. So imagine how excited I was to find that my Vaseline Lip Therapy Tin in Pink Bubbly, tamed them instantly and kept them in place? Seriously life changing. All you do is dab a bit on the brow and brush into place with a spoolie. Instantly behaved brows. Trust me!
BEAUTY TIP 2: EXTEND THE LENGTH OF YOUR PERFUME
Did you know that before spritzing on perfume, if you add a bit of Vaseline Lip Therapy in Pink Bubbly over your neck and wrist points it will help extend the lasting power of your favorite fragrance? Seriously- I have been rocking this trick with my favorite perfume and let me just say- I smell AMAZING all day long!
BEAUTY TIP 3: DEFRIZZ HAIR IN A PINCH
We all have baby hairs that sometimes just don't want to stay in place, right? Well, Vaseline Lip Therapy in Pink Bubbly to the rescue. Take a small amount of the Vaseline into your palms and apply to your hair as you would a hair serum. Literally, you will see any frizz or static hairs tame down and behave instantly.  This also works awesome on concealing split ends.
BEAUTY TIP 4: SOFTEN CUTICLES + KEEP FEET SANDAL READY
Vaseline is literally the best best-kept when it comes to maintaining that mani and pedi during the summer. Not only does it help protect and repair dry cuticles due to the dry, heat it also helps give you softer skin and feet. I love that the Vaseline Lip Therapy Tin in Pink Bubbly is so easy to take on the go because throughout the day I just dab a bit on my cuticles and massage into the skin. When my hands are feeling dry, I just dab a bit into the palms of my hands and massage into skin. To keep my feet soft and sandal ready I massage a bit of Vaseline into my feet and heels (since you know it gets dry + coarse there the fastest) throw on a pair of socks and voila- the next morning instantly soft skin.
BEAUTY TIP 5: GIVE SKIN A BIT OF HIGHLIGHT
Highlight is majorly in right now in beauty, but sometimes the whole disco ball- shine bright like a diamond– look is a bit too much for daytime and the summer. However, there is a way to keep that 'highlight on fleek' vibe without shining from outer space.  So to get a gorgeous dewy sheen to the skin, all you have to do is take a tiny dab of Vaseline and apply to the top of your cheekbones and brows bones to give you a nice dewy sheen on the skin. It's literally a makeup artist trick to get quick and instant glowing skin.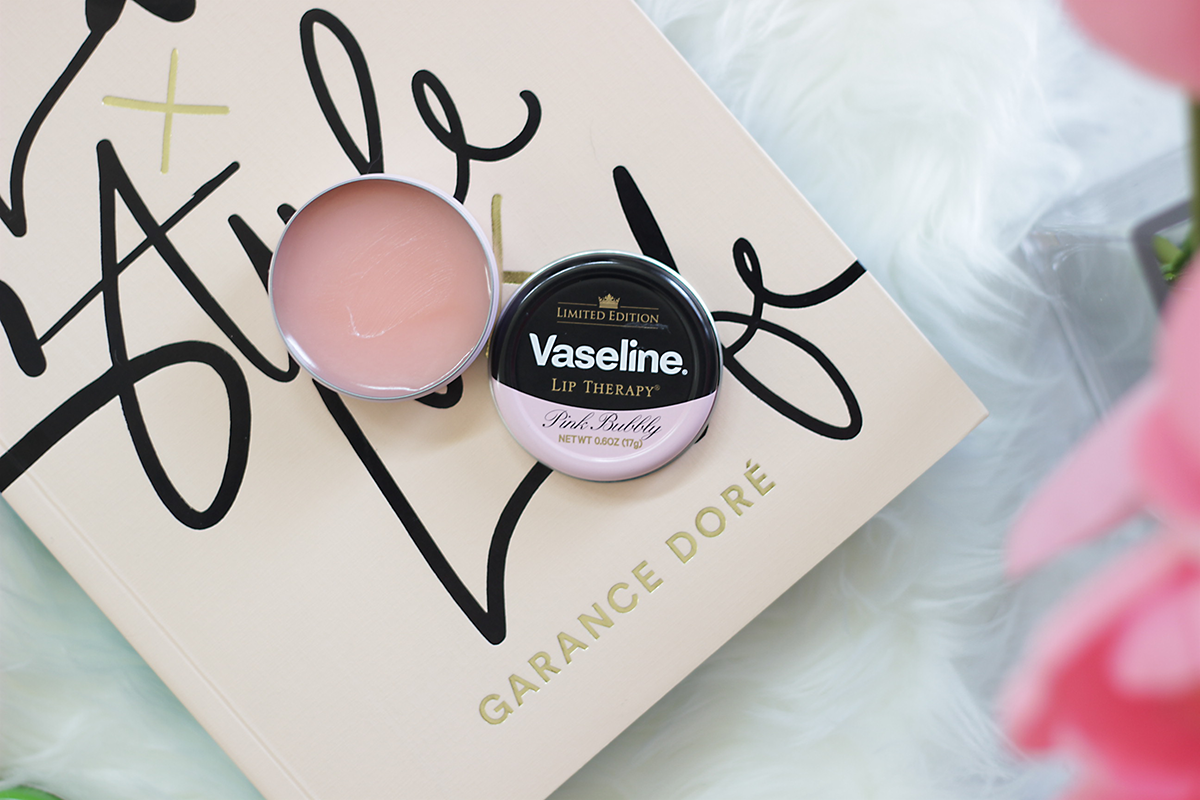 So there you have it! A few quick and simple ways this summer I rocking my newest obsession. Wondering where can you pick up one of these beautiful creations for yourself? Walgreens is the ONLY place that will be stocking its shelves with this flavor of Vaseline lip balm, so be sure to head in store soon before they disappear as they are available for a limited time only.  I know I have super dry lips and the Vaseline Lip Therapy in Pink Bubbly is my summer must have. I will be stashing this in my bag, by my bed, everywhere I can think. Honestly, you never know when you will need it, besides a girl can always love herself some pink bubbly right?
Let me if you do choose to pop a tin of , let me know in the comments below how you like/love the new Pink Bubbly or what beauty trick/tip  you would use it for.  One lucky reader who comments will be entered to win a $25 Walgreens gift card and a FREE Vaseline Pink Bubbly lip tin. All terms and conditions are HERE, the giveaway is ONLY open to United States residents who are 18 years or older. You can also share with me your favorite way to add Vaseline Lip Therapy in Pink Bubbly to your beauty routine or makeup bag this summer by using hashtag #Cheers2HealthyLips.  Cheer to healthy lips and a beautiful bubbly summer.
Today's post is sponsored by Mirum Shopper. Opinions are 100% my own. #Cheers2HealthyLips
[ReviewDisclaimer]
Pink Bubbly Summer Beauty Vaseline Vaseline Lip Therapy Lip Tin Vaseline Lip Therapy Pink Bubbly