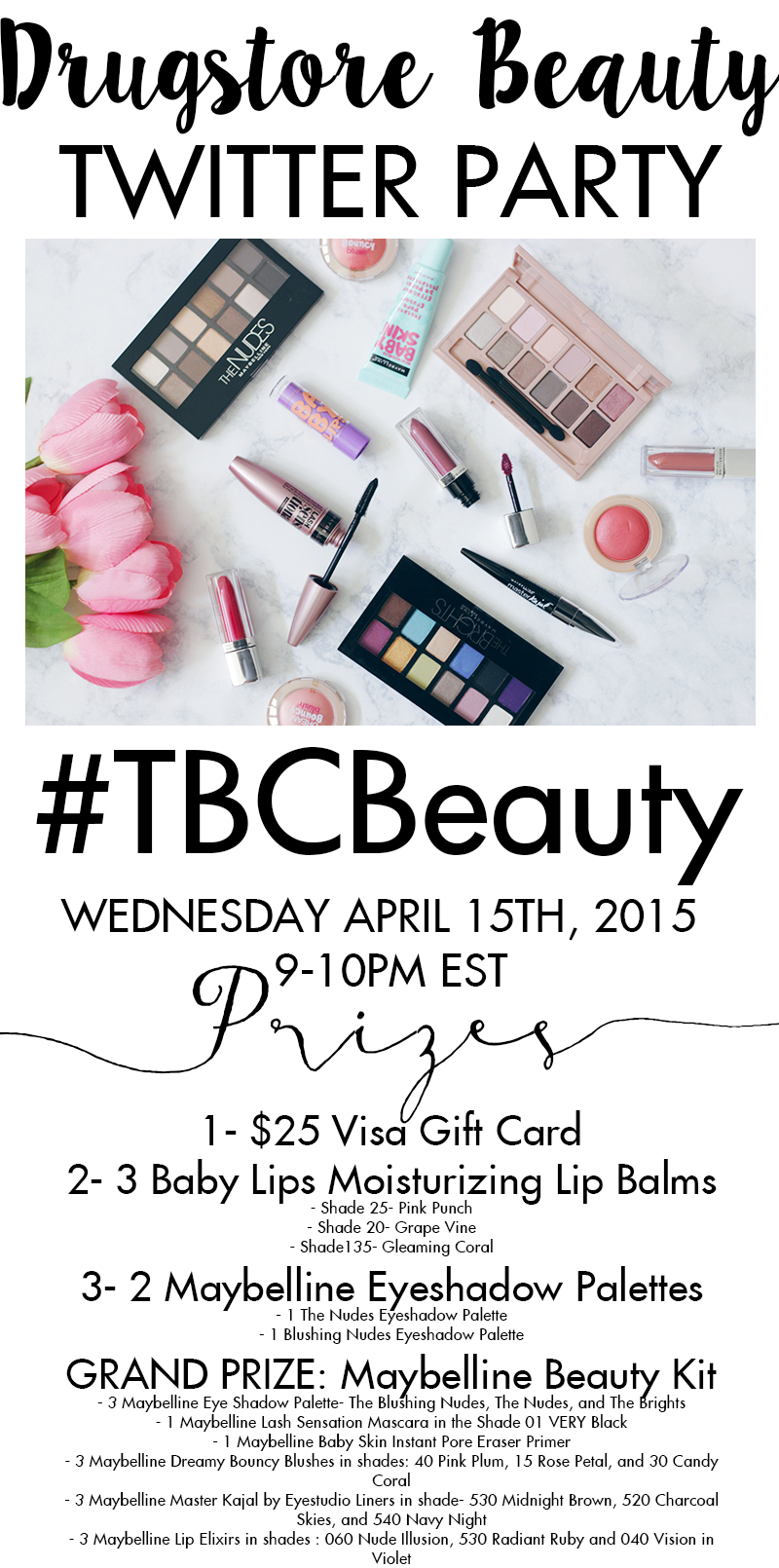 Hey everyone. Don't you just love great Twitter Party? I know I sure do, so I am happy to announce that we are hosting a party with The Beauty Council, to chat all about drugstore beauty favorites, tips and tricks for Spring! On Wednesday, April 15th at 6 pm PST|9:00 pm EST , please join me for the #TBCBeauty chat where we will indulge in a virtual beauty chat and give you a chance to win some awesome prizes!
DATE: 4/15/2015
TIME: 6 PM PST | 9 PM EST
PRIZES:
$25 Visa Gift Card

3 Baby Lips Moisturizing Lip Balms

– Shade 25- Pink Punch

– Shade 20- Grape Vine

– Shade135- Gleaming Coral

2 Maybelline Eyeshadow Palettes

– 1 The Nudes Eyeshadow Palette

– 1 Blushing Nudes Eyeshadow Palette

GRAND PRIZE: Maybelline Beauty Kit

– 3 Maybelline Eye Shadow Palette- The Blushing Nudes, The Nudes, and The Brights

– 1 Maybelline Lash Sensation Mascara in the Shade 01 VERY Black

– 1 Maybelline Baby Skin Instant Pore Eraser Primer

– 3 Maybelline Dreamy Bouncy Blushes in shades: 40 Pink Plum, 15 Rose Petal, and 30 Candy Coral

– 3 Maybelline Master Kajal by Eyestudio Liners in shade- 530

Midnight

Brown, 520 Charcoal Skies, and 540 Navy Night

– 3 Maybelline Lip Elixirs in shades : 060 Nude Illusion, 530 Radiant Ruby and 040 Vision in Violet
HOSTS: Must FOLLOW each host to win!
@thebcouncil
@angejim0531
@jmelee1221
@laurajean396
@beauty101blog
@daydream_beauty
@geniabeme
@cosmaficionado
@BeyondBeauty15
@EBBlogAshley
RSVP: RSVP BELOW WITH YOUR TWITTER HANDLE TO BE ELIGIBLE FOR PRIZES
PLEASE RT:
Chat about #beauty + a #giveaway during #tbcbeauty chat on 4/15 at 6pm PST/9pm EST. RSVP NOW: http://t.co/t7mLZbVvjz pic.twitter.com/mUnybOsHia

— Jamie Lewis (@jmelee1221) April 13, 2015