Earth Month is upon us, and NOW is the perfect time to start finding ways to take care of the planet AND yourself. Curious how? Keep reading to see how I am ditching and switching my current self-care routine.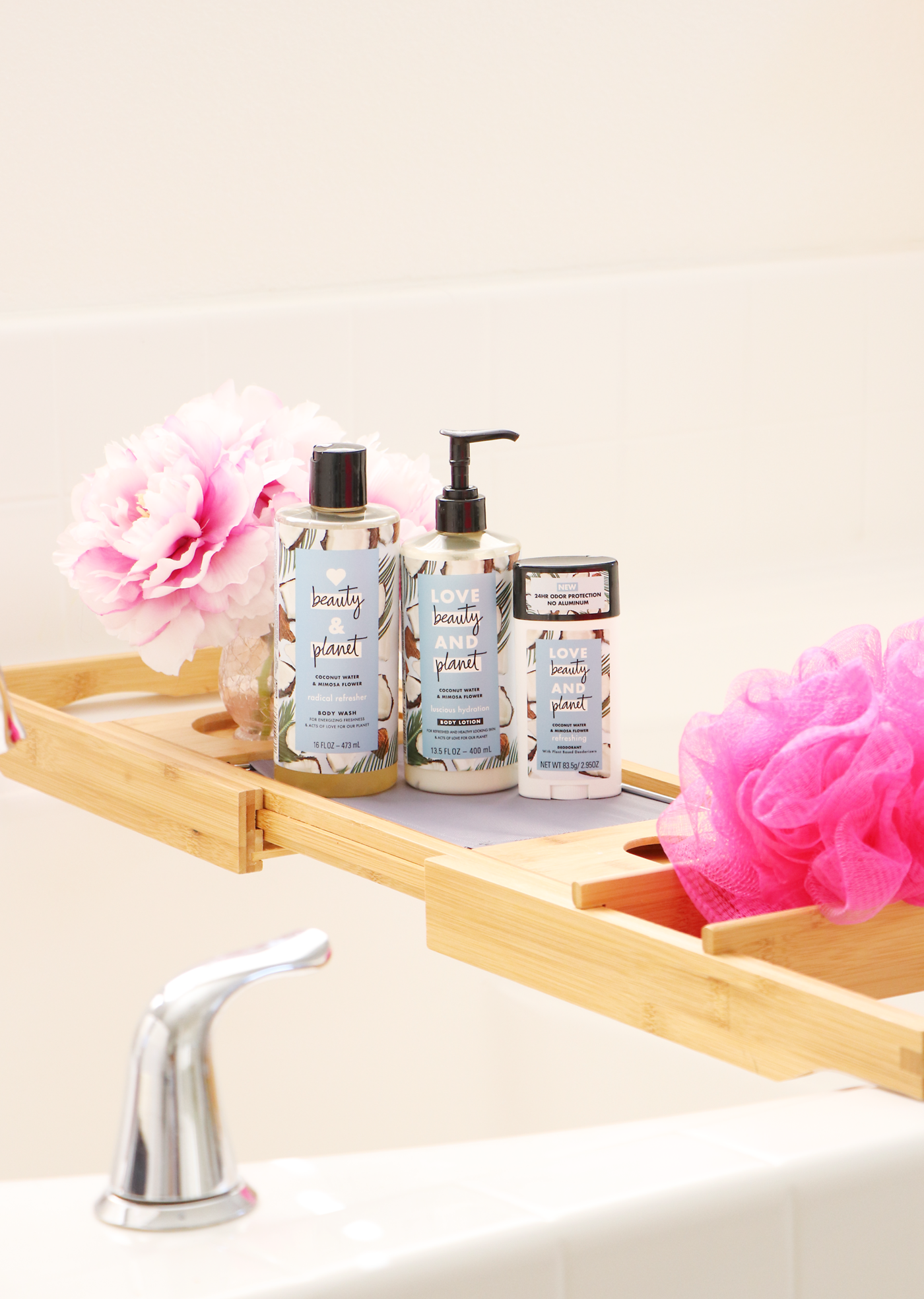 Today's post has been sponsored by Mirum. As always all thoughts and opinions are my own.
Real talk:  I am a HUGE creature of habit, but lately I have been trying to venture out of my comfort zone and try new things. Would you believe me if I told you there was a way to not only take care of yourself BUT also make a #smallactoflove towards the planet this upcoming Earth Month?
Spring / Earth Month is upon us and I am so happy that the weather in SoCal is starting to get  back to normal (you know hot, hot, and hotter). However, with every new season, it often calls for a refresh of my beauty routine.  As you all know I am a HUGE creator of habit, I can't help it. I love what I love, and tend to use products that have either become part of good memories or things that are tried and true.
But if I am being honest….
Most of those products aren't necessarily the best for the planet or for myself.  So this spring I have started to make a SUPER conscious effort to change that. Thanks to Love Beauty and Planet, ditching and switching my products has never been easier- plus who can resist their AMAZING packaging? Seriously it is stunning! Don't you agree?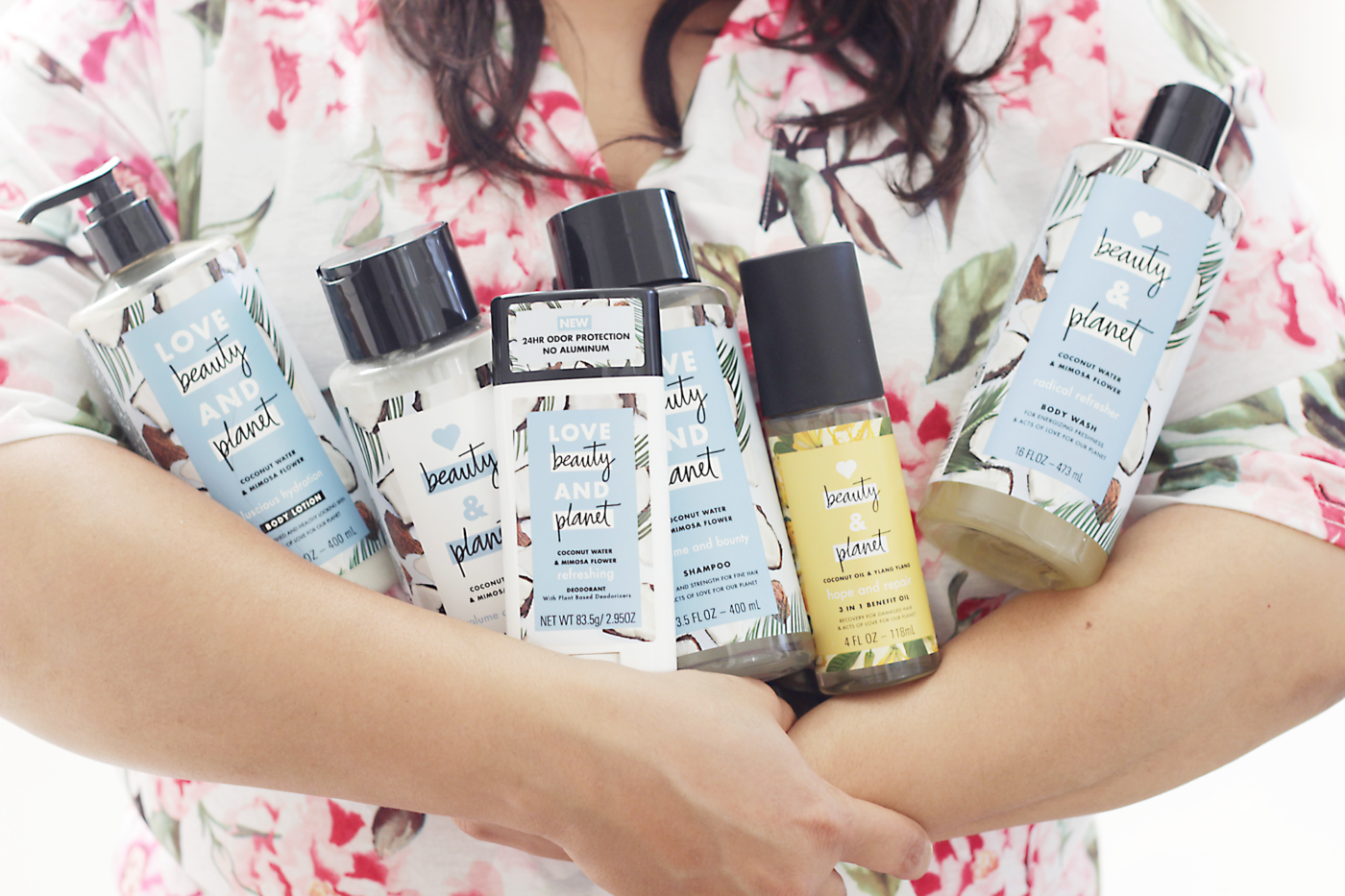 // HOW IS LOVE BEAUTY AND PLANET DOING THEIR PART? //
Besides gorgeous packaging, a few things that stands out to me tremendously with Love Beauty and Planet is that their products are made with natural derived ingredients.  They also use ethically sourced fragrances, oils and extracts and nearly 80% of Love Beauty and Planet products are being sold in 100% recycled material. Love Beauty and Planet has been making it their mission to:
To leave the planet a little more beautiful than we found it.
I recently took the Love Beauty and Planet Quiz to determine what products would be the best match for me- and you guys- it did not disappoint. Not only am I a planet protector, I am OBSESSED! Curious what I ditched and switched to not only do more for the planet all while treating myself with LOTS of care?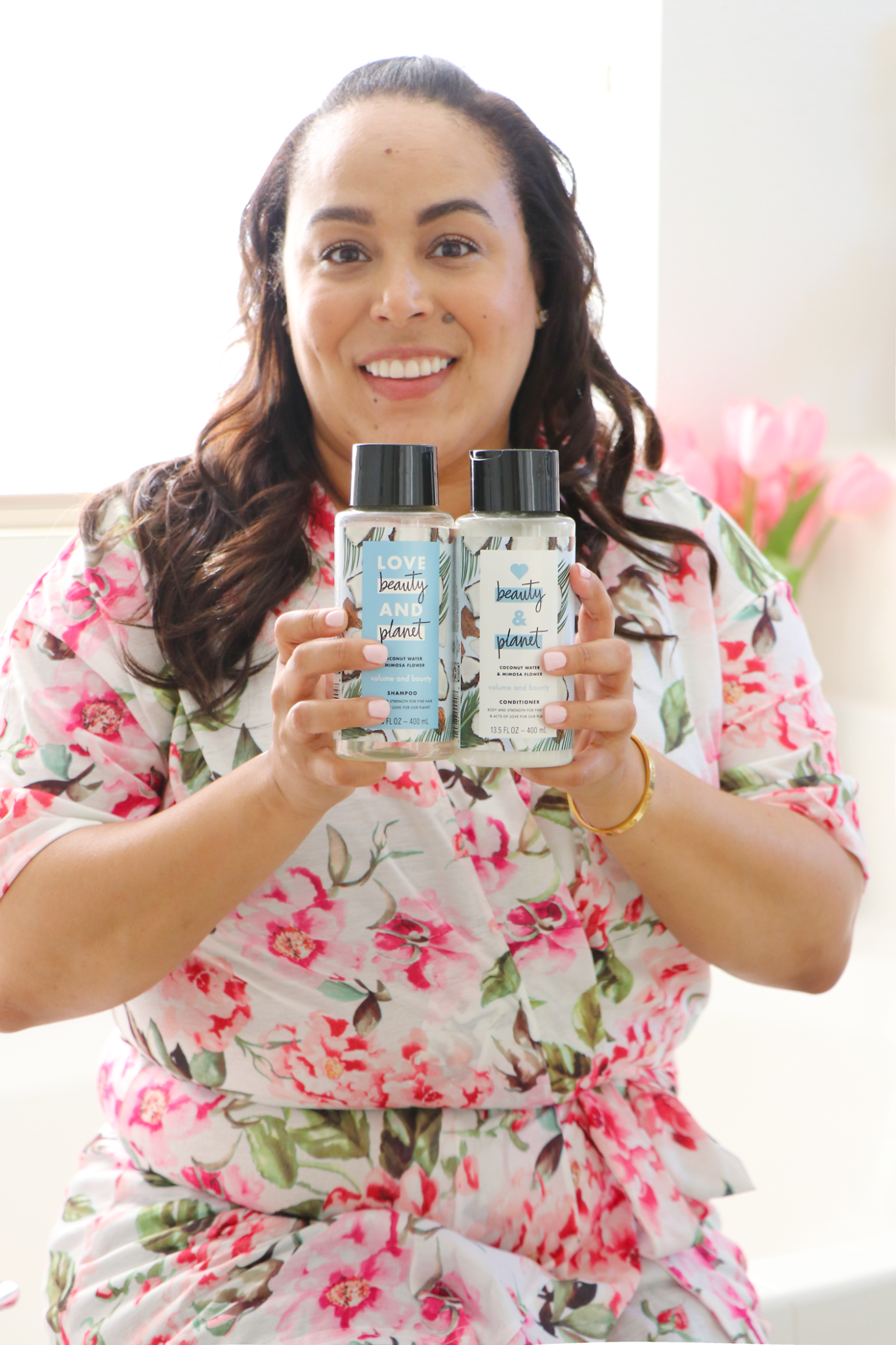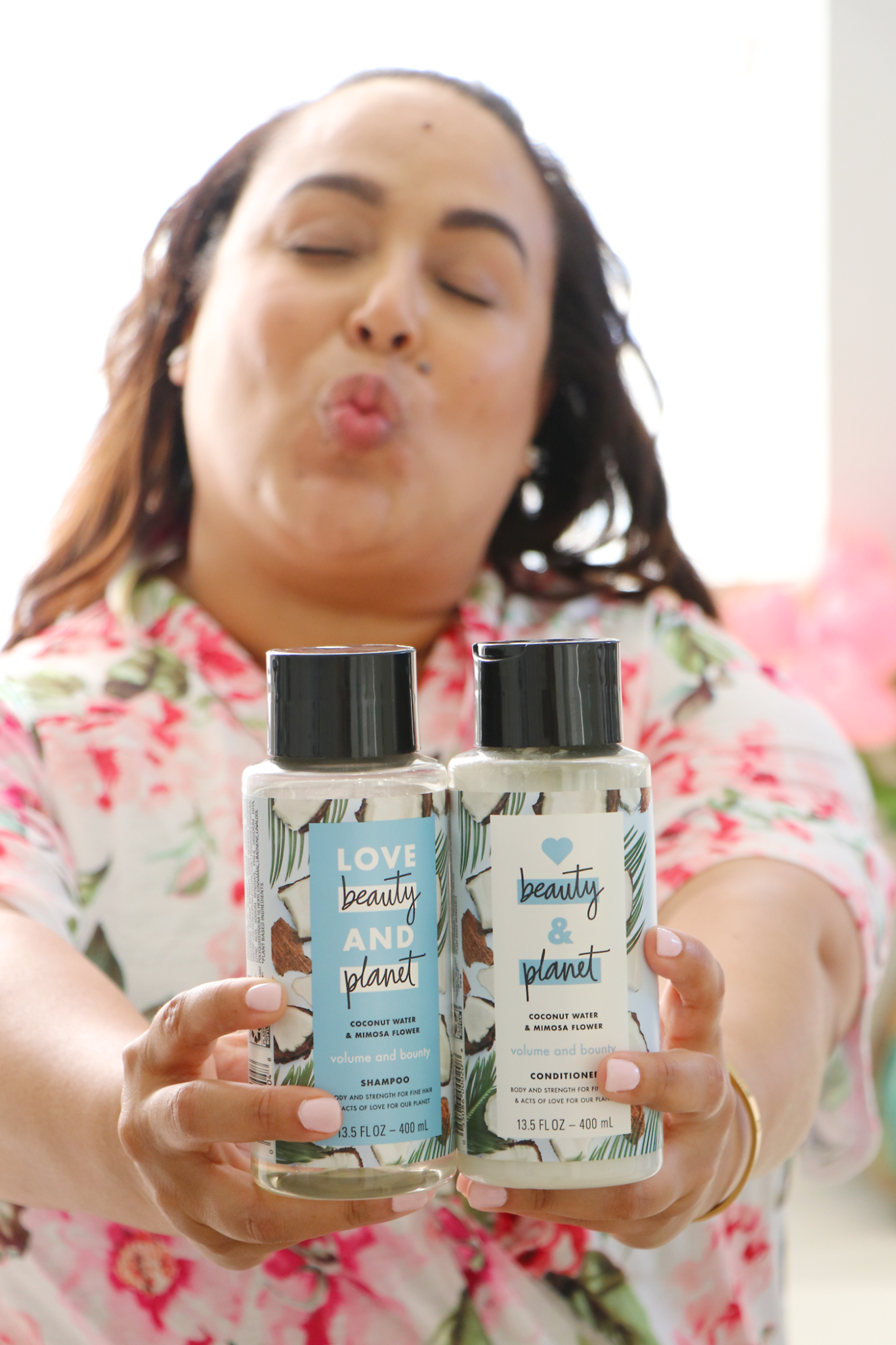 //  STEP UP MY HAIR WASHING GAME //
The way you choose to nourish your hair- or to not nourish it- has a huge impact on your hair's overall state. When it comes to my hair, I have to admit- I have been in a whirlwind of frizz, damaged, thinning and of course broken ends. I have been using the Love Beauty and Planet Coconut Water & Mimosa Flower Shampoo and Conditioner. You guys the smell of these products not only are heavenly, but everytime I use them I feel like I am in a tropical paradise of amazingness.  Because I have damaged hair it is also SUPER thin, so for me adding a bit of bounce and volume to my hair is important. The Love Beauty Planet Coconut Water & Mimosa Flower Shampoo and Conditioner is infused with organic coconut water to help moisturize the hair, all while leaving it feeling stronger and more volumized- paired with the Fast Rinse Conditioner Technology – my hair is smoother, and tangle free. The best part- you can also do a #smallactoflove when you shower by reducing shower time and turning off the water while washing your hair- to help save water.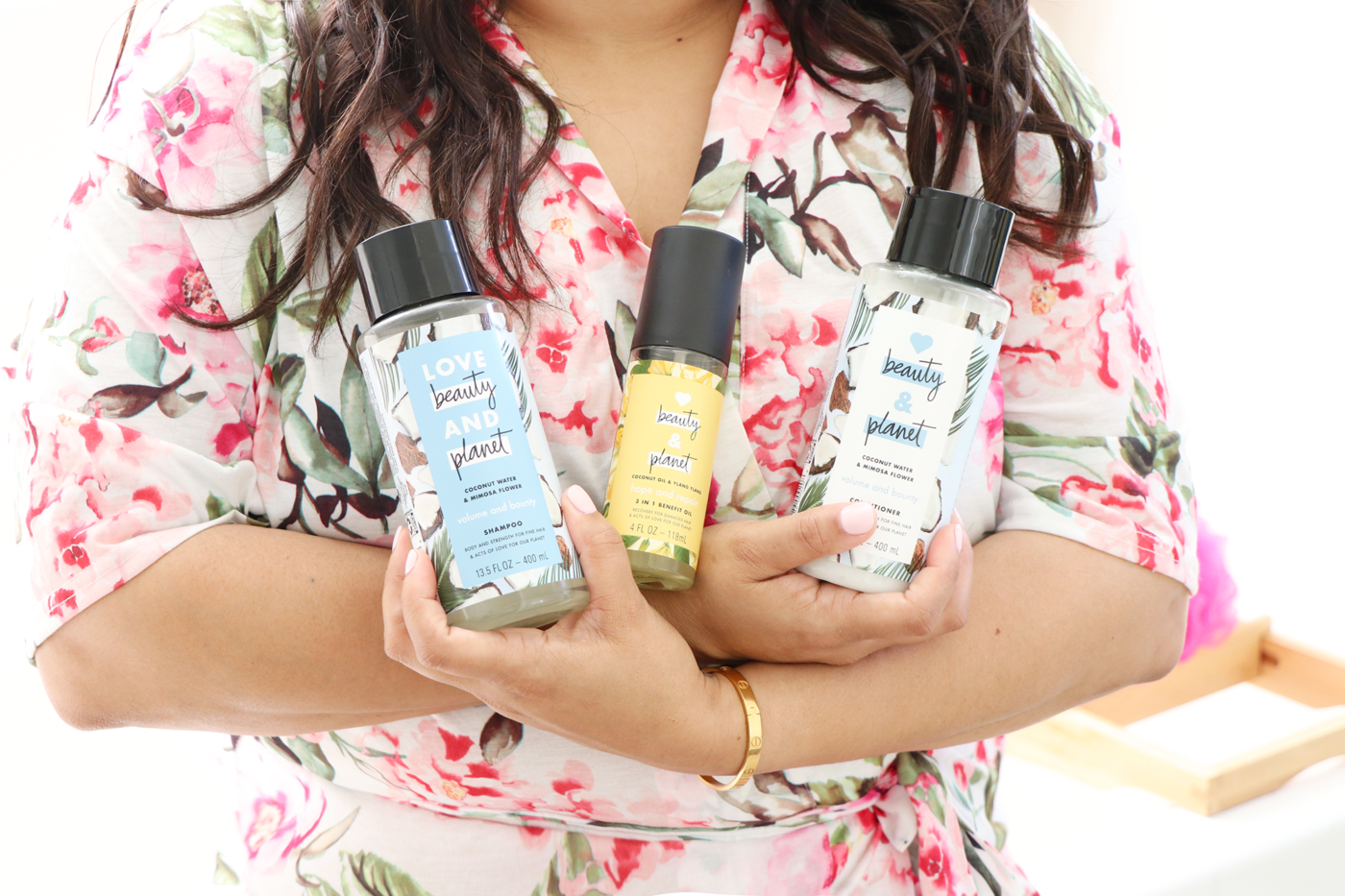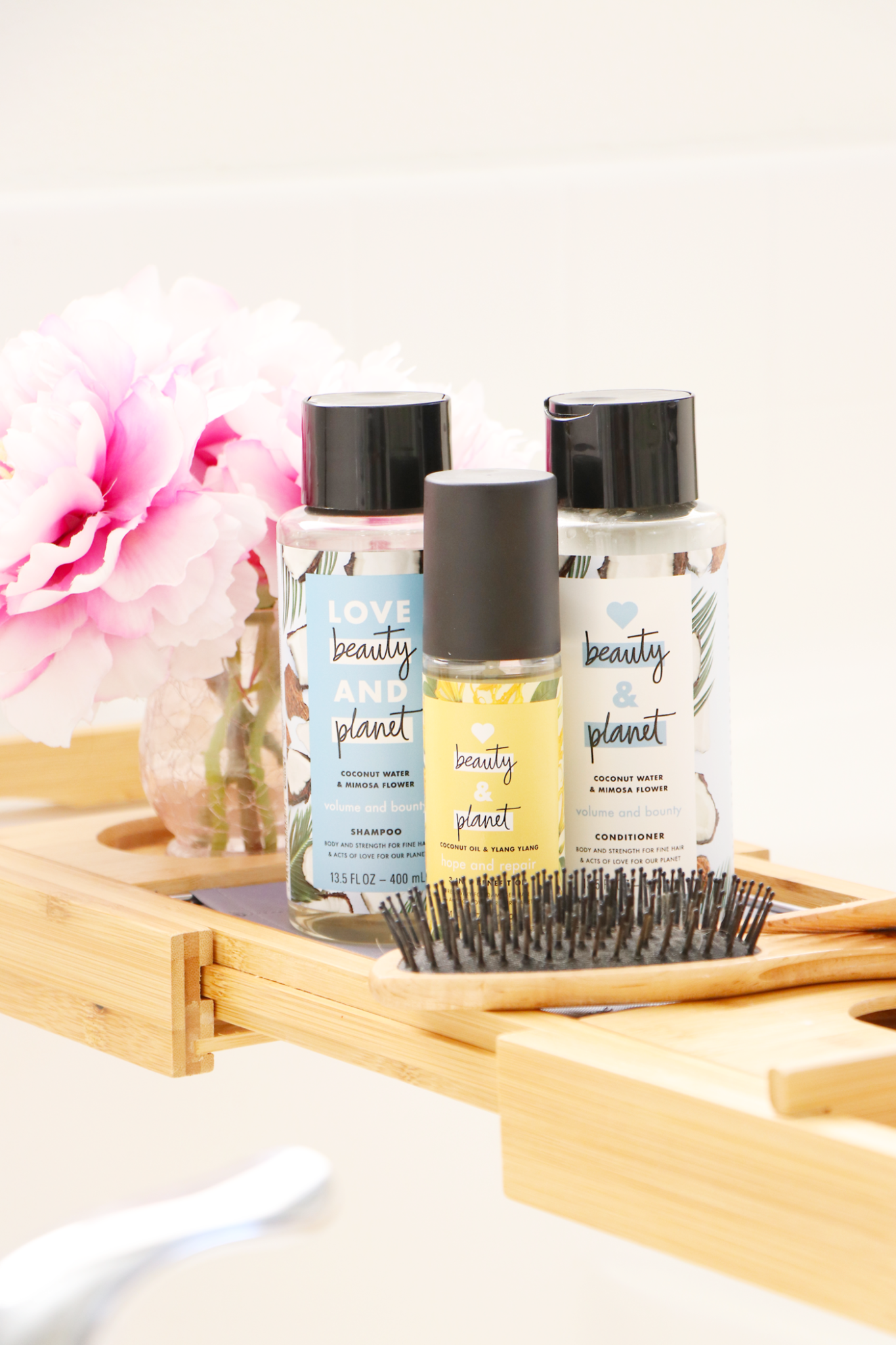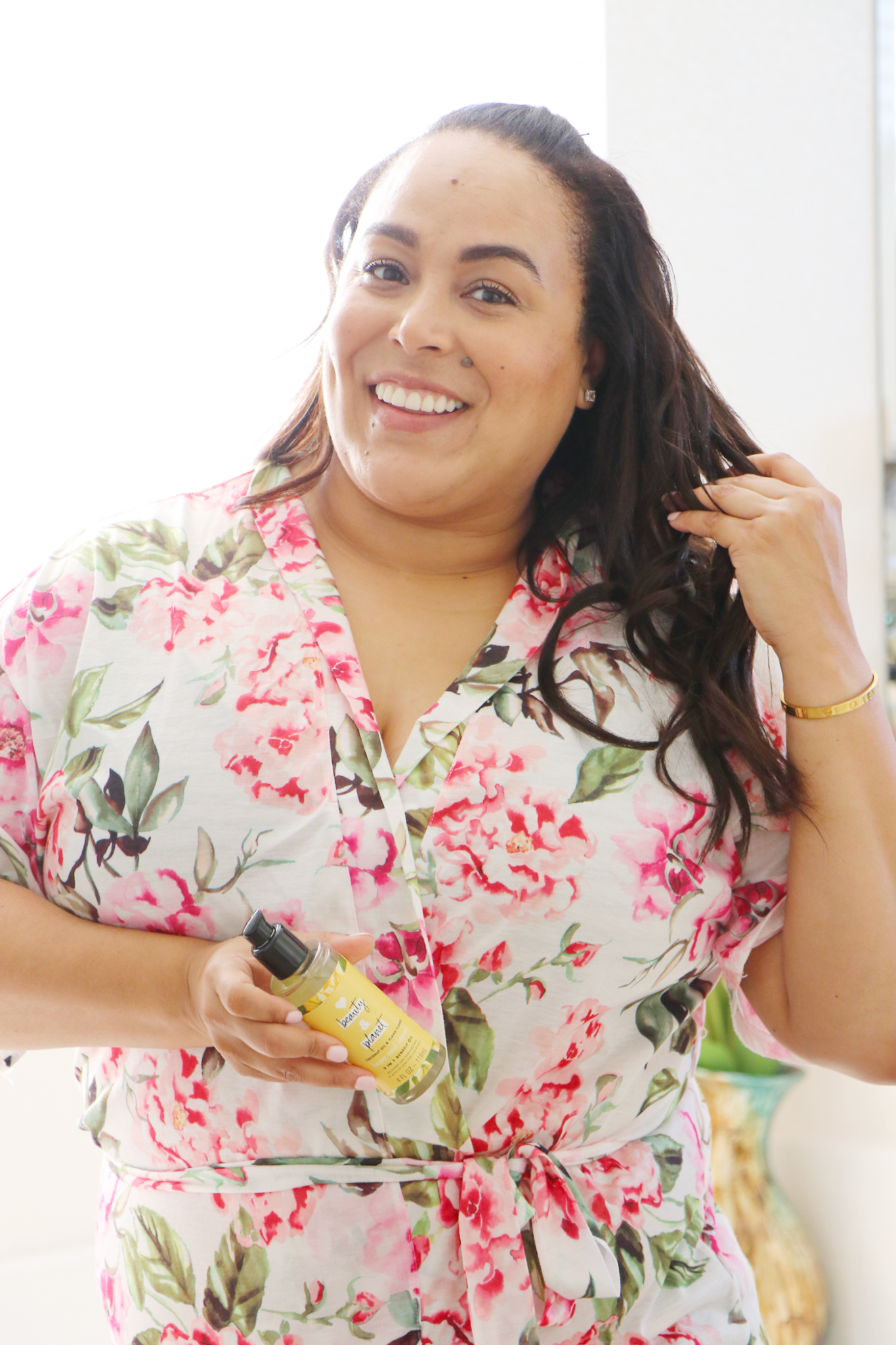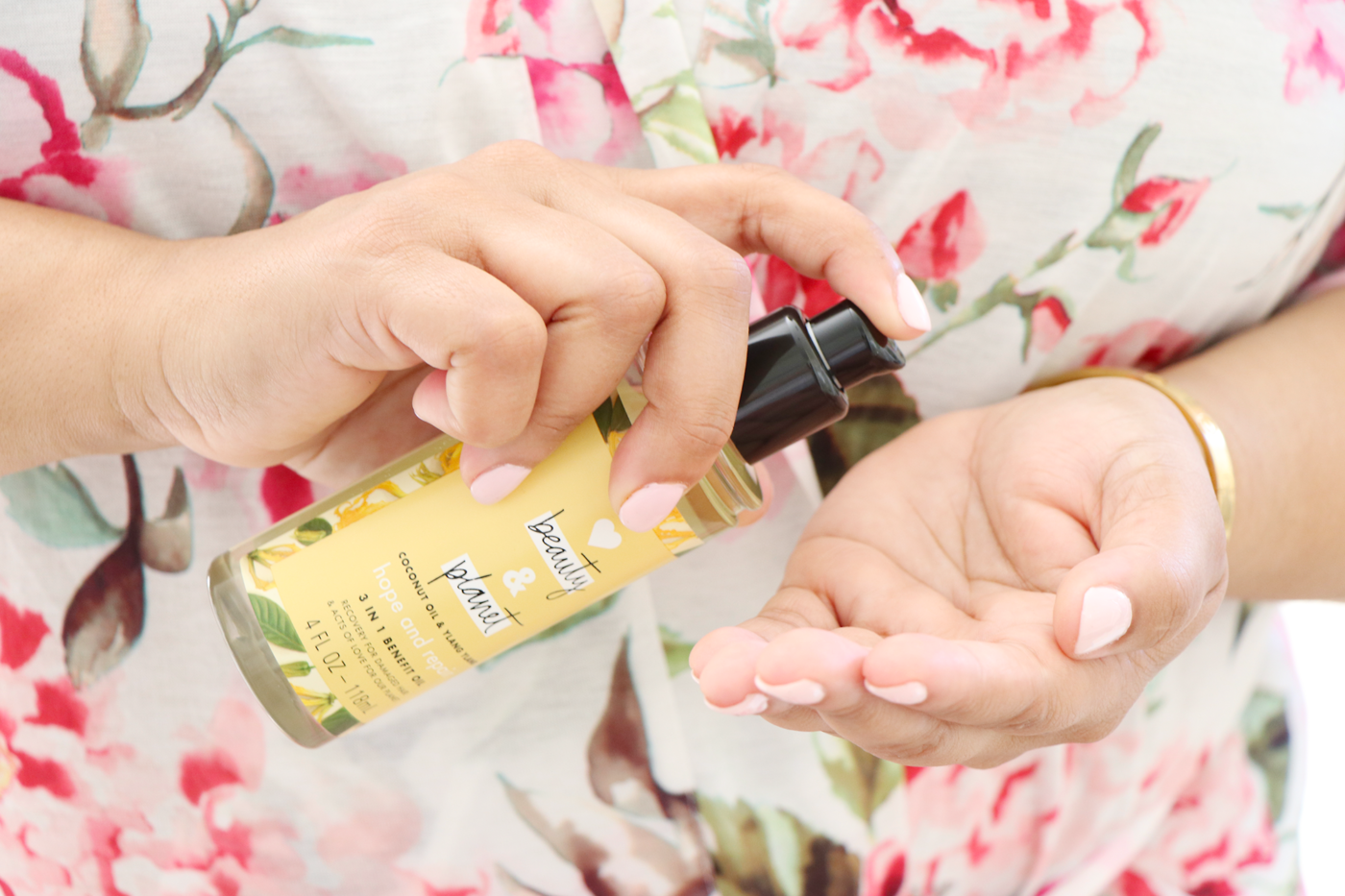 //  MOISTURIZE + CONDITION YOUR SCALP //
Another product that I am OBSESSED with  is a great hair oil. I have been following my new Shampoo and Conditioner routine with the most amazing hair oil EVER! The Love Beauty and Planet Coconut Oil & Ylang Ylang 3-in-1 Benefit Oil has seriously made such a HUGE difference in my hair. Time to say goodbye to damaged hair since this treatment oil is infused with virgin coconut oil to help nourish and repair hair, as well as prevent split ends for smooth, healthy hair. Seriously this benefit oil is so incredible, I have also been using it a weekly hair treatment. To do this I have been working a nice sized amount into my scalp, and rubbing the remainder along the hair and focusing on the tips. I then have been leaving this on my hair for an hour before washing my hair. Literally after washing and conditioning your hair- you will be AMAZED at how soft, manageable, and hydrated.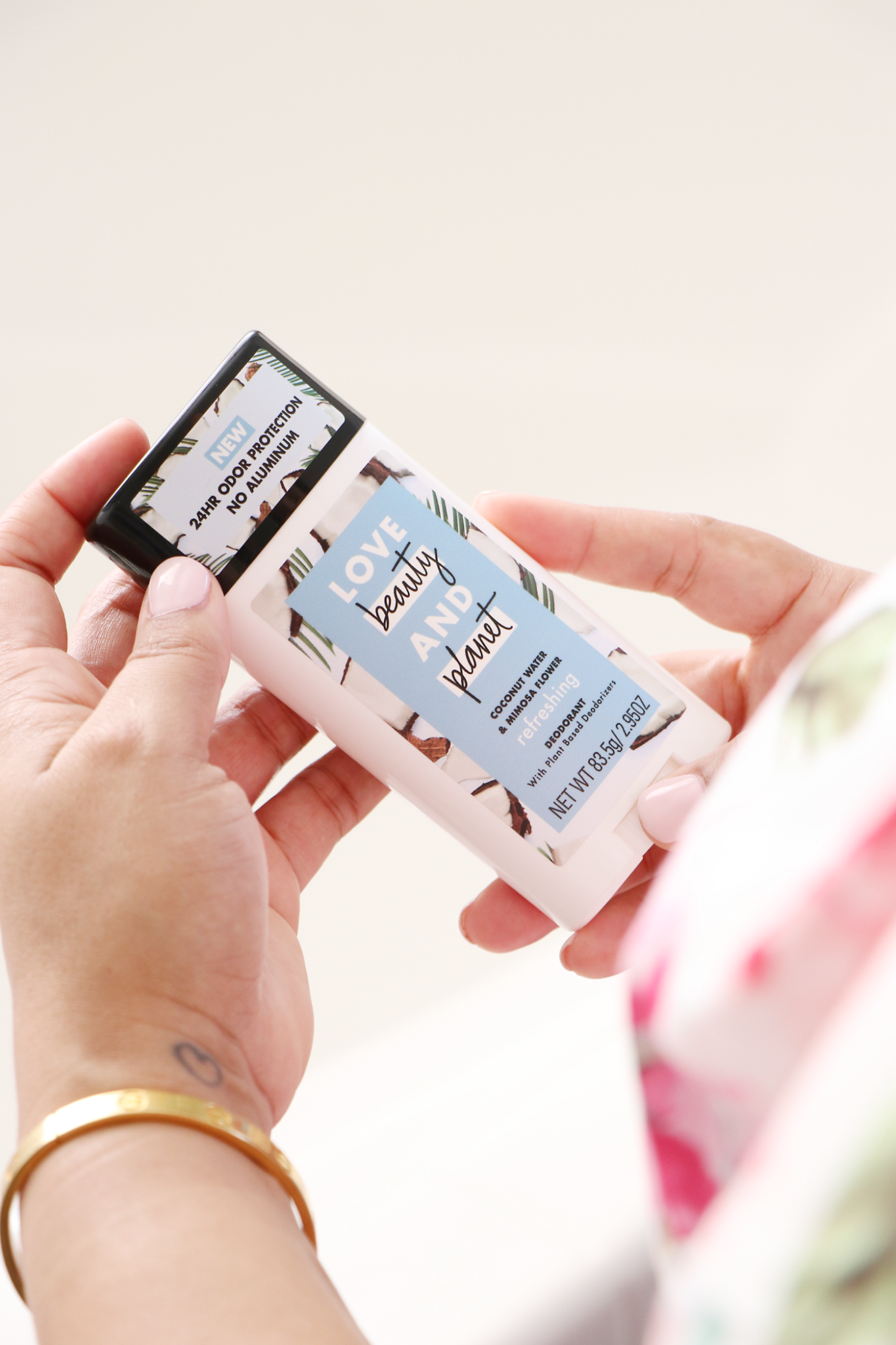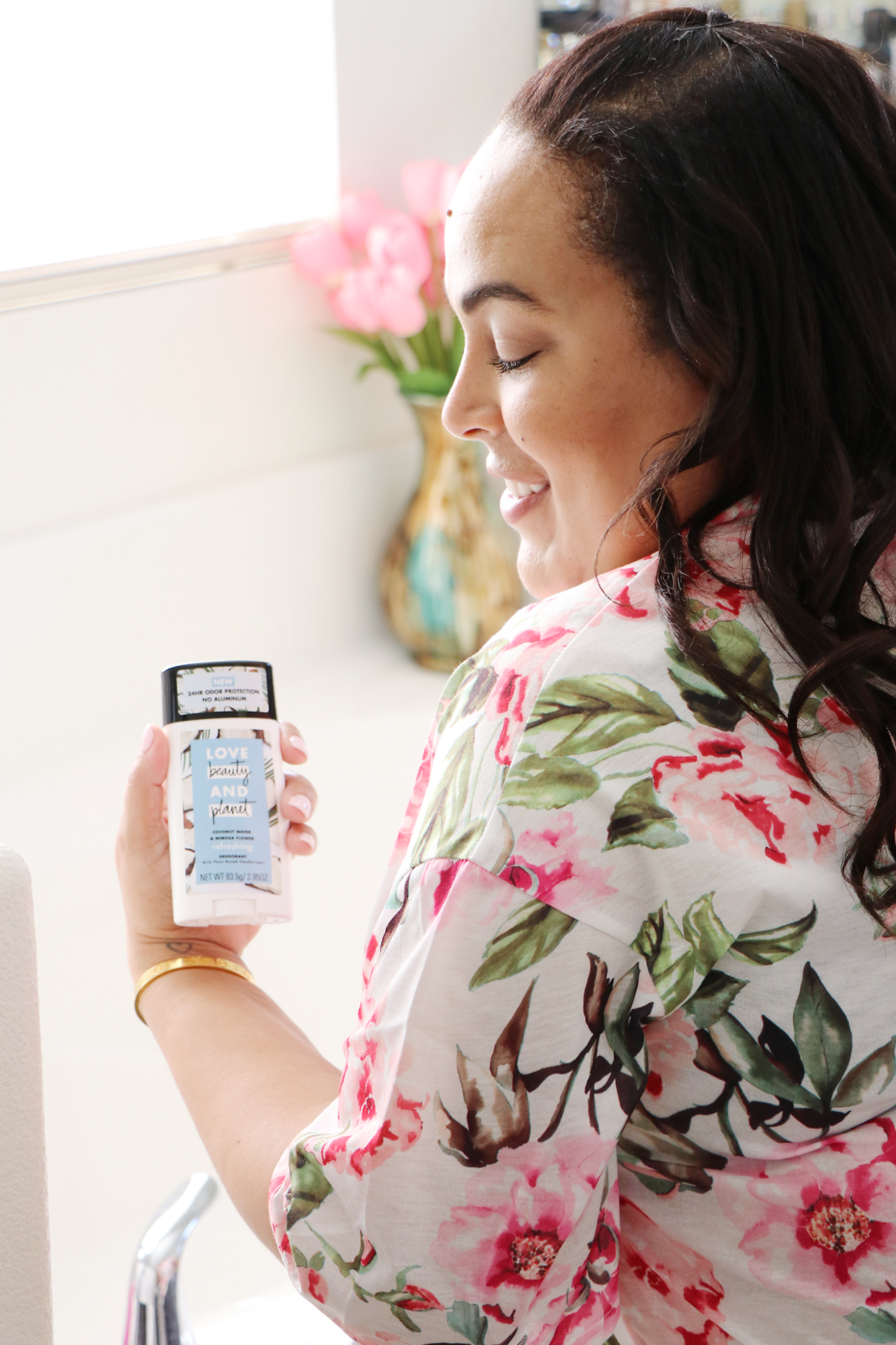 // PAMPER THY PITS //
If I am being REALLY honest, one thing I NEVER think about are my underarms. I mean don't get me wrong- I care if I stink and what not, but I never really put much thought past that. Until now… We all often hear how bad aluminum is- and I am super guilty of using a deodorant with aluminum. But that recently changed and I am SO happy it has. I made the switch to the Love Beauty and Planet Coconut Water & Mimosa Flower Stick Deodorant, and I have not looked back . Not only does this vegan deodorant work, it smells so good with the plant-based deodorizers to help protect you from odor for 24 hours. The Love Beauty and Planet Coconut Water & Mimosa Flower Stick Deodorant literally smells like a tropical paradise all while lifting your mood all day long. I am hooked!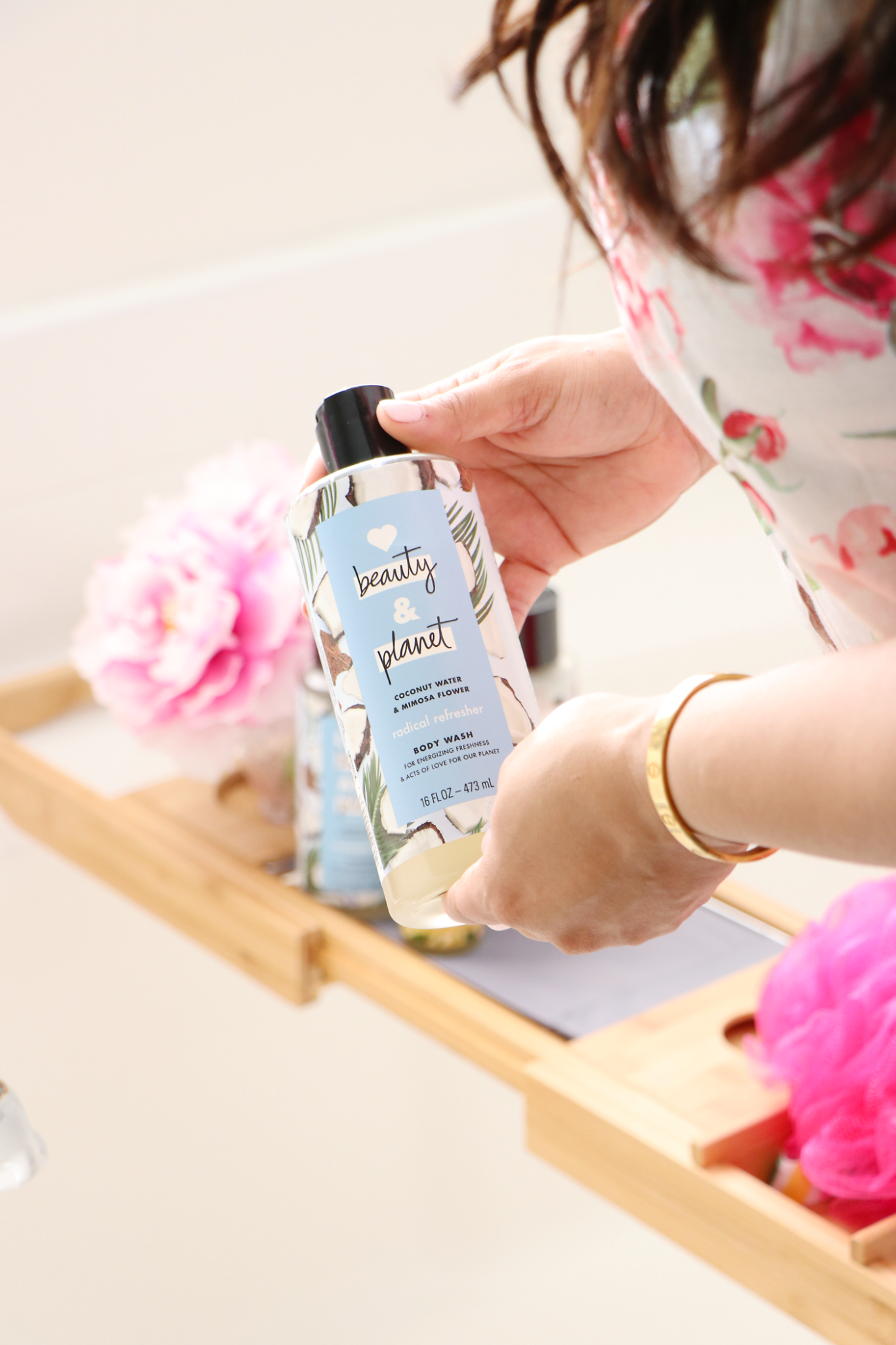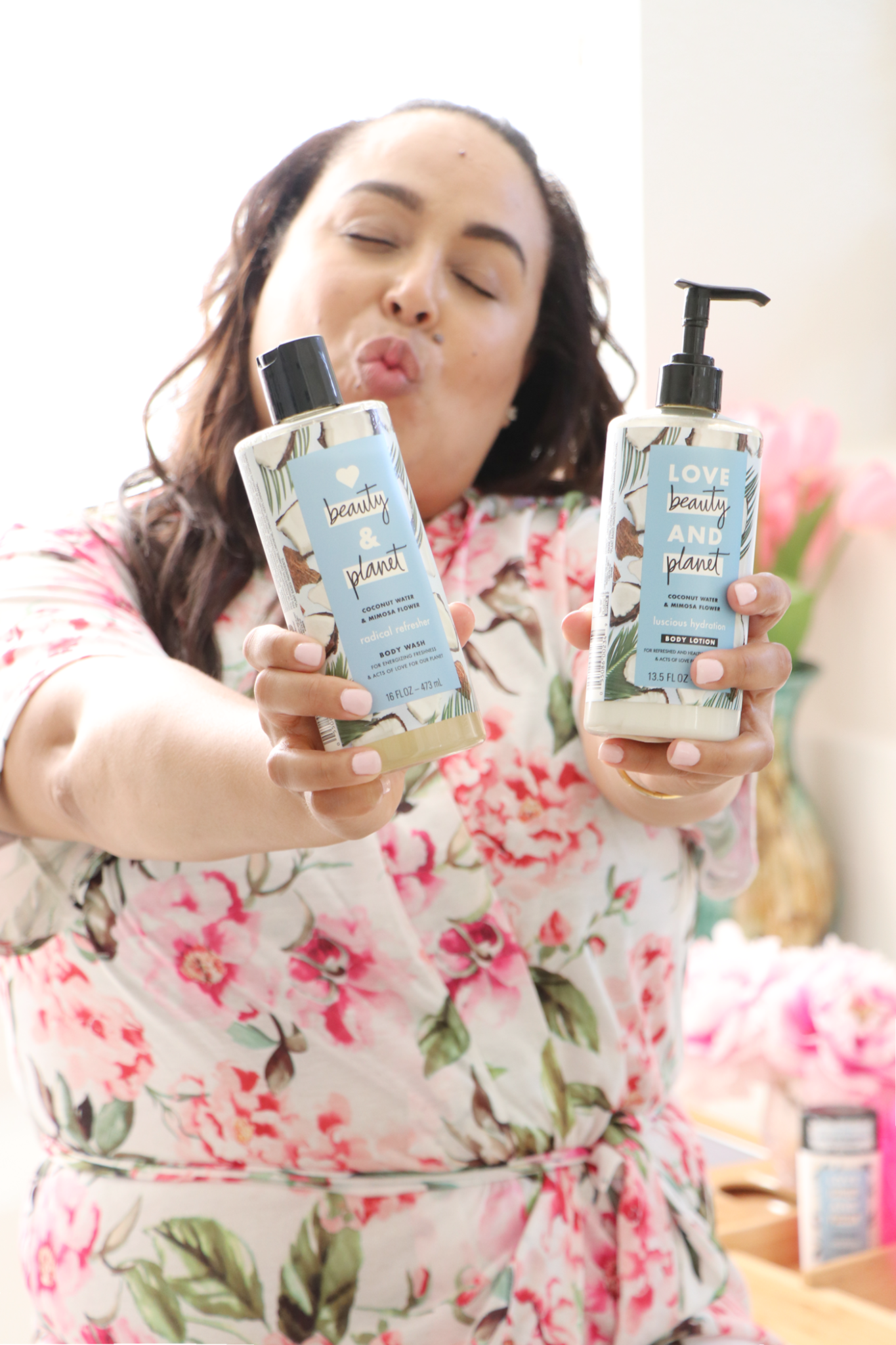 // SHOWER MY BODY WITH LOVE + HYDRATION //
Last but not least let's talk about body care. I am probably the most pickiest person ever when it comes to body wash and body lotion. I tend to not really like a ton fragrance, especially when it comes to things that linger all day. In the past, other scented body washes and body lotions- when worn through the day often change how they smell, become too overpowering, or basically don't moisturize my skin enough. However, I am changing my opinion when it comes to scented body washes and body lotions now- because the Love Beauty and Planet Coconut Water & Mimosa Flower Body Wash and Body Lotion have literally changed my entire body care routine.  
Scented with invigorating coconut water and mimosa flower, the Love Beauty and Planet Body Wash and Body Lotion basically leave your skin SO incredibly soft and smooth- it is INSANE. It also hydrates my skin like a dream come true- so much that one day I forgot to put on lotion and my skin STILL felt hydrated. This dynamic duo has been something I have been searching for – FOREVER! The consistency and texture of the lotion is so creamy and perfect as it melts into my skin leaving it soft, hydrated and SO incredibly smooth. I also am OBSESSED with the tropical vacation in a bottle scent, that I haven't even needed to wear perfume when using this dream team.
I have to admit ditching and switching and refreshing my beauty routine for Spring, has been AMAZING. Adding and incorporating these products from the Love Beauty and Planet line- my mornings and nights have gotten so much more dreamier. Softer, smoother and hydrated skin, fresh smelling pits all day paired with volumized, soft, and frizz free hair- what more can I ask for? The best part? All the Love Beauty and Planet products are free of parabens and many other harsh chemicals- making it  a win, win. Not only are Love Beauty and Planet products are not only good for YOU but they are also good for the PLANET.  Who doesn't love that?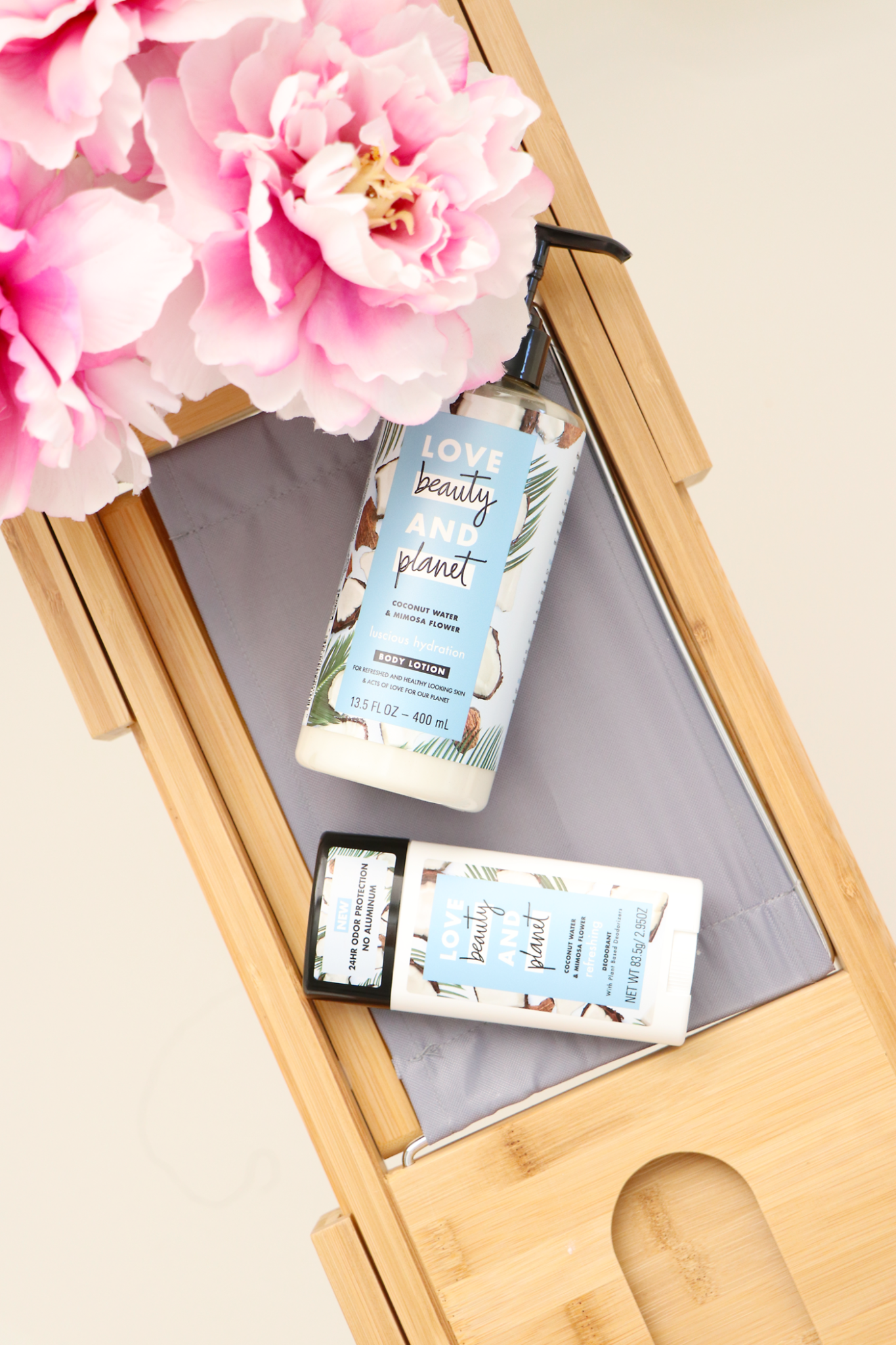 Now is the perfect time to start doing good for yourself and the planet! Head over to your local Albertsons and take advantage of a few awesome offers that they are offering right now (SAVE $2 off any (2) Love Beauty and Planet products- valid until 4/23/2019). Not sure where to start? Take THIS QUIZ to see what kind of Planet Protector you are as well as what Love Beauty and Planet products you should incorporate into your skincare, hair care and body care today!
// Grab a bottle and share your
#SmallActofLove
to both you + the planet. //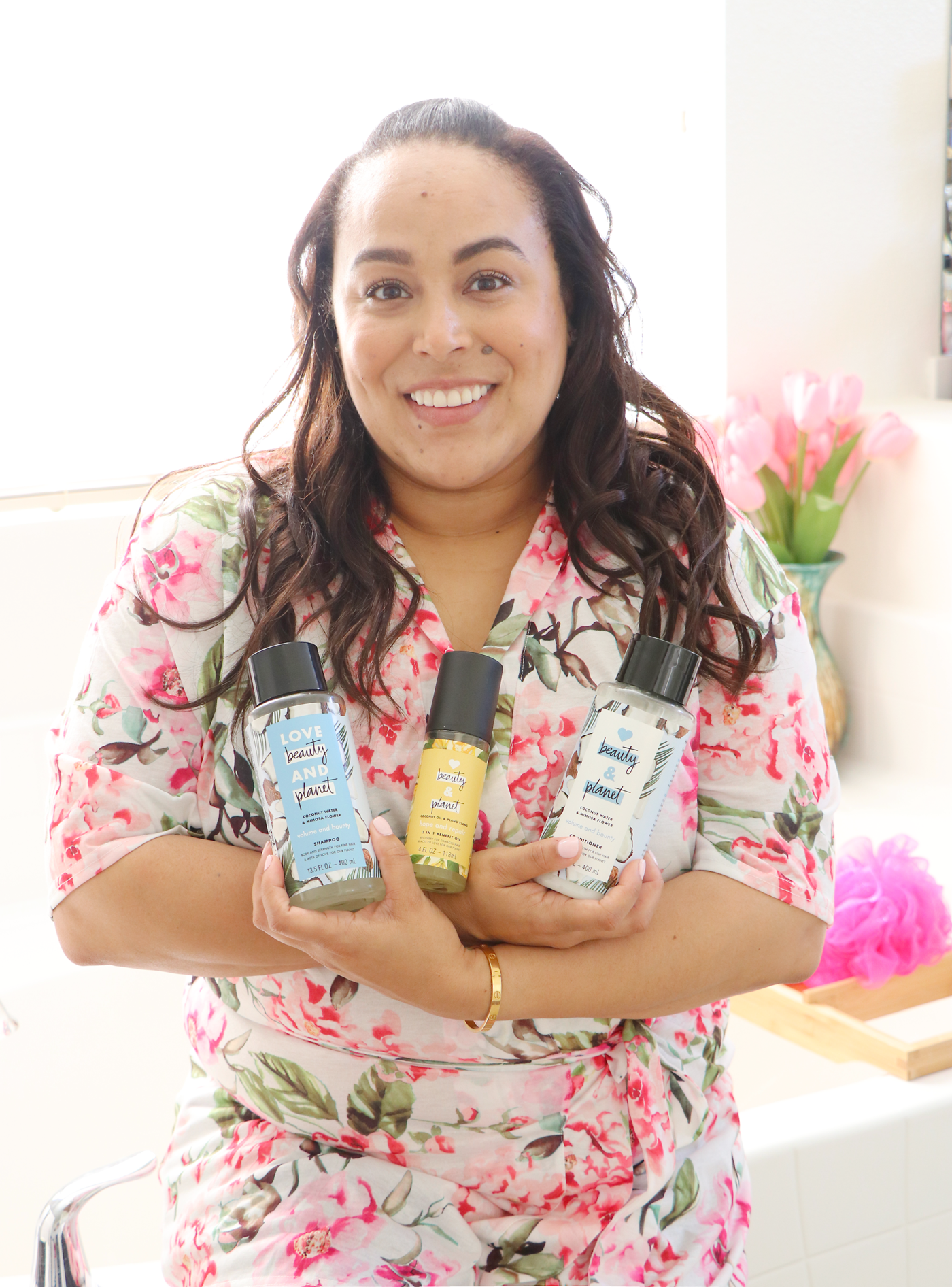 Be sure to comment below and let me know what kind of Planet Protector you are , as well as what products are you excited to try and incorporate into your life?
SHOP LOVE BEAUTY & PLANET
READ NOW, PIN FOR LATER: 

Earth Month Love Beauty and Planet Self-Care Wellness
THE DETAILS
Photography by: Jynifer Lee
Robe from Show Me Your MuMu