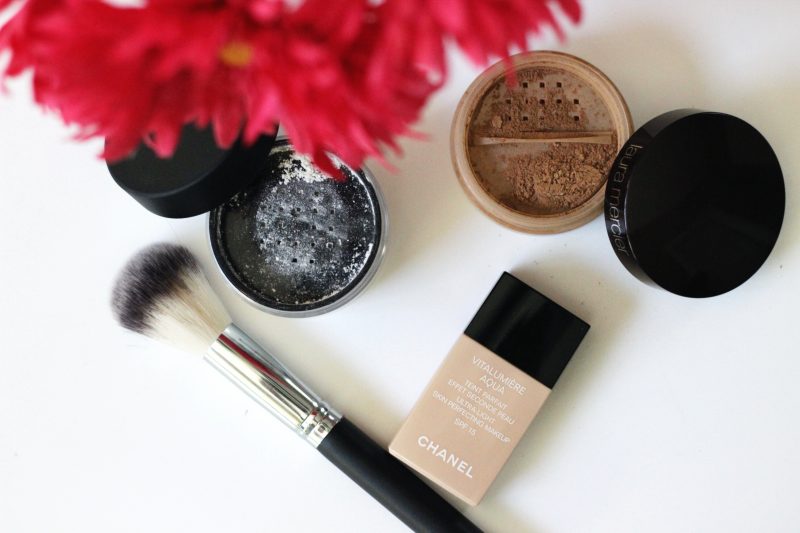 So this weekend when perusing through YouTube and catching up on some videos that I have been neglecting as of late, I ran across this video by famed Makeup Artist Wayne Goss and a new makeup tip that I had to rush and try. Well let me tell you tried and tested and one word AMAZINGNESS! So without further ado, I bring you The Best Foundation Tip EVER…
So when I first watched this video, I thought to myself-  there is NO way that this will work. You know the drill- liquid then powder never reverse status. Skeptical as heck, because lets face it; this tip sounds a bit weird.  However I tried it and literally this tip is life-changing- OMG!  Powder first, foundation second, followed by a bit of powder again. Say what? Here is how Waynebreaks it down:
– Prep the skin: Start prepping the skin with a bit of moisturizer is super, super important. If you're a dry skinned gal, it is best to exfoliate, then moisturize.
– Prime the skin: Wayne uses an illuminating primer in his video, to give skin a bit of a dewy, radiant finish. However any primer that works best for you will work. I tried it with both MAC Prep + Prime Primer– $30 USD and with Revlon Photo Ready SkinLights in Bare Skin–$12.99 USD and both worked perfectly.
– Powder the skin: Here is where the routine changes from the usual and let me tell you it works! This tip literally helps the skin hold foundation longer, helps fill in some fine lines and pores all while helping the skin look 'like your skin but better'. For this step, I have been reaching for two different powders depending on the coverage I am trying to get. One a daily I have been grabbing MAC Loose Setting Powder in Invisible– $30 USD and for days that I need more coverage I have been grabbing Laura Mercier Loose Mineral Powder in Pure Honey–$38 USD.  While in the video Wayne stresses that a pressed powder won't do the trick, I have found that MAC Mineralized Skinfinish Natural actually works quite well even though it is a pressed powder.
–Follow with Foundation: Now it is time to go in with whatever your desired foundation is. Whether it is a cream, liquid, tinted moisturizer, or mineral based foundation apply to the skin with your hands, a brush or a beauty blender- my favorite way. For this step I have been using my favorite foundation Chanel Vitalumiere Aqua Foundation– $45 USD.
– Follow with Powder: For dry skinned beauties you don't have to follow back over with a powder, while anyone combination skinned or oily- take a second to go over the skin with a swift light dusting of powder on the areas that you tend to get shine throughout the day.  Literally that mid-day disappearing foundation act, will be a thing of the past. Shiny t-zone it's time to say goodbye- Love!
Tried and tested and literally life changing tip from a pro himself. I can honestly tell you that this tip is phenomenal.  Time to say goodbye to shine, our relationship is over!
**Another awesome tip from Wayne- mix a few drops of concealer with your favorite moisturizer for a instant skin perfecting DIY tinted moisturizer**


[ReviewDisclaimer]