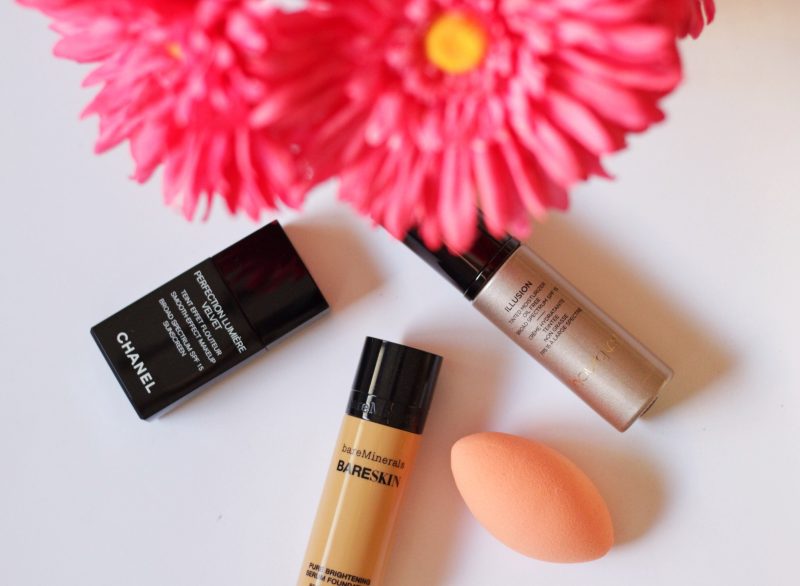 So here we go again…. Another day, another foundation that I am testing over here at Makeup Life and Love headquarters. Once I find my favorite complexion perfector, it seems like I change it up and look for the next flavor of the month. So low and behold after perusing through the mall this weekend, I picked up not one, not two but three new foundations. Two new releases from major brands and the other has been out for a while, but I am always looking for a new light formula. So without further ado, I bring you New in Foundation… Testing 1, 2,3….
First addition to the testing stash, a CHANEL new formula release that I of course caved and had to snag my own. Chanel Perfection Lumiere Velvet Foundation– $45 USD, this foundation is being praised as a 'lightweight second-skin foundation that smooths and evens out the skin for a velvety matte finish. It is supposed to be non-powdery or cakey and give the skin a natural finish all while keeping the skin in check from oil. I had to grab it,  I'll keep you posted on my musings…
Next up is a tinted moisturizer- not new to the game of the foundation world, and since I am such a HUGE fan of the foundation, I couldn't resist the urge to grab the Hourglass Illusion Tinted Moisturizer– $55 USD, this tinted moisturizer is a dream in a bottle. Being touted as a highly pigmented, highly moisturizing all while help minimize the fine lines, wrinkles and hydrate the skin with a bit of oomph action that lifts. Ummmm.. yeah, can you say this sounds like a dream? I am soooo excited to use this, especially after much success with the Immaculate Foundation, my skin loves it and so far everything Hourglass has been releasing has been killing it… I have high hopes for this….. fingers crossed!
Last but not least, one of my much anticipated launches this year. After a late night watching of QVC one night, I was instantly obsessed with needing this foundation. Bare Minerals Bare Skin Pure Brightening Serum Foundation– $29 USD, this foundation is a mineral foundation and a skin serum in one. Can you say- amazingness in a bottle.  Its supposed to brighten the skin all while giving the skin some great coverage. Formulated to give the skin some adjustable coverage with a bit of Vitamin C, Lilac Plant Stem Cells and Titanium Dioxide- now I am not a fan of the last ingredient-ugh- but I am looking past it and wanting to see how this foundation pans out.
So back to the testing I go, I'll keep you all posted about my findings… Time to get back to testing, 1,23…
What are some of your favorite new foundations?

[ReviewDisclaimer]