Disclosure: The opinions expressed in this blog post are my own. The products were given to me for free by LovelySkin.com and I received no other compensation for this post. This post does not contain affiliate links and I do not received any compensation for clicks to this website.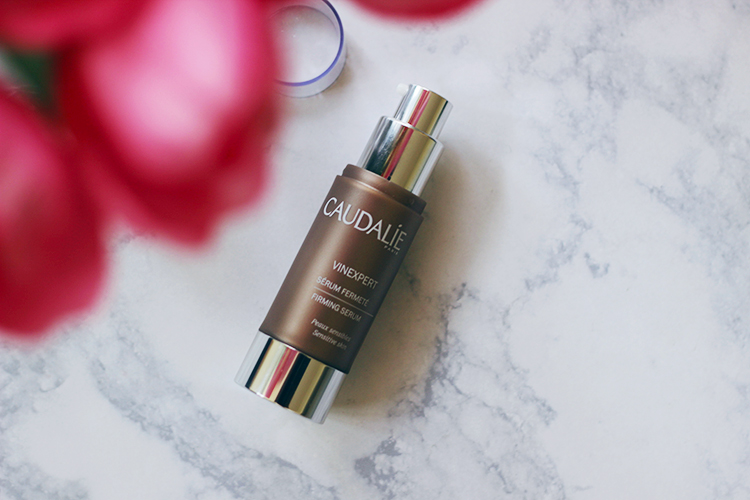 This review has been a long time in the making, as I have been testing it for quite a while and am coming up to the midway point of whether it deserves a repurchase or not, so I thought it was time to do a quick summary of my thoughts. Caudalie is just one of those brands that you want to try, I mean hello- it's a HUGE favorite amongst celebrities ranging from Victoria Beckham, Liv Tyler even Olivia Palermo- so you it is just something you NEED to try. So when I was giving the change by Lovely Skin.com to test out the Caudalie Vinexpert Firming Serum–$89 USD, being the skincare junkie that I am I naturally had to jump at the chance and give it a go.
Now there are many serums out there, each one marketed to a solution to a targeted area or rather being marketed as the "Fountain of Youth", but the Caudalie Vinexpert Firming Serum is one that I tried that actually seems to cover a lot of bases when it comes to aging skincare woes. This cutting edge serum is packed with the patented vine resveratrol to help rebuild, repair, and result the skin to help reveal younger-looking skin. Resveratrol- a anti-aging ingredient that has been making its way into all skincare products now, has been proven to help diminish visible wrinkles all while enhancing the skins natural firmness. As a quick point of reference my skin is slightly on the normal to borderline oily range, I am usually not prone to breakouts-however as of late, my skin has been going a bit wacky with changes, as I tend to get older. So I can honestly say that after about 6 weeks of testing out this product, I am a bit impressed. Now I cant fully attest to the anti-aging and diminishing of wrinkles since I don't really seem to have many, however I do suffer with a bit of fine lines thanks to hitting the over 30 year old mark in life.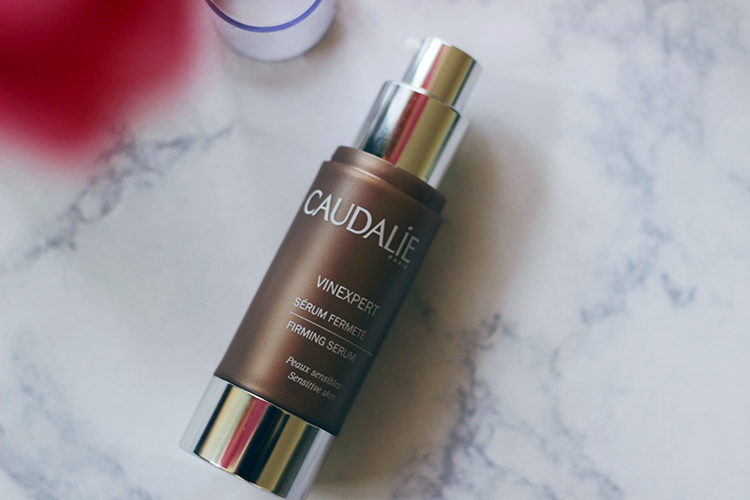 While it usually is a bit hard to tell which skincare products give you the most results, I have found that the Caudalie Vinexpert Firming Serum works wonderfully with my current rotation of products. I mean literally it just mixed perfectly and has yet to cause me any breakouts of wacky side effects. My skin overall feel just smoother, radiant and honestly firmer. I really love the feeling of this serum as well on my skin, its super light and feels really nourishing at the same time. Just a quick pump, two if you are feeling generous onto the fingertips of the skin, and pat into the skin focusing specifically on the problem areas (like neck and the double 11's between the eyes from too much squinting as well as the foreheads and frown lines). This cream coloured cream smells absolutely AMAZING, almost like a breath of fresh air with its clean, crisp lemon like scent. If you are a bit sensitive to scents then you may want to take a whiff first before purchasing and seeing if the scent is too much for you. Since this is a serum, I have been following this with my current favorite moisturizers for both day and night, and I almost want to say I feel like it makes my moisturizer plump my skin more as it feels like it helps it absorbs better.
The bottle is a 1 fl oz, so I think with continuous use both day and night that it should last between 4-6 months depending on if you use a pump or two. I am obsessed with the beautiful bronze packaging as it gives a feeling of luxury. Although I love the packaging I almost wish the packaging was designed a bit better so that you can see exactly how much of the product you have left. I think based on feeling the bottle I am close to the mid-point marker, but I can't really tell. I think that would be a great feature if they could incorporate that to the luxe packaging for sure. However will that stop me from repurchasing? Absolutely NOT! I am loving the way this serum is making my skin feel overall, and I can honestly say I have seen a slight improvement. Dare I say it,  I might have found a holy grail serum?
Has anyone else tried the Caudalie Vinexpert Firming Serum? Love it, hate it? I would love to know… Want to win your own bottle of this awesome serum? Enter Below!!
CAUDALIE VINEXPERT FIRMING SERUM GIVEAWAY