Today's post is brought to you by ZonePerfect bars.  #ZonePerfectLittleWins #LittleWins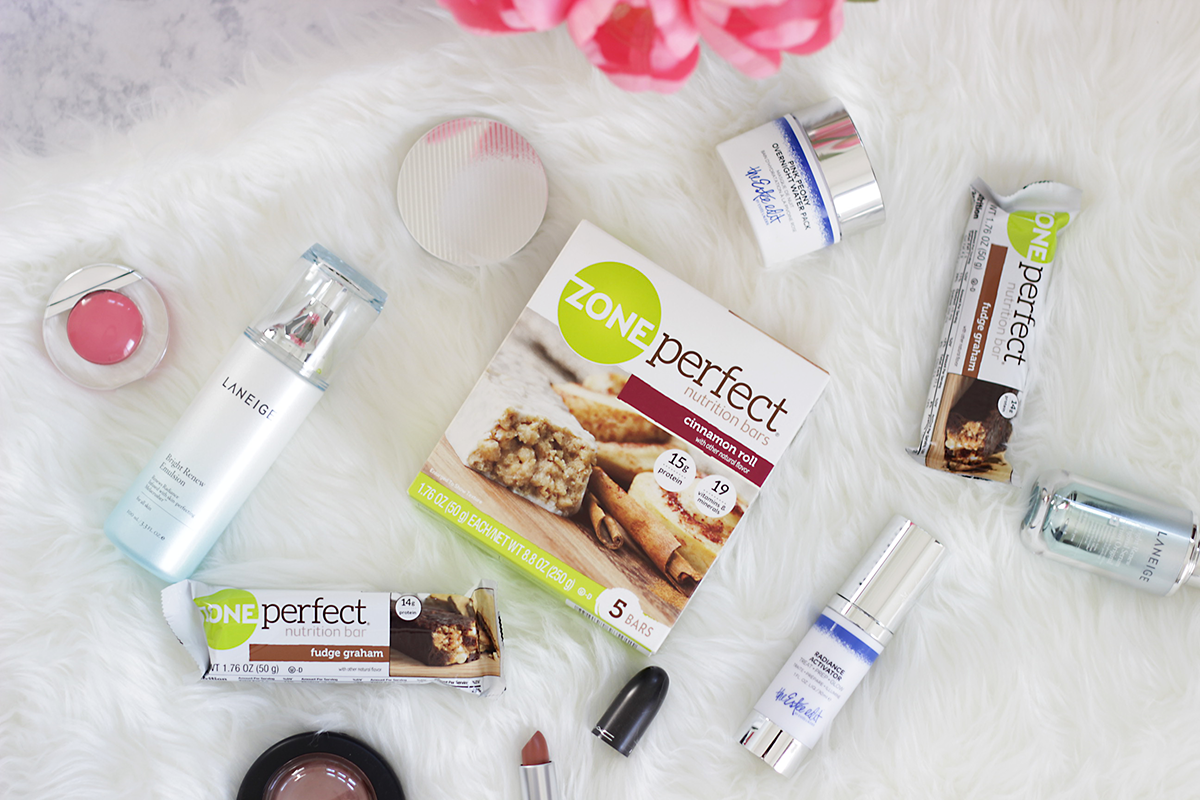 Let's chat for a minute, shall we! I am so the person that doesn't like to stand still for too long. Not so much in the aspect of actually standing still, I mean more like a stand still in life. I get overly anxious and instantly sometimes it puts me in a bit of a funk.  I am the kind of person who always has a list a mile long, that is composed of goals, to-do's, and bucket lists items that I need/strive to aim to achieve. Some might say I am what you call an "overachiever" and honestly I think that word sums me up quite well. Lately while I have been slacking on the blog front, I have been working on some things behind the scenes and my web design business has been keeping me very busy. While I am one to always work towards a goal at all times, sometimes in life you need to accept the changes and progress you have made along the way, and honestly celebrate life's #LittleWins. Today I am partnering up with ZonePerfect Nutrition Bars to share with you a few of my favorite tips to help make everyday run a bit smoother while you celebrate #ZonePerfectLittleWins…
SWITCH UP HOW YOU SHOP
Recently I have decided I need to embark on a MAJOR and I mean MAJOR health overhaul. Being an entrepreneur sometimes can mean your hours and schedule are a bit wacky, so eating when you can just is sufficient at times. However, recently I have noticed that my waistline was expanding as I had been slacking on my gym sessions, and of course on my nutrition- you know late night drive thru meals, or sometimes eating one meal a day. So I have made a conscious effort to MAKE myself go to the grocery store weekly and meal prep my life, to make it a bit easier when I am stuck working on something and too lazy to go make something filling.  Although, it is by no means perfect yet; I have found that always having a protein packed snack like ZonePerfect Nutrition Bars on hand at all times has helped me stay on track.
I recently headed to my local Walmart and while cruising by the pharmacy area spotted a whole array of ZonePerfect Nutrition Bars, so I decided to pick up Cinnamon Roll and Perfect Fudge Graham- let me just say YUMMMMMMM! These bars are simply amazing and seriously perfect for on the go. Packed with protein, vitamins and minerals these make the perfect choice as an emergency snack or to help you stay on track with life. Sometimes being productive is taking a snack break!#ZonePerfectLittleWin

KICK BACK ON THE SUGAR
Now this point is a hard one for me. While I don't have a sweet tooth, I have a sour tooth. And as you all know sour candy means MASSIVE amounts of sugar . It's taken a few years to change my bad habit but I think I am starting to embrace healthy options of sugar. One major thing I am loving to do if I am getting a sugary craving is to grab the ZonePerfect Nutrition Bar in Fudge Graham and add to it a bit of popcorn. Its gives a nice salty yet sweet taste and totally helps throw off my craving. It's the perfect after dinner treat, or even a movie snack.
TAKE DEEP BREATHS + BE STILL
I know what you're thinking. " Really, Jamie- deep breaths?". Seriously you guys breathing is AMAZING if you are completely stressed out. Like I am that person who holds everything in and one day just lets it all out, and let me tell you- NO HEALTHY at all. So I have learned one thing that has helped me if I am stressed or overwhelmed is to just sit back and breath. Let your mind drift away freely and just inhale and exhale.  I promise you 5 minutes into deep breathing and you literally will feel SOOOOOOO much  better. It literally is life changing. If you're weirded out by being still and deep breathing, take a minute to cruise your favorite magazine or website. Sometimes just not thinking about the problem that is stressing you out and filling you time with something that makes you happy like a magazine, a quick face mask, or application of your favorite lipstick can help instantly.

DECLUTTER YOUR LIFE
One thing I have noticed being a blogger, is how much stuff I actually have. And while it might be nice to not need anything EVER,  I mean seriously I have enough skincare to last a lifetime;  I have noticed that with more product samples comes more clutter.  For someone who likes to be very Type A and organized, clutter can literally FREAK ME OUT into an anxiety attack. So I have learned that every other week, to take time and basically purge my stash. I never thought the idea of purging my makeup stash would feel so rewarding. But seriously when I look at everything in it's nice neat space, it make me smile so big and it's super exciting to see friends and family call your stash a "Mini Sephora" as they shop through it and grab things they truly will use and not just sit there and let it collect dirt.
So there you have it a few of my tips to help you live life a bit more smoother. When life throws you lemons, you need to turn around and make some amazingly tasting lemonade, right? I know I always can use tips to help my life run a bit more smoother, what are a few of yours? How do you celebrate life's #LittleWins? Let me know in the comments below as I am always looking for things to help make life a bit more smoother.
I have been compensated by ZonePerfect for this post; however, I am sharing my own thoughts. All opinions are my own.    #ZonePerfectLittleWins #LittleWins
[ReviewDisclaimer]
[otw_shortcode_divider margin_top_bottom="30″ text="IMAGERY SHOT WITH" text_position="otw-text-center"][/otw_shortcode_divider]
 |  
CANON T5i & Canon 50mm f/ 1.8 STM lens
#LittleWins #ZonePerfectLittleWins Easy Life Tips ZonePerfect