This post was created in partnership with LANEIGE as part of an Influencer Activation for Influence Central. I received complimentary products to facilitate my review, but all opinions within are my own.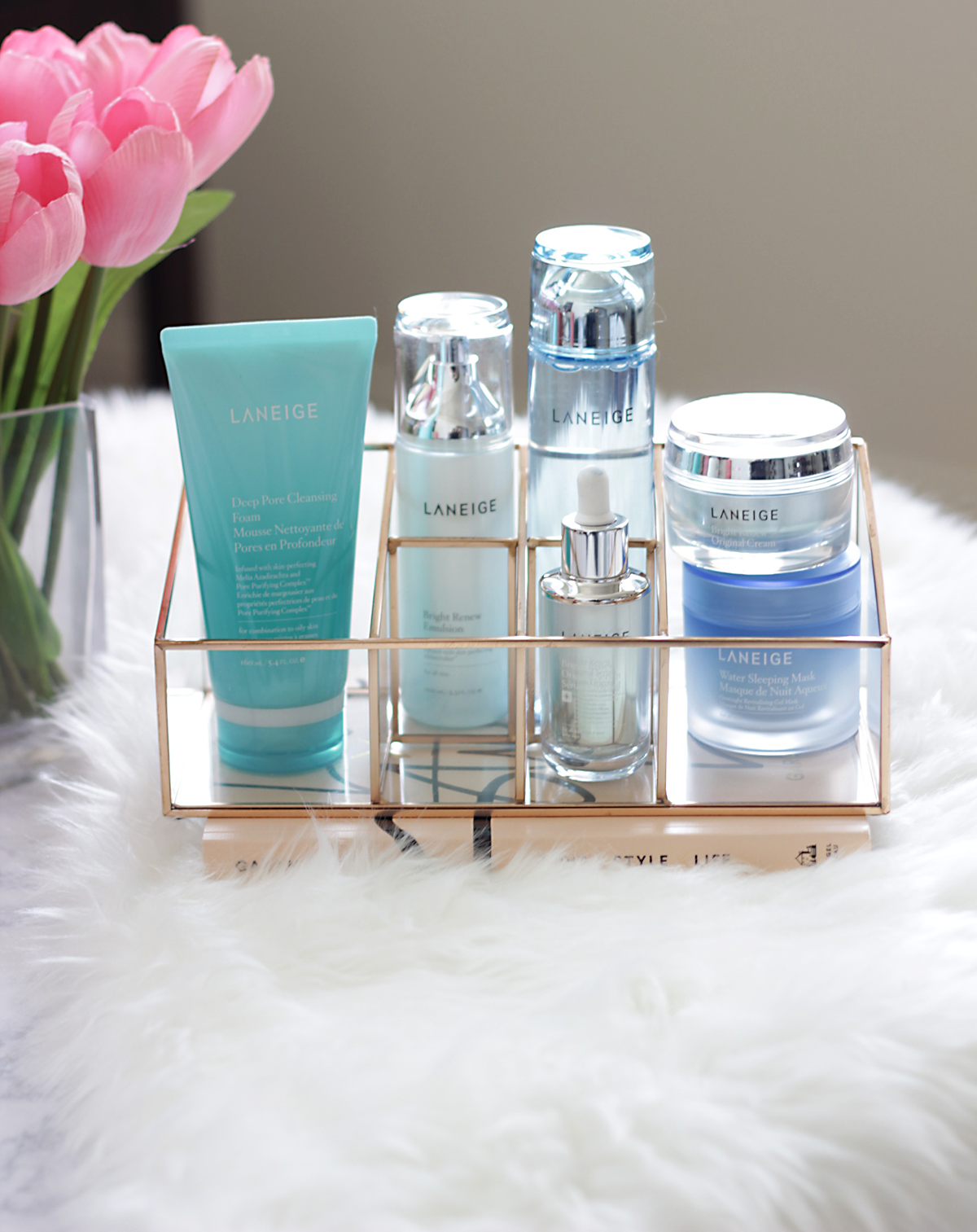 When it comes to skincare you all recognize that I am OBSESSED! From new treatments to facial masks to interesting skincare ingredients, I am one to take skin care by the reigns and just give almost anything a whirl. One trend that I have been obsessed- and boy do I mean OBSESSED with is…. Korean Skincare.  Unless you have been living under a rock then you know that Korean skincare routines are being VERY popular. On the daily, we put our skin under so much stress ranging from both the emotion as well as the environment- You know the drill: pollution, sun exposure, weather conditions, etc… However, many of us never seem to remember that you only get ONE skin, and since it is the largest organ of our body- we should probably start treating it right, you think?
Today I have partnered up with Laneige to bring you a whole new twist on East meets West skincare in the form of a solid routine called the "Power of 7". The "Power of 7" routine is taking 7 crucial steps in your skincare to help give you radiant, glowing skin- Cleanse, Clarify, Balance, Treat, Moisturize, Revive and Protect- and let me tell you… it works!  Laneige is one of the top leading, award-winning brands in the Korean Beauty, otherwise known as K-Beauty wave and you can now find them at your local Target stores – including my favorite the award winning  Laneige Bright Renewal Line. Laneige uses cutting edge technology and natural botanicals to help address a wide array of skincare concerns and conditions such as: Age Prevention, Hydration, Brightening, Complexion-Correcting, or Sun Protection. With their patented Advanced Water Science technology, Laneige helps hydrate the skin from inside the cells to protect, illuminate, revitalize, cover and show immediate visible results- we all love good results, right?  After using all the products for the past few weeks, I think I definitely have a few new Holy Grails that are solid staples in my skincare routine. Let's check out the "Power of 7" Power Players, shall we?

We all love a GREAT cleanser right? I am often picky when it comes to cleansers since I tend to run in the combination, acne-prone realm of skincare when it comes to cleanser, so for me something that cleans out the gunk and does it all without leaving my face stripped is a HUGE deal. The Laneige Deep Pore Cleansing Foam, is hands down AMAZING! This cleansing foam you guys is pure perfection for use combination to oily skin complexion gals. A unique blend of Moroccan Clay and Pore Purifying Complex helps this cleanser absorbs any excess oil all while unclogging pores, sweeping away dead surface skin and dirt. It is seriously phenomenal and it literally gives you glowing, gorgeous and clearer skin within moments. I am OBSESSED!

I am often one to skip a toner at times, because I find that they can be drying on my skin. However,  I promise after using the Laneige Power Essential Skin Toner , you'll rethink your entire skincare regimen. This toner helps deliver optimal moisture replenishment into the skin while purifying, softening and refining it with Vitamin B3 to help mild exfoliate and promote cellular turnover, and Optimal Mineral Water to help circulate and retain deep hydration- it is a step you NEED to add in your skincare.

One step in skincare that I haven't really dove into much was a emulsion. However, the Laneige Bright Renew Emulsion, I think might just have become my holy grail addition to my skincare. This multi-purposed lotion helps brighten dull, uneven complexion and literally is life-changing. Melacrusher brightening technology combines the power of antioxidant- rich Truffle Yeast and moisturizing Green Tea to help hydrate and even your skin tone all while renewing lost radiance from within. I am SUPER impressed with this product and have already ran to Target for a backup.

As you all know I LOVE me a good serum. So when I tried to Laneige Bright Renew Original Serum, I literally let out a sigh of happiness. This serum ROCKS! Not only is it a high-performance, intensive serum that is formulated to visibly illuminate and improve skin clarity, but it also help retexture and revive the skin's ideal tone. Formulated with Melacrusher this serum helps restore luminosity and give skin instant radiance and glow. It is a simply amazingness in a serum.

After the treatment step you NEED to moisturize the skin. The Laneige Bright Renew Original Cream, is pretty superior when it comes to moisturizers as it not only refreshes skin without being tacky or sticky, but it also works in three major ways.  It helps even the skin tone with bio-brightening Melacrusher, Hydrate the skin with Green Tea to help enhance radiance, and it creates a protective film on the skin. The moisturizer feels AMAZING on the skin and literally just melts into the skin. I am OBSESSED!

Revive is a step so many often do not think about when it comes to skincare. Revive is SUPER important as it is the time for your skin to recharge overnight. Now I am no stranger to Sleeping Masks, and the Laneige Water Sleeping Mask, has been a long time favorite since I first tried it a year ago or so. This mask will seriously help your recharge dehydrated skin overnight and you literally will wake up with the most smooth, glowing, amazing complexion ever. Designed to brighten and clarify fatigued skin while you are getting those much needed beauty zzz's, this mask seriously packs a punch and after one use your skin will be thanking you. Trust me- you'll wonder WHY you have been missing out on this holy grail product all your life. It's that good!

One step that so many people often forget is PROTECT. Let me tell you, you MUST PROTECT the skin daily. It is the sooooooo important and essential to use a SPF daily. Thankfully if you are like me and like multi-taskers then you will love the Laneige BB Cushion Compact. This 5-in-1 BB Cushion helps provide skin with a light yet ultra buildable coverage all while giving the skin a SPF 50+ dose of protection. I love that the compact is so sleek and travel friendly so you can always reapply coverage AND protection on the go. This BB cushion compact is also awesome because it comes in 6 helpful colors ranging from fair to dark. I have the shade medium for the winter and medium-dark for the summer months.  Best part is, you can pick up refills for the compact at your local Target store.
I am seriously OBSESSED with the Laneige "Power of 7″  skincare approach and all the products it composes off. If you love luxury quality skincare products for a fraction of the price, then you NEED to help over to your local Target store and stock up on the Laneige line. This luxury line harness the power of K-Beauty by hydrating the skin from inside the cells to help protect, illuminate, revitalize, cover and show immediate visible results. So what are you waiting for? Just start your journey to radiant, even, luminous skin with the help of Laneige.  I promise you, your skin will thank you!
Right now there is an AMAZING giveaway going on where YOU, yep you, can win your own "Power of 7" skincare regimen. I-C will randomly be selecting a total of 8 winners from all program entries and will handle the fulfillment of the winning prizes. So be sure to enter below for your chance at your own "Power of 7" now until August 26,2016.
LANEIGE Bright Renew Product Giveaway
*I-C will randomly select winners from all program entries and will handle fulfillment of the winning prizes (8 winners).
Want more Laneige? Connect with them over on:  Facebook || Instagram  OR check out all social media channels using Hashtag: #LovingLANEIGE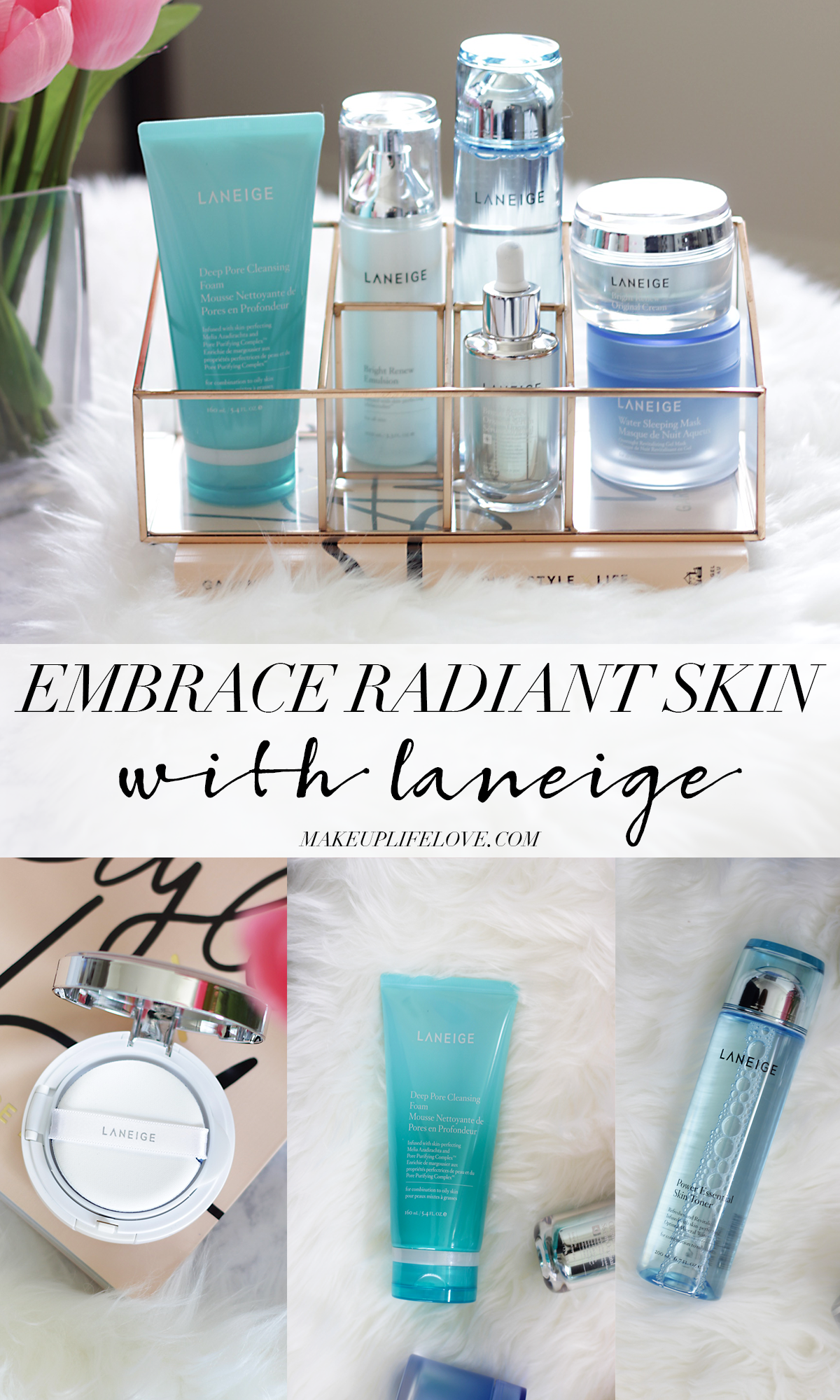 *PR SAMPLE
[ReviewDisclaimer]
K-Beauty Korean Skincare Korean Skincare Trends Laneige Laneige Power of 7 Target