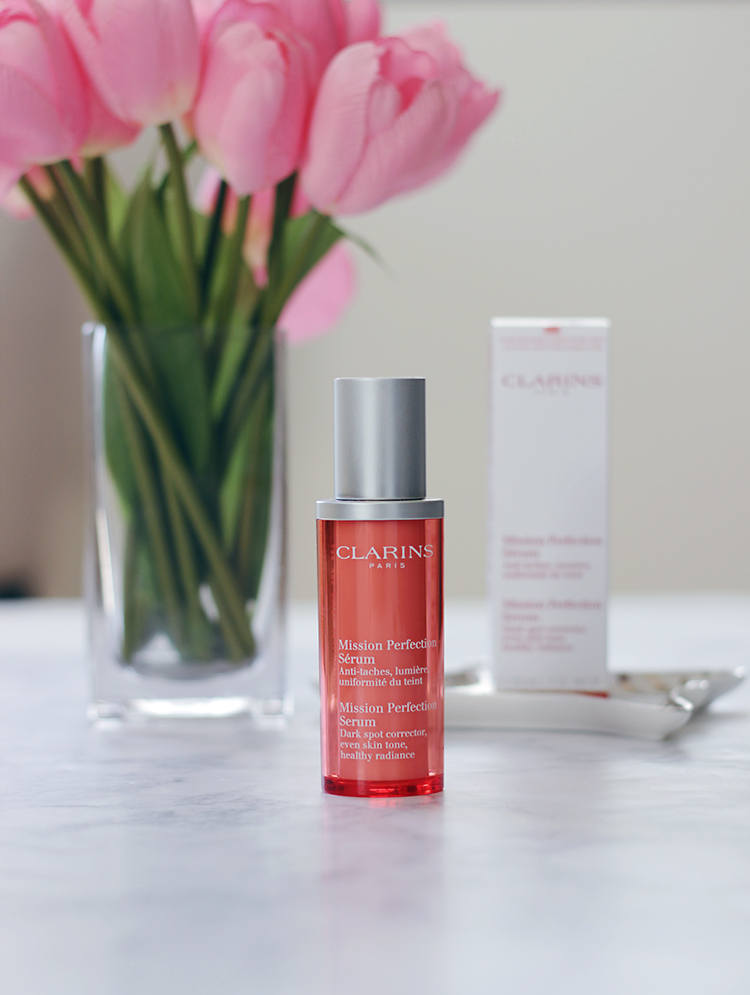 This review has been a long time in the making, as I have been oohing and awwwing over it for quite sometime now, but now as I move to my next bottle of the amazing Clarins Mission Perfection Serum, I thought it was finally time to do a quick summary. Now as you all know I do love me a long, luxurious skincare regimen, however let's be completely honest in the morning I do NOT have the time- sleep is a bit more important at times. I mean when I have the time to bust out all my potions and concoctions and enjoy a long time pamper I do indulge; although during the workweek, I tend to be a bit hurry and go lately. So with that being said the Clarins Mission Perfection Serum is making my mornings and my skincare more streamlined and man oh man, I am in love with the results…
WHAT IS MISSION PERFECTION?
Clarins Mission Perfection Serum– $72 USD, is a brand new innovative serum that is revolutionizing a multi-purpose approach to serums and let me just say Clarins is rocking in this department. The Clarins Mission Perfection Serum promises to correct dark spots, redness, shadowy areas all while leaving the skin with a even skintone and healthy complexion overall without altering your natural skin tone/color.
The unique blend of Carola extract derived from the Acerola plant found in wild cherries- helps block the "bad guys" responsibly for all dark spots; while Ginkgo Biloba helps penetrate and protect the skin's microcirculations to ensure you are left with a radiant complexion. The serum is also infused with Tamarind Fruit Acids to help gently remove any skin cells containing melanin (aka- dark spots) and to help ensure the skin is left smooth and even. Together all these components help lead your complexion to sheer perfection- literally! My skin absolutely LOVES this stuff. From the faint fruity scent of cheeries to the coral illuminating effect that instantly disappears into the skin as it penetrates your skin to goodness. Within moments of application the skin is left radiant, and vibrant. Tired, dull skin is gone before your eyes.
HOW TO USE MISSION PERFECTION:
Clarins says to use this serum both day and night. With Mission Perfection Serum, Clarins recommends to NOT use any other active products (ex: serums, acne serums, etc) at the same time – which means NO layering of serums, as this is a complete serum. Since I use an acne serum in the daytime, I have been using this serum at night only and using this serum for the daytime. Why at night? Your skin is known for repairing itself and rejuvenating at night to repair the day's damage, so to me it made more sense to use at night in order to ensure for maximum effects. I have been following this serum with my trust Clarins UV Plus Anti-Pollution Sunscreen Multi-Protection Broad Spectrum SPF 50 to help prevent any more dark spots and of course protect my skin from all the harmful UVA and UVB rays. Either way I am OBSESSED with this product and my skin LOVES it big time! I hate to sound cliché, but seriously this product is good skin in a bottle…
If you are looking for a new serum that will help combat dull skin, dark spots, redness or just want to add some oomph and radiance to your skin then look no further- Clarins Mission Perfection is your serum.
Clarins Mission Perfection Serum is available now at all major retailers ranging from Nordstrom, Macy's, Neiman Marcus, Bloomingdales,  Clarins.com and more for $72 USD.
*PR SAMPLE
[otw_shortcode_divider margin_top_bottom="30″ text="SHOP MISSION PERFECTION" text_position="otw-text-center"][/otw_shortcode_divider]

[thefeedproducts style='four'] [ReviewDisclaimer]