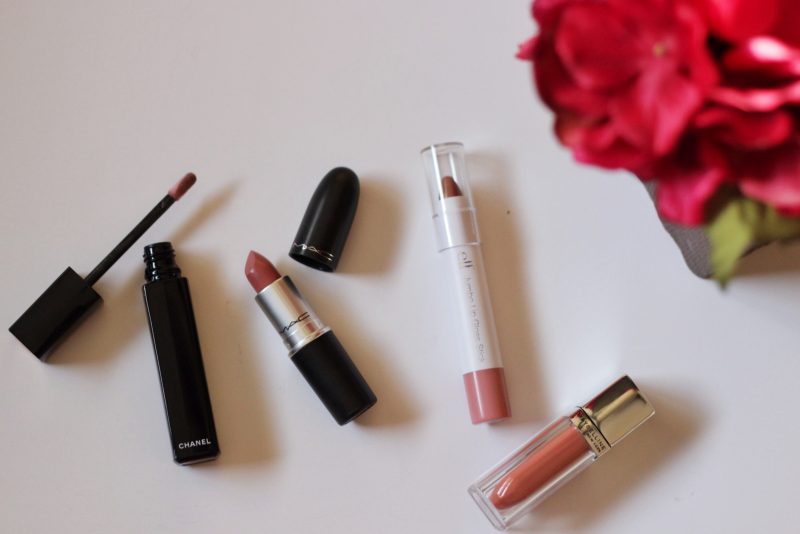 Spring days are on the horizon, and I have been leaning towards a less dramatic lip lately. Being a natural neutral-esque makeup lover, I have been seriously reaching for my easy peasy go to of a Nude Lip. Always in fashion, and always a perfect less is more looker- the nude lip is a fashion staple. Running errands, hot date with your guy or a night out with the ladies, its time to bring on this weeks installment of Covering the Bases: Nude Lips….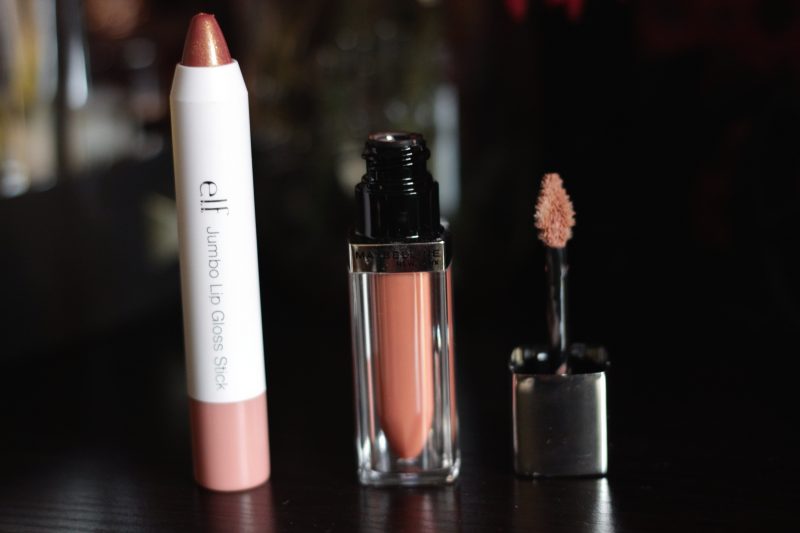 Nude lips are an area that can take a over the top look and bring it down to more neutral territory. A nude lip can also add some oomph to a look a la bombshell. First things first lets start with the ultra budget beauty buy ELF Cosmetics Essentials Jumbo Lip Gloss Stick in Summer Nights– $2.00 USD. This $2 bargain buy is straight up phenomenal. Glides on like a lipstick but give you the shine of a lip gloss. Hydrating for the lips, this light pinkish nude shade is amazing. You can layer it on for a sheer pale pinkish-nude shade or lather on the layers for a darker nude effect. Hands down the best bargain buy ever! Rounding out the bargain beauty is the uber amazing Maybelline Color Elixir by Color Sensational in Nude Illusion– $8.99 USD , IN love with this shade. A creamy caramel nude like shade that has some solid pigmented color on the lips. This is one of those products that I am obsessed with as it a lipstick, lip gloss and lip balm hybrid that I call a "blossystick". I adore this shade, perfect for all skin tones this gloss is gorgeous. A serious drugstore MUST HAVE!!!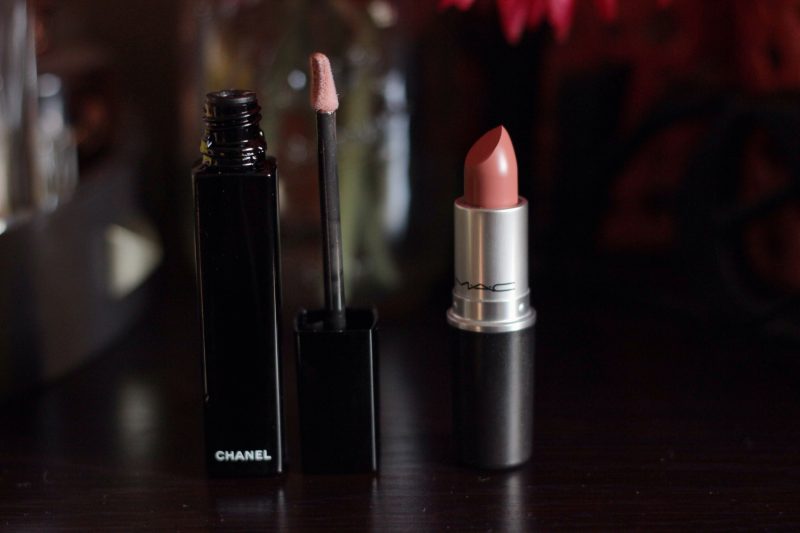 Rounding out the bases of nude lips are a few high end options that I find myself reaching for at times. First up MAC Cosmetics Kinda Sexy Lipstick– $16 USD, this nude-rose shade is simply stunning. Upon first application it is a bit of a "your lips but better" look, apply a few more layers for a matte-perfect nudeish-rose look. This shade is perfect for a night out or if you wanna turn it into a long lasting stain- **apply a thin layer of pressed powder on the lips, and then press this color onto the lips- instant long lasting, lip stain with a 'your lips but better' shade** Amazing!! Wrapping up the picks is a serious splurge  of a lip color that I have been obsessed with. Chanel Rouge Allure Extrait de Gloss in Insouciance– $32.00 USD,  is a to die for shade. This lip gloss is amazing- not sticky, high in shine and full of color- this gel like gloss is seriously  fabulous find that I can't believe I just now discovered. OMG I am in love with this lip gloss.  The color is so versatile as it has shades of pink, nude, mauve that add a bit of oomph to anyones natural lip color and just looks superb on every skin tone.  I am obsessed with this pricey gloss- but it is worth every penny.
So any other week of Bases Covered  with some solid nude lip choices. Whether you fancy a gloss, a lipstick, or just plain want a lip enhancing 'blossystick', these lippies will be the perfect addition to your current makeup stash.  Bring on Spring- my lips are ready!!