I participated in an Influencer Activation on behalf of Influence Central for Calvin Klein. I received product samples to facilitate my review as well as a promotional item to thank me for my participation. #euphoria4Moms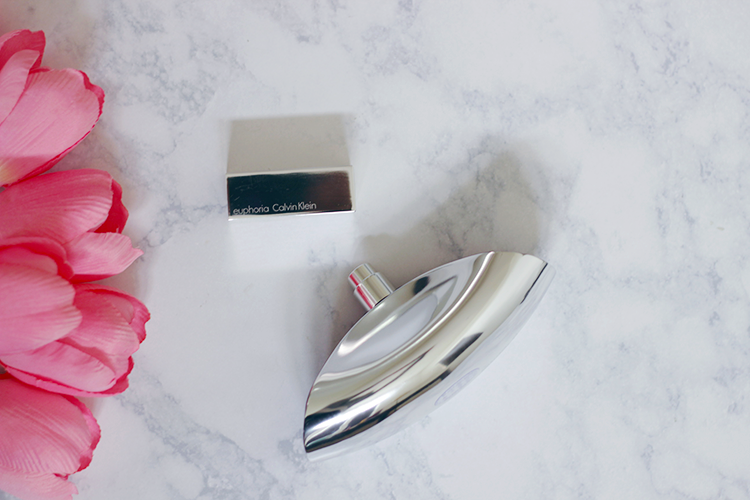 Let's be completely honest right now, I am the type of girl you can see walking down the street with a bag so large it probably would give Mary Poppin's a run for the money. Something about a big bag just calms my soul, knowing I have everything I need and then some at the touch of my bag­- I know weird, right? However when it comes to date night, the one major thing I have been trying to do is streamline my bag into something less bulky. Cause let's be honest- no one wants to carry around a handbag the size of luggage, right? This past date night fell on a Friday, so of course I didn't want to head to date night with my luggage in tow, so I decided to streamline my life into a smaller bag and more date night-esque by carrying the just the essentials that can take me from the office to date night in a flash. So let's just jump right in and dazzle with a little thing I like to call: Date Night Essentials…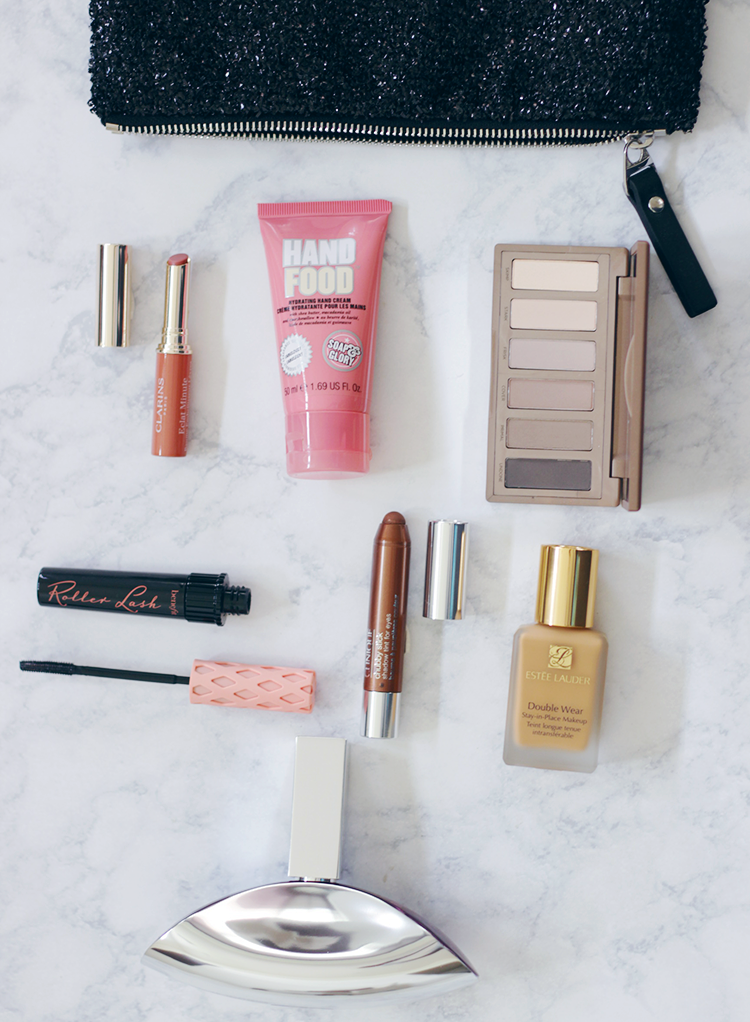 A Multi-tasking Hand Cream like Soap & Glory Hand Food. This stuff is the perfect handbag essential to do a bit of everything. Hair frizz- dab a bit into the palms and lightly rub over the frizz for a sleek style, it's the perfect cuticle helper, dry hand remover and more. Trust me no one wants to hold hands when your hands are dry and cracking.
A Long Lasting Base like Estee Lauder Double Wear Stay-In-Place Makeup*, this wonder bottle of pigment is almost a two in one. It give great coverage and can act as a concealer, all while leaving you skin looking breath takingly flawless.
A Smudgey Eye Product like Clinique Chubby Stick in Fuller Fudge. I am a huge fan of the chubby stick, and have it in multiple shades. However on a recent trip to Macy's I realized I didn't have Fuller Fudge, so of course I needed it. This chubby stick is super easy to apply with just the tips of your fingers, no brushes needed. You just line, smudge and slightly blend all over your lids with your finger tips-instant sexy eyes within minutes.
A Va-Va-Voom Mascara like Benefit Rollerlash Mascara. I picked this up recently at Macy's after endless recommendations by friends about how amazing it was. Let me tell you they were right. This mascara curls, lengthens and adds just the right amount of volume while holding the curl for up to 12 hours.
The Perfect Eyeshadow Palette On-The-Go like Urban Decay Naked 2 Basics Eyeshadow Palette, another purchase recently at Macy's when I was grabbing the Roller Lash Mascara this palette just spoke to me. Now I am a lover of all Urban Decay items, but this palette is perfection. It's the perfect size to toss in the bag, its got a great range of colors and the easy to use matte shades are the perfect companion to help lock in a my Clinique Chubby Stick.
A Cheek/Lip Hybrid like Clarins Instant Lip Perfector Stick in Rosewood*. This rich and creamy lip product adds the right amount of oomph to the lips. It's a solid subtle color as it moisturizes, plumps and illuminates all while NOT being sticky. In a pinch you can add a few dabs of this to the cheeks for a easy flush of color. Just dab into the skin and press into the cheeks. This is a date night must have- pucker up.
No date night is complete with a seductive date night scent like euphoria Calvin Klein*. Now we spoke at my new obsession for this scent HERE. But let me just say this scent is simply perfection in a bottle for date night. The addictive oriental fragrance contrasting with exotic fruits and seductive florals is just simply amazing. The crisp burst of succulent persimmon and pomegranate topped with hints of mystery thanks to the black orchid and champaca flower, all while long lasting hints of amber and addictive cream accord linger on the skin. I mean seriously this scent- AMAZING and the perfect MUST HAVE for date night- trust me! A light spritz on all the right spots and you are good to go.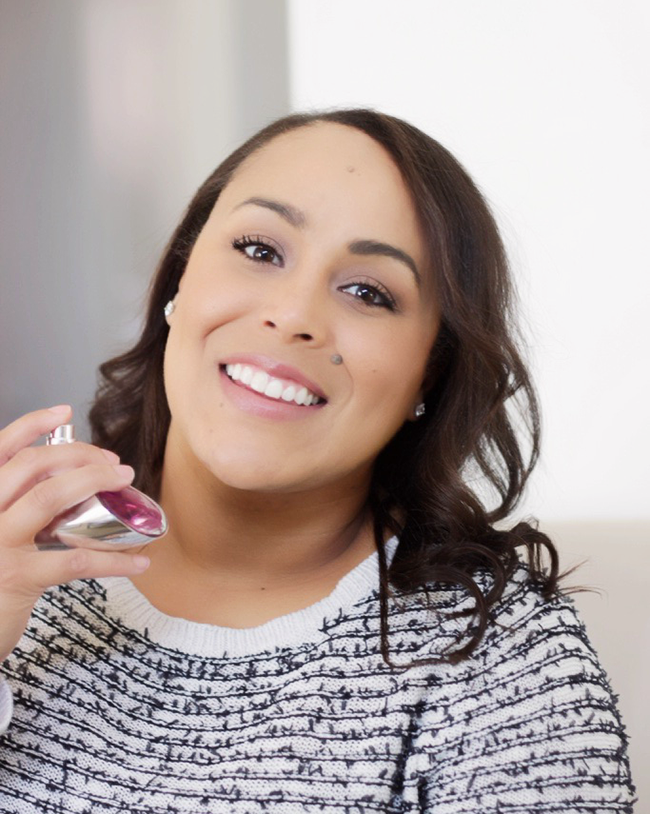 Also did you know right now at Macy's through Mother's Day, anyone who purchases a large spray from the euphoria Calvin Klein fragrance collection will get a complimentary live orchid. I know I mentioned it in my last past HERE. I love the orchid so much that I have grabbed another bottle of euphoria Calvin Klein just so I can keep the orchid for myself and give the other one to my Mother. Hey like Mother like daughter, right?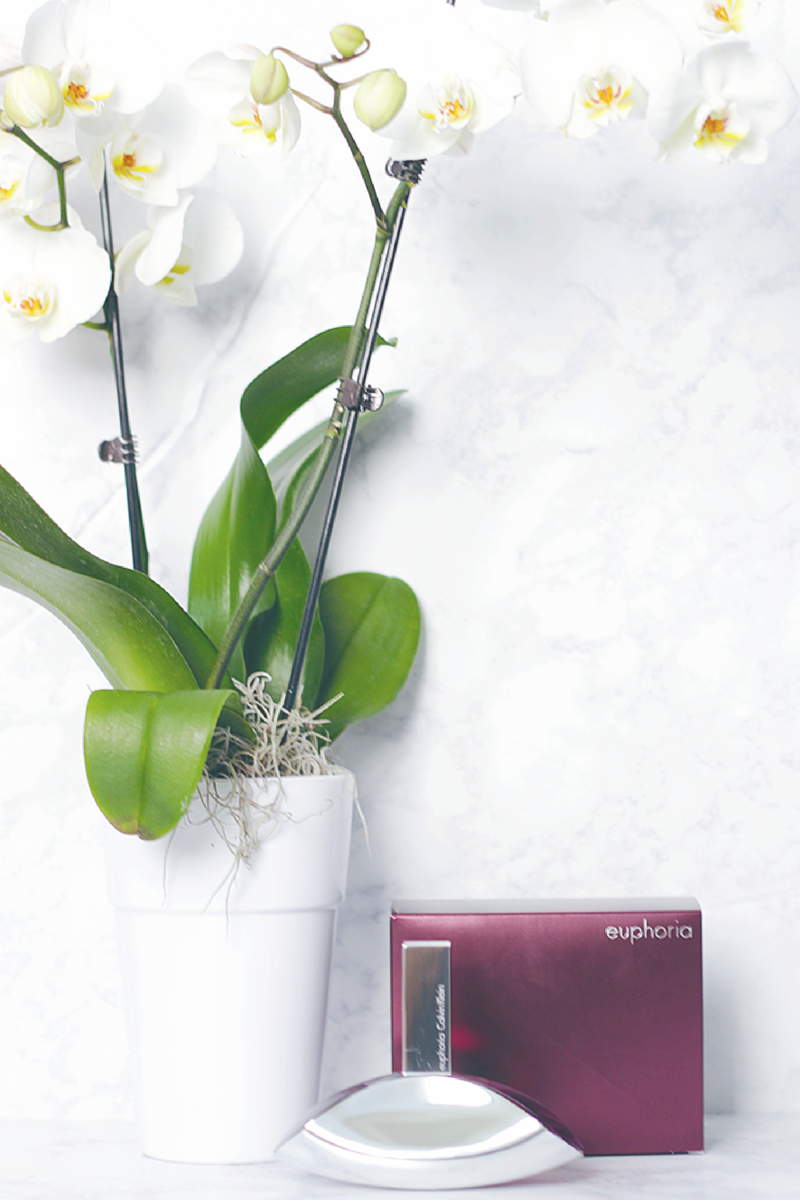 For our perfect Friday Date Night my beau and I kept it pretty low key, since it of course was a Friday night. We headed out to enjoy an amazing meal. I had the Pan Seared Chilean Seabass, while he had the Filet Mignon topped with garlic butter and Gorgonzola crumbles. Throw in a lovely bottle of wine, and finish the meal off with a Crème Brulee – and needless to say we rolled out of the restaurant. The night was perfect as we caught a last minute showing of Iron Man- boys and their action movies, right! The best part of the night besides the amazing food, great movie and perfect company was my beau kept commenting about how much he loved the perfume I had on- thank you euphoria Calvin Klein.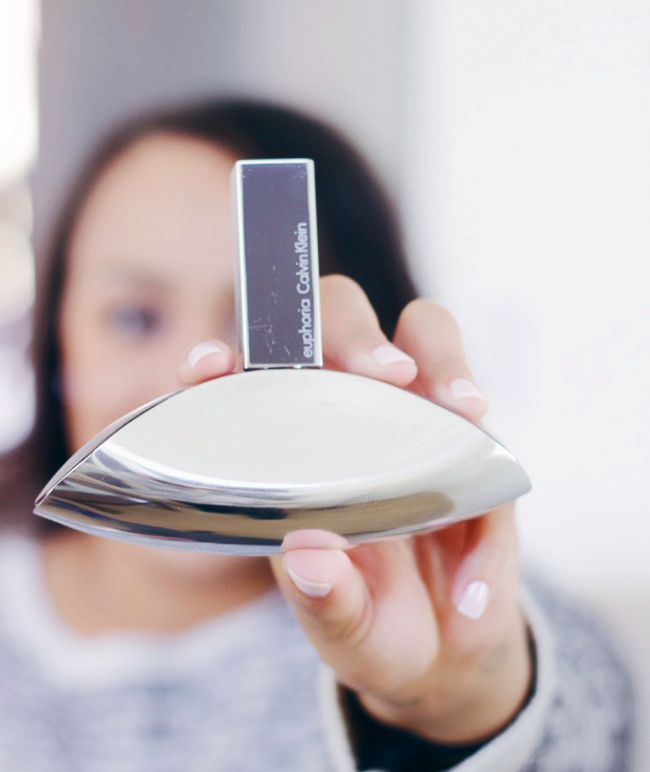 So what are you waiting for??? Run to Macy's and grab yourself a bottle of euphoria Calvin Klein, snag your FREE live gorgeous orchid and head out with your beau for date night. All you mothers out there, its time to have a Mother's Day Date Night with you hubby minus the kids- you deserve it!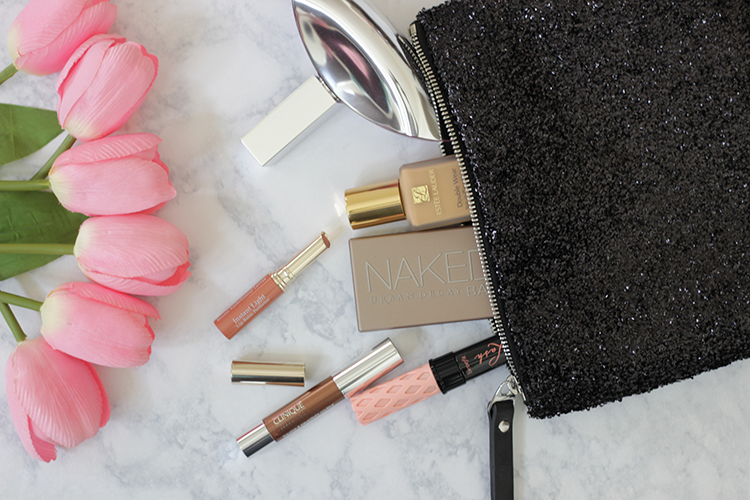 Do you have date night essentials? If so I would love to hear, WHAT is your date night perfect scent in the comments below!
For more information about euphoria Calvin Klein head over to their website, drop them a line on Twitter or Facebook, for instant euphoria goodness check them out on Pinterest or Instagram.
Thank you Calvin Klein for sponsoring this post. All opinions and thoughts are my own and my own only.
*PR SAMPLE
[ReviewDisclaimer]