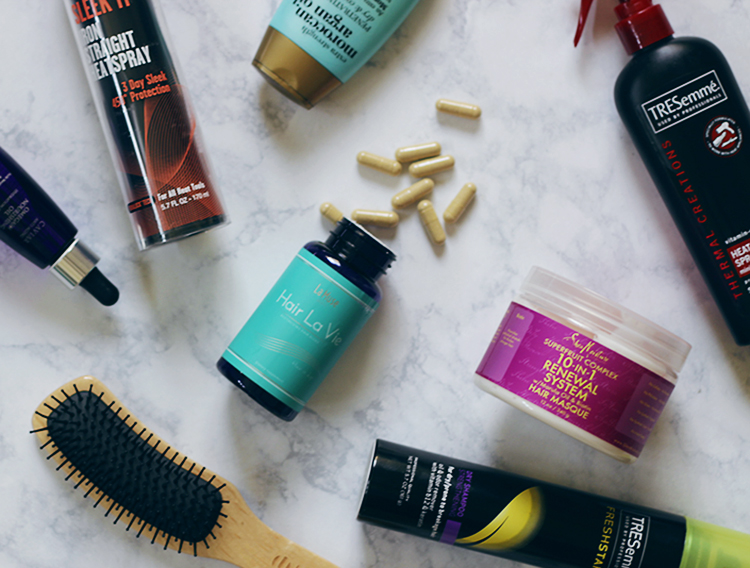 A few months back I semi experienced a bit of a chop, I went from kinda long hair, to mid-shoulder length hair due to a trim that NEEDED to be done badly! After years of hair torture from heat stylers, multiple products and chemicals, my poor hair was in dyer need of the trim to get healthy- poor thing. I went to my hairdresser sucked it up and maybe let out a tear or two at the thought on cutting my beloved hair into the healthy zone. Having struggled with many- and I mean many years of attempting to grow my hair long and luxurious again after some major trauma back when I first started to use flat irons, it was a bit hard to see a few inches go. Like REALLY hard! However, after finding my newest find I can honestly say I am firmly growing to a member of the #longhairteam and I can't see myself leaving anytime soon…
Now we have talked about my hair many times on this here blog, we have already gone through a love and hate letter to my hair all the way to a new and improved regimen that helped me finally get one step closer to healthy. Now through trial and error, I have decided to share my quick tips and tricks with you all on how I got my hair to grow back quicker, thicker and fuller, and of course healthier then before.
TIP 1: GET REGULAR TRIMS
Ladies I CANNOT stress this enough- getting a regular trim is a necessity. Like a MAJOR necessity, as in order for your hair to grow- it needs not be broken and full of split ends. I have learned that for many a regular trim (now I say trim, which usually means a ¼ of a inch to 1" full inch depending on how fast your hair grow) every 6-8 weeks can help your hair grow faster and healthier for sure.
TIP 2: INVEST IN A HAIR VITAMIN
For me this tip was a life changing tip- like seriously LIFE CHANGING! A while back I was sent a bottle of the Hair La Vie * – $39 USD, and let me just say this stuff is what hair dreams are made of for sure. Formulated specifically to help change the face of the hair industry, Hair La Vie *, is made with the highest quality of ingredients, NO additives, fillers, artificial flavors, colors or binders. This product is created with loads of vitamins ranging from Vitamin A to Iron all the way to Vitamin B3 and B6, all while helping your hair grow longer, stronger and healthier quicker. Since using this product I have noticed that when washing my hair, I shed way less and my once extremely dry and brittle hair now has a bit of life added into it. An added bonus it has helped my nails grow back stronger and quicker (although I like to keep them short) but they are less prone to splitting or breaking- score! I seriously can't recommend this product enough.
TIP 3: STOP WASHING YOUR HAIR DAILY + WASH HAIR LESS
Now I know what you are all thinking- 'Seriously Jamie? Wash your hair less?' But seriously you guys washing your hair less is one of the best things you can do for your hair. You have all heard me praise my co-washing, but if co-washing isn't your thing, then PLEASE try to wash your hair less. Some of you are probably thinking ' but I have oily hair, it will get greasy' and you might be right, however YOU made your scalp greasier the more you wash it. Each time you wash your hair you are semi stripping the hair of natural oils, and washing your hair daily you are causing your scalp to over produce oil to help replenish your scalp. Basically you made your scalp think it was in crisis mode and it started to freak out and overproduce. Many hairdressers recommend washing your hair 1 time a week and if that is too little for you, then at least once every 2 to 3 days.
TIP 4: ALWAYS USE A HEAT PROTECTANT
Now I WISH that they had heat protectants back in the day when I started using my first flat iron. Imagine apply a flat iron to the hair, thinking it smoking was ok, and within weeks creating inches of breakage! Sounds like a hair horror story right? Nope, it's my actual, happened in real life even when I first started playing with the heat styling tools. Needless to say times have changes- thankfully, and I now own probably EVERY heat protectant ever made, and NEVER I mean never apply a heat tool to my tresses without one. So seriously do yourself a favor and if you don't own one, GET ONE NOW!
TIP 5: MASK IT OUT
When in doubt, mask it out. I have learned doing a once a week deep conditioning mask has really helped my hair. I use a deep conditioning mask once a week, lathering my hair from scalp to ends, leaving it on for about 15-20 minutes. BONUS TIP: If I really want a deep, deep conditioning I tend leave on my hair for 15 minutes under plastic wrap and covered with a towel allowing the towel and plastic wrap to hold hair heat in to give the conditioner a extra bit of oomph. Needless to say, once I wash my hair out it is super manageable, and just feels so much healthier and ready to take on the week.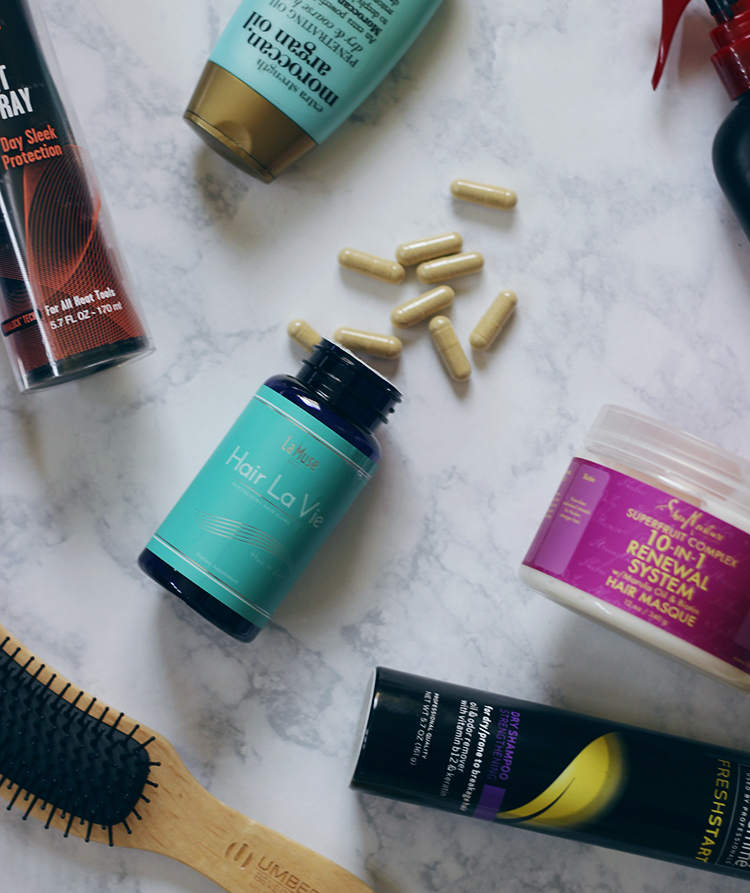 So there you have it, my easy tips and tricks to getting healthier, thicker, longer hair quicker. Straight hair, curly hair or frizzy hair, I am always going to be into longer, thicker hair. Thanks to Hair La Vie, I am one step closer…
Have you tried a hair supplement? Have you tried Hair La Vie? If so, I would love to your thoughts, and how it worked for you. Let me know in the comments below any of your hair growing tips and tricks…
*PR Sample
[ReviewDisclaimer]