When it comes to flat irons I feel as though I am almost an expert in being a consumer. Always on the hunt for the latest and greatest frizz controlling hair tool to straighten my frizzy hair- I think I finally met my perfect match thanks to Loxa Beauty…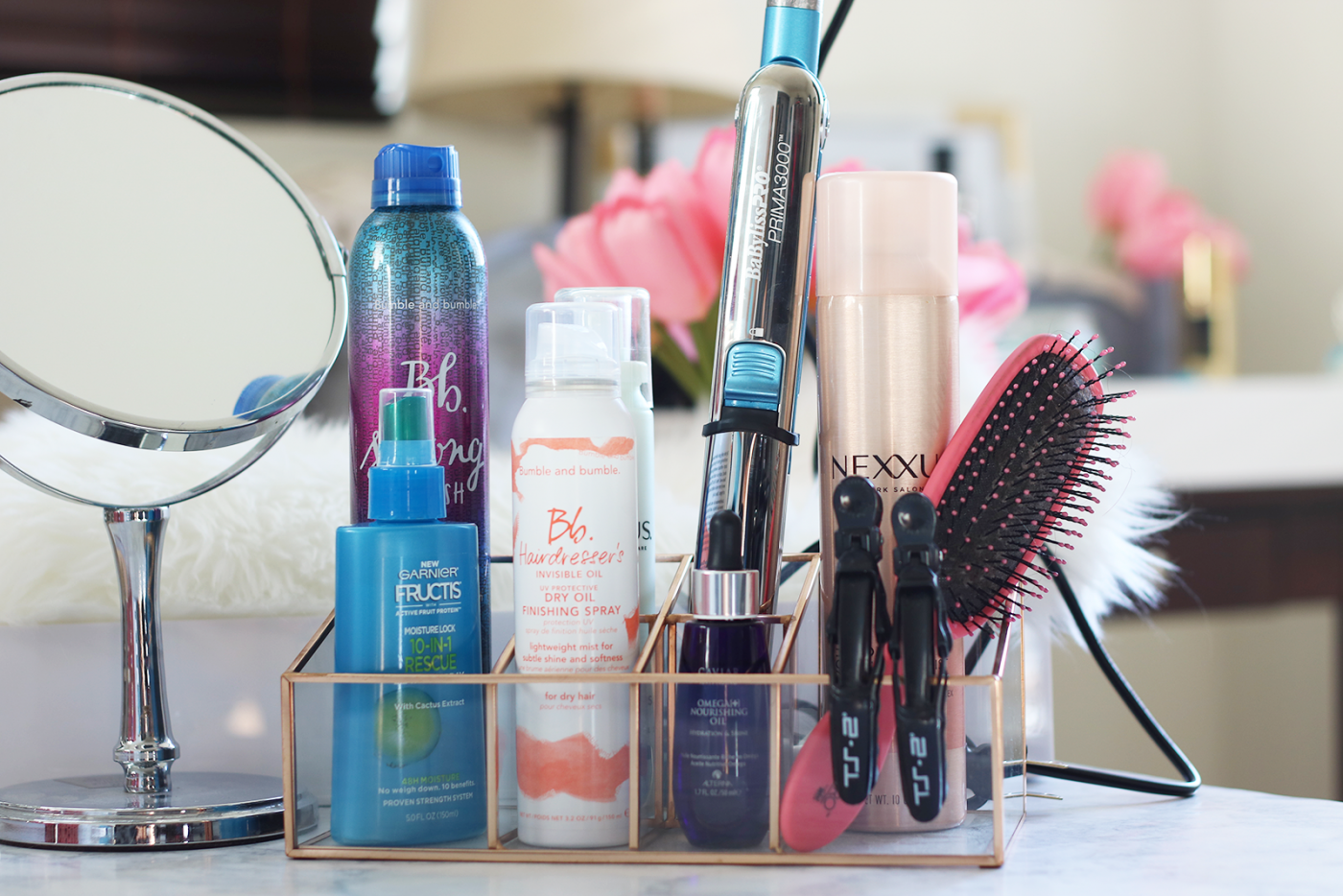 How to prevent frizzy hair… probably the most common question I google literally on a regular. I personally struggle with it the most, of course, just when I think I have it under control- my dry, damaged, frizzy hair decides to have a mind of its own and literally take on a new attitude. My hair as many of you know is very unruly, it's pretty coarse, it's damaged and it's also chemically treated. Soooo, while I do get my hair chemically straightened every 6-8 weeks, and a blowout in between- my hair on the regular- or shall I say when left to my own devices– is often a bit on the frizzy/flyaway side. No matter how hard I tend to try- it just always flips out and of course, this wacky Southern California weather we are having isn't helping much either. So of course- POOF the frizz in the house; when all I want is FRIZZ and unruly hair begone!  Recently I must admit I think that the frizz very well may have met its match, in the form of the ONE hair tool I think you all need this year- STAT! Trust me, you'll see why.  
Today, I am teaming up with Loxa Beauty to share with you guys one of the BEST and I repeat BEST hair tools on the market… I have been using this tool non-stop recently and I must admit my hair is looking mighty darn good.  Here are my thoughts on this awesome hair tool as I share my favorite tips to tame and style the mane using just one awesome hair tool.
First and foremost, I must admit my hair looks pretty damn awesome the day after a great blowout. However, WHY can I never recreate the same awesome results at home as they do at Drybar? Raise your hand if you aren't the only one who has ever wondered that? Thankfully as of today, I am about 4 days post-blowout, and just when my hair usually starts looking like a hot mess- I have my trust new BaByliss Pro Nano Titanium PRIMA 3000 Steel Straightening Iron. Seriously you guys this flat iron is AMAZINGNESS, fabulous, I can't live without you all wrapped up in one. Literally- it is hands down the best hair tool of the year.  Seriously if you are in the mood for sleek + smooth perfect hair with a bit of bounce and loose wave- YOU NEED THIS! #NeeditNOW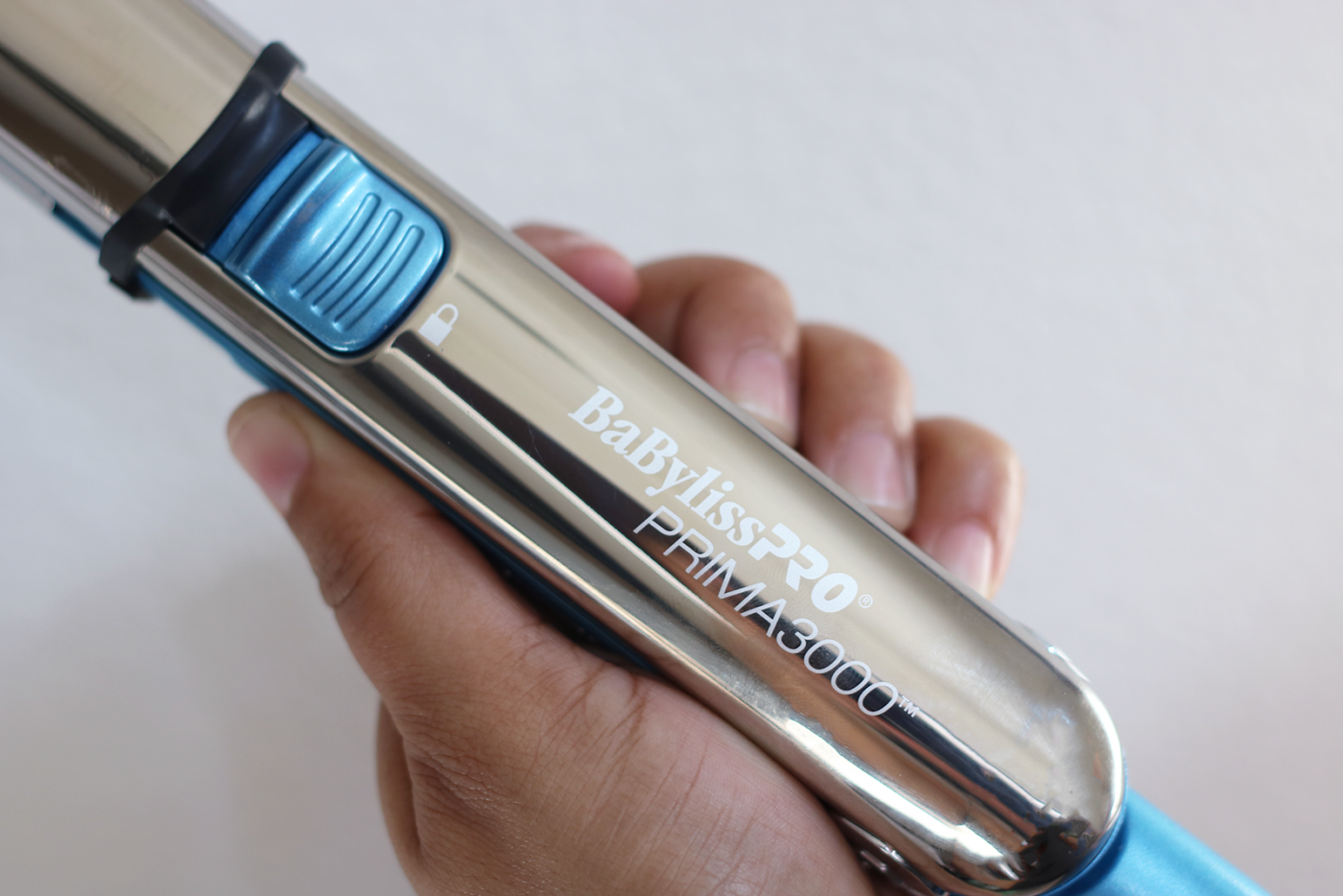 Let's talk statistics of this wonderful hair tool-  which I think literally should be the hair tool of the year!  The BaByliss Pro Nano Titanium PRIMA 3000 Steel Straightening Iron is a stainless steel that allows you to straighten or curl your hair effortlessly all while giving hair shine and smooth movement.  The flat straightening iron doubles as both a flat iron AND a curling iron as it straightens and curls with maximum ease and effectiveness.  The BaByliss Pro Nano Titanium PRIMA 3000 Steel Straightening Iron contains:
LED temperature display from 300 degrees to 465F degrees

HiDensity Dual-Ceramic Heating System that delivers an extremely powerful for faster heat-up and exceptional heat transfer- up to 465 degrees Fahrenheit

Silicone cool tips to help allow you to easily curl the hair with ease

Locking feature so you can close and lock the plates to use the straightening iron as a curling wand.

Protective thermal glove

9 ft long industrial strength swivel cord
// WHY STAINLESS STEEL? //
The purpose of the stainless steel constructions is to help allow parallel and even distance between the heating plates at all times. Heat also DOES NOT warp stainless steel like it does with most plastic and ceramic flat irons.

// HOW AM I USING THE BABYLISS PRO PRIMA 3000 TO STYLE MY HAIR //
When it comes to styling my hair I have learned a few small tips and tricks due to having quite a bit of experience attempting to control my frizzy, dry, damaged hair. I have been using this AMAZING blow dryer (also from Loxa Beauty) with a bit of this leave-in treatment to help protect the hair all while giving it a bit of hydration.  After blow-drying my hair, I add a bit of this heat protectant and I grab my trusty new favorite hair tool and get to work.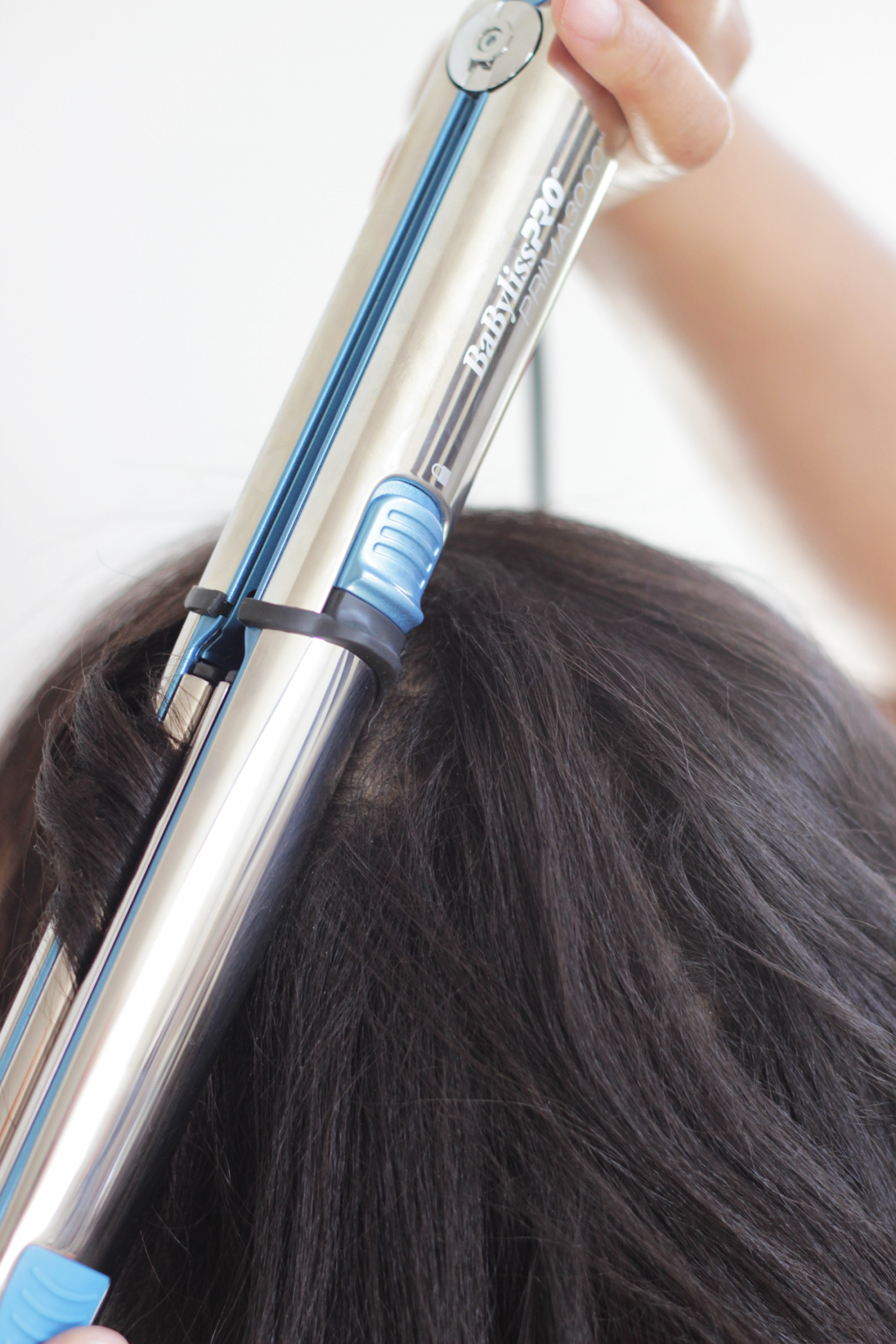 I find that when it comes to straightening my hair I find that separating my hair into sections helps work a lot. I break my hair into 3 sections and start curling from the bottom up to the top.  Once the whole head is curled with my trusty BaByliss Pro Nano Titanium PRIMA 3000 Steel Straightening Iron, I set my hair with this hairspray.
When I am just lounging at home or about to got to bed. I tend to pull my head into the highest possible bun I can. I secure my bun with a fabric hair tie like this one. I promise you- you will wake up with sleek, smooth hair with slight loose waves, and it helps give your frizz free hair a bit of extra oomph and staying power.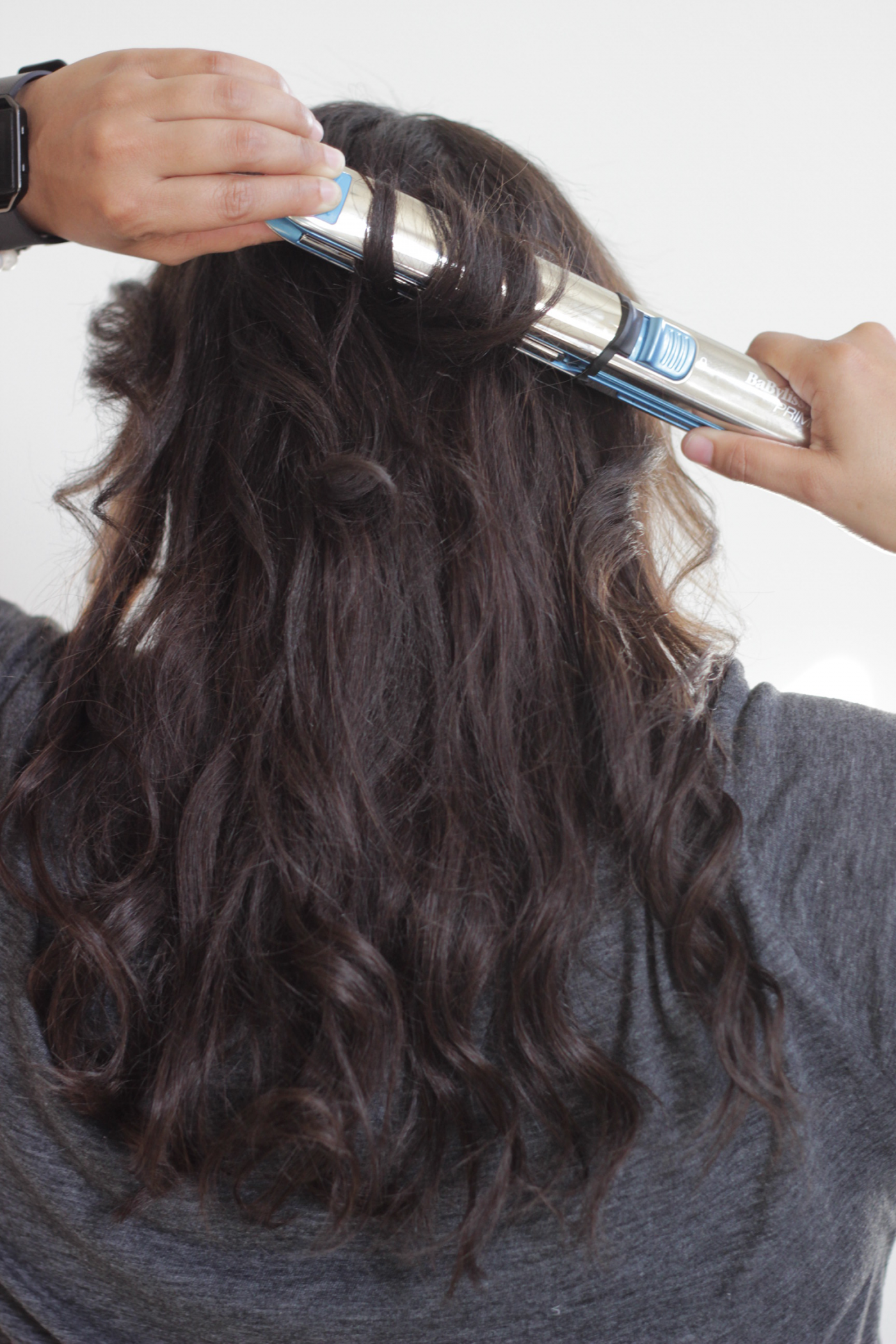 Sometimes when the humidity is on high alert, I reach for this hairspray. Hairspray helps resist the humidity and prevent frizz.  For me finding the right one is key.  I really love this hairspray because it's not at all sticky, and helps seal the hair to prevent frizz.  If you need an extra bit of volume- I say use this dry shampoo. Apply and tousle hair- then voila you are ready to go.
If fitting frizz after a workout is something you are looking to combat I say make sure to pull your hair into a super high ponytail (literally as high as you can) and then take a second elastic and wrap your hair into a bun. This helps secure the ponytail all while making sure you don't get any of the weird hair kinks that a ponytail can leave. Afterward, you can shower while hair is still in a bun, then take hair down- spritz a bit of this conditioning oil to help tame any flyaways. You are left with – instant frizz free, gorgeous hair.


Here are a few of my current favorite hair products to help fight frizz:
Bumble and bumble Hairdresser's Invisible Oil UV Protective Dry Oil Finishing Spray this is probably one of my favorite finishing oils at the moment. I was introduced to it by my hairdresser when she used it and I have been HOOKED ever since.  Since I have dry hair, this frizz-taming conditioning mist is absolutely amazing. It's ultra-lightweight and you can use it throughout the day to add some instant conditioning to the hair without messing up your current style.
For a hair oil, I have been obsessed with the ALTERNA CAVIAR Anti-Aging Omega+ Nourishing Hair Oil. This is a MUST have for anyone with dry and deprived hair like mine. This powerful treatment oil contains a high concentrated dose of omega-3 and C22 fatty acids to nourish hair deeply. Dry and brittle hair instantly is smoothed with this oil all while it leaves the hair with intense shine and silky-soft.
For a hair mask (I do this once a week), I am loving the Madam C.J. Walker Beauty Culture Dream Come True Wonderful Deep Conditioning Masque. This mask smells absolutely like heaven. It also leaves the hair super, super soft. I weirdly feel like it is helping me cure my dry ends issue. It has literally helped me with out of the shower tangles- it helps make hair very manageable. It is so darn good.
For a bit of hold, I am loving the Bumble and bumble Bb. Strong Finish Firm Hold Hairspray, this stuff rocks. It is a firm, no-slip hairspray that literally keeps hair styled from day to night or all day long with a nice modern brushable, touchable finish.  It also smells pretty awesome, which for me is a major plus.
Last but not least, on days when I am hanging out at home, daily use, and fresh out the shower I have been reaching for the Garnier Fructis Moisture Lock 10-in-1 Rescue Leave-in-spray.  Made of Vitamins B3, B6, fruit, plant-derived extracts and strengthening conditioners to help give you healthier hair. I love using this all in one leave in rescue spray since it: quenches, smoothes, adds shine, softens, detangles, controls frizz, protects from heat damage, prevents breakage, freshens hair, and boosts manageability.
[otw_shortcode_divider margin_top_bottom="30″ text="SHOP FRIZZ FREE BEAUTY" text_position="otw-text-center"][/otw_shortcode_divider]
A big thank you to Loxa Beauty for sponsoring today's post! All thoughts and opinions are my own. 
BaByliss PRIMA 3000 BaByliss Pro Nano Titanium PRIMA 3000 Steel Straightening Iron BioSilk Loxa Beauty