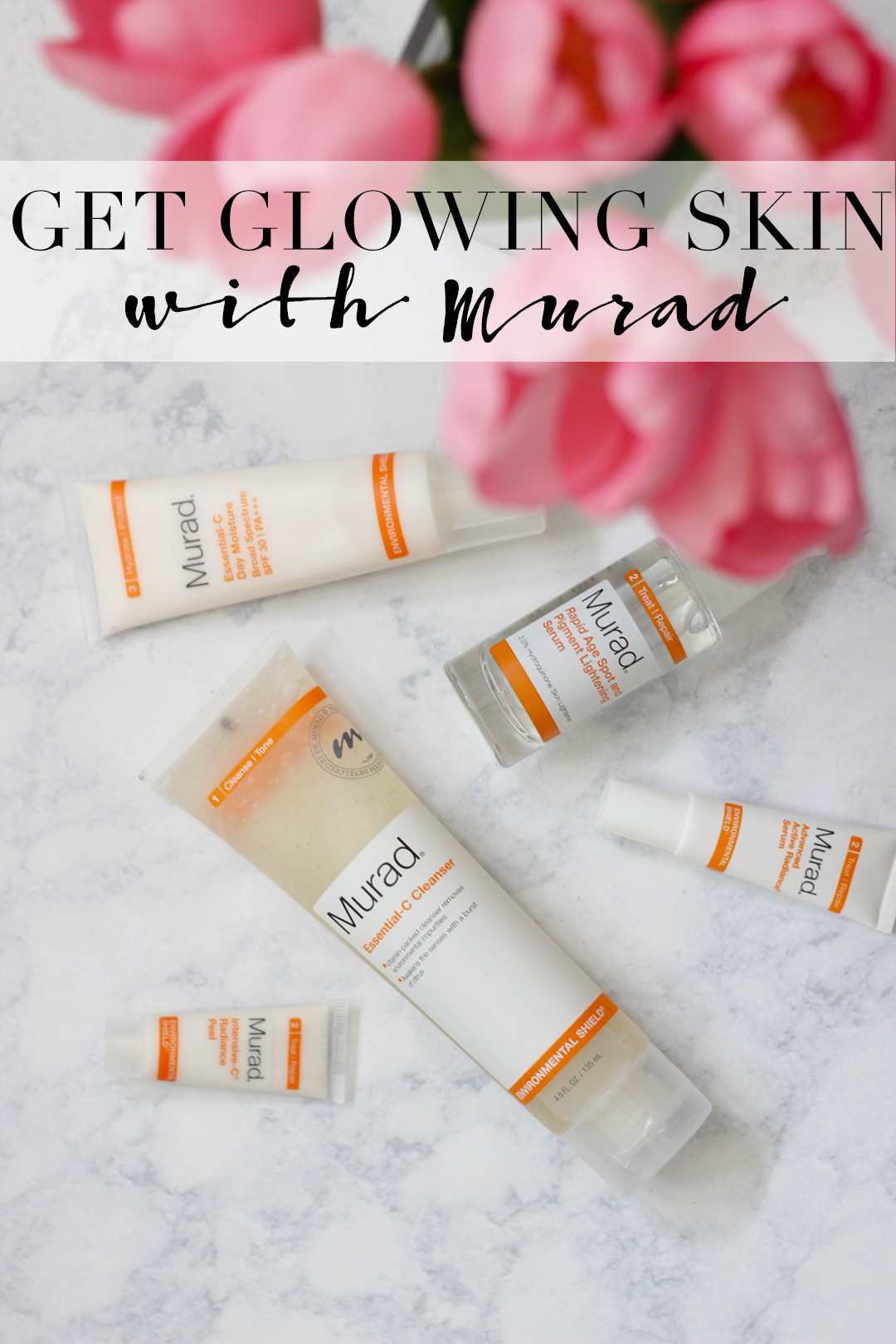 Glowing skin is a thing we all want, right? When it comes to skincare my skincare routine is very much a solid routine these days. And you'll never guess- but I am pretty happy with that. I am learning what my skin likes, what it doesn't and let me just say I am TOTALLY HAPPY to follow my skins lead when it comes to my routine. I know for me when it comes to skincare I am all about achieving glowing skin, who's with me? However sometimes my skin likes to freak out and get a bit lackluster and spotty, leaving me with the dreaded hyperpigmentation. Today I am partnering with BeautyStat and Murad to share with you my new skincare and how I am on a quest to achieve glowing skin…
THE GLOWING SKIN REGIMEN
:
Murad's 90-day Rapid Lightening Regimen seriously ROCKS!  This little set of wonders has a full 90 days supply of goodies to help treat skin discoloration for the 4 MAJOR causes of hyperpigmentation: the sun, genetics, inflammation and hormones.  Each product in this set is determined to treat hyperpigmentation at the source so that you will start to see glowing, brighter, and a more even skin tone in as little as 7 days! Crazy, right? Well you guys it WORKS and I am OBSESSED!
You're probably wondering WHAT exactly is hyperpigmentation? Well you guys, hyperpigmentation is basically those pesky dark spots you see after you might have accidentally popped a pimple, or random dark spots/patches that appear in time from previous sun damage. Hyperpigmentation is caused by production of excess melanin (the pigment that gives color to the skin). Sometimes things from inflammation to medications or trauma to the skin can cause the melanin to create some sort of spot or patch on the skin.  I suffer from dark spots left after the occasional pimple popping-  I know it's such a bad habit! Since I am on a mission to get glowing skin, you know I always am looking for things to help treat my skin. Well let me just say Dr. Murad totally came to the rescue with this awesome set.  
Murad Essential-C Cleanser– Sometimes my skin feels a bit lackluster when it comes to radiance. That's where this cleanser comes in… This cleanser seriously is AMAZING! I have used it before and gone through many tubes, and I am still obsessed with this Vitamin- C rich cleanser. It removes any skin-dulling impurities and helps renews the skin's natural radiance. Plus it smells like citrus so in the morning it is the perfect in-shower pick me up.
Murad Rapid Age Spot and Pigment Lightening Serum– This is seriously is a godsend. How have I lived this long, without ever finding this potion? This serum contains 2% hydroquinone- the highest dose allowed without a prescription- which helps lighten all dark spots and skin discolorations. It is super gentle on the skin and packs a serious punch to the skin.  TIP: Hydroquinone should be used ONLY for a short period of time- maybe about 3 months of consecutive use. Followed by allowing your skin some time off (at least 3 months) before starting to use it again. ALWAYS make sure to seek professional advice from a doctor or licensed dermatologist.
Murad Advanced Radiance Serum– This serum is a power punching powerhouse. I have used this many times in the past, and it's been at least a year since I have grabbed it. However I have yet to find anything that is similar to it when it comes to getting some solid glowing skin, and let me just say OBSESSED! Best part is you can pair the Murad Advanced Radiance Serum and the Murad Rapid Age Spot + Pigment Lightening Serum together to get some phenomenally brighter maximum results.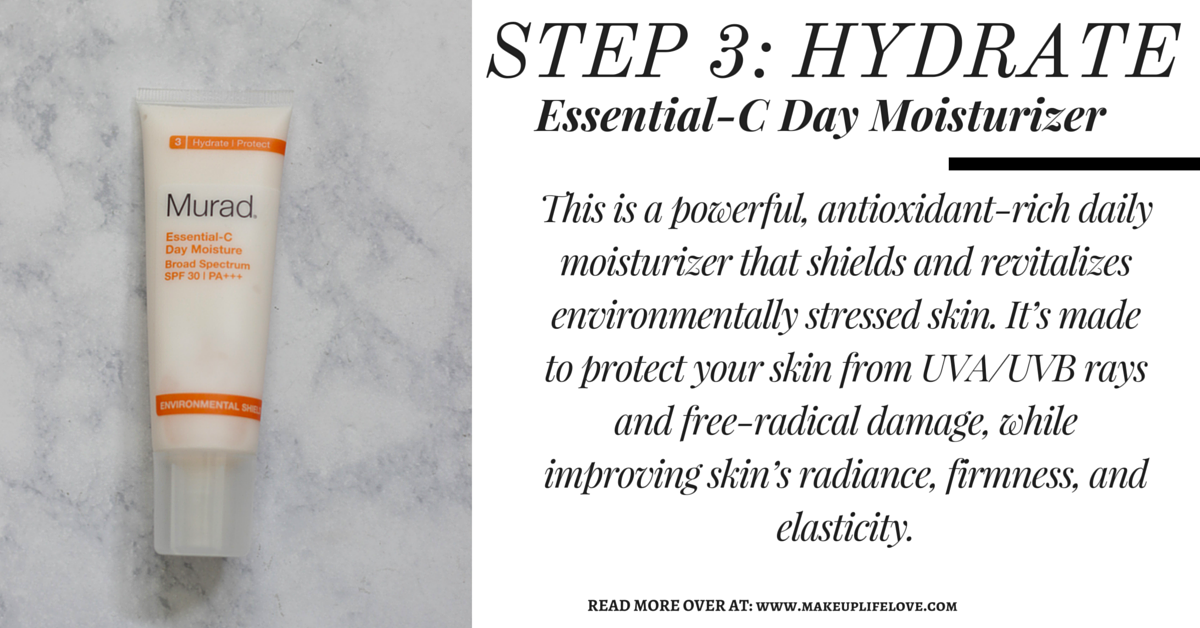 Murad Essential-C Day Moisturizer Broad Spectrum SPF 30– is superb as it is rich in Vitamin-C and multiple antioxidants. This moisturizer is super light on the skin as it revitalizes, protects and hydrates your skin all while protecting it from any further damage.
Murad Intensive-C Radiance Peel– this peel is the perfect companion to use once or twice weekly with all of the other Radiance products. This product is my new favorite and I already have ordered a full sized of it. This product helps brighten, smooth and hydrate skin all while giving you perfectly glowing skin.  Glycolic Acid, Vitamin C, and Myrtle Extract all help support cellular renewal, exfoliate the skin and remove dullness to reveal luminous, glowing skin. It is AMAZING!!!!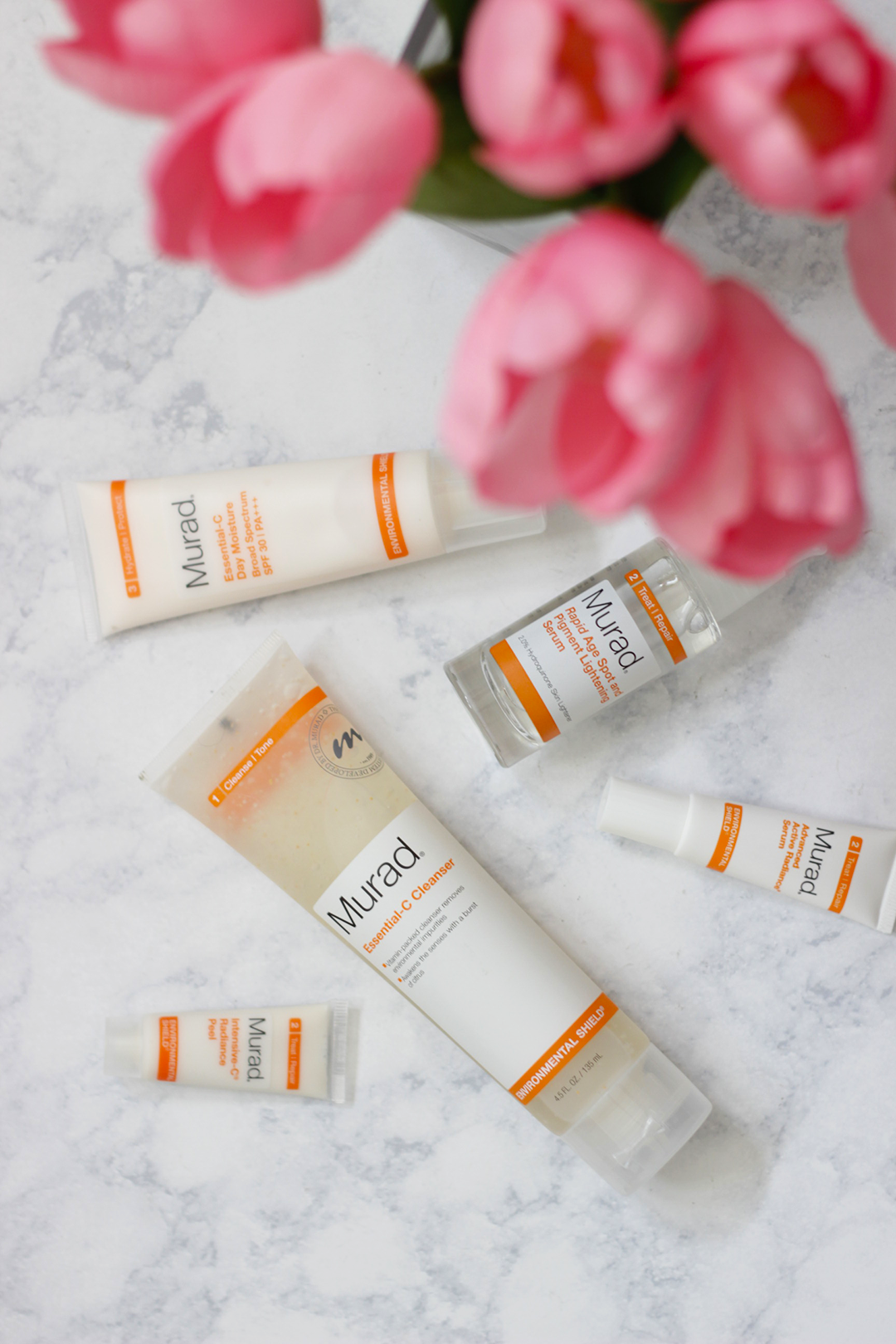 So there you have it- a perfectly packaged regimen to help you achieve glowing skin. Time to say goodbye to uneven skin tone, age spots, and acne marks- and HELLO to beautiful, luminous, glowing skin. You can see more about the Murad Rapid Lightening Regimen HERE or stop by and pick up the regimen HERE. On your mark, get ready, set…. glow….
[otw_shortcode_divider margin_top_bottom="30″ text="SHOP MURAD RAPID LIGHTENING REGIMEN" text_position="otw-text-center"][/otw_shortcode_divider]
I received the Murad Rapid Lightening Regimen for FREE from BeautyStat for review. All opinions are my own.
*PR SAMPLE
[ReviewDisclaimer]