This conversation has been sponsored by TRIA Beauty and Pretty In My Pocket (PRIMP). All thoughts and opinions are of my own. #PRIMPTriesTria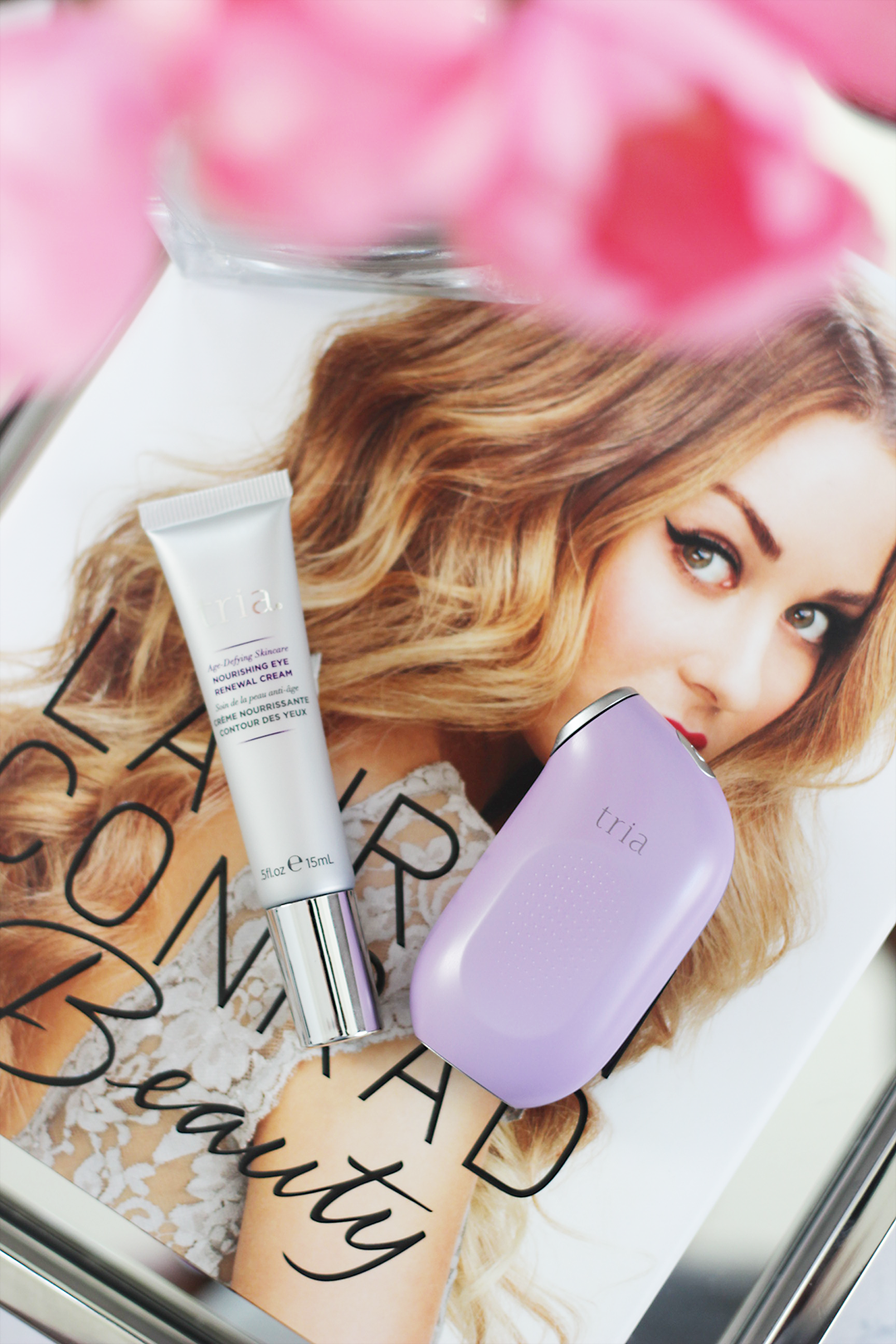 Every year, I strive harder to take better care of my skin. I always try to so all the "necessary" things my dermatologist recommends, although, at times I do go with the flow and follow my own version of "necessary" things since it's my duty to try loads of new things out. Of course I drink TONS of water – sometimes I should drink more, I wash my face both day and EVERY night before I go to bed, and I always, and I can't stress this enough ALWAYS use a moisturizer AND a SPF product daily.  However, now that I am in my early thirties, I have noticed that my skin is often changing in both texture and appearance. What once was super firm and tight, now is starting to develop small fine lines and wrinkles.  I know that obviously with time, that stuff is going to happen, but if we are being completely honest who doesn't want to find the 'fountain of youth' hand raised SUPER high. If I had things my way, I would stay wrinkle free, and look hydrated and young at all times. With age comes skin aging. Today I am partnering up with TRIA Beauty to bring you my newest little skincare obsession, in the form of a palm sized gadget known as the TRIA Beauty Age-Defying Eye Wrinkle Correcting Laser.
Since the weather in Southern California is always wacky, one minute it is dry heat, the next humid, and lately weirdly rainy. Lately I have been noticing that with the weather my skin has been taking a toll and I have been slightly bad about wearing sunglasses, therefore causing me to squint. As you all know with squinting comes the dreaded crows feet and wrinkles. So when I was recently given the chance to partner up with TRIA Beauty and try their Age-Defying Eye Wrinkle Correcting Laser, I literally jumped for joy- anything that promises me the chance to look younger I AM ALL ABOUT IT!  If you follow me over on Facebook, Twitter, Snapchat, Instagram or read THIS POST, then you have probably have seen me talking about this little gadget of goodness. Of course if you followed along under hashtag #PRIMPTriesTria, then you have known there a group of us that existed in this mission or shall I say quest for younger looking eyes. Let's jump right in and see if we all succeeded.

WHAT IS THE TRIA BEAUTY AGE-DEFYING EYE WRINKLE CORRECTING LASER?
The TRIA Beauty Eye Wrinkle Correcting Laser, is a breakthrough FDA cleared, handheld fractional laser that is meant for at-home use. It is also perfect for all skin tones including African-American skin.  When used as directed (2 minutes a day for up to 8 weeks) the TRIA Beauty Age-Defying Eye Wrinkle Correcting Laser helps stimulate the growth of new collagen- if you don't know, Collagen helps give the skin elasticity and remain supple and youthful.  In time (between 8-10 weeks) the TRIA Beauty Age-Defying Eye Wrinkle Correcting Laser penetrates below the skin surface to help stimulate and produce new collagen- therefore, helping smooth out those pesky fine lines and wrinkles. Easy, right?
DOES IT HURT? HOW DOES IT WORK?
Let's talk about pain for a minute shall we? I have been asked many times "Does the TRIA Beauty Age-Defying Eye Wrinkle Correcting Laser hurt?" Well I would be lying if I said it did not hurt. The first few times I used it, I thought to myself "What the heck did I just sign up for, OUCH!"  I mean imagine the feeling of a small rubber band smacking the skin with each little movement. Followed by a slight bit of a burning/tingling sensation to the under eye topped with a side of redness. Sounds worse than it really is, I promise. However, after time (give or take the 2 week mark) the pain subsides with each use- literally it turns into an almost calming routine. Weird, I know. But so true!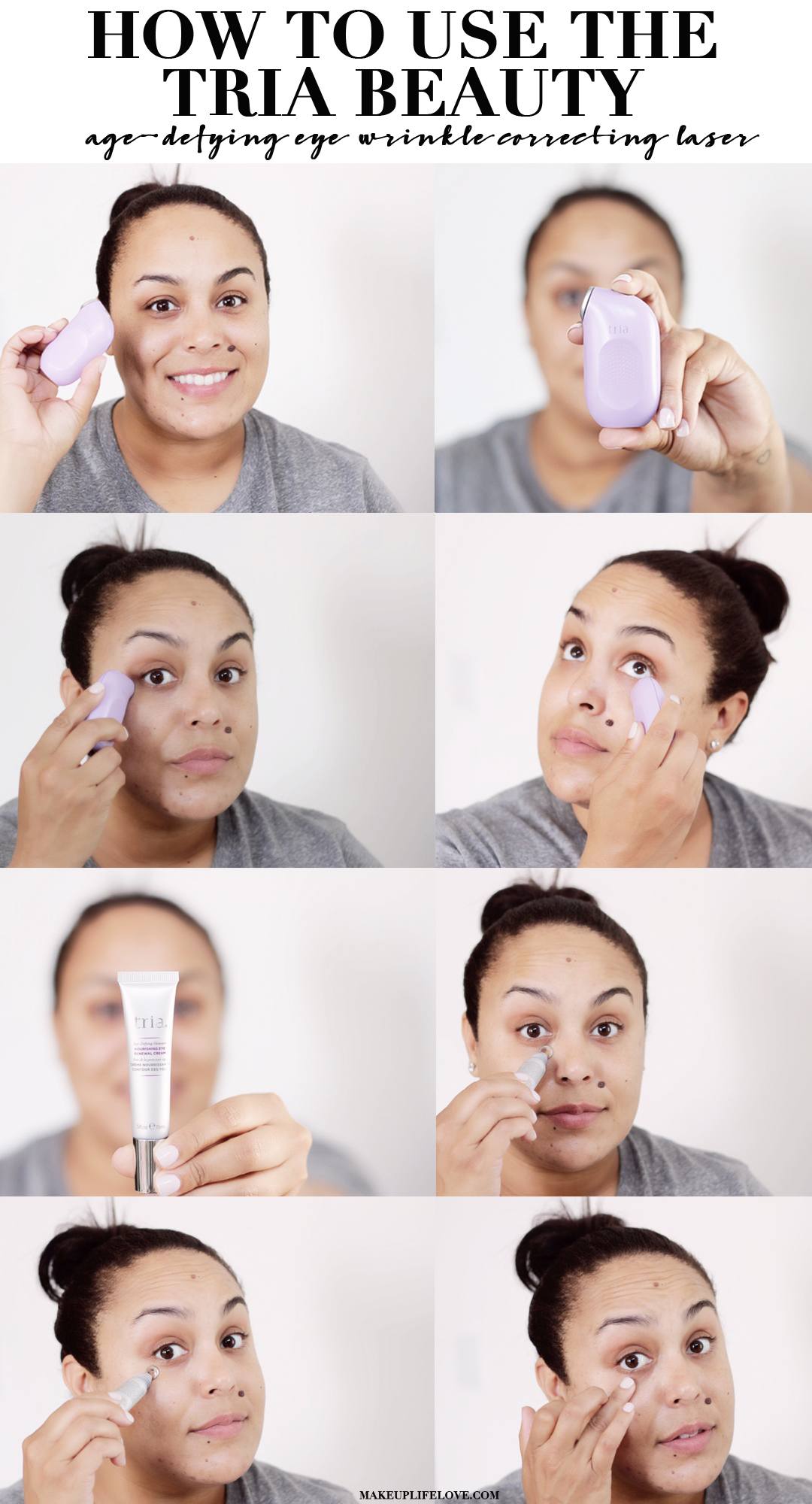 To get started using this little wonder, it's pretty easy. Start with a clean face. You turn the TRIA Beauty Age-Defying Eye Wrinkle Correcting Laser on and a little light turns green, letting you know it's ready. You then do small circular motions around the entire under eye area. I like to start from the outer area of the eye to inner eye area. Followed by 1 minute on each eye, the machine will vibrate a bit before it turns off, allowing you to know that it is time to change eyes repeat. Change eyes and repeat. Afterwards you apply a nice layer of the TRIA Beauty Nourishing Eye Renewal Cream, TRUST ME this eye cream with its cooling tip will be your new BFF. This cool tipped application helps cool and nourish the newly lasered, irritated area. You continue treatment for 8-10 weeks and voila- younger looking eyes.  After each use of the laser, make sure to wipe down the application tip with a dry cotton swab to ensure that it remains clean. With use of any laser, things have to get worse before they get better- so over the course of 8 weeks, you will notice that the area will get a bit dry, red and possibly flakey. While I didn't experience any flakiness, I did encounter some redness and dry skin. I started to use this eye cream on top of the TRIA Beauty Nourishing Eye Renewal Cream, to help give a bit more extra hydration to the eye area.  This helped wonders, so that my eye area didn't get so dry it turned flakey. I think follow the entire routine with this facial oil and my new favorite moisturizer.  While you should use the laser each day the entire 8 weeks, you can also rotate it every other day to help with the pain and redness subside. Some women see a difference as soon as 2 weeks, although the best results are seen by the end of week 8. After a 8 weeks of consistent use, it is recommended that you give your skin a rest for at least 4 weeks to regenerate and heal completely before restarting the laser treatment.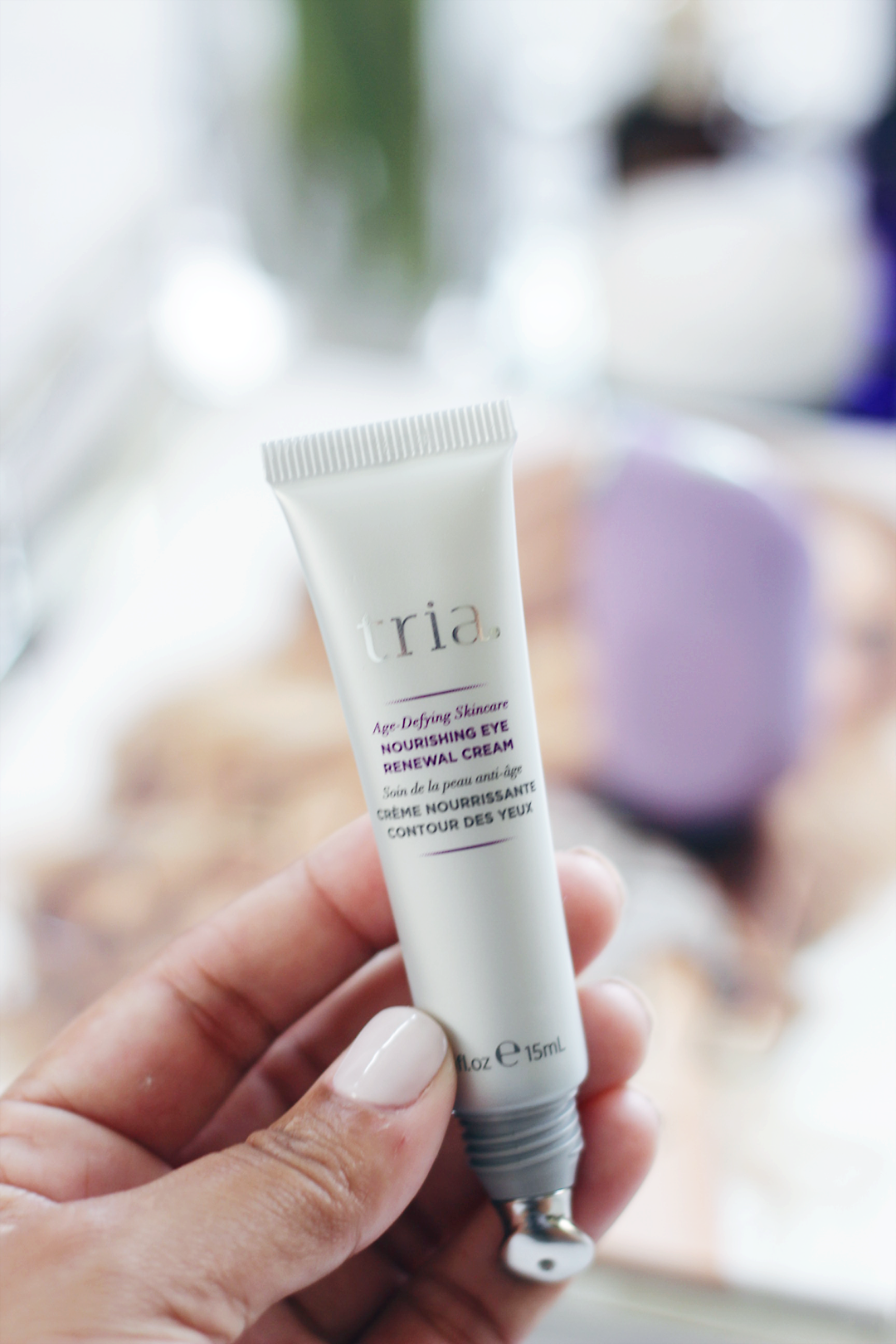 **MAJOR TIP: During the day YOU MUST a SPF 30 or higher like this one during the day to help protect your newly lasered skin. **  In all honestly you should be using sunscreen daily anyways, so just a newly reminder. So are you all ready to see my progress? Let's jump right to the big reveal…. drumroll…..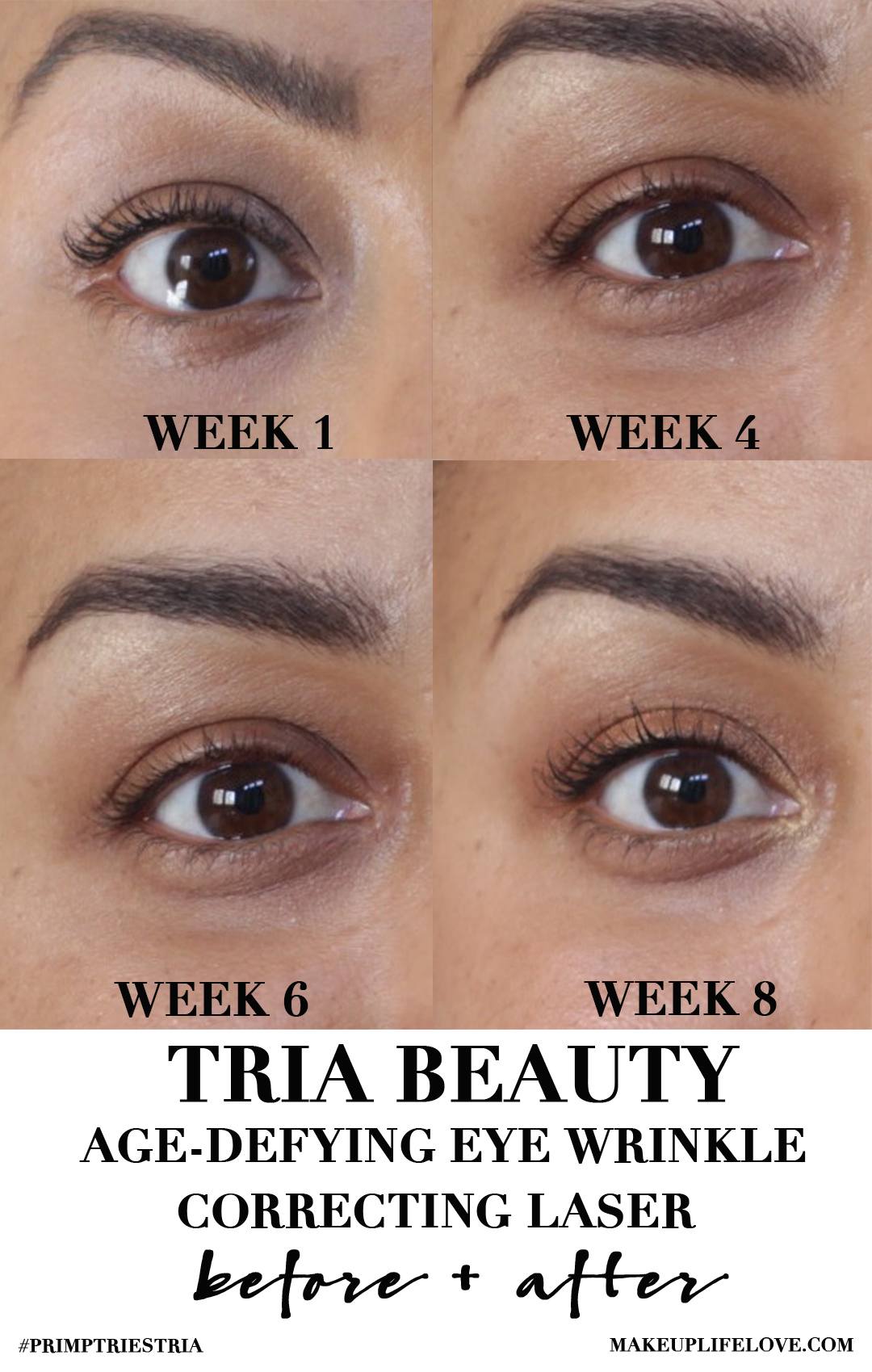 WEEK 1: As you can see I have some fine lines and wrinkles. While they are NOT super deep, they definitely do exist. If you follow me over on Snapchat you saw my first impressions HERE and how the laser felt on the skin.
WEEK 4: By week 4 you can see a small improvement with the fine lines and wrinkles and a MAJOR improvement with my milia that I have under my eye area.
WEEK 6: You can see that alot of the deeper fine lines have started to subside and are becoming more fine, as well as my milia is almost gone.
WEEK 8: You can see a MAJOR improvement with both my fine lines, wrinkles and almost non-existent milia at this point. You can see the small crow's feet lines that I had in the outer area of the eye is so small and smoothed out that at this point you can't really see it.
Overall I am SUPER impressed with my results. I am going to take 4 weeks off for now and allow my skin to regenerate and heal, but I am totally doing this again and reversing time in the eye area. This makes me REALLY want to grab the TRIA Age-Defying Facial Laser so I can start to turn back time in the rest of my face. What do you think of my results?
Be sure to check out my fellow Power Primpers as they are all sharing their results from the #PRIMPTriesTria challenge by follow the hashtag #PRIMPTriesTria. For more information on the TRIA Beauty Age-Defying Eye Wrinkle Correcting Laser,  be sure to head over and visit www.triabeauty.com. As a special bonus right now you can SAVE 15% off the Eye Wrinkle Correcting Deluxe Eye Kit, also right now you get FREE shipping when you enter code: MAKEUPLIFELOVE at checkout. The Age-Defying Eye Wrinkle Correcting Laser is $267 regularly making it $226.95 before tax. This coupon code expires on 5/31/2016 or when available quantities run out (the first 20 to use this code get the deal).  So make sure to head over and grab your NOW! Trust me this little gadget ROCKS my world, and will totally rock yours as well.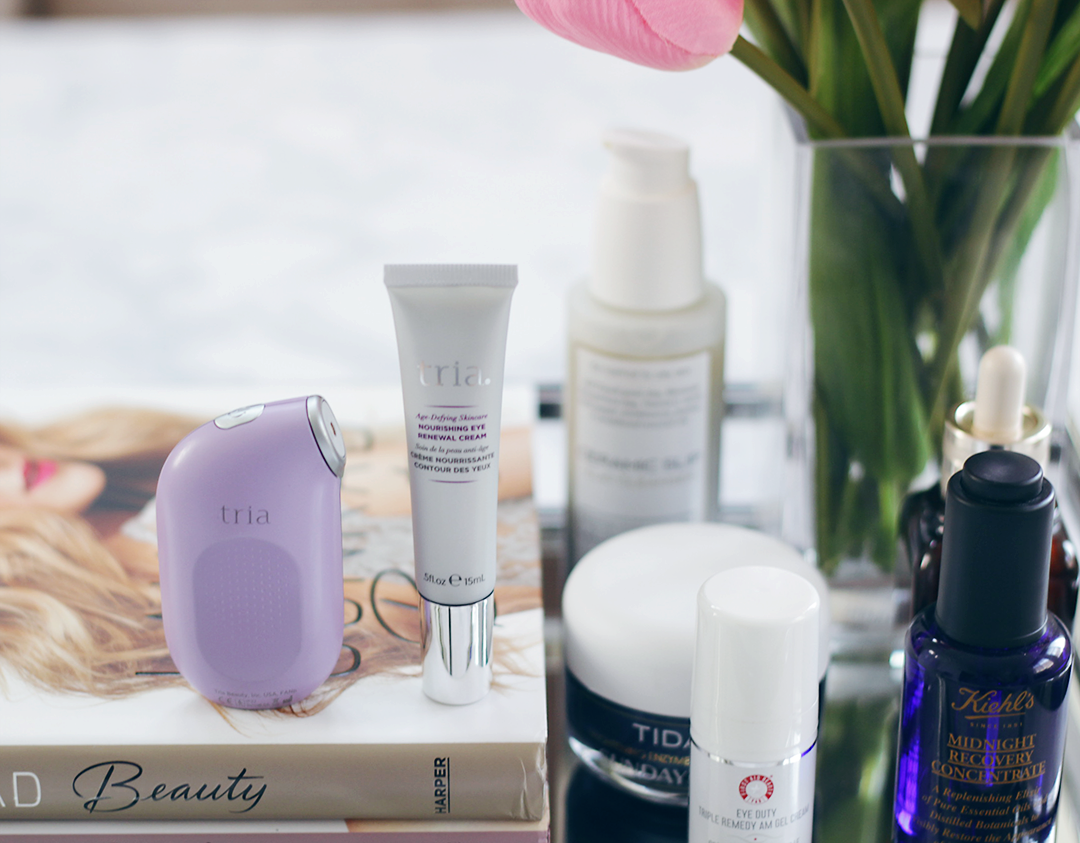 Have you tried any TRIA Beauty products yet? Have you tried any Age-Defying Lasers? Have any special tips on reversing anti-aging? Let me know in the comments below… If you do purchase the TRIA Beauty Age-Defying Eye Wrinkle Correcting Laser, make sure to email me ([email protected]) and we can chat about the process and how you are doing on your own age-defying journey.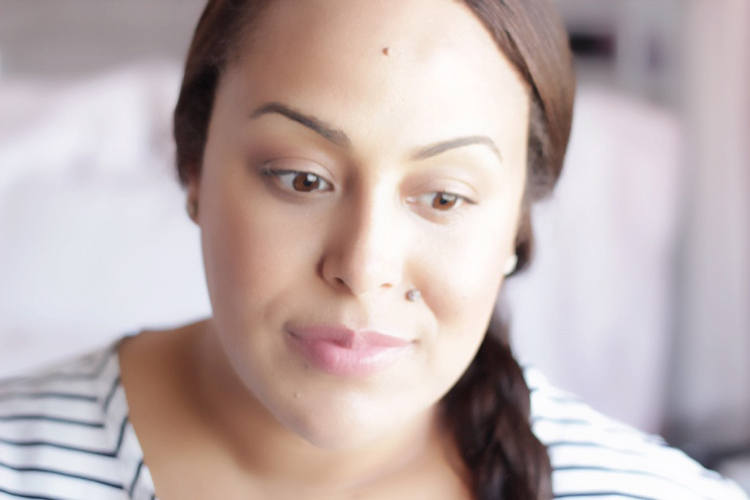 Thanks so much TRIA Beauty for sponsoring today's post. As always I only work with companies that I truly love. All thoughts and opinions are my own. 
*PR SAMPLE
Eye Wrinkle Correcting Laser TRIA TRIA Age-Defying Eye Laser TRIA beauty Tria Beauty Age-Defying Eye Wrinkle Correcting Laser TRIA Eye Laser