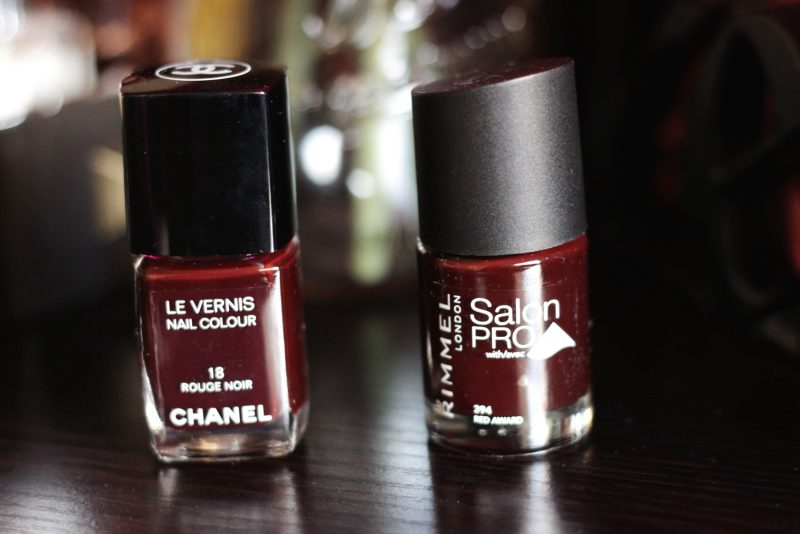 CHANEL never can seem to do any wrong in my eyes, can they? During the winter months, I was obsessed with the mention of CHANEL Rouge Noir– $27 USD, something about this blackened berry shade just had me all giggly inside. I lacquered this polish on my nails the majority of the winter, but then come Spring I figured it was time to put it away and bring out the pastels. However when perusing through some Lisa Eldridge videos on YouTube, I acquainted my love with this polish, and found what this week is called High vs. Low Beauty: A CHANEL Rouge Noir Dupe...
Something about CHANEL lacquers just do it for me, even though I have found that at times they can be a bit on the disappointing side. High priced and low performing in the longevity department, but something about that classic packaging and the shades just have me hoping that one day I will fall in love with the polish and the formula. Enter Rouge Noir, the vampy berry shade that just screams my name. The perfect autumn shade that can swing you into winter with the best of them. Two coats on the nails and a solid three days wear time- again low performing– before things start to look very chipalicious; but since it grazed my nails more days than any other, it had me on the search for a dupe. And let me tell you- I found it!!!
Rimmel London Salon PRO Nail Color with Lycra– $3.99 USD,  in the shade Red Award. Now let me tell you, this shade is literally CHANEL Rouge Noir, just minus the expensive price tag.  The formula claims to last 10 days, however I am pretty rough when it comes to nails, that I got about 6 days before welcome to chipville became very noticeable. However the brush is AMAZING, thick, slightly tapered and wide so it literally helps coat the nails in one simple swatch. The color goes on effortlessly and the shine factor that this formula contains- unstoppable. I can honestly say OMG where has this polish been all my life?
The shade comparison is almost so precise that you can't even tell which is which. I am seriously so obsessed with this polish that I had to run out and snag a few more shades. The formula is like no other, and I can honestly say- CHANEL who? 10 gorgeous shades available, I am hoping that they add more of a selection to their stash, however the shades they have currently are to die for- a serious polish lover MUST HAVE!!!
Have you tried the Rimmel London Salon PRO formula?