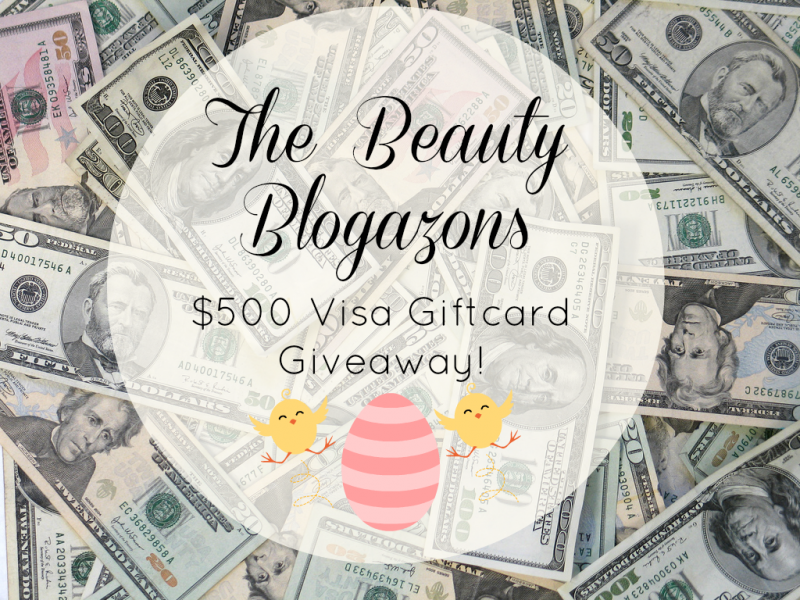 Its that time again Ladies and Gents. The Beauty Blogazons, a group of beauty, fashion and lifestyle bloggers have connected again to give away $500 of cold hard cash to get you ready for the Spring! What would you do with $500 dollars? Will you do a major beauty haul? Pick up the ultimate Spring wardrobe? Maybe pay a few bills? The choice is yours and the sky is the limit! Keep reading to find out how to enter to win this amazing giveaway…
There are endless ways to win. Up to 56 ways in total. The contest starts today and ends on April 15, 2014. All you have to do is take a little bit of time to visit and thank all the bloggers that chipped in to make this happen:
Glitter.Gloss.Garbage
Beauti-Ville
Beyond Beauty Lounge
Beauty by Miss L
Glamorable!
Liesl Loves Pretty Things
Alilacquer
Makeuprshutup
Crazy Beautiful Makeup
Polished to Precision
TheFabZilla
BellBelleBella
Midnight Manicures
Beautyfiends
Cosmetic Sanctuary
polish insomniac
Geniabeme
Makeup, Life and Love
Beauty Info Zone
Beauty and Fashion Tech
Chickettes
Daydreaming Beauty
Prime Beauty
XO, Noelle
MakeUpMom123
GlitzGlamBudget
The Prize
One winner will receive a Visa Gift Card for $500, or a Paypal payment of $500, the choice is yours. Winner will be contacted within 48 hours via email after the contest ends. This giveaway is for everyone all over the world so feel free to enter and share the love!