This post may contain an embedded affiliate link. For more information please check out my disclosure policy.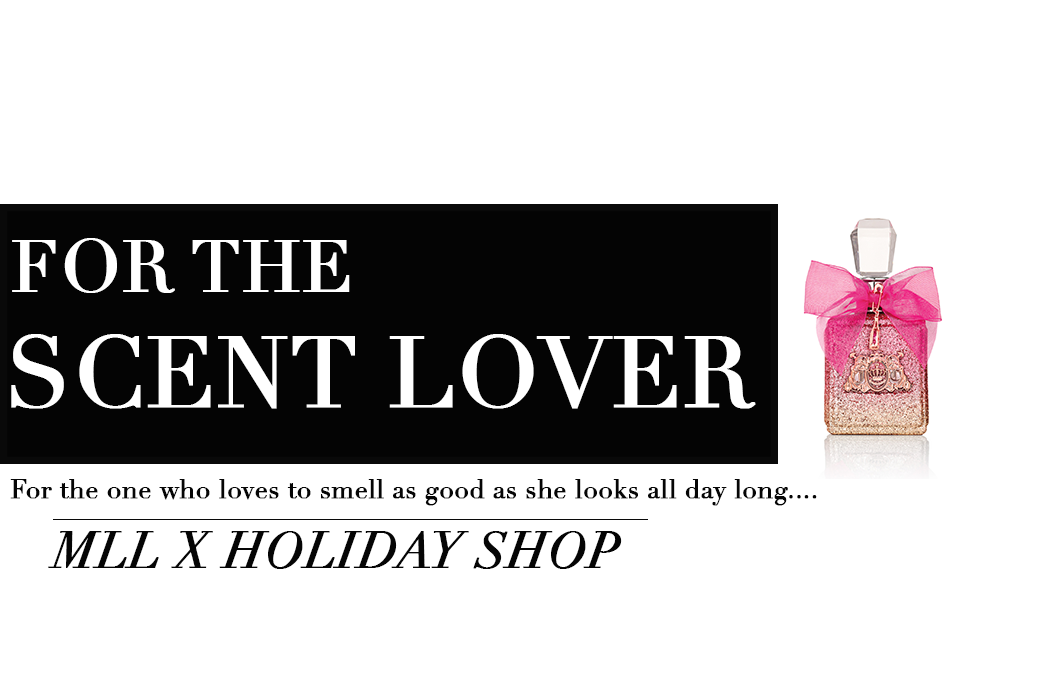 OMG you guys, can you seriously believe it- Christmas is literally in 3 days!!! Eeeeeekkkkk, it is coming way too quick. I mean I literally just got used to Starbucks having my favorite Caramel Brulee latte back, and its going to be gone soon *insert sad face*, but seriously since we are wrapping up the holidays and the last two gift guides of the year, I figure what better way than to break out with some awesome, and I mean AWESOME gifts for the perfume lovers you know and smell often-  ha ha ha no pun intended. However in the meantime if you are still stuck on what to get the special people in your life, you can always head over to all the Holiday Gift Guides we have covered so far for some gift-tactic inspiration, OR you can always head over to the MLL x Holiday Shop to instantly shop for all the wonderful items that have been in each holiday gift guide if you are a last minute shopper*coughs- dad, if you are reading this, that's YOU* then you can get the low down on what stores have the items you need to get just in time for Christmas… So let's jump right in shall we….
When it comes to giving a perfume, cologne or spritzing spray of any sorts for the holidays season it is often at times a bit tricky if you aren't sure what the receiver likes, or is currently in love with. However I have rounded up a few of my favorite scents for every category to help make shopping this year a bit easier.

LADY LIKE AND POLISHED SCENT LOVER
The lady-like and polished scent lover is someone who is always put together, she is always confident and likes to be in charge. This kind of scent lover seems to flock towards scents that have hints of jasmine, peony and friendly floral like notes to them. A few of my favorites are: Stella by Stella McCartney, Prada Candy Florale, and Estée Lauder Modern Muse.
SHOP LADY LIKE

ULTRA GLAM SCENT LOVER
For the Ultra-Glam scent lover this is someone who channels her inner J.LO and Beyonce daily, she like diamonds over pearls and loves to be the center of the universe. The Glam Scent lover tends to be someone who flocks towards scents that contain vanilla, light musk and mandarin notes. A few of my favorites are: Michael Kors Rose Radiant Gold*, Elizabeth Arden Always Red*, Gucci Première, Juicy Couture Viva La Juicy Rose*  and Givenchy Dahlia Divin.
SHOP ULTRA GLAM

TRENDSETTER
For the trendsetter we know and love, this person ends to be someone who always ahead of the trends and knows the latest and greatest before they hit stores. They tend to be the kind of person who flocks towards scents that bold and fresh. The trendsetter is someone who loves notes of cashmere, leather, caramel and musk. A few of my favorites are: TOM FORD Black Orchid, CHANEL Coco Noir, and Yves Saint Laurent Black Opium.
SHOP THE TRENDSETTER

FREE SPIRIT + FLIRTY
For the free spirit will all know who loves to do their own thing, run in their own world, and jam to their own tune is often obsessed with light and airy notes. The free spirit tends to be someone who flocks to notes of crisp apple, white rose, patchouli  and citrus hints. A few of my favorites are: Dolce +Gabbana Light Blue, Jessica Simpson TEN*, Burberry My Burberry,  and Marc Jacobs Daisy.
SHOP THE FREE SPIRIT

So there you have it, a few of my favorite scentastic ideas for all your scent lovers this holiday season. From sexy to addictive, to fruity and musky, I think we have all your scent bases covered this year. Stay tuned to tomorrow as we have another round of gift guides coming soon… Also make sure to check out the MLL x Holiday Shop to find all the products included in this Makeup Maven gift guide. Be sure to check them all out for your daily dose of gift giving inspiration.
DAY 1: Makeup Maven Gift Guide                                  DAY 6: Natural Beauty Gift Guide
DAY 2: Holiday Shopbop Gift Guide                              DAY 7: The Jetsetter Gift Guide
DAY 3: Skincare Obsessed Gift Guide                            DAY 8: Stocking Stuffer Gift Guide
DAY 4: Closest Friends Gift Guide                                  DAY 9: Scent Lover Gift Guide
DAY 5: Glam Girl Gift Guide
*PR SAMPLE
**Please note this post includes an embedded Affiliate link. This means if you click on the link and purchase an item, I will receive an affiliate commission. Makeup Life and Love at times reviews products provided by PR companies. This is disclosed at the bottom of those posts and product is marked with a "*". Regardless if the product was received, I only recommend products and services that I personally use and believe will benefit my readers. All opinions are my own. For more information please visit the Disclosure Page**