This post may contain an embedded affiliate link. For more information please check out my disclosure policy.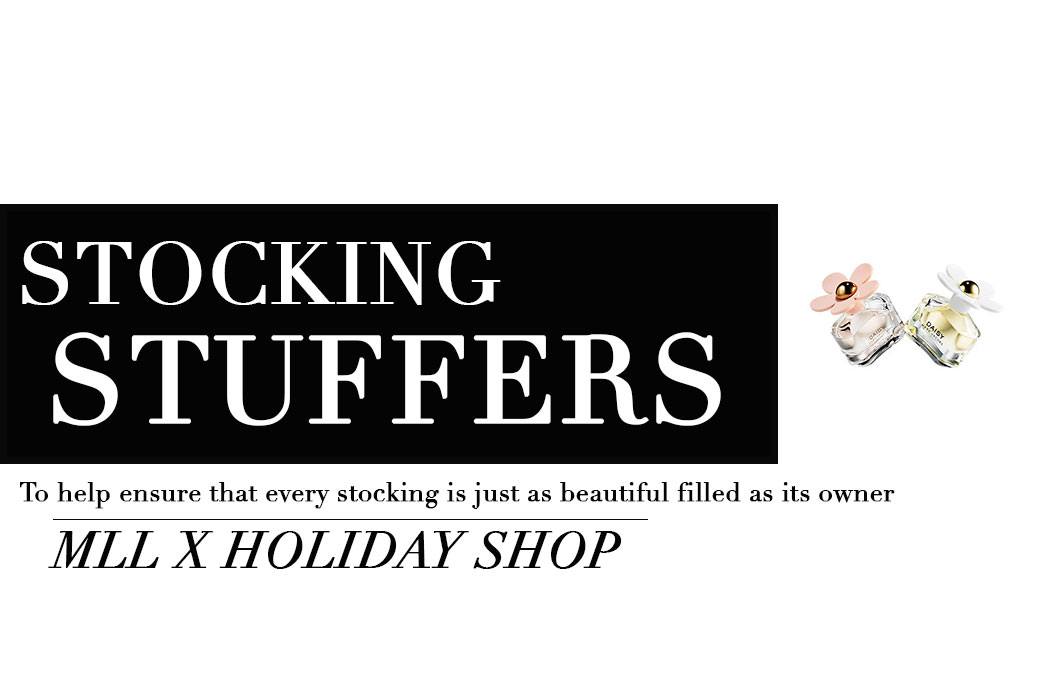 Lets be honest you guys, when it comes to gift giving season- WHAT is your favorite thing? Stocking Stuffers!!! I don't know about you, but I LOVVVVEEEEEEE a good stocking stuffer, don't you? If you are like me, then today's gift guide is pure perfection for you! In the meantime if you are still stuck on what to get the special people in your life, you can always head over to all the Holiday Gift Guides  we have covered so far for some gift-tactic inspiration, OR you can always head over to the MLL x Holiday Shop to instantly shop for all the wonderful items that have been in each holiday gift guide. Let's jump right in shall we….

UNDER $10 STOCKING STUFFERS
So when it comes to filling a stocking the more the merrier in my opinon. But a few of my favorite $10 and under beauty stocking stuffers that are destined to be your receivers favorite items! OBSESSED with the Formula X 5-Piece Customizable Nail Polish Collection – $10 USD, is AMAZING! 4 shades of your choosing to match your special persons tastes and a black top coat to help layer- this set is perfect!  Another favorite is of course skincare, and one of my favorite brands First Aid Beauty seriously has some of the best products and two of my favorites are available in stocking stuffer size. The First Aid Beauty FAB Cleanse & Exfoliate Kit- $10 USD,  is awesome. A creamy facial cleanser and my favorite radiance facial pads are hands down AMAZING! Give the gift of great skin this holiday! Last but not least, everyone ALWAYS needs something to help with beauty mishaps, and the Too Cool For School Magic Wand For Lip & Eye Makeup Remover- $8 USD, are seriously PHENOMENAL! Smudged eyeliner? These will help instantly! Lipstick blending? To the rescue- these are amazing and will help with all beauty mishaps! Shop Under $10 Stocking Stuffers…
[otw_shortcode_divider margin_top_bottom="30″ text="UNDER $10 STOCKING STUFFERS" text_position="otw-text-center"][/otw_shortcode_divider]

UNDER $25 STOCKING STUFFERS
For all the lipstick obsessed gals out there, a few great stocking stuffer comes from one of my all time favorite beauty brands- BITE beauty! BITE Beauty Mix and Mingle Lipstick Duos- $14 USD,  hands down are the best way to try the brand if your new to it. Two beautiful complimentary shades of creamy lip color that can take you from day to night with a flick of the wrist. Another goodie by BITE Beauty, is the BITE Beauty Best Bite Rewind- $25 USD, a set of four gorgeous, mini matte cream lip crayons will knock your socks off. They are packed full of AMAZNG pigment and hands down beautiful in the holiday BITE beauty tin. Beautiful skin with a hint of oomph on the radar? Then give the BECCA Shimmering Skin Perfector Glow To Go Set- $20 USD,  get your glow on this holiday season with this beautiful duo. PLUS there is a giveaway going on now HERE for this awesome to go set. For the perfume lovers out there give the gift of  mini fragrance thanks to Marc Jacobs Daisy Mini Duo- $18 USD, not only are these cute as hell, they smell AMAZING! Two glorious scents of the signature Daisy scent in the perfect holiday size!  For the girl who LOVES great makeup application a great stocking stuffer to get it the one and only Beauty Blender with mini solid cleanser- $25 USD, OBSESSED with the hot pink egg shaped beauty wonder, and let me just say- the cleaner ROCKS! Last but not least give great hair this holiday and get someone the Verb Haircare Hair To Go Set- $14 USD,  this travel essentials of all hair must haves is a MUST HAVE for the gal who loves great hair. Trust me these gifts will be the star of the show! Shop Under $25 Stocking Stuffers…
[otw_shortcode_divider margin_top_bottom="30″ text="UNDER $25 STOCKING STUFFERS" text_position="otw-text-center"][/otw_shortcode_divider]

UNDER $50 STOCKING STUFFERS
When searching for the perfect stocking stuffer, sometimes if can get a bit hard. However these under $50 stocking stuffers are AMAZING! Give them to one person as a great gift OR break into a few stocking stuffers- genius right? The BECCA Afterglow Palette- $38 USD is becoming one of my favorite palettes EVER! I meant this palette is simply stunning! 3 gorgeous shimmering skin perfectors and a gorgeous blush shade- be the life of the part with this beautiful palette. PLUS you can find a great giveaway HERE for one as well. Marc Jacobs Sophia Le Marc Petits Lip Mini Set- $45 USD,  is hands down phenomenal. I am obsessed with MARC Jacobs lipsticks and this cute mini set of five gorgeous shades is totally a MUST HAVE this holiday season. And last but not least the Formula Studded X: 3 Mini Lip and 3 Mini Nail Polish Duo- $29.50 USD,  is pure genius. Gorgeous lips and gorgeous matching tips will be the hit of the holiday season. You can always break these into mini sets and give as great stocking stuffers for a few friends. Trust me they will LOVE it! Shop Under $50 Stocking Stuffers…
[otw_shortcode_divider margin_top_bottom="30″ text="UNDER $50 STOCKING STUFFERS" text_position="otw-text-center"][/otw_shortcode_divider]

So there you have it, a few stocking stuffer ideas for all your stockings this holiday season. From lips to tips and skincare or hair, we have you totally covered with all your stocking stuffer needs. Stay tuned to tomorrow as we have another round of gift guides coming soon… Also make sure to check out the MLL x Holiday Shop to find all the products included in this Makeup Maven gift guide. Be sure to check them all out for your daily dose of gift giving inspiration. If you haven't had a chance to enter the EPIC Urban Decay x Gwen Stefani Palette Giveaway  it's going on NOW on my instagram– make sure to enter ASAP! We have a total of 4 winners AND it ends tonight at 6pm PST! AND be sure to check out my BECCA GIVEAWAY HERE  as well! My blogging pals and I have brought you some of our favorites, so be sure to check them all out HERE! 
DAY 1: Makeup Maven Gift Guide                                     DAY 6: The Jetsetter Gift Guide
DAY 2: Skincare Obsessed Gift Guide                               DAY 7: Stocking Stuffer Gift Guide
DAY 3: Closest Friends Gift Guide
DAY 4: Glam Girl Gift Guide
DAY 5: Natural Beauty Gift Guide
[ReviewDisclaimer]
BITE Beauty Holiday Gift Guide Marc Jacobs Stocking Stuffers