This post may contain an embedded affiliate link. For more information please check out my disclosure policy.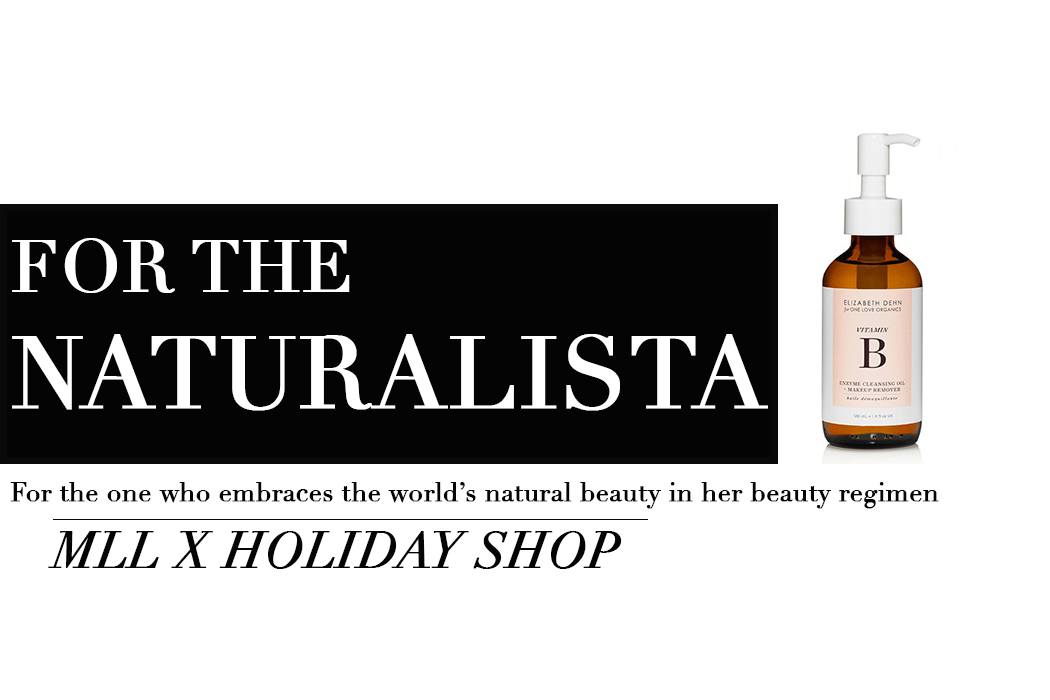 How is Black Friday shopping going you guys? Have been out and about all night, waiting in lines for all the awesome deals? Or have you been enjoying a relaxing day getting ready to gear up for the next holiday? I for one, have been out and about gathering the last little bits of goodies for all my gifts this year-  almost done, yay! Today's Holiday Gift Guide  is all about the Natural Beauty! You know the one who embraces the earths natural ingredients as she bathes in her green tea concoctions. The one who strives to save the environment and incorporate all the non-toxic beauty she can into her lifestyle. The one who looks towards a more homeopathic approach when it comes to life. If you are stuck on where to start when it comes to the Natural Beauty, then you are in the right place. Here are a few of my favorite picks in todays edition of the Holiday Gift Guide: The Natural Beauty…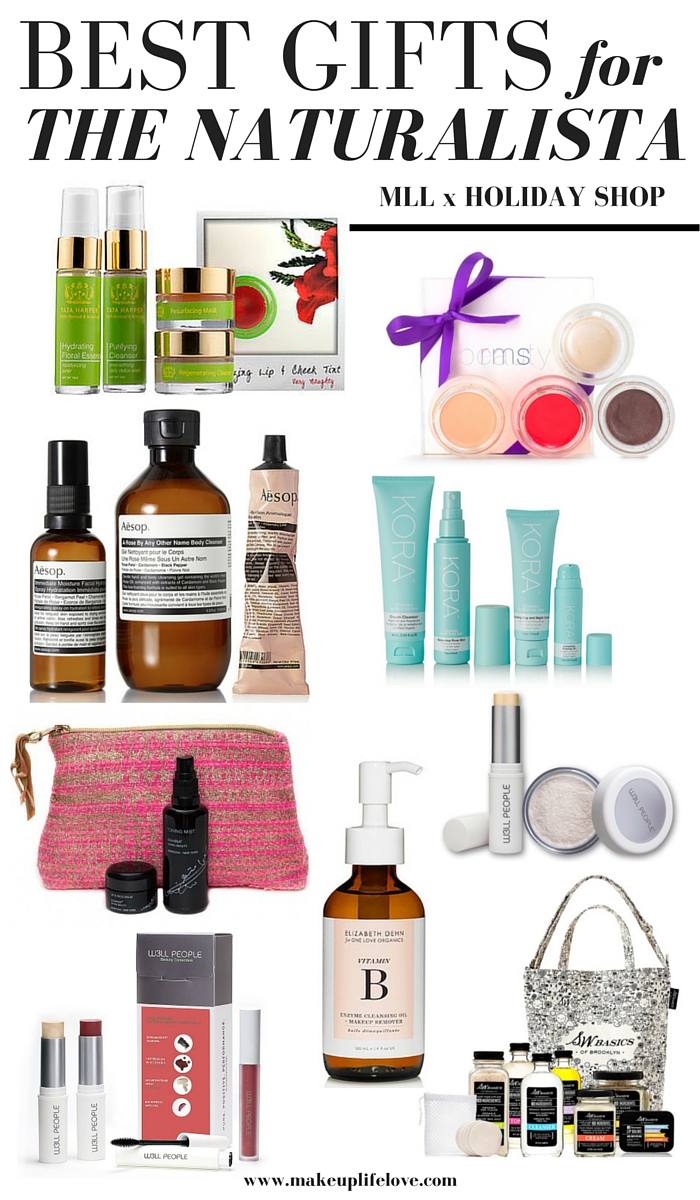 Let's start with skin and body care- when it comes to the perfect gift for the Natural Beauty, skincare is the way to her heart! S.W. Basics Family Portrait Bundle- $165.00 USD,  is the mother load when it comes to Natural Beauty skin and body care. This huge bundle contains 1 of ever item that S.W. Basics has to offer ranging from Cleanser to lip balm, this set is sure to be a HUGE hit-  I am picking one up myself! If that hefty $165 price tag is a bit much, then HERE is also a awesome S.W. Basics bundle in a travel sized set.  I am also OBSESSED with getting the Tata Harper Glow On Demand Post Party Natural Beauty Essentials- $48 USD, this four piece set of awesome will keep your Natural Beauty glowing far past the New Year. Give the gift of a GREAT cleanser this year by giving one of the best cleansers ever, One Love Organics Vitamin B Enzyme Cleansing Oil + Makeup Remover- $42 USD, this ultra gentle cleanser removes ALL makeup, dirt and grime from skin all while leaving it soft, smooth and hydrated to pure perfection. The Kahina Giving Beauty Erica Tanov x Kahina Giving Beauty Set- $90 USD,  is a great set to give to anyone looking to take the leap into Natural skincare.  This awesome two piece set with a gorgeous hand made clutch by designer Erica Tanov is the perfect gift for all beauties.  The set comes with the signature Toning Mist and Lip Balm, both products are HEAVENLY!  A few other Natural Beauty favorites are the KORA Organics by Miranda Kerr- 3 Step System- $199 USD, a glorious system that is perfect for the rose hips lover, and the Aesop Auriga Gift Set- $67 USD, a three piece body care set that will keep your skin in tip top shape from your head to your toes and of course your hands with the set's heavenly hand balm.  Shop Natural Skincare Favorites…. 
[otw_shortcode_divider margin_top_bottom="30″ text="SHOP NATURAL SKIN + BODY CARE" text_position="otw-text-center"][/otw_shortcode_divider]

Moving on to makeup, when it comes to the Natural Beauty a few brands just are above the rest. One of my favorite gifts to give any Natural Beauty is anything by RMS Beauty. The RMS Beauty Glowing Gift Set- $120 USD,  is the perfect multi-tasking beauty gift to give anyone. Created by a celebrity makeup artist, RMS Beauty is one of my favorites and will become a favorite for any Natural Beauty.  This full sized 4 piece set it 100% customizable to give to anyone you want. Each set contains a living luminizer, a eye polish, a lip2cheek, and your shade of uncover up.  Last but not least a few set by one of my newest favorite brands W3LL People, both of these beauty sets are AMAZINGNESS! The W3LL People Fall/Winter Beauty Essentials Kit- $75 USD,  is everything you need to take your beauty routine up a notch. A bio-brightening stick, a universalist color stick, a bio extreme lipgloss and a expressionist mascara a will keep your beauty routine flawless year round. Another AWESOME set from W3LL People is the W3LL People Bio-Brightener Duo- $43 USD, this set ROCKS my world as it contains the most amazing 2 pieces of heaven fro W3LL People. The bio-brighting stick and the bio-brightening powder make up this set. Talk about wanting your skin to glow beautifully and a natural highlight on flee. You NEED this set ASAP! Shop the Natural Beauty Makeup MUST HAVES…
[otw_shortcode_divider margin_top_bottom="30″ text="SHOP NATURAL BEAUTY MAKEUP MUST HAVES" text_position="otw-text-center"][/otw_shortcode_divider]

So there you have it a few natural beauty gifts for the Natural Beauty we all know and love. Let the Natural Beauty embrace the worlds beauty and elements in her entire beauty routine. From head to toe that natural beauty is one to incorporate ingredients like green tea and natural herbs to ensure that she will stay glowing at all time. Stay tuned to as next week we have another round of gift guides coming soon… Also make sure to check out the MLL x Holiday Shop to find all the products included in this Makeup Maven gift guide. Be sure to check them all out for your daily dose of gift giving inspiration. Plus you might just see a awesome giveaway coming your way soon as well.
DAY 1: Makeup Maven Gift Guide
DAY 2: Skincare Obsessed Gift Guide
DAY 3: Closest Friends Gift Guide
DAY 4: Glam Girl Gift Guide
DAY 5: Natural Beauty Gift Guide
[ReviewDisclaimer]