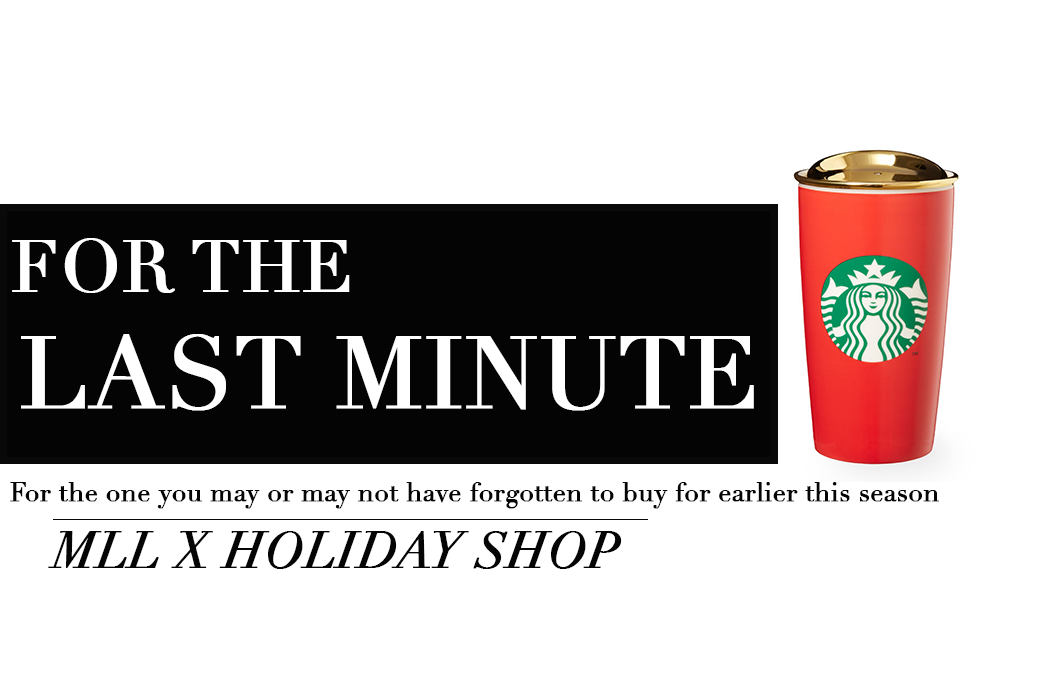 This post may contain an embedded affiliate link. For more information please check out my disclosure policy.
Can you all believe we are in the home stretch of this holiday season? Its another one in the books, right? Christmas Eve is here tomorrow and of course the malls and stores will be filled of people who are scrambling around getting ready to grab the last minute gifts for their special someones. Whether you are staying in town this year, heading out to relatives or having with friends, there usually 99% of the time is someone you have forgotten in the midst of all your holiday shopping, so with that I am bringing you the final gift guide of the year applicably titled "The Gift Guide for Last Minute Gifts", before we jump right in, remember you can always head over to the MLL x Holiday Shop to instantly shop for all the wonderful items that have been in each holiday gift guide or if you are still stuck on what to get and not sure what category to look for- check out ALL the Holiday Gift Guides we have covered so far for some gift-tactic inspiration.  Let's jump in shall we….
I don't know about you, but there are times I often am left shopping at the dreaded last minute for all sorts of random holiday gifts. Usually I am on top of things and get a lot of shopping out of the way during Black Friday BUT sometimes there are a few things that tend to fall through the crack- more often than not– that I am stuck sitting in the parking lot on Christmas Eve searching for a spot so I can run in and grab last minute things all before the malls close. If you tend to be a bit of a last minute planner, the  I rounded up a few of my favorite items that are the perfect gifts in a pinch.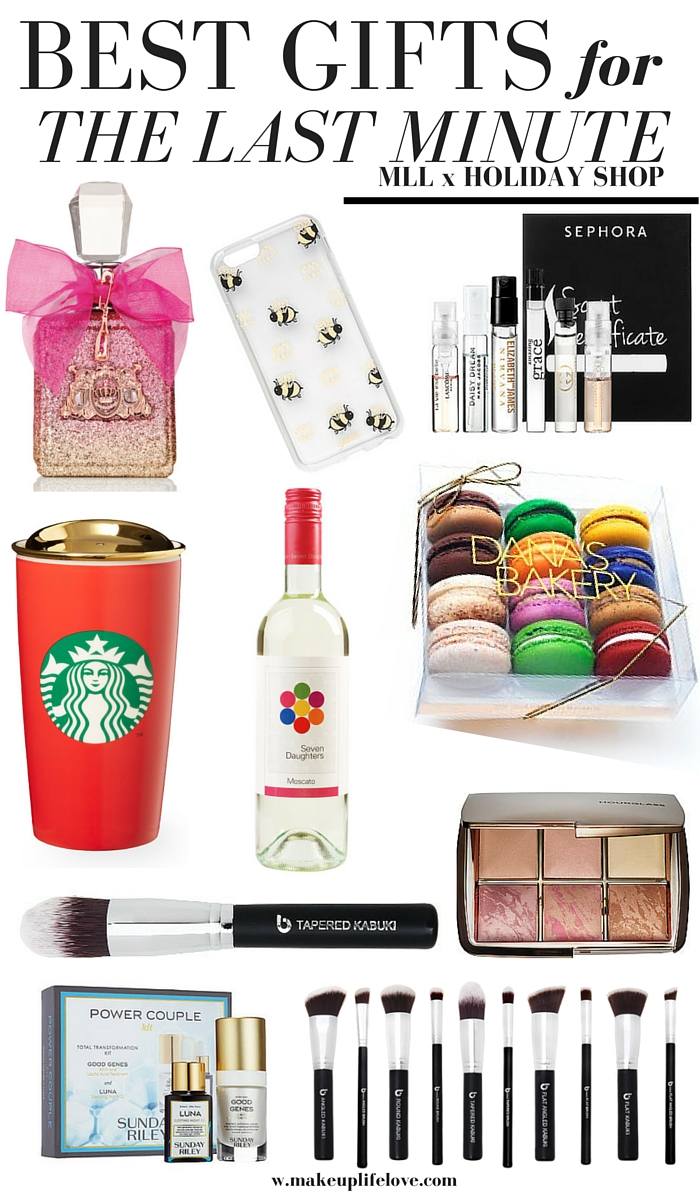 When it comes to last minute gifts I often tend to go with something that has both a bit of sentimental thought to it as well as a bit of effort. Yesterday we talked about the Scent Lover and what better gift to give then an amazing coffret of perfume samples. The Sephora Eau So Luxe Perfume Sampler is the perfect gift to grab for someone as it contains an array of 6 scents and a certificate for the gift recipient to get a full sized perfume rollerball of their choice. Genius, right?  If you want to go for a full sized perfume then the scent I recommend right now is the Juice Couture Viva La Juicy Rose*– I mean from the gorgeous ombre sparkling bottle to the beautiful scent inside, this perfume is pure perfection and would make the receiver SUPER happy! If she is a beauty lover then the beautiful Hourglass Ambient Lighting Edit is pure beauty lighting at her fingertips. Paired with the glorious brushed from Beauty Junkees*– review coming next week- I am absolutely OBSESSED with these brushes. Seriously they are AMAZING!!! Plus right now you can get 25% off of them using code: MULIFE25. They currently have a Eye Set that is selling for $24.97 and the Mini Precision Set* that is selling for $19.97- I have both and LOVE them! If skin care is more the gift receivers things then seriously RUN and grab the Sunday Riley Power Couple: Transformation Duo– this set is hands down phenomenal. I talked about it in the Skincare Gift Guide but seriously this is LIFE CHANGING! Two of the brand's cult classic products all rolled up in one seriously cute gift. Trust me the receiver will thank you forever!
If beauty and skincare isn't up the alley of what you want to grab last minute, and your gift receiver is into techy things, then this gorgeous and cheeky Queen Bee Cell Phone case by Sonix is seriously adorable.  If the receiver is more of a food and beverage kind of person they I suggest you running to Starbucks ASAP and grabbing a cute holiday collection travel mug or tumbler. The Holiday Tumblers and Travel Mugs,  pair beautifully with a Starbucks giftcard- it's my go to last minute gift especially for co-workers and bosses! Another great option is a variety pack of deliciousness by Dana's Bakery*, seriously the macarons are TO DIE FOR amazing!!! The variety pack contains 12 delectable macarons of their famous top selling flavors. Ranging from Strawberry Shortcake to Peanut Butter Jelly these macarons will take the cake! When you are in need of a super last minute gift before heading to a relative's house, one thing you can never go wrong with is a good bottle of wine- Seven Daughters Moscato, is a perfect choice. A light crisp, sweet yet not overpowering taste is the perfect companion to making bellinis, Gimilits or Mojitos. Trust me this bottle will have you running back to the store for more- it's that good!!
So there you have it, a few of my favorite last minute gift giving ideas for all your loved ones this holiday season. From food to wine, to perfume and skincare, I think the bases should be covered. Make sure to check out the MLL x Holiday Shop to find all the products included in this Last Minute Gift Giving Guide, as well as ALL the other gift guides we have covered this year.  This holiday season I hope you all have the most wonderful time with friends and family and enjoy the glorious holiday.
[otw_shortcode_divider margin_top_bottom="30″ text="SHOP LAST MINUTE GIFTS" text_position="otw-text-center"][/otw_shortcode_divider]

DAY 1: Makeup Maven Gift Guide                                  DAY 6: Natural Beauty Gift Guide
DAY 2: Holiday Shopbop Gift Guide                              DAY 7: The Jetsetter Gift Guide
DAY 3: Skincare Obsessed Gift Guide                            DAY 8: Stocking Stuffer Gift Guide
DAY 4: Closest Friends Gift Guide                                  DAY 9: Scent Lover Gift Guide
DAY 5: Glam Girl Gift Guide                                            DAY 10:  Last Minute Gift Guide
*PR SAMPLE
[ReviewDisclaimer]
Beauty Junkees Gift Guides Holiday Gift Guides Juicy Couture Sephora Sonix Starbucks