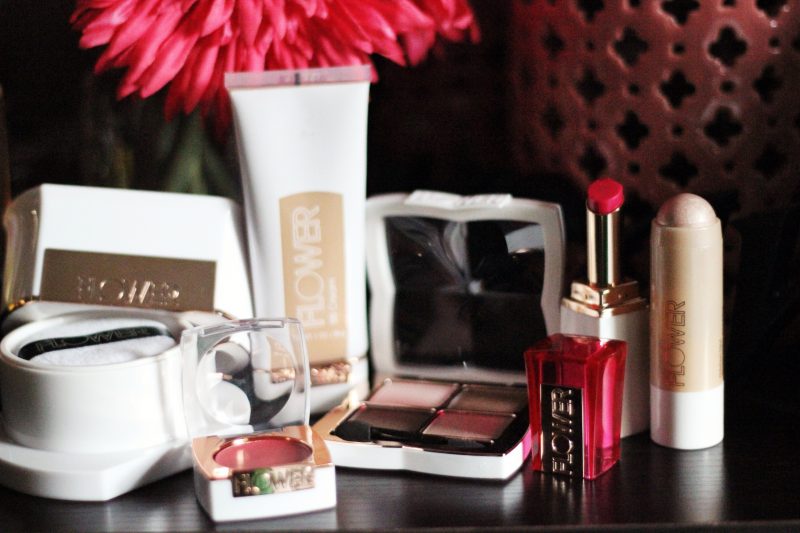 Last year when I heard Drew Barrymore was beginning a new venture by bridging the gap between high end, quality makeup created at a drugstore, budget beauty price point; I squealed with excitement. Launched in January of 2013, and after multiple trips to a few different Walmarts in my area and always coming out empty handed- it  had me lusting for these products even more. Fast forward a year and some months later, the want to get my hands on her line had me jonesing for them even more. So I headed to the local Walmart- and I might add- I'm pleased I did just that. All bases are covered,  it's time to bring you a budget breaking review featuring – Flower Beauty – time to love the way you look– here is what made the cut home…
Starting with the face- I test drove a award winning combo- 4-in-1 BB Cream– $12 USD, is a gorgeous tinted beauty balm filled with anti-aging properties. This creamy tinted balm applied on the skin, is light and leaves the skin luminous, shine free and beautiful. Topped with a thin layer of Powder Up Loose Powder– $11 USD, leaves skin absolutely flawless. This powder is AH-MAZING! Lightweight, sheer and full of micro pigment- this powder leaves skin covered in one sweep.  Can you say perfect duo!
On to the color combo of the line, I am obsessed with the pigmented punch this line adds. Win Some, Rouge Some in Elegant Azalea –$8 USD is the most gorgeous pinkish- magenta color on the skin. Perfect for all skin tones, these creamy cheek blushes are stunning on the skin. Dab a tad on the cheeks, and instantly the skin is left with a nice pigmented punch that transformed into velvet on the skin- stunning! Topped with a bit of lovely highlight on the cheeks, the Glisten Up Highlighter Chubby Stick– $10 USD is the perfect highlight in a stick. A multi-purposed chubby stick this highlighter can be used on the cheeks and eyes leaving skin gorgeous. My favorites shade of the bunch Pearl Shimmer is perfect on the skin- one part gold-like, one part champagne-like gold; it is amazing on the inner eye corners and the cheekbones- very reminiscent of Becca Shimmering Skin Perfector in Moonstone- I think this may be the beginning of a love affair!
For the lips and eyes, I am seriously digging the Shadow Play Eye Shadow Quad in Smoke & Mirrors- $10 USD, very reminiscent of a CHANEL quad, this quad is a powerhouse of color. A bronze, a taupe, a lilac-grey, and  a peachy shade- this quad is gorgeously stunning. I am obsessed with this quad and find myself picking it up quite often.  The pigment of these shades are simply phenomenal, they are super easy to blend and apply like a dream. For the lips I am loving Lip Service Lip Butter in Wispy Wisteria- $7 USD. This shade is seriously gourge. A bit berry yet perfect for both day and night, this hydrating lip butter leaves lips fully of color, never sticky and a bit plump.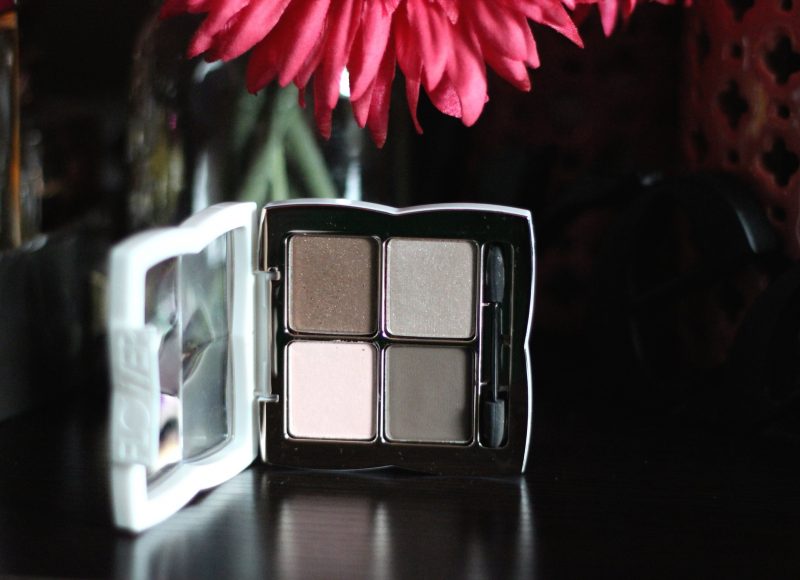 It's worth noting I will be headed back to Walmart ASAP in order to snag some more goodies from Flower Beauty. After reading a few recent magazine covers featuring Drew Barrymore noting- all cosmetics used have been from her own line, makes me more intrigued with this line. Everything I have tried and tested so far, has been nothing but shy of amazing. I am ready for my next trip to Walmart- who's up for a makeup fueled field trip? I am…..