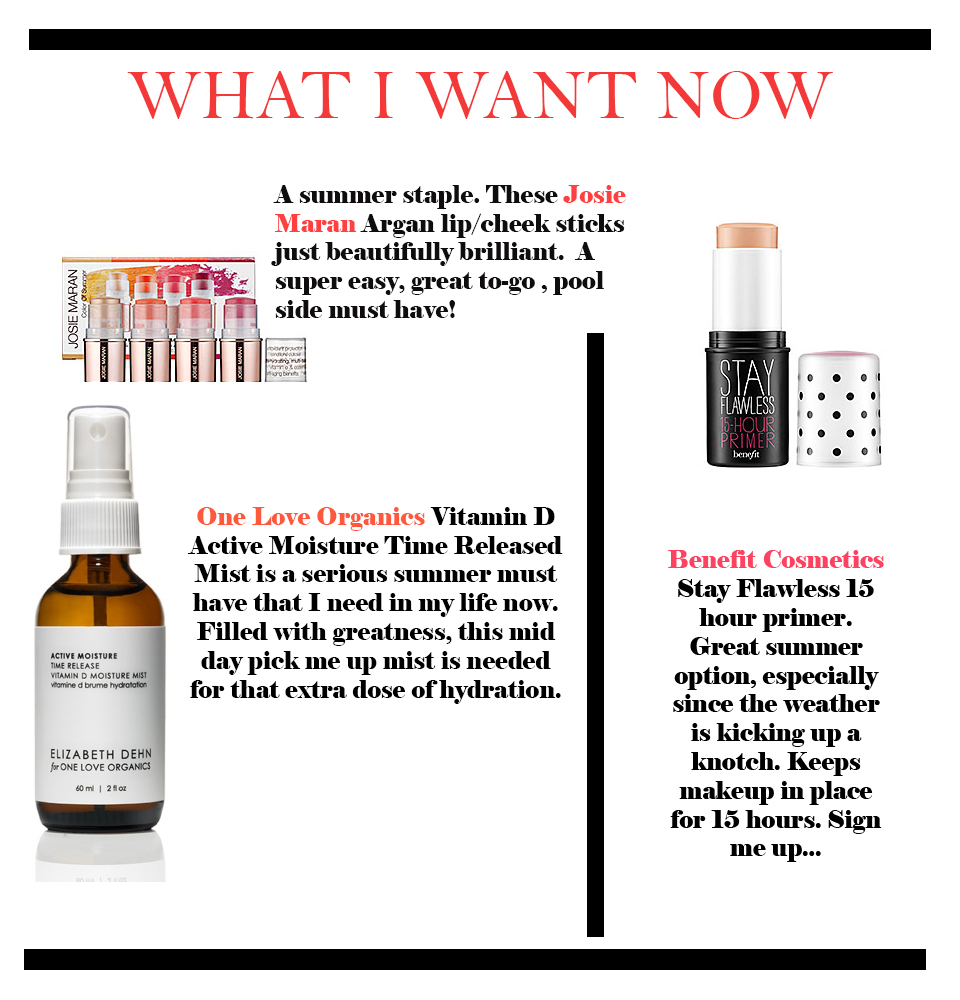 Is it just me or have beauty brands seriously been bringing it right now? I mean AH-MAZING things have been released this summer; it has me over the moon excited for the upcoming previews of Gift Giving Beauty Time * ahem… Christmas.. I am talking about you*. Literally I am having heart palpitations just thinking about all the amazing things that my pocketbook will having to indulge in  and while the pocketbook might not be too excited about that; I am literally a little girl doing cartwheels with excitement.  Which all that aside..  Since Christmas is a bit away.. I am having some major beauty envy and have compiled a short list of things  I want NOW,  I know introduce you to a few of my faves… 

Josie Maran Argan Lip & Cheek Sticks , have been on my list for quite awhile now. Especially since I have been introduced to the amazingness of the Coconut Watercolor Cheek Gelees. I am almost wondering if these are going to be the same just in a convenient stick form. This set includes four beautifully gorgeous colors : Beautiful, Pink, Coral and Twinkle… I mean how can you resist them with such cute names. I think "Twinkle is at the top of my list". 
Benefit Cosmetics Stay Flawless 15 Hour Primer,  I have read nothing but great things about this little, ultra convenient tube. It is on my list since it is super portable, a great innovation with it being a twist up, and the fact that it actually keeps makeup in place for 15 hours is  just down right amazing!  LOVE!!!!
Last but not least… One of my all time favorite brands released a new duo of products.  Elizabeth Dehn for One Love Organics, just released this week the Vitamin D Active Moisture Time Release Mist, rose straight to the top of my list of must have. You all know how I feel about misters. Nothing better than a afternoon pick me up. This one is filled with some much greatness, it is hard to resist. And the simplistic packaging is brilliant. I can not wait to get this product in my hands.
What are some things on your wishlist?