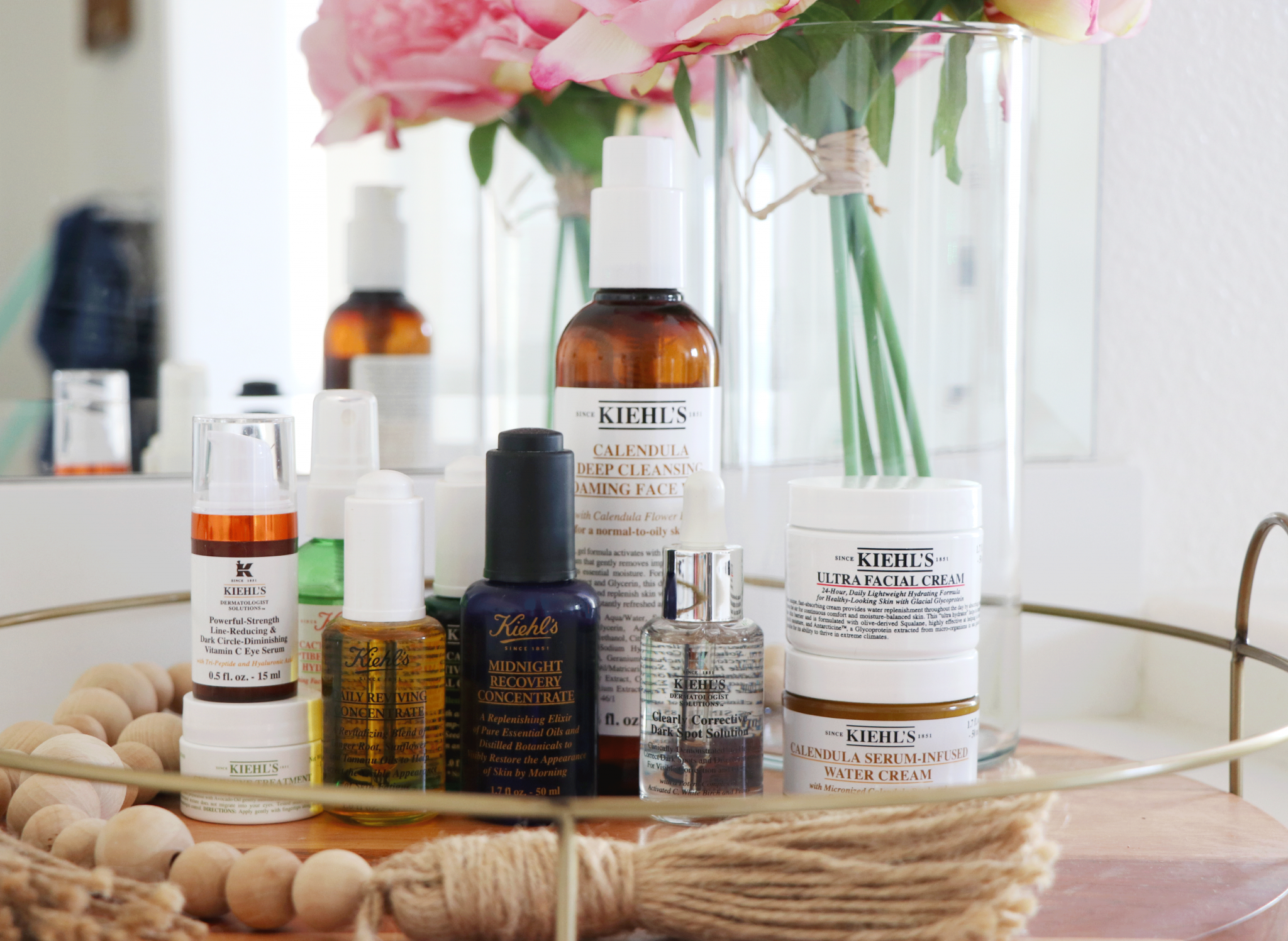 Today's post has been sponsored by Kiehls.  As always all thoughts and opinions are my own! 
I have been a LONG time lover of Kiehl's for as long as I can remember.  In fact one of my first skincare purchases was Kiehl's Creamy Eye Treatment with Avocado, and from that my love for the brand has continued to grow and grow. I remember many years  ago celebrity makeup artist Mario Dedivanovic also raved about how he loves the entire Kiehl's line and how the cult classic Ultra Facial Moisturizer was one of his top favorites to help prep clients skin to ensure that they were hydrated and the makeup would last all day and night. Needless to say at that moment – I made sure to grab the Ultra Facial Moisturizer ASAP! I mean if it's good enough for Kim K- it's good enough for all of us right? Countless purchases, empty tubs later, and here we are…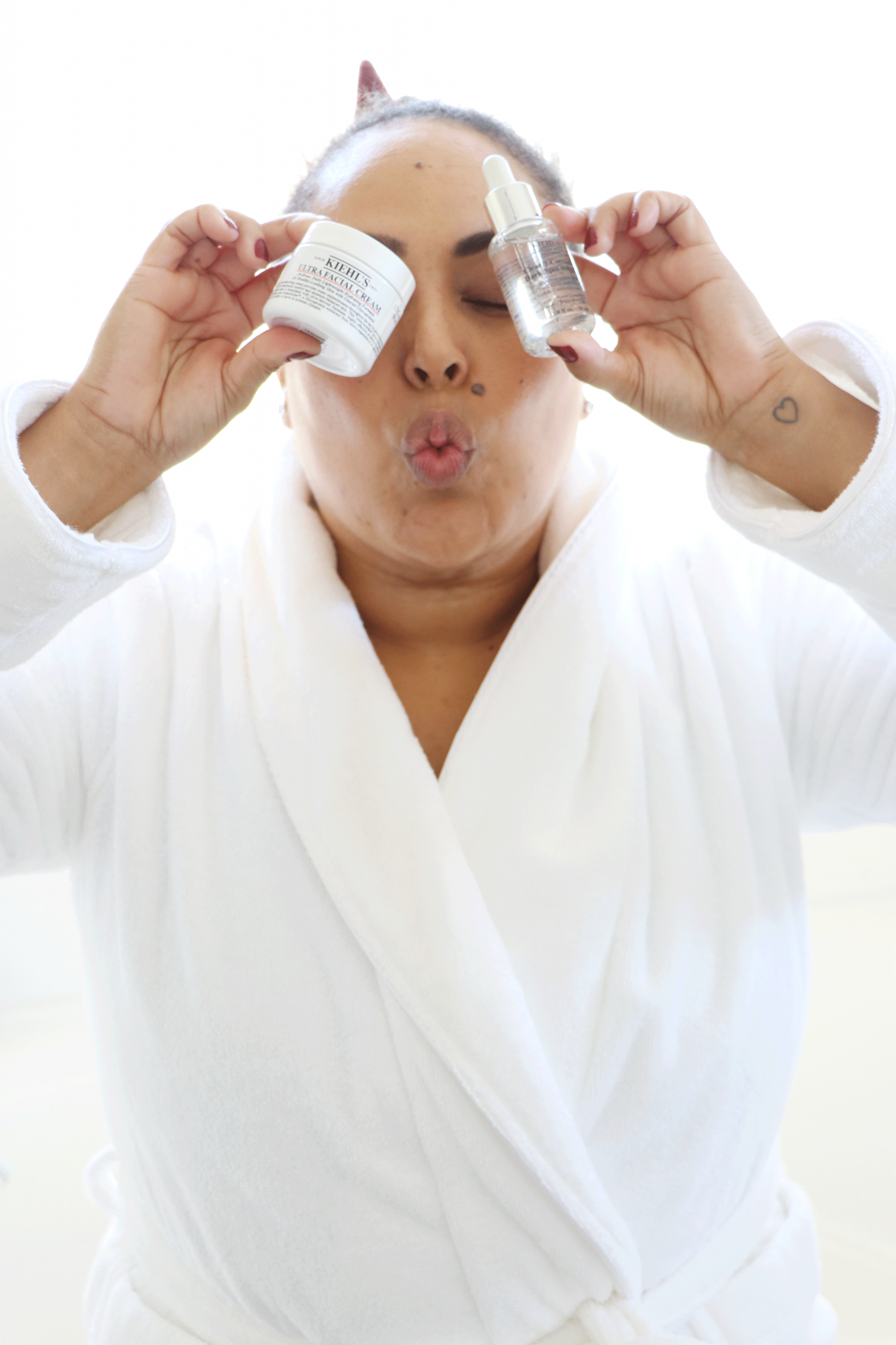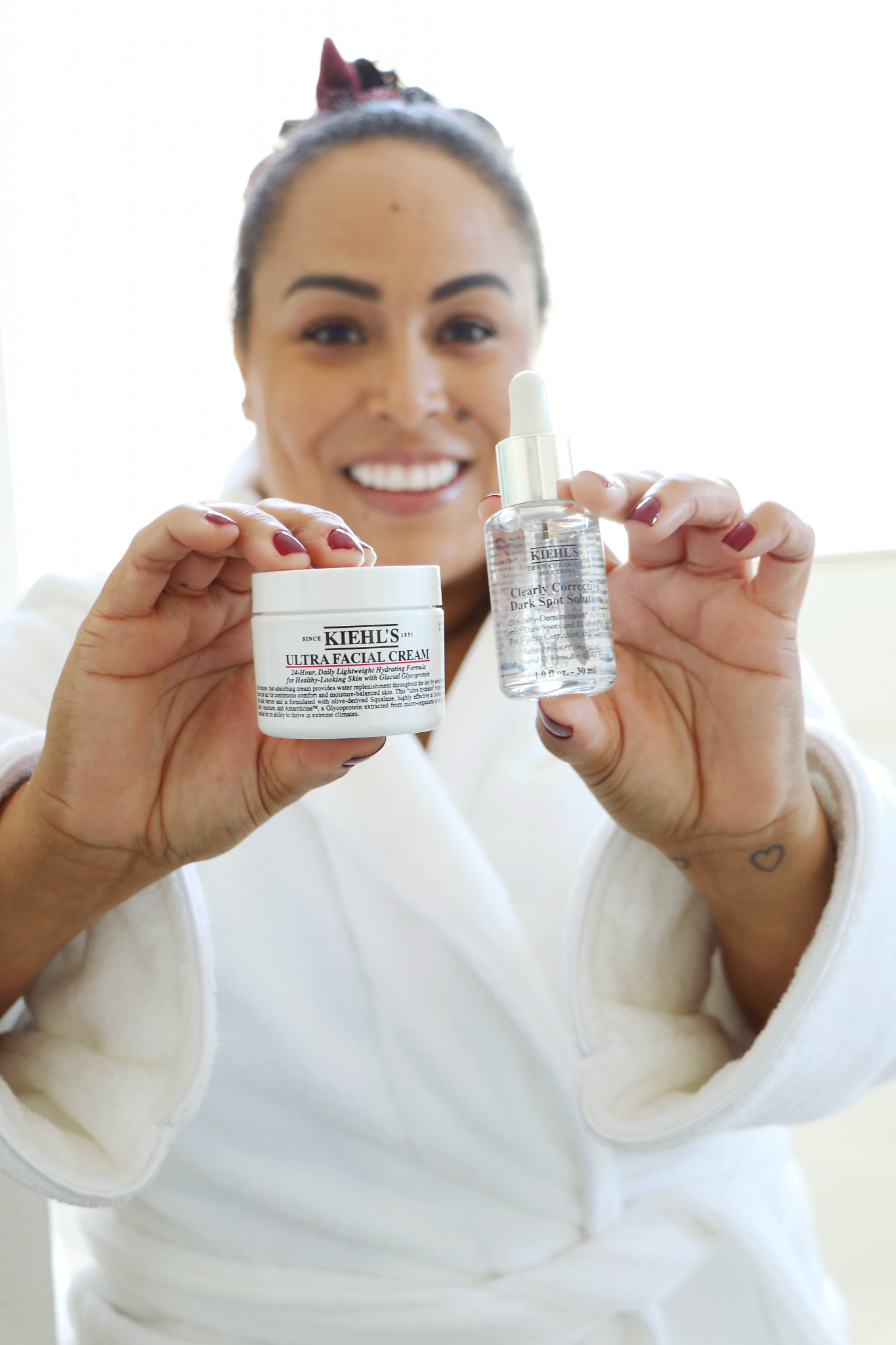 MY TOP 5 KIEHL'S MUST-HAVES
ULTRA FACIAL CREAM // Let's be honest this product is in fact a cult classic. I have been using it for well over 5+ years. I have gotten my sister to use it and love it , my mom to fall madly in love with it, even my dad is a true believer and will never be without  it (he uses the SPF version) since it is just one of those fuss free, does everything kind of products. Trust me with this product, believe the hype- there is a reason that it one of the best selling facial moisturizers. Not only is it free of parabens, sulfates, phthalates, and carbamide- but it also delivers up to 24-hours of hydration all while helping with uneven texture, tone, dullness and dryness. The unique blend of squalene and glacial glycoprotein really help give the skin much needed moisture that is locked in and easily absorbed. It never feels heavy on the skin at all as it just melts into the skin beautifully allowing makeup application to be pure perfection on top. I reach for this product a ton especially as the weather starts to change a bit because I find that it REALLY gives me that hydration and moisture that my skin really needs- all while giving the most subtle glow and smoothness to my skin. I love using this both day and night (rain or shine) by taking a pea-sized amount and warming it up between my palms then press gently into the skin. I feel that this is a product everyone really just NEEDS in their skincare routine regardless of where you live – this product really delivers hydration in the driest of climates all the way to the most humid climates- it also is perfect for travel!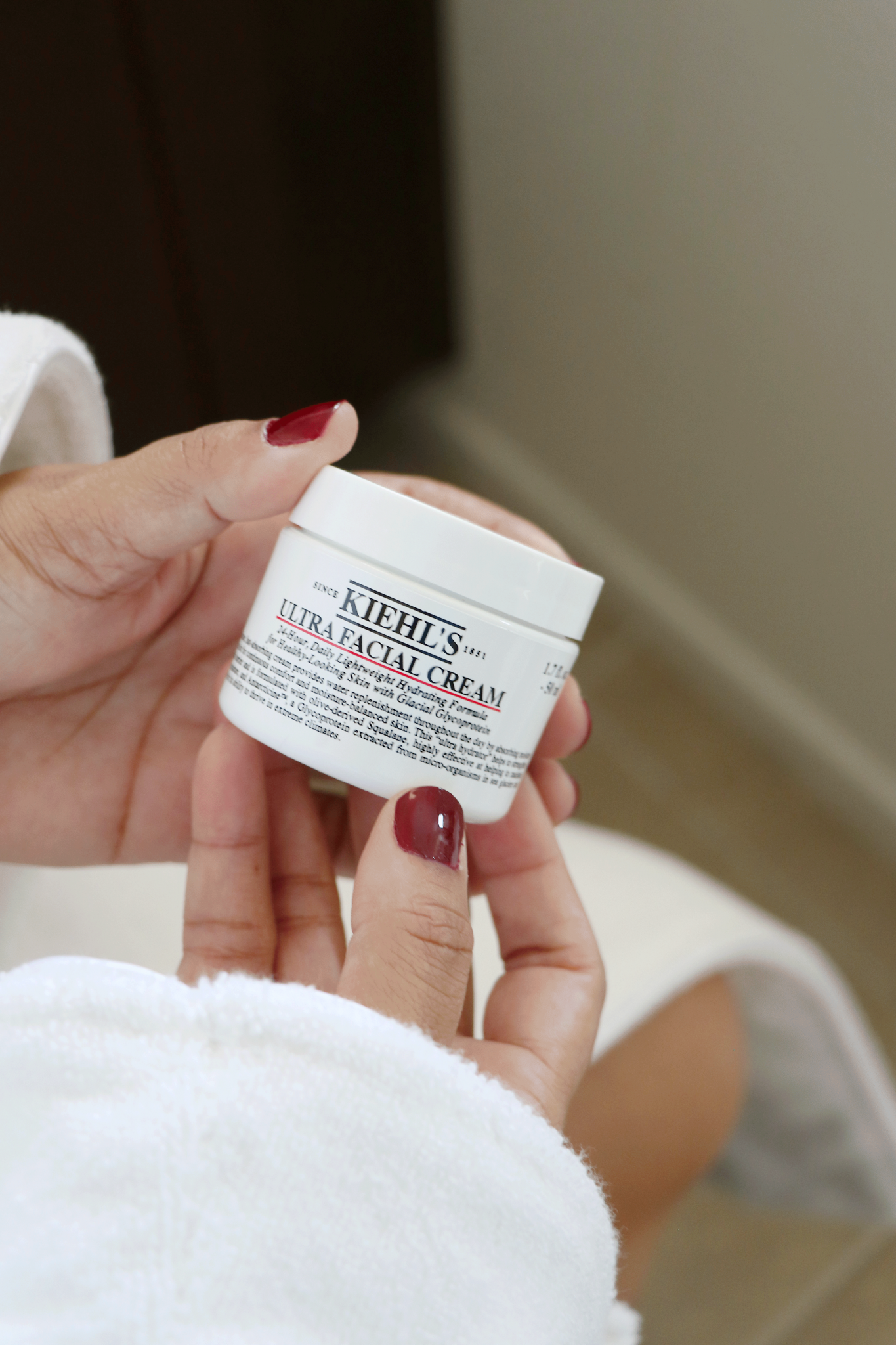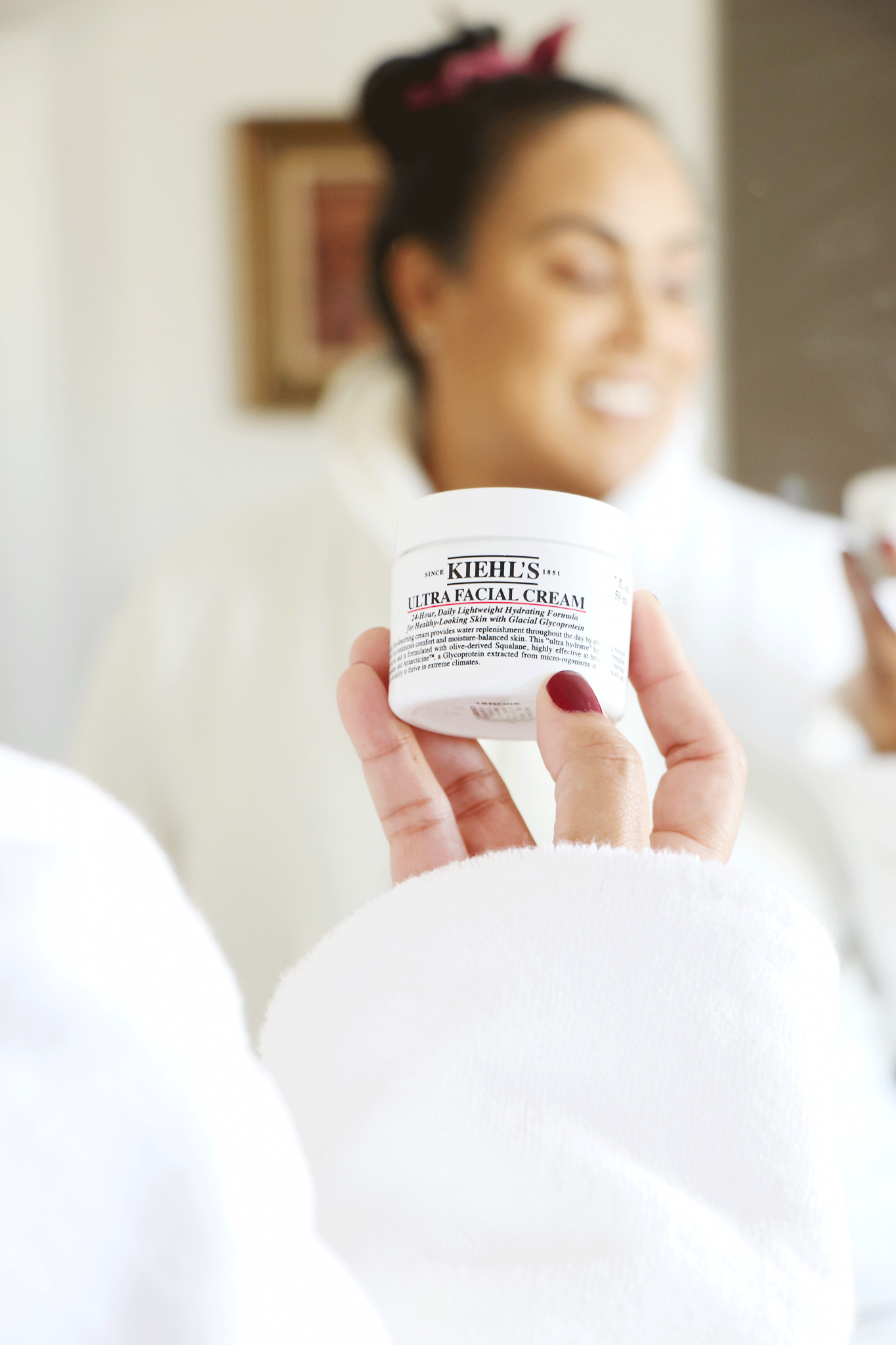 MIDNIGHT RECOVERY OIL // Another product that I just think is too good to not have in your skincare arsenal. This product was something that I grabbed because it was something recommended to me at the Kiehl's counter that would help with dehydrated skin. Not only does this product give you a much needed glow but it really does the skin so good overnight. A unique blend of squalane, lavender and evening primrose oils really help soften, even out skin texture and enhance radiance- literally you wake up glowing like a goddess in the morning. I highly recommend this to anyone because it really is great for all skin types! 
CREME DE CORPS //  Now if you are looking for those gorgeous J.Lo glowing limbs- this product is a must for you. It's a super hydrating and fast absorbing lotion that is packed full of antioxidants and super great ingredients like cocoa butter, almond oil, avocado oil, aloe and so many more. This is something I always have on hand (including the Creme de Corps whipped version) it just gives your skin the most gorgeous, hydrated glow.
CREAMY EYE TREATMENT WITH AVOCADO //  The product that started my obsession with the Kiehl's brand. I can't say enough great things about this product. It really does help hydrate the undereyes like no other, it helps with dark circles, and really just plumps the eyes area overall as it is packed with antioxidants benefits and so much more. I love this product to help brighten, depuff and hydrate my under eye area prior to makeup application. I have found that it also helps my concealer not budge or crease – which is a win, win in my book.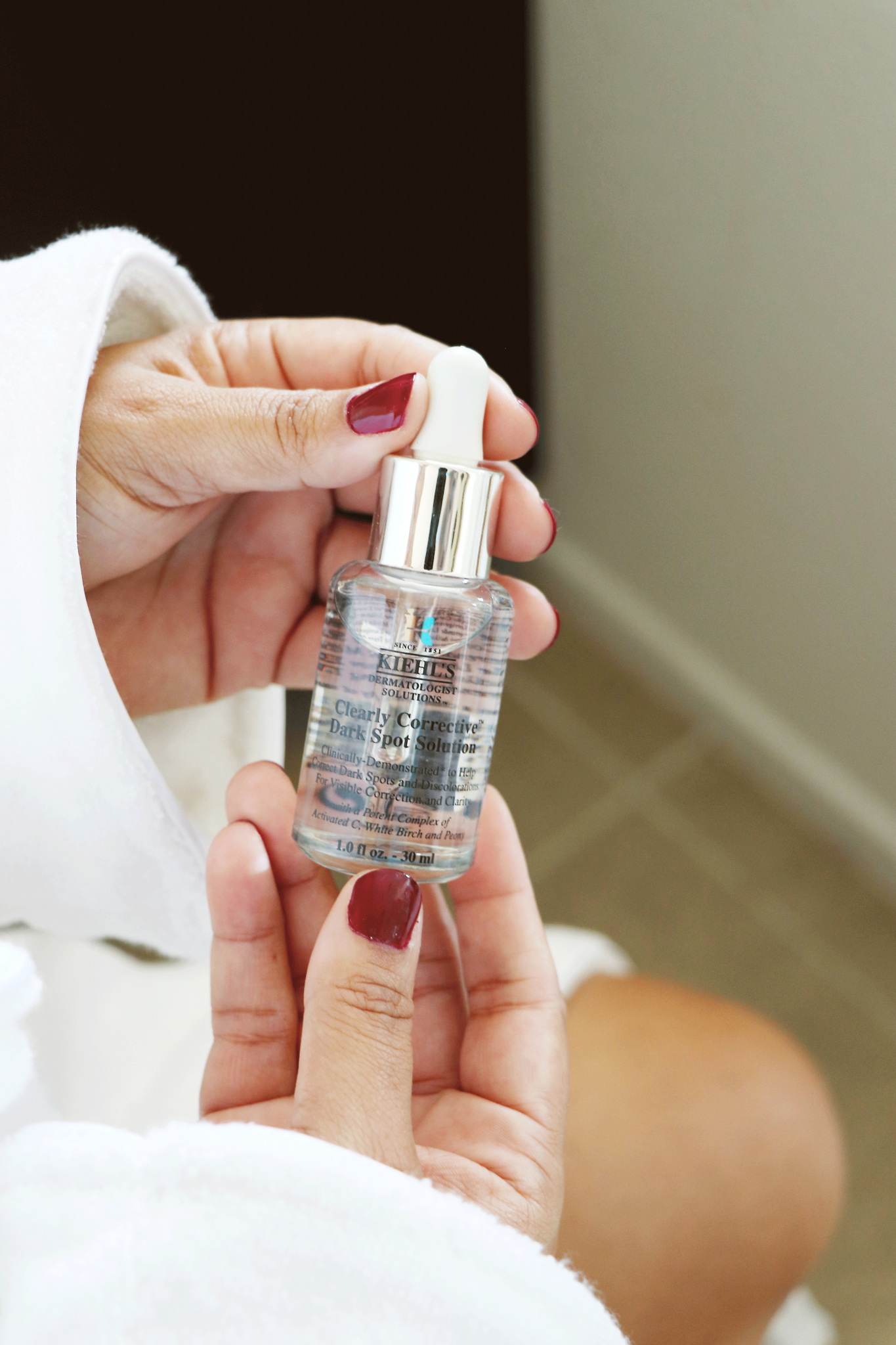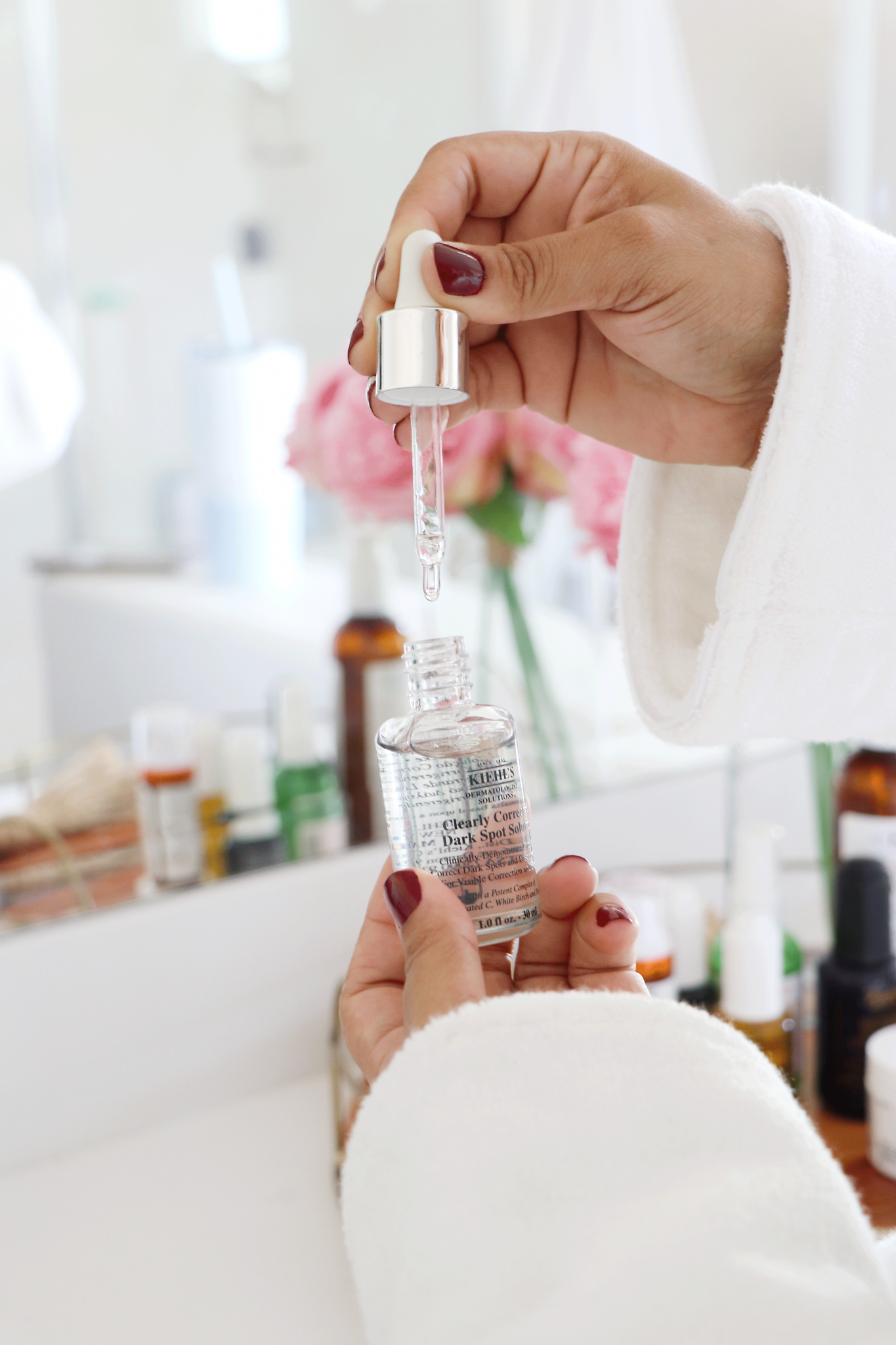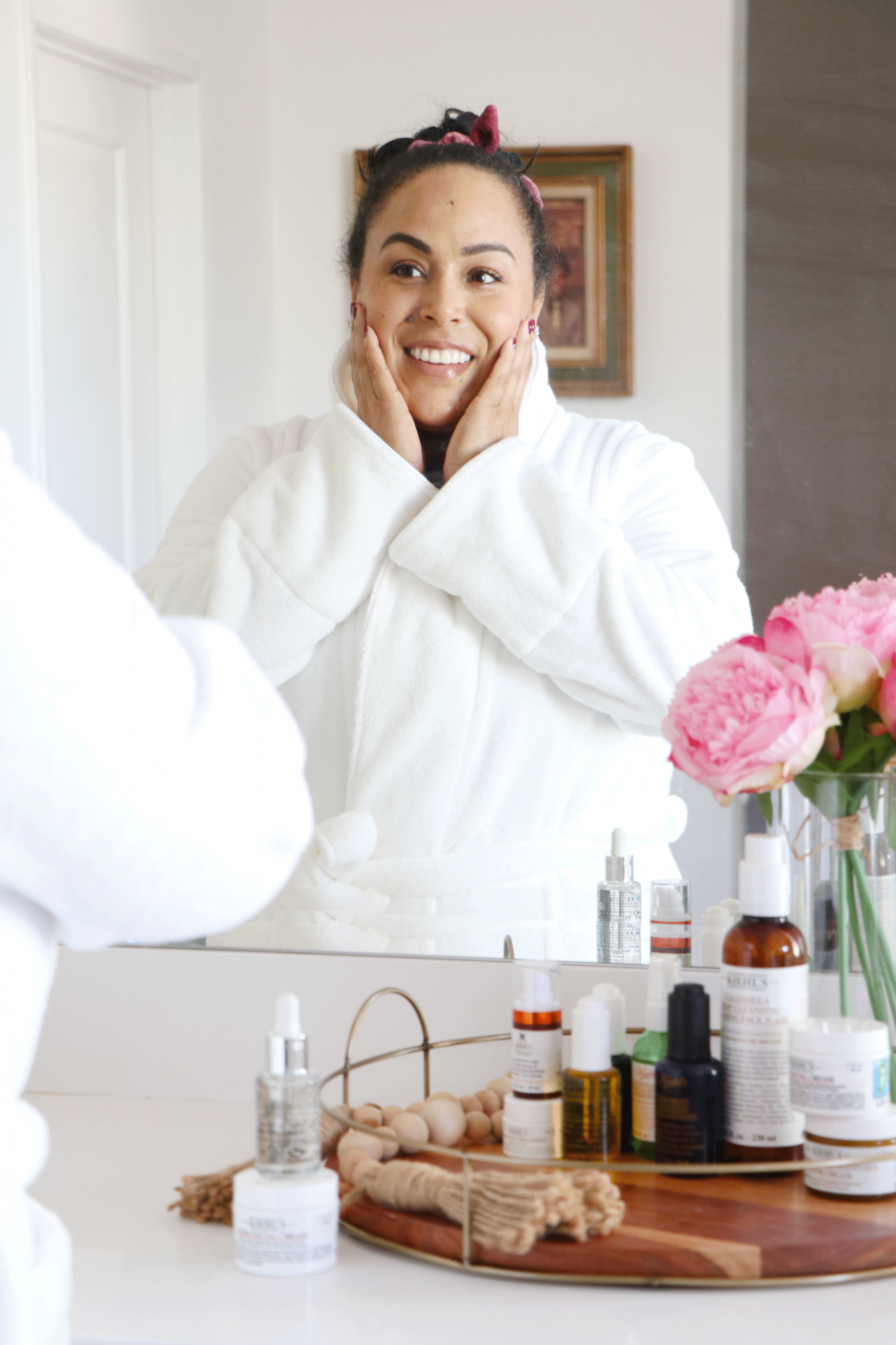 CLEARLY CORRECTIVE DARK SPOT SOLUTION //  This is one product that I was introduced to about a year ago and I have to tell you it is one that I will NEVER be without. When it comes to corrective serums this is one of the best dark spot corrective serums ever! Not only does it really help brighten the skin thanks to its peony extract and white birch extract but it also REALLY helps with reducing the look of dark spots. You see I am an avid picker ( I know…. It's so bad to do) which of course leaves pesky dark spots – so this product is something that will always be in my arsenal to help keep dark spots at bay. Literally your dark spots drastically are reduced after 6-8 weeks of consistent use- which to me is amazing and oh so worth it. This product is perfect for those of us who are struggling with dark spots, dullness, uneven texture and tone, and those of us who are dealing with blemishes- trust me this product will become your best friend once you see the amazingness it can do. 
Paired with the Ultra Facial Cream I have found that this duo works wonders. Not only do the two together help keep breakouts at bay (which means less picking) but they also help even my skin tone, get rid of those pesky dark spots and keep me glowing. 
So there you have my top 5 must-haves for Kiehl's, although I can honestly say that Kiehl's is a brand that I constantly use, trust and you really can't go wrong with any of their products. Everything I have tried by the line has impressed me enough to warrant a repurchase which to me says alot.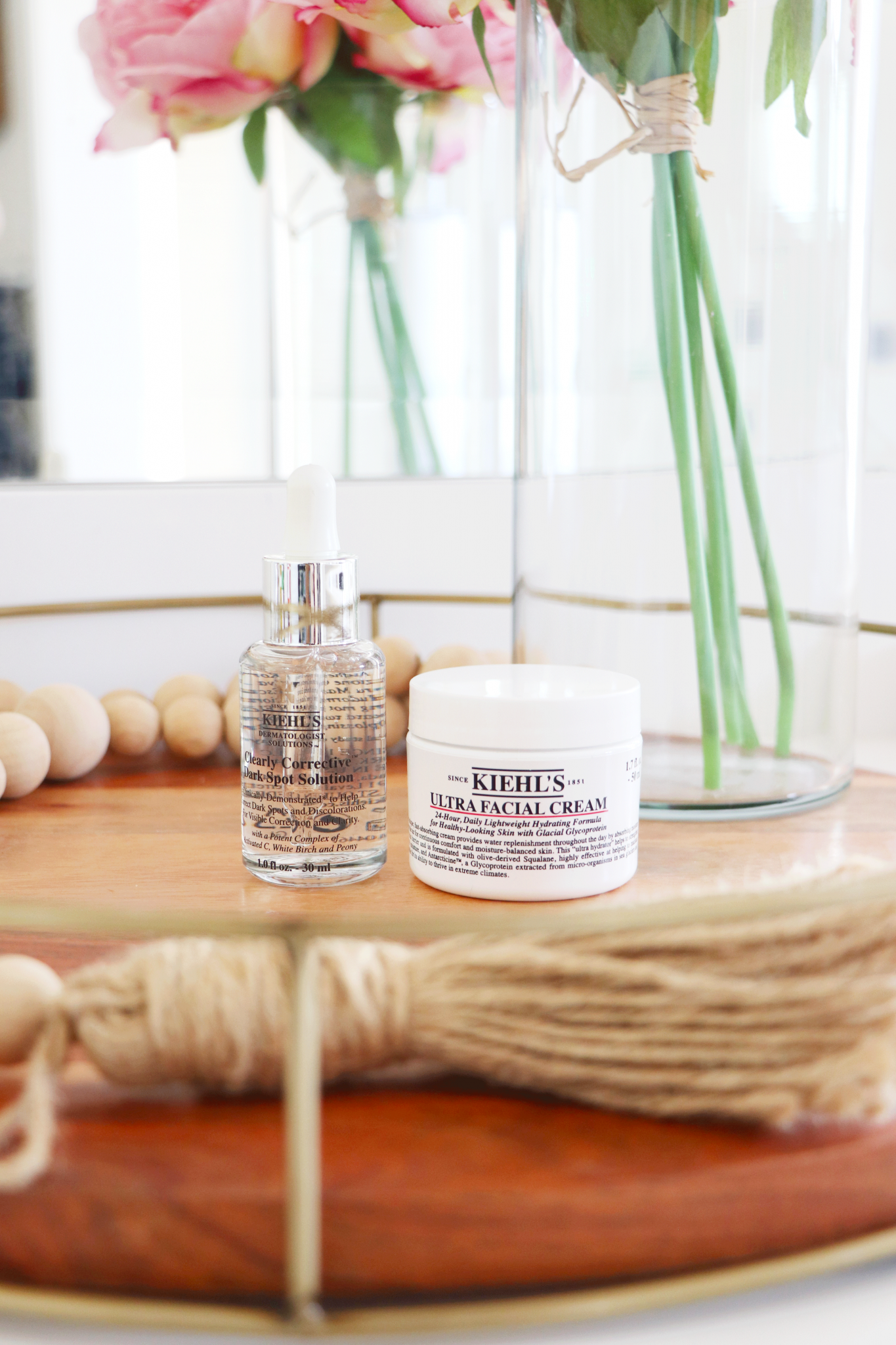 P.S: If I had to pick a 6th product, it would for sure be the Buttermask Intense Lip Repair Treatment trust me it is a MAJOR winner too!
If you had to pick your favorite Kiehl's product what would it be? Let me know in the comments below….
READ NOW, PIN FOR LATER: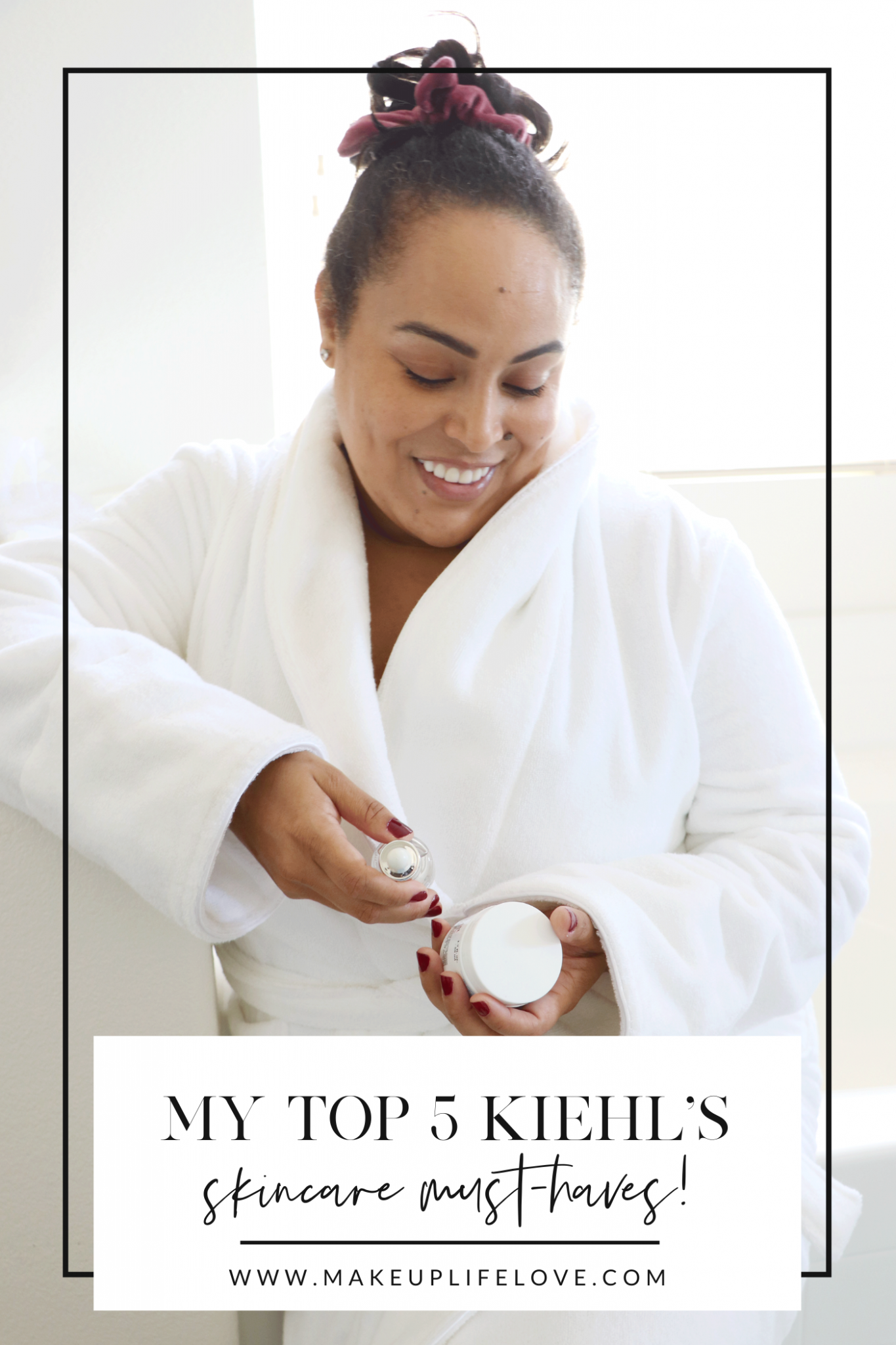 SHOP MY KIEHL'S MUST-HAVES