This post is written in partnership with RoC Skincare via Social Stars, all thoughts and opinions are my own. #WomenWhoRoC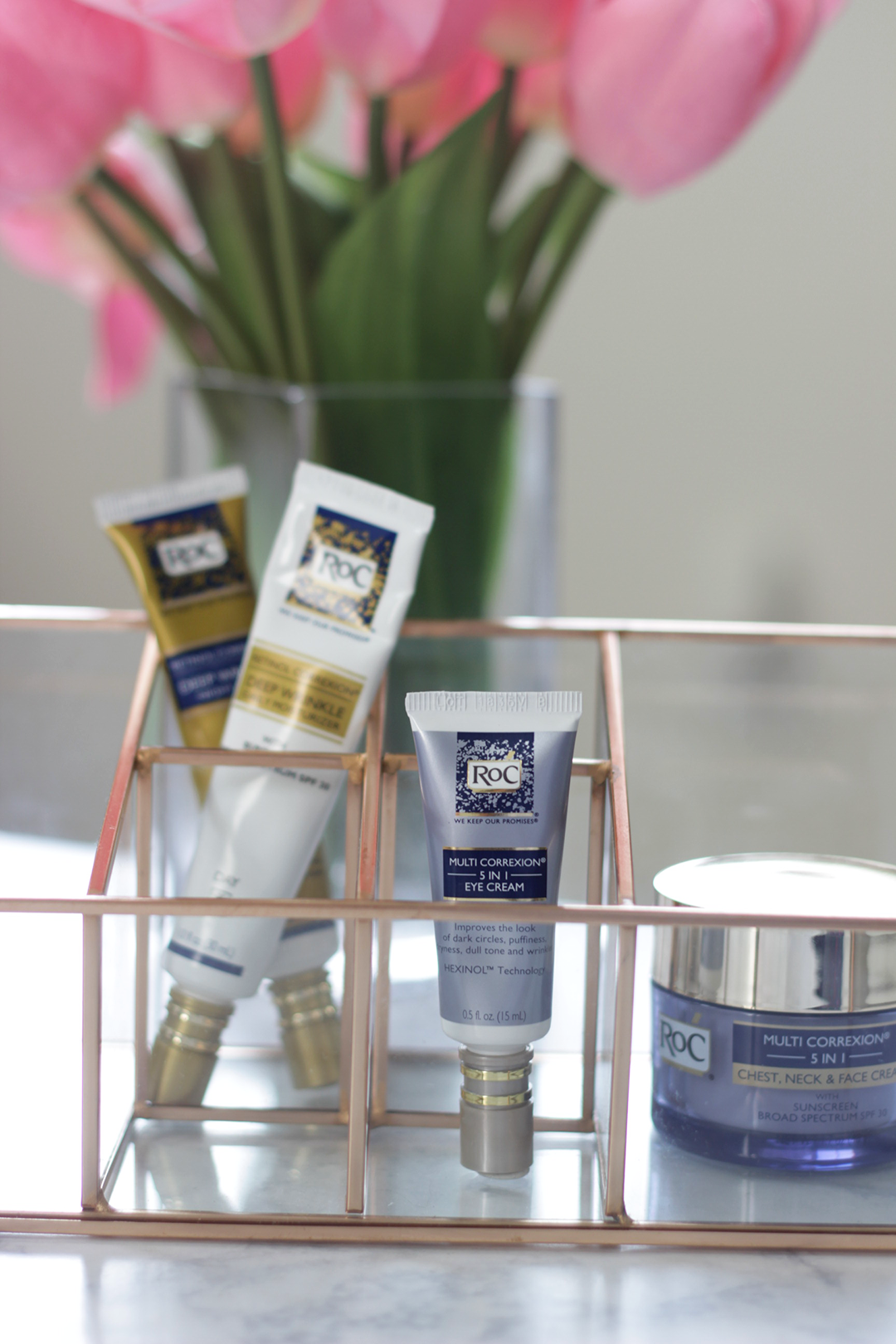 Can you all believe we are literally now in Spring? The time is seriously flying and I don't know about you but I am still trying to recuperate from "springing forward" with Daylight Savings Time last week.  Since we technically lost an hour of sleep, the dark circles lately from trying to adjust to the time change are totally pilling on- I am NOT a fan of losing sleep. As you all know skincare is SUPER important to me. Last month we talked about a few easy tips to feel your best, and today's is all going to be about the eyes and how to always look ready to take on the day, even though you may not have had your beauty rest the night before. Here are 3 Easy Tips to Look Ready for Anything…
TIP 1: START YOUR DAY OFF WITH SOME MUCH NEEDED HYDRATION
Most people often associate dark circles with lack of sleep. However, dark circles are also a sign of dehydration. Drinking water can help decrease puffy eyes and reduce the dark circles by flushing out the toxins from the skin and reducing the amount of salt that is in the body.  I have been starting each morning off with a glass of lukewarm or room temperature water and I can honestly say that it has totally helped reduce the dark circles and help my skin glow.

TIP 2: GRAB A RoC ® MULTI CORREXION® 5 IN 1 EYE CREAM 
Here is the thing with eye cream, you always have to use it. The eyes are the most delicate part of the skin and need major hydration at all times. Lately I have been reaching for the RoC ® MULTI CORREXION® 5 in 1 Eye Cream, and OMG you guys this stuff is awesome. RoC ® MULTI CORREXION® 5 in 1 Eye Cream helps improves the look of dark circles, puffiness, dryness, dull tone and wrinkles with breakthrough HEXINOL® Technology. I have been applying this product to my under eye area both morning and evening, and I must say I am totally impressed. My eye area feels smooth, hydrated and it makes a AWESOME base for concealer application. TIP: To apply eye cream make sure you are using your weakest finger (typically your ring finger or pinky finger) and VERY lightly tap the cream into your eye orbital area. Do NOT do any excessive tugging or rubbing on the eyes as this eye area is VERY delicate.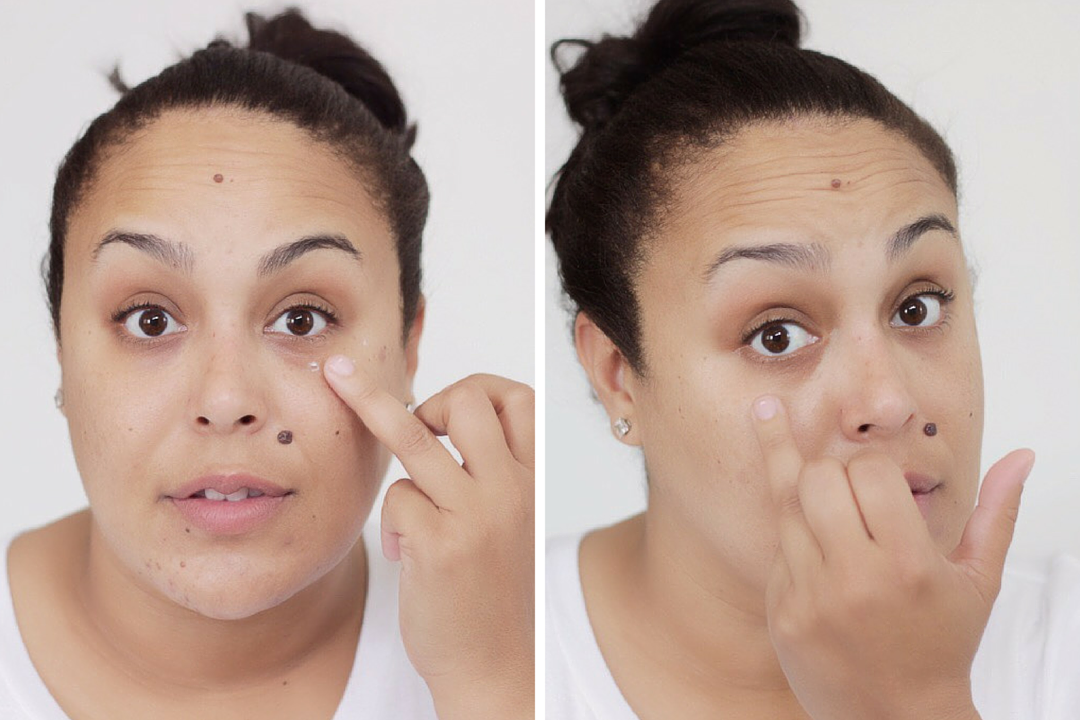 TIP 3: CONCEAL + PERFECT
Sometimes you need a bit more help than an eye cream can handle, so on the days that I am SERIOUSLY lacking sleep and the dark circles are on major overload- I have been using my favorite concealer. A good eye concealer is EVERYTHING! I reach for a concealer that is a shade or two lighter than my skin tone that tends to have a slightly warm/golden undertone to help conceal and correct the darkness under the eyes. TIP: Start where the shadows are the darkest and blend out from there. The best way to apply concealer is by swiping a little on your finger, and tap lightly over the shadows. Make sure to apply concealer around the inner corner of the eyes (next to the tear duct) before you also have shadows there. Blend down the sides of the nose just enough to help everything blend evenly AND always make sure to stop short of the lower lash line- concealer will settle into those fine lines and enhance them- NONE of us want that, right?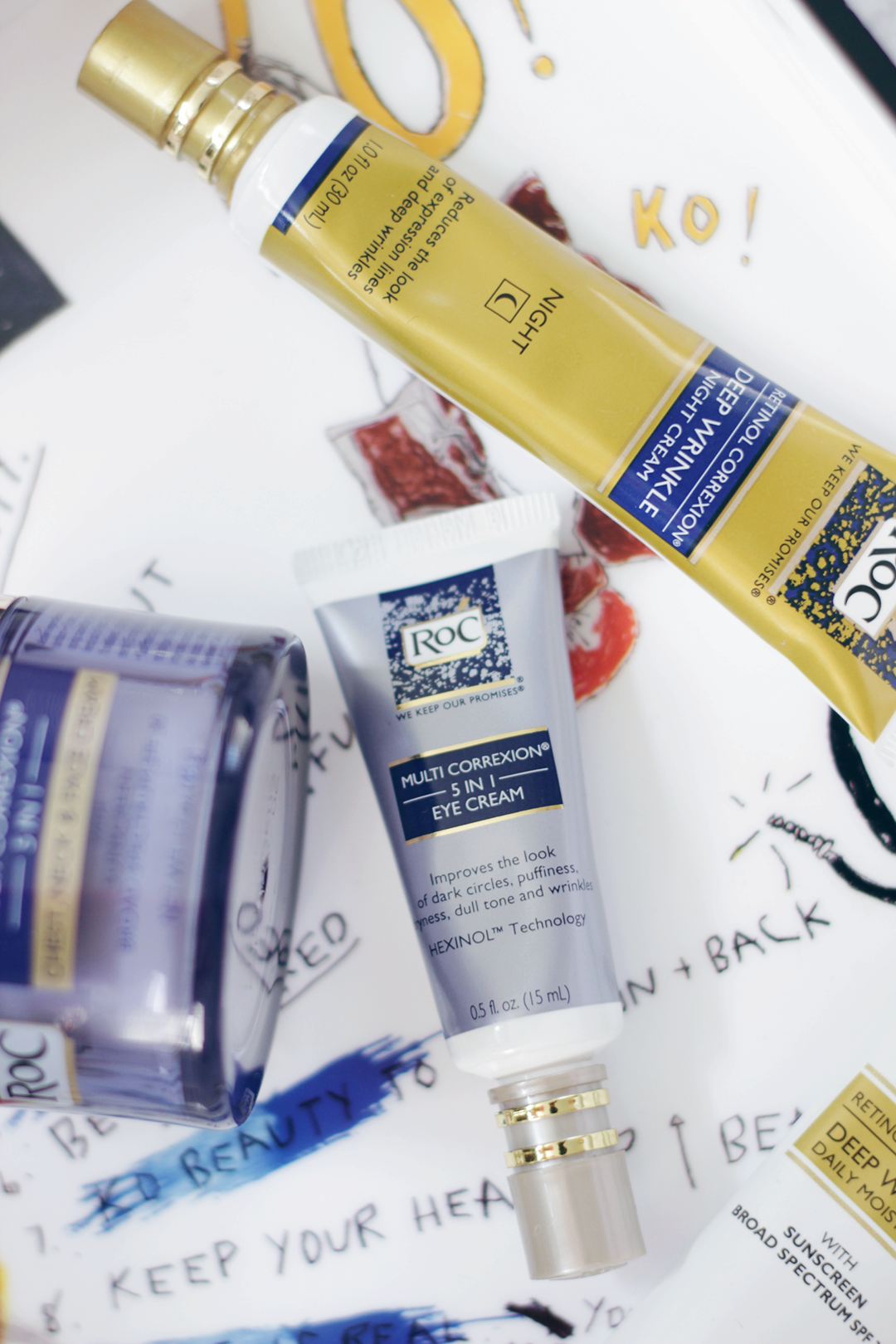 So there you have it, a few quick and simple tips to faking it until you make it- when you are seriously lacking on sleep. Also make sure to check out this awesome article from Good Housekeeping on all the massive benefits of using RoC ® MULTI CORREXION® 5 in 1 Eye Cream, trust me this is one spring beauty addition that is much needed. You know what they say- "The eyes are the windows to the soul, and the first place to show fatigue and aging" so what are you waiting for? Grab yourself some RoC ® MULTI CORREXION® 5 in 1 Eye Cream and fake it until you make more progress in the sleep area….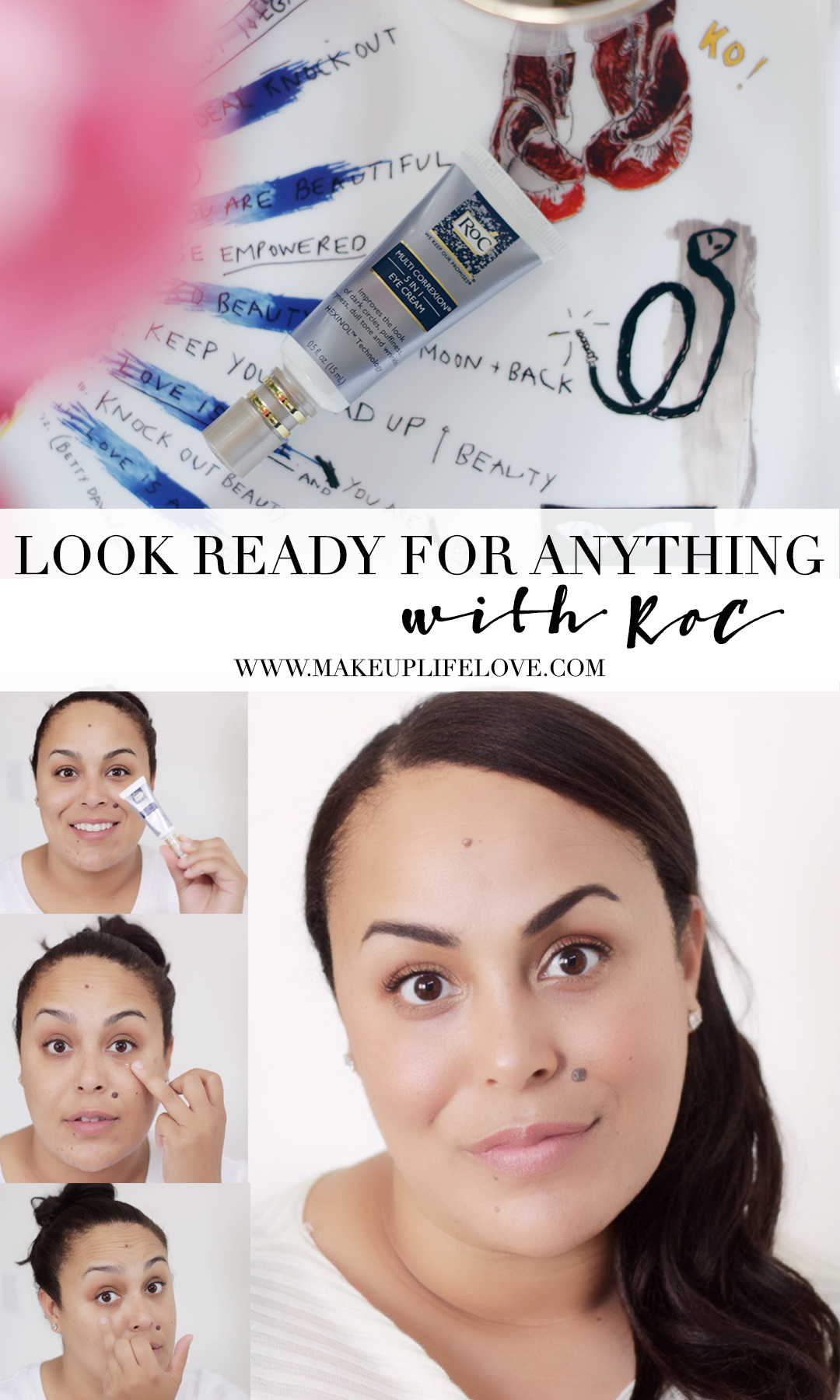 What are some of your best faking until you make it tips and tricks? Have you tried the RoC ® MULTI CORREXION® 5 in 1 Eye Cream? Let me know your thoughts in the comments below…
[otw_shortcode_divider margin_top_bottom="30″ text="SHOP THE POST" text_position="otw-text-center"][/otw_shortcode_divider]

*PR SAMPLE
This post is written in partnership with RoC Skincare via Social Stars, all thoughts and opinions are my own. #WomenWhoRoC
[ReviewDisclaimer]