This post has been sponsored by Curél® in a partnership with Social Stars. All thoughts and opinions are of my own. Curél® Itch Defense® #CurélSkinCare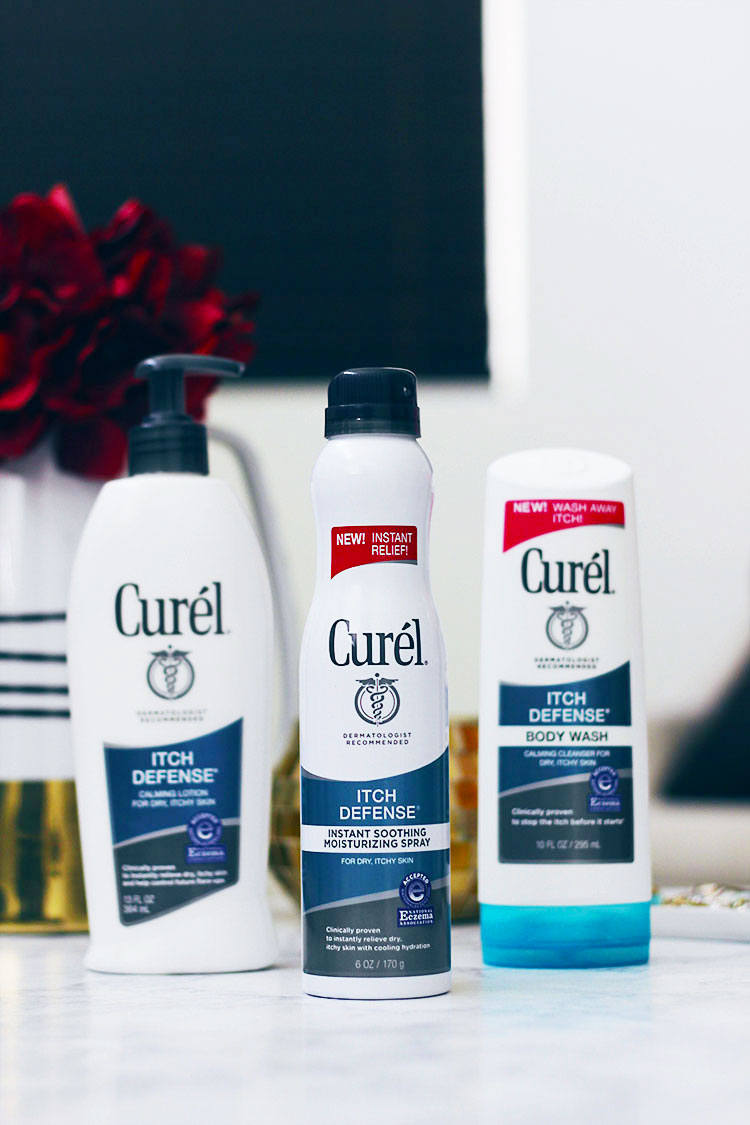 As much as I love living in Southern California the climate here is usually on the dry side- okay more like ULTRA dry side- but whenever Fall and winter tend to roll around my skin seems to get extremely dry and often VERY itchy. Battling dry, itchy skin and eczema flare ups is already hard, but when the weather turns the slightest bit cool, they are almost unbearable! Imagine just feeling non-stop dry, itchy skin all day long! Trust me it is HORRIBLE and extremely painful at times. I always thought I wouldn't be able to have hydrated, itch-proof skin during the colder months and that I needed to hibernate like a bear in order to stop the dry, itchy skin- until now that is. My dry, itchy skin has finally met its match ….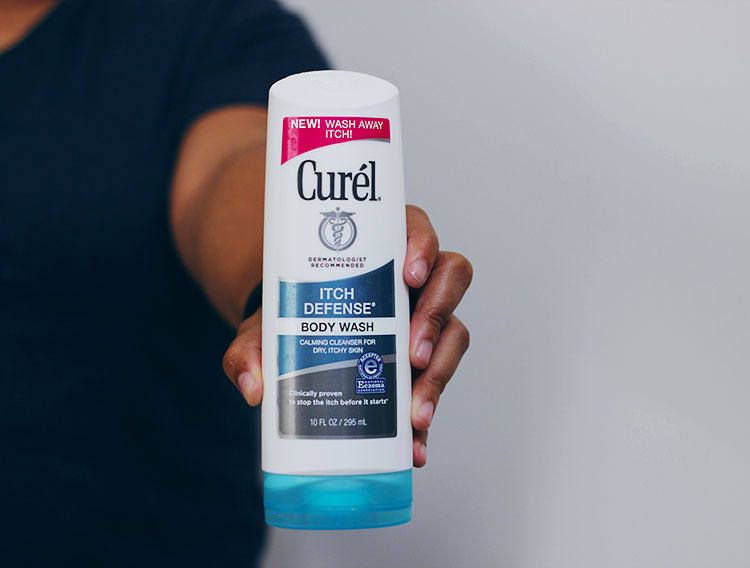 I recently began starting my day using the Curél® Itch Defense® Body Wash, and OMG I am obsessed with this bottle of heaven. Approved by the National Eczema Association, this body wash is so different from any other body wash I have ever tried. The soap-free formula that not only gently cleanse the skin but also soothes itchy skin and hydrates. The formula is a unique blend of gentle cleanser and conditioners like jojoba and olive oils. It doesn't contain any fragrances so it is gentle enough to never irritate the skin BUT provide some much needed relief before the dry, itchy skin starts. I love how easy this body wash lathers up and leaves my skin seriously so soft!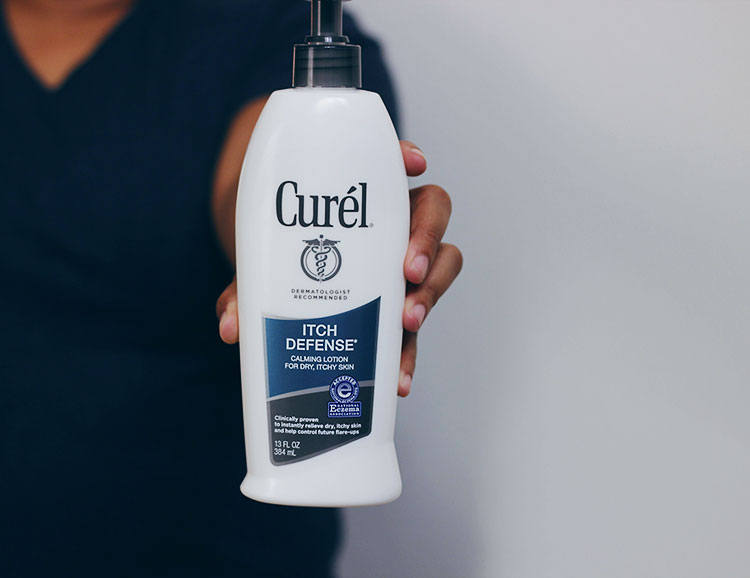 After showering I have been reaching for the Curél® Itch Defense® Lotion, this lotion is becoming my most reached for item of the year. It's thick enough to allow my dry skin get some MAJOR hydration but gentle enough to for babies ages 6 months and up. This fragrance- free formula is sheer amazingness in a bottle as it rebalances pH levels, moisture levels and encourages cellular turnover to promote healthy skin overall. I love that after a shower this lotion feels like it helps control dry, itchy skin as well as prep my skin for the day ahead to while ensuring that my eczema doesn't flare up. I am seriously OBSESSED and already stocking up on this wonder lotion, because my skin LOVES it!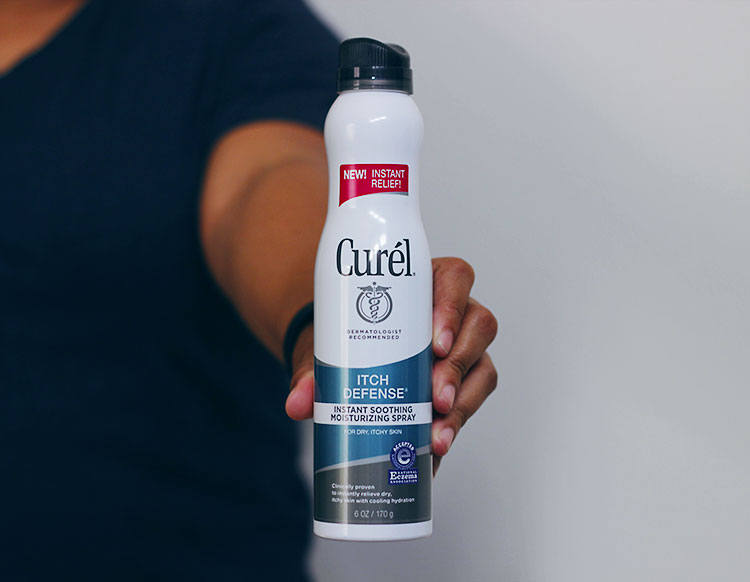 Random times of the night as the weather cools up a bit more I have noticed that my skin sometimes will start to feel a bit dry and itchy in certain spots, and for that I have been grabbing the Curél® Itch Defense® Instant Smoothing Moisturizing Spray. I love that this lotion is a spray lotion because it helps target those hard to reach places on the body- no more rubbing against sharp corners hoping to relieve the itchiness caused from dry skin. The great thing about the Curél® Itch Defense® Instant Smoothing Moisturizing Spray is that when sprayed upon the skin it calms, cools and locks in moisture for the skin which in Southern California ANYTHING to help cool the skin is a win-win. Literally if I feel my skin beginning to feel the slightest bit dry and itchy, this moisturizing spray relieves the felling within seconds. It is a miracle worker for sure!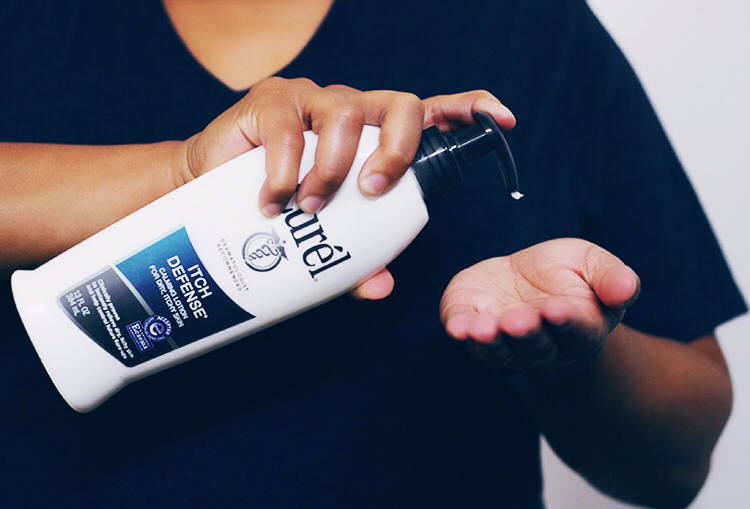 Overall the entire Curél® Itch Defense® has become solid staples and serious must haves in my body care routine. My eczema flare ups and dry, itchy skin have stayed pretty much under control since I started to incorporate this line into my regimen. For once I am no longer afraid for the temperatures to drop in Southern California, this time I am prepared and ready to take on the climate change like a champion thanks to the Curél® Itch Defense® line. Who says cold weather means you can't have hydrated, itch-free skin? Bring it on fall and winter, I am ready for you!

What are some of your tips for keeping your skin hydrated and itch proof during fall and winter? Let me know in the comments below…
Thank you Curél® for sponsoring this post.
*PR SAMPLE
[otw_shortcode_divider margin_top_bottom="30″ text="SHOP Curél® Itch Defense®" text_position="otw-text-center"][/otw_shortcode_divider]

[ReviewDisclaimer]