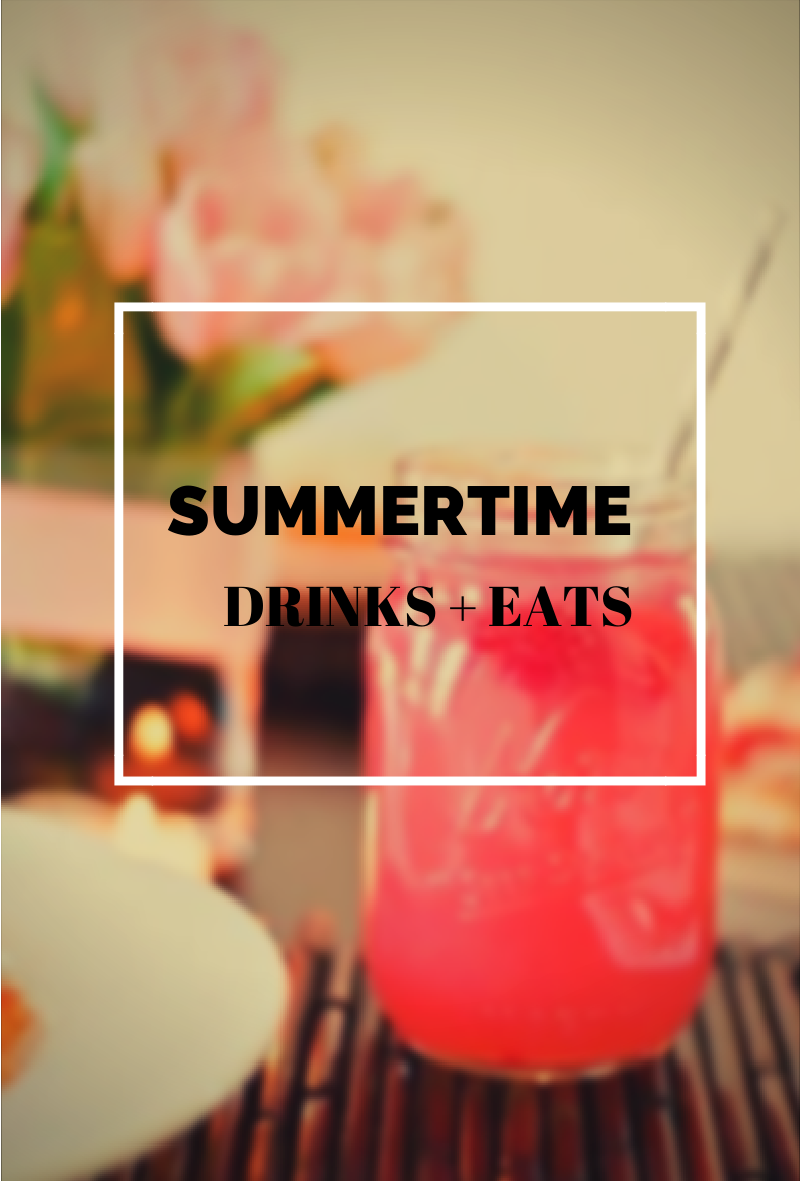 Its about that time of year- school is almost out, the weather is heating up a notch, and three day weekends are on the horizon. Lately I have been spending countless hours on Pinterest-I mean it is A-D-D-I-C-T-ing with a capital 'A'. So after countless clicking away at mind blowing drink recipes, I edited my list down to the top five I am planning on making this weekend-score! So its time for Summer Eats + Treats…
1. The Plethora of Citrus in your mouth: So I am a HUGE, and I mean HUGE fan of all things Grapefruit scented. However when it came time to grapefruit in a drink, I have always been one to pass. That is…. until now- This recipe by Kristin  from IowaGirlEats, has my mouth watering. A Grapefruit Mojito, is just the thing to hit the spot when the temperature continues to rise. The hint of ruby red grapefruit mixed with a bit of muddled mint and sugar- simply amazing.
2. Alluring Caprese Salad- quick+simple and Aaaaahh-mazing: One of my resolutions this year, was to eat healthy and cook more. Being as that I have a job in corporate America, it makes it hard to always eat healthy and well-cook. However, I am hands down obsessed with this quick and simple, yet uber healthy meal from Italy Magazine and their Insalata Caprese, a bit of fresh tomato, some fresh Mozzarella di Buffalo, Basil Leaves topped with a bit of Olive Oil, Balsamic Vinaigrette and Sea Salt & Cracked Black Pepper- phenomenal.
3. Top Spot of the Summer: Ever since I saw this recipe, I have been super obsessed with trying it. Mai  from A Cup of Mai  and this Raspberry Beer Cocktail  is seriously the business.  A bit of vodka, some fresh raspberries, and the speciality ingredient……drumroll…… four Corona Beers- I use Corona Light. And man oh man, this recipe is phenomenal.  A pink summer time drink for that hot summer day- love.
4. A Non-Alcoholic Classic with a Twist: I have a few friends who are expecting children in the upcoming few months. So this recipe looks like a alcoholic beverage but without the booze. A classic beverage with a hint of sass to it. Stacey from This Lil Piglet has a to die for Shirley Temple Recipe- a few parts orange juice, ginger ale and lime soda- this recipe is the BOMB.com. Hands down love it- add a few cherries and a lime squeeze and voila- instant summertime cocktail minus the alcohol.
5. A Health(ier) take on Salsa: Now I honestly think that salsa is all in all pretty healthy. I mean tomatoes, onions, a bit of cilantro, and if you're in for a kick of heat- some jalapenos. So imagine when I saw this recipe for Strawberry Mango Salsa by Damn Delicious, I was determined to try this different spin on salsa. I would have never though fruit as a salsa would be good, but O-M-G this salsa is amazingness. I can see it topped on top of Grilled Fish, Grilled Chicken or with the usual tortilla chips- yummmmm. Strawberries, Mangos, cilantro, jalapenos, red onion, and a bit of honey and lime juice-love, love, love at first bite.
So there you have it, no beauty banter today- but a food and drink filled 'all you can drink and eat'  type of post. Health food mixed with a few Summer libations all ready for this weekend. If you're lucky, I whip out my inner bartender and make you a drink- You fancy?
Do you have any favorite healthy eats or Summertime Drinks?
image via