Today's post was sponsored by Completely Bare. As always all thoughts and opinions are my own. #CompletelyBareProducts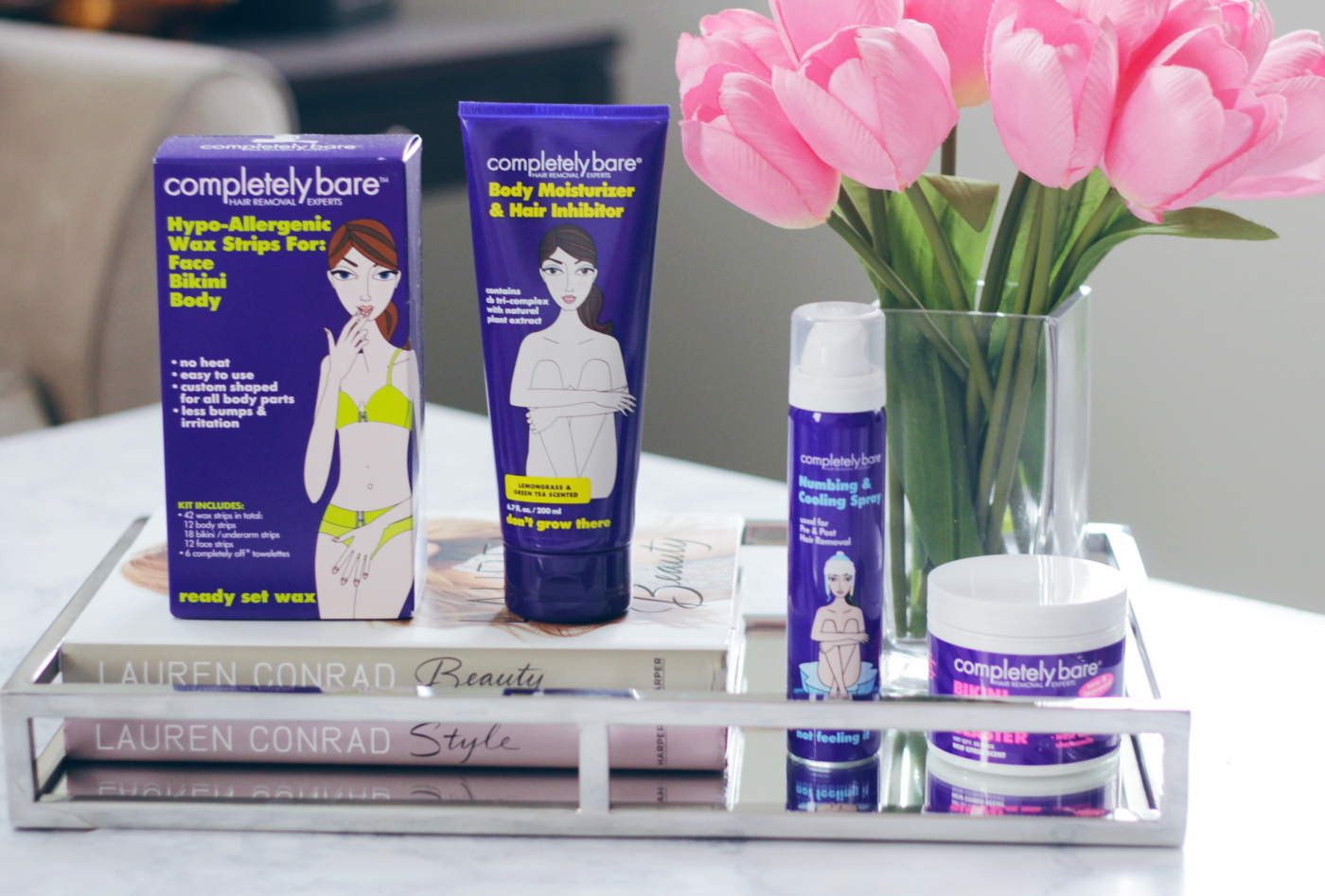 Let's be honest for a minute shall we? Hair removal is a pain in the butt, right? If you are like me at all,  you know blessed to have fast growing body hair– then hair removal is something you have to do quite often and EVERYWHERE! Sounds like fun, right? Being of mixed races, I am blessed with some weird body hair at times- my arm hairs are blonde and almost invisible; however my leg hair, underarms, and bikini are all like to grow in WAY TOO dark and ultra THICK at the same time- seriously the struggle is SUPER real! So if we are keeping it real, any time I have the chance to find a new product that makes hair removal easier- I am sold! Eager as a beaver and ready to rid my body of ALL unwanted body hair, ASAP! So imagine how excited I was when given the chance to partner with Completely Bare– seriously picture me jumping up and down for joy like it was Christmas. Let's talk about why I am OBSESSED with Completely Bare Products…

Completely Bare hands down is one of the most amazing hair removal lines to hit the market. Think of it this way- would you rather go to a esthetician and pay hundreds or thousands of dollars on hair removal; or would you rather get the salon quality results all in the luxury of your home? I don't know about you, but I choose the luxury of my home, for a fraction of the price. Completely Bare offers a wide array of depilatory products ranging from wax  (in both wax strips and hot wax form) to hair-growth reducing creams, all the way to bump smoothers- you all know those pesky bikini bumps? Completely Bare also offers some amazing after-care products that help slow the growth of hair- seriously it's AMAZING! The best part-  I don't have to worry about making a standing wax appointment or at times keeping my fingers crossed for my local favorite salon to fit me in when I need a wax ASAP. It's a win-win, and I am OBSESSED!Here are just a few Completely Bare Products, I have been loving.

Ok so, confession time for you all- I was VERY skeptical at first when it came to testing out the Ready Set Wax: Hypo-Allergenic Wax Strips.  These handy dandy wax strips are perfect for Face, Bikini and Body and OMG they seriously ROCK! A while back I had the WORSE and I repeat WORSE and seriously life-scarring experience at a waxing place- Think extreme pain, a bit of missing skin, followed by sticky skin and uber redness. So it took me years to muscle up the courage to try a bikini wax again, and know that I can do it at home I am a HUGE fan.  The Ready Set Wax Strips are phenomenal. They require zero heat, and literally take seconds to remove any unwanted hairs- including super short hairs.  
The wax strips come in 3 different sizes that are all perfect sizes for specific areas of body hair. You get (12) strips for the face ,  (12) strips for the body and (18) strips for the underarm/bikini areas.  All you do is just apply the strip to the area that you are looking to rid the body hair, rub the strip into the skin- this helps almost warm up the wax a bit to take hold of the hair, and pull the strip off in one quick swoop. Easy and 1,2,3 and voila you are left with soft, smooth skin. The best part- I have found with these easy wax strips that ingrown hairs are pretty scarce- I LOVE IT!
HELPFUL TIPS FOR WAXING:
MAJOR TIP-

ALWAYS and I repeat ALWAYS make sure to pull the wax strip off in the opposite direction of the hair growth. For instance- if your hair is growing down, then make sure to pull upwards. By doing so (going against the growth direction) you will ensure that you get a better pull without pulling the skin along with it.
If you use any acids in your skin care, think: Lactic Acid, Glycolic Acid, or any other AHA's be careful when waxing your face- it can make the skin ultra-sensitive and even possibly irritated.

Trust me I did that once when getting my eyebrows waxed, and let's just say- it was red for days, and I was missing a small chunk of skin. OUCH!

If you are like me and you are prone to ingrown hairs at times, no matter what you try- then you NEED to grab yourself some Completely Bare Bikini Bump Blaster pads. OMG these pads are awesome; they have a wonderful, light citrus scent to them, and they work. Granted they say they have the word "bikini" in the title, they also can be used for your face, and body- basically any area that you might get an ingrown hair. This ultra effective, and amazing smelling pad seriously has some massive power to help prevent and eliminate the growth of ingrown hairs.  I don't know about you- but ingrown hairs SUCK, and these pads have been helping my bikini area stay bump free, and of course bump free means less discoloration caused by those pesky suckers.

The final product that I have been trying is one that I am LOVING the most. Drumroll, please….. Enter the Completely Bare Don't Grow There Body Moisturizer and Hair Inhibitor. This product you guys has officially reached HOLY GRAIL status when it comes to body hair products- OMG it's AMAZING!!!! The Don't Grow There Body Moisturizer and Hair Inhibitor, is a awesome smelling moisturizer that helps reduce hair density by 50%, reduce hair length by 30% AND reduce hair growth by 55%. I mean REALLY? Sounds almost too good to be true right? Well my friends, it is true- and I am OBSESSED! I have been layering this on my legs and underarms daily for the past few weeks, and I have totally noticed that within a few days my hair was not as thick as it usually is when it grows out, and when it was short and stubby instead of being itchy it was almost smoother.  I have been applying this first thing in the morning after showering and again at night time after my night-time shower. I mean it works, it smells awesome- that makes it a WIN-WIN in my eyes. Seriously this product you NEED to grab ASAP!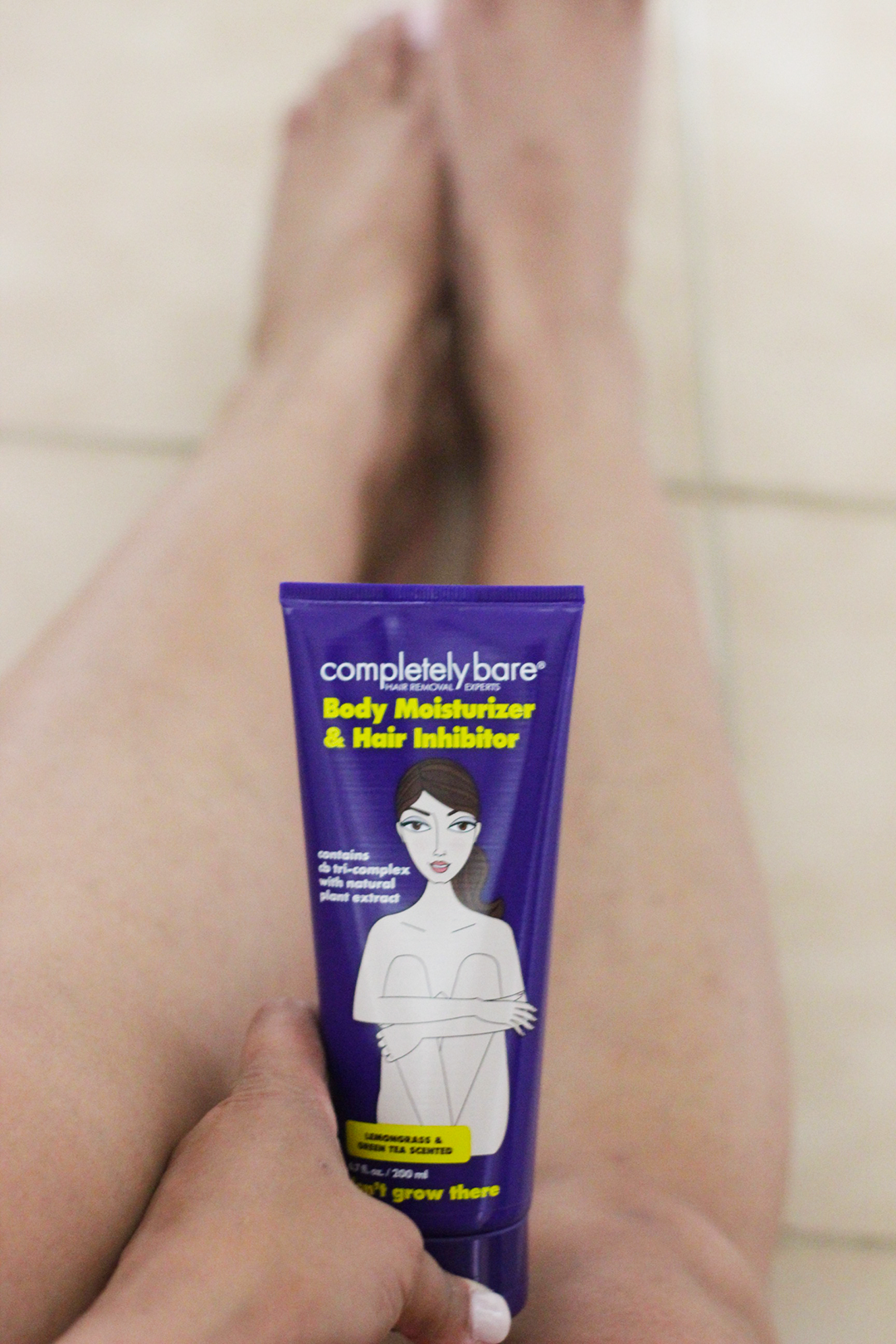 All and all I am VERY happy with all the Completely Bare products that I have been test driving, as they are working remarkably and keeping my skin ready for summer with a few minutes a day or a nice, quick wax on the weekend.  Basically, If you haven't tried Completely Bare products, then you are missing out. So what are you waiting for? RUN to your local CVS, Ulta Beauty or Completely Bare online and grab yourself some goodies ASAP. Let's face it ladies, who doesn't want to make hair removal easier?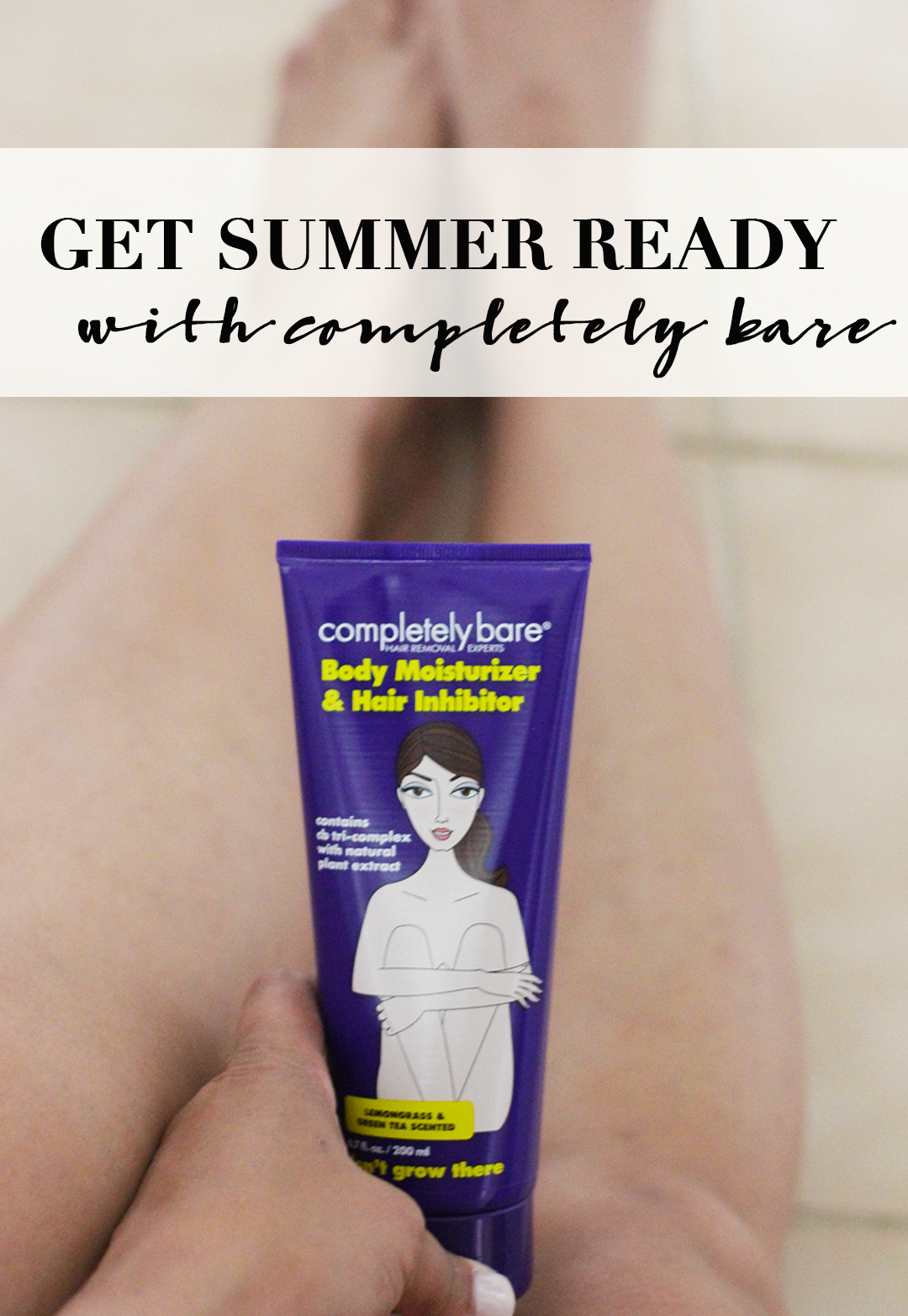 A big thank you to Completely Bare for sponsoring this post!
[otw_shortcode_divider margin_top_bottom="30″ text="SHOP COMPLETELY BARE" text_position="otw-text-center"][/otw_shortcode_divider]
*PR SAMPLE
[ReviewDisclaimer]
Completely Bare Completely Bare Bikini Bump Buster Completely Bare Don't Grow There Body Moisturizer & Hair Inhibitor Completely Bare Hypo-Allergenic Wax Strips Completely Bare Products