Disclosure: This post is written in collaboration with The Beauty Council and CHI Haircare. All thoughts, opinions and tutorial tips are of my own.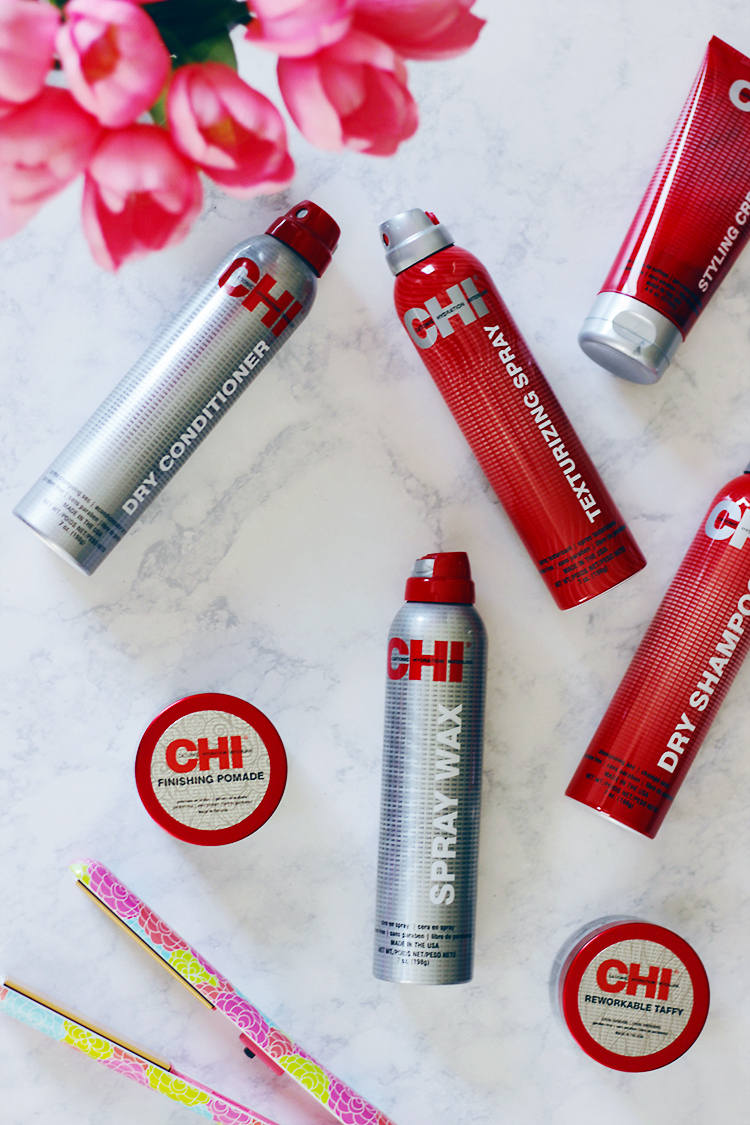 It's been a couple of weeks since I sort of switched up my hair care. I have never been one to be all fussy, fussy when it comes to hair care- however recently I think I may have found my new jam when it comes to conquering my less is more approach to hair care. After years of dealing with dry, damaged hair I almost feel that my new hair care routine is helping restore my hair all while giving me a bit of new hope when it comes to hair- and I think I owe it all to CHI Haircare and the new CHI Styling Line Extension…


Recently the girls of The Beauty Council and myself teamed up with CHI Haircare as they launched their new Styling Line Extension of products, and let me just say- THEY ROCK! The CHI Styling Line Extension is full of some amazing items. The line consisted of: Dry Shampoo, Dry Conditioner, Texturizing Spray, Spray Wax, Reworkable Taffy, Styling Cream Gel, and Finishing Pomade. All the styling line extension items are meant to be multi- used as they are enriched with silk and ceramic to help bolster the hairs vitality as well as give you some versatility when it comes to styling. Since I am one that deals with dry, damaged hair on the regular due to endless amounts of heat styling, and just plain wrecking havoc, this new extension styling line is seriously rocking my world. I have gotten my hair styling routine down to a every two day schedule. Which you're probably wondering WHAT the hell is that? Well its simple, one the first day everything is freshly washed, dried and styled effortlessly with a slight boho wave, and on say two it looks a bit looser in waves and very Olsen-esque, by day three you have re-style a few sections to keep the look up, and by day seven the hair is definitely ready for a solid washing. So with that being said I have found a few solid tricks to help make curls and waves behave and stay in place for at least a solid 48 hours, involving very few products and very non-time consuming –which I love. So let's break it down: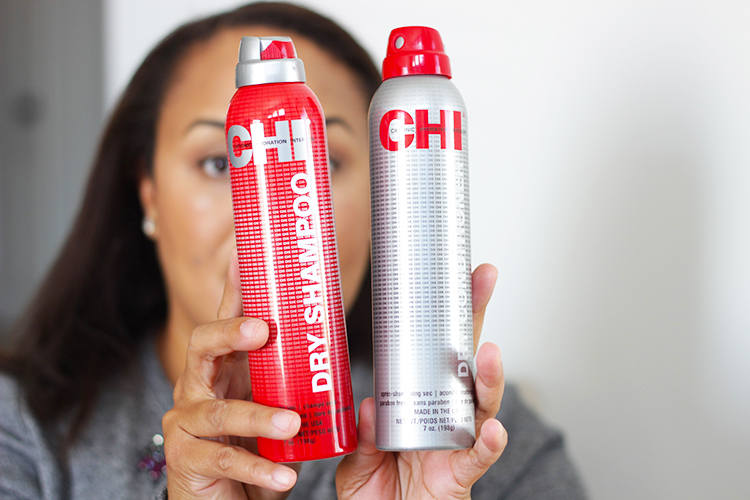 STEP 1: Wash your hair. For me this step is only applicable once a week when I wash my hair, so what I tend to do often is a nice refreshing prep of the with CHI Dry Shampoo– $18 USD, this dry cleansing spray is AMAZING as it helps absorbs and excessive oil all while rejuvenating the scalp without any water. Just spray onto the roots of the hair and massage onto the scalp.
STEP 2: I follow the CHI Dry Shampoo with a bit of CHI Dry Conditioner– $18 USD, you are probably wondering WHAT THE HECK A DRY CONDITONER IS? Well it is an innovative formula that is to be used without rinsing the hair, all while giving the hair some radiant shine and nourishment. Just spray from the mid of the hair to the ends and you instantly have nourished and conditioned hair, and let me just say this one, by CHI is seriously AMAZING!!!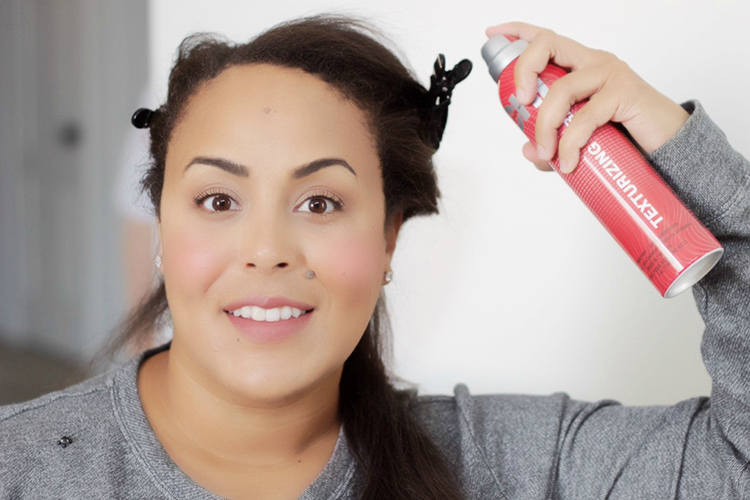 STEP 3: I prep the hair with a bit of CHI Texturizing Spray– $18 USD, this flexible hold texture spray helps smooth the frizz and adds a bit of the piecey-ness look to give hair. The texturizing spray at first feels weird when applied but it works a whole lot of wonders. TIP: Be warned TOO much of the texturizing spray can leave you feeling a little on the ultra greasy side a la grungy. A little is all you need!
STEP 4: I run my brush through the hair to section the hair and prep for curls. I usually start at the back of the hair when it comes to curling the hair. Grab a ½ to 1" section of the hair and wrap it around the flat iron. TIP: I wrap the hair around the flat iron allowing for no random kinks in the curls. Do NOY curl the hair all the way to the ends unless you want to have tighter curls. For a more boho wave look I tend to keep about a ½ of inch from the bottom of the hair to give it a more relaxed feel, and very a la Olsen-esque.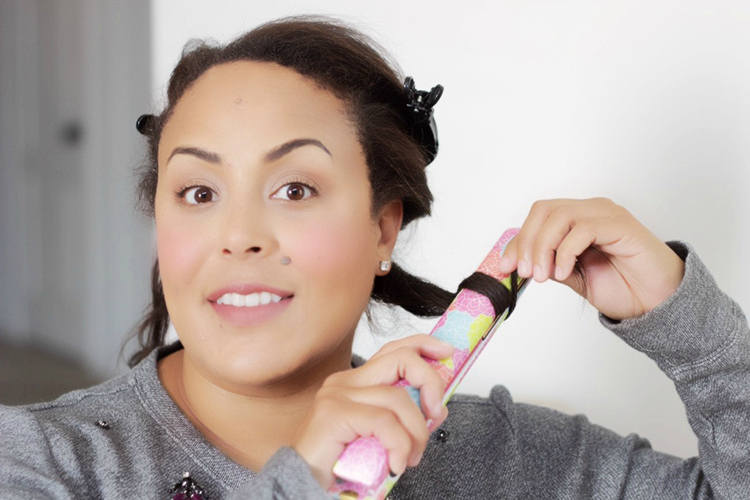 STEP 5: To give the hair some oomph and texture I tend to alternate curling directions. Some areas are going to be curled to the front, and some are curled towards the back. Once you complete the entire hair, you can add a bit of hairspray if you feel its needed. To add a entire oomph of volume to the hair you can take a the CHI Dry Shampoo and spray it to the roots to add some added oomph. To add some extra shine to the hair and ensure all the frizz is tamed I have been adding the CHI Finishing Pomade– $16 USD, applied to dry hair it helps control and maintain the frizz. You can add it to damp hair and achieve a very defined polished look.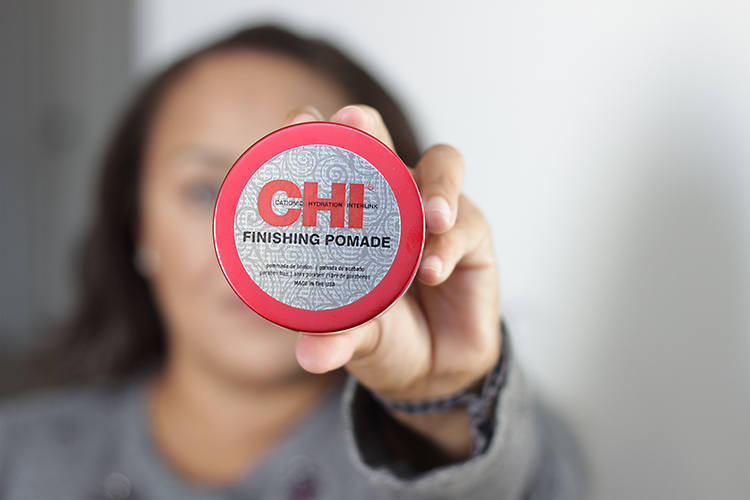 To extend the hairstyle for an extra day, I tend to throw my hair loosely at night with a headband. In the morning I add a bit of the CHI Spray Wax– 18 USD, to help revitalize the hair. This pliable hold spray wax, adds major staying power all while giving the hair the perfect piece look. The curls instantly look a bit better and almost more boho on day two as well. I love it! I promise you once you get the hang of flat iron curls you will never look at a flat iron the same again. On your marks, get set, Wave….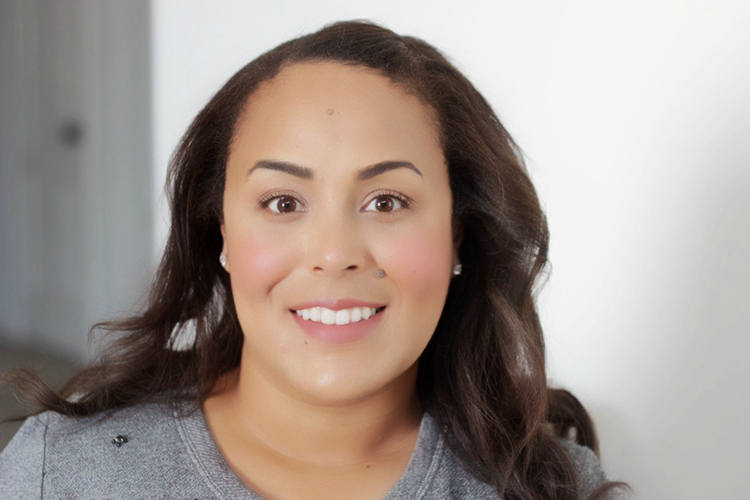 So there you have it, have you tried flat iron curls before? If so do you have any tips and tricks? I would love know in the comments below.
*PR SAMPLE
[otw_shortcode_divider margin_top_bottom="30″ text="SHOP CHI STYLING EXTENSION LINE" text_position="otw-text-center"][/otw_shortcode_divider]

[thefeedproducts style='four'] [ReviewDisclaimer]