This post is being written on behalf of Unilever. All opinions are my own.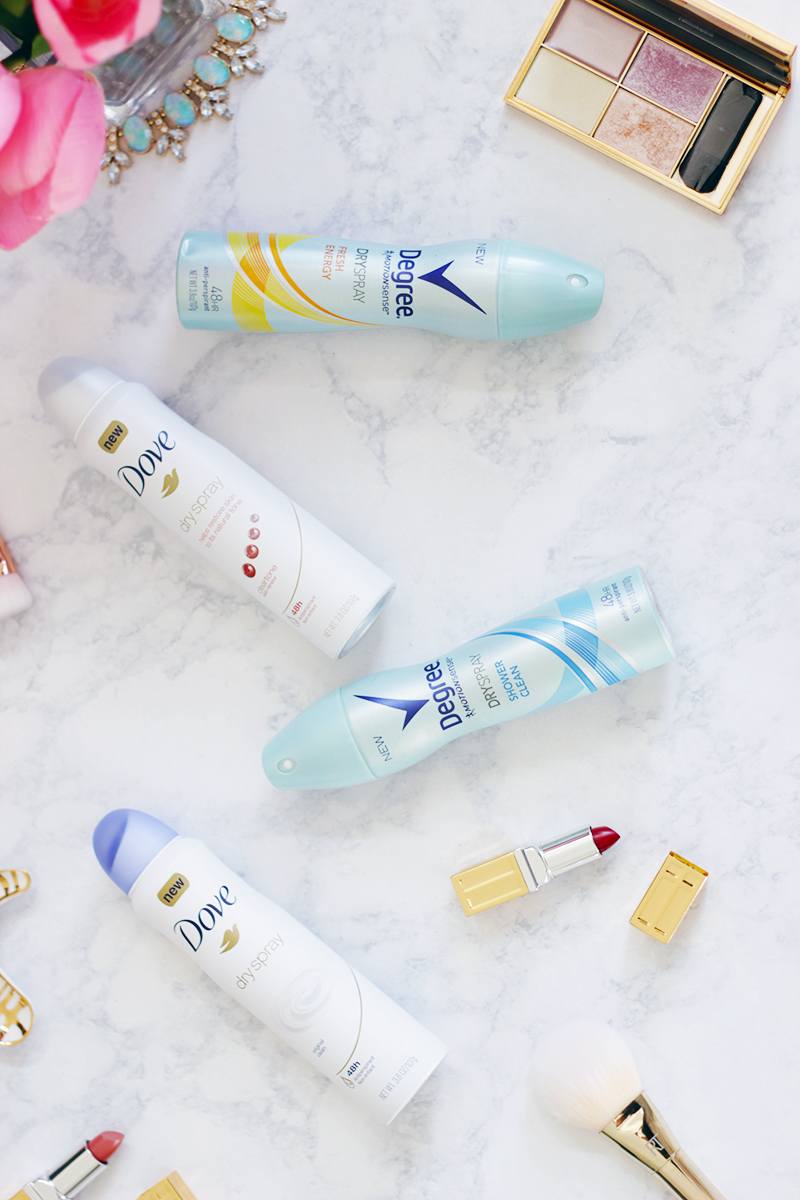 When it comes to antiperspirants one thing that I always am weary of is anything that won't keep me dry all day. I mean let's be honest- NO ONE wants to be a hot wet mess in the middle of the day, feeling less than fresh, right? Today I have partnered up with Unilever to talk about my newest favorite obsession- Dry Spray Antiperspirants.  On a recent outing through Walmart I ran across of these amazing looking game changers, and into the basket they went….
When I was at Walmart the dry spray selection was HUGE. I mean seriously HUGE and semi overwhelming- there were so many options to choose from: Dove, Degree, even men's selections. I of course ventured towards a few dry sprays that I have tried and currently use in the solid stick form. I picked up Dove Original Clean Dry Spray, Dove Clear Tone Skin Renew Dry Spray, Degree Fresh Energy Dry Spray and last but not least the Degree Shower Clean Dry Spray. Both Degree and Dove are trusted brands in my household as I love that Dove contains ¼ moisturizer into their formula to help give you soft, smoother underarms. I also love that Degree is superior protection with their formulated MOTIONSENSE protection for days that you workout or get super active running around.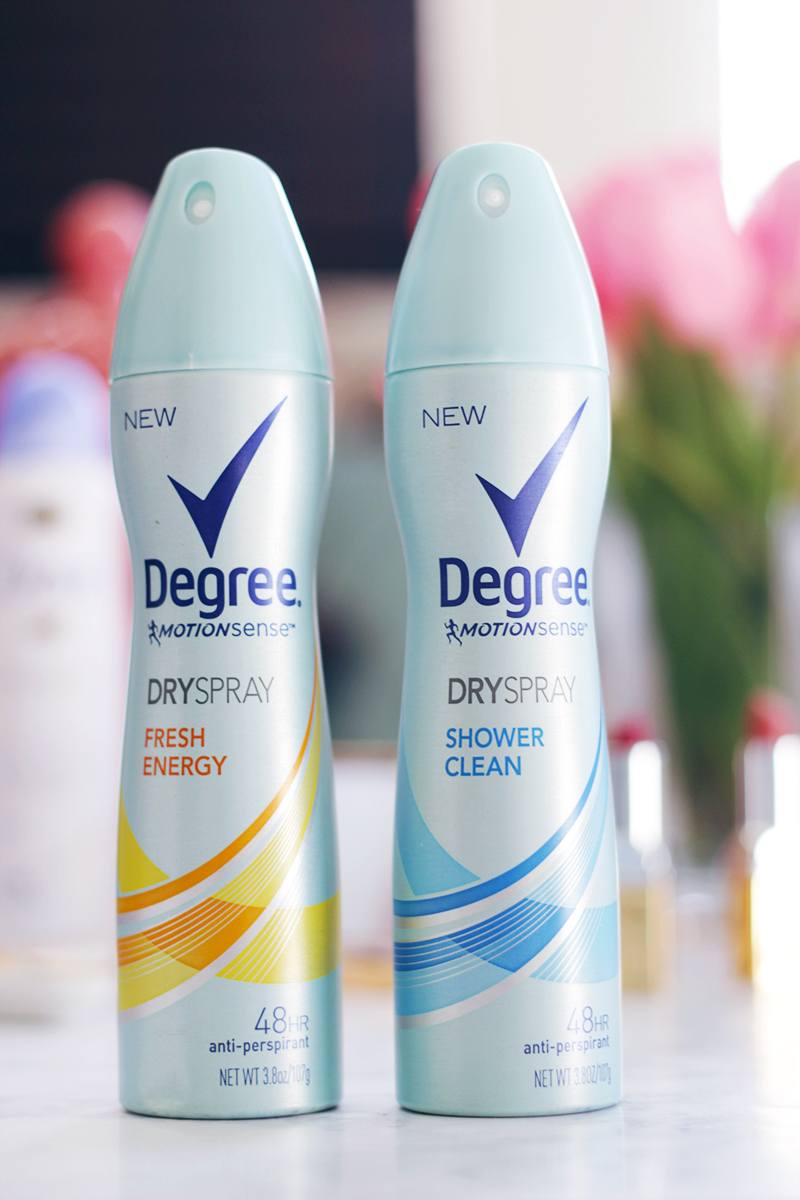 Now being the antiperspirant lover that I am, when I got home with my new dry spray antiperspirants I was thinking to myself- ' oh, no what I don't like these? Are these really going to work on my sweat producing self?' Since I tend to run a bit hot in my sleep lately, I figured a great test drive before setting out on the real deal would be to rock the dry spray while I slept. Fast forward to a the next morning, when I awoke fresh, clean and SUPER dry- my worries faded away pretty quickly.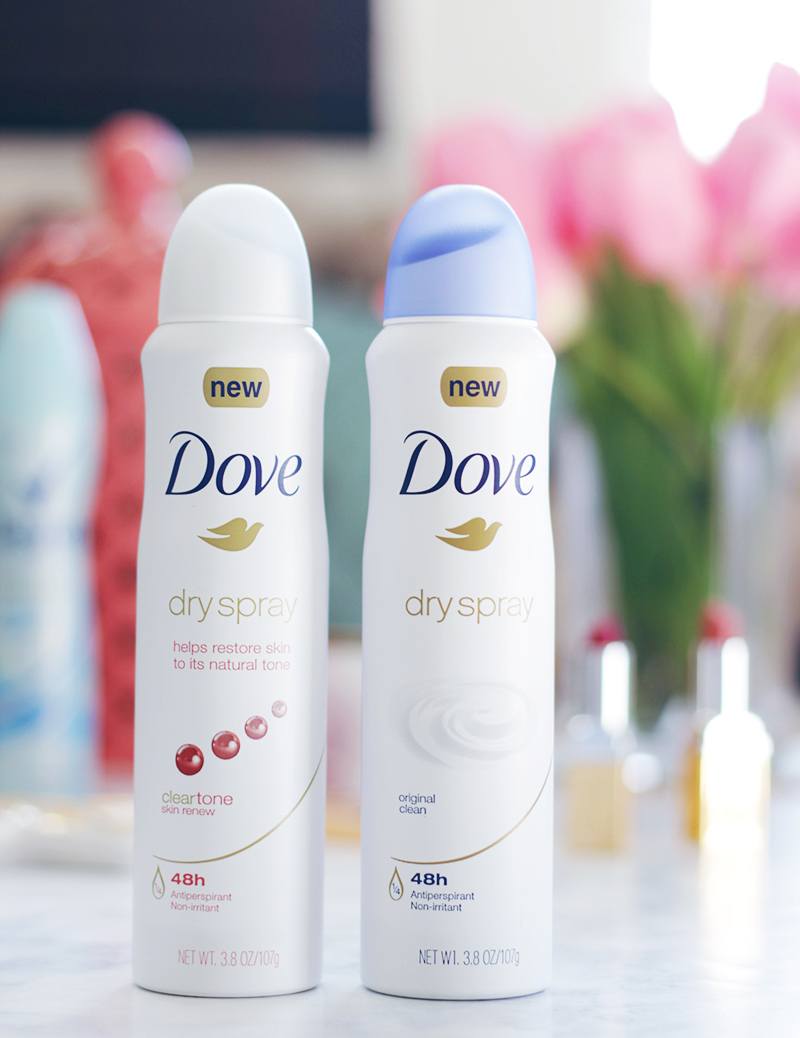 It's a bit of a weird sensation to get used to, especially if you're used to applying manually via the stick version. I mean hold the spray about 6 inches from underarms and spray. The first go round of using the dry spray I might have sprayed a bit TOO much- just envision a cloud of dry mist surrounding you. But after a few times of usage, I totally got used to the application method and learned the right amount of spray for me. I have been test driving these amazing dry sprays for a about a week, and here's the best bit- I don't reek nor sweat as bad as usual. Winning!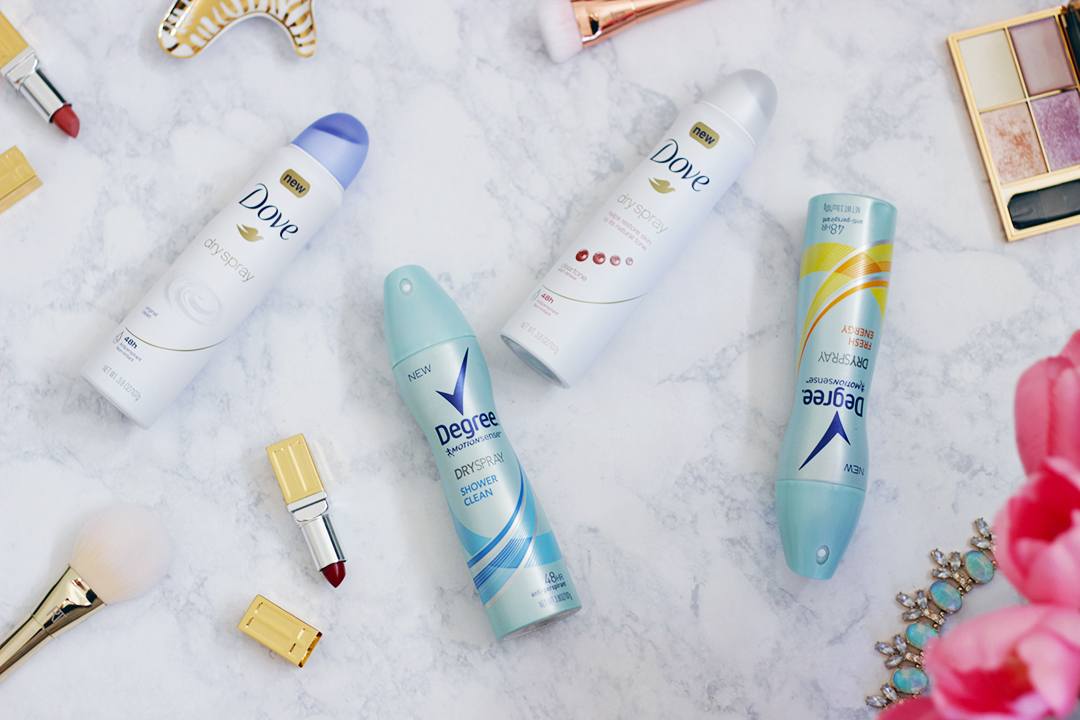 Although at first I was a bit hesitant both the Dove Clear Tone Skin Renew Dry Spray Antiperspirant with its lovely fresh scent of pear and watermelon mixed with sandalwood and violet and the Degree Shower Clean Dry Spray Antiperspirant with its clean and ultra invigorating scent with jasmine, rose and delicate fruit have made their way into my underarm arsenal.  My pits have never felt fresher and drier, I am obsessed!  So what are you waiting for? The New Unilever dry sprays at Walmart go on instantly for a cleaner feel and 48 hours of wetness protection. With a 4.5 star rating, Unilever dry sprays from Dove, Degree, and AXE offer a 100% satisfaction guarantee. See how it works and what people are saying- PLUS get a free full-sized sample HERE! Trust me you these game changers will become your BFF!  Stay dry and clean with a bit of help from Unilever Dry Sprays!
This post is being written on behalf of Unilever. All opinions are my own.
[ReviewDisclaimer]
Degree Degree Dry Spray Dove Dove Dry Spray Unilever Dry Spray