AFFILIATE LINKS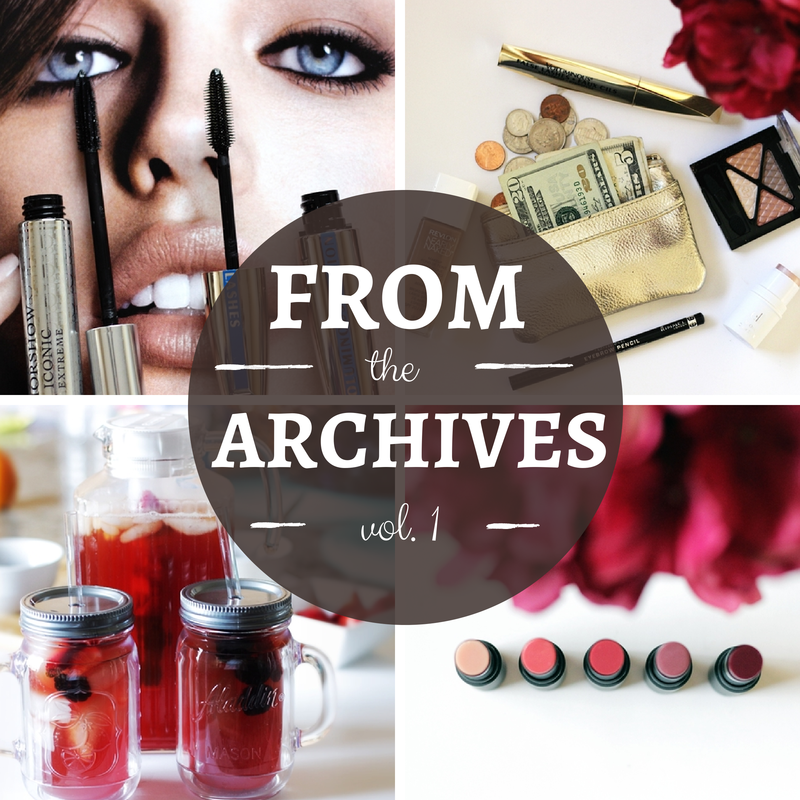 I have been writing on this here blog now for over a year and half now, and recently I was looking back through some old posts. In the midst of looking back at old posts, I have realized that I have been slacking lately in the writing department. I used to curate posts in the beginning at least three times a week, worked my way to five times a week and now I have been slacking a bit….. jamie you need to get back in the groove… and although I have been slacking I must say I am pretty proud of what this here blog has accomplished within a year of its beginning. So while looking ahead and getting ready to amp up some good things, I decided to dive right into a walk down memory lane. Sit, back, relax and grab yourself a beverage- if you are new to Makeup Life and Love or just want to catch up with some old posts, I bring you From The Archives vol. 1…
Blogging On A Budget: This post is something I am totally proud of- being some who blogs and at times falls into the hype of a product that is receiving praise in the beauty blog-o-sphere, this post made me take a step back and get smarter with blogging and products. It is a million times possible to create amazing content all while ensuring that costs are within your means; and the everlasting not falling into the hype. Albeit hard at times, because when nine million bloggers posts about something that sounds seriously amazing- I sure do have a hard time with temptation. But I am learning, it is a process.
High vs. Low Beauty: A series that I want to bring back in the next few weeks, after having so much great feedback on the budget beauty dupes that deliver high end expectations. We have covered: DIORshow mascara, MAC lipstick, CHANEL nail polish, CHANEL lip gloss, Benefit POREfessional primer, YSL Touche Eclat, and Clinique Chubby Sticks- whew…that was a lot of items covered. Stay tuned cause I have some GREAT ones coming up soon. *Sneak Peak- CHANEL eye quad, and more….*
Best Foundation Tips EVER: This is one of my most searched for posts to date. And I am extremely proud of it, I for one am a HUGE fan of Makeup Artist Wayne Goss and anytime someone promises long-lasting, perfect foundation- I am in. Tried and tested this tip totally rocks and is a current go to for this hot, hot, HOT summer we are getting in So.Cal.
Yes I Am Single, But Desperate I am NOT: So when I wrote this post, I was coming out of a long term relationship and instead of just taking my time, I succumbed to the pressure from friends and family to get back into the dating world. Let's just say I was trying the whole internet dating thing, after a few disasters I have learned it is NOT my style. Its a great read though, and for those of you who have found love via the internet, I applaud you and your patience. Prince Charming for me, didn't exist on the internet. At least I can say I tried, right?
The Art of Double Cleansing: A fairly new post, but the first of many skin care devoted posts that I have planned. I have been into new techniques and tricks when it comes to narrowing down my skin care regimen, and I will say that the double cleanse was one of the first that have done some serious changing to my skincare routine. I am loving it and the outcome, and soon you will hear many more tips and tricks, tried and tested that I have been using. A girl has gotta get hormonal acne and scarring under control. I am close **yayyyyyyy*
Beauty Behind The Blog: A fairly new series I have been doing lately. And I must say I am sooooo happy about it. I have meet some of the best girls in the world in the beauty blogging world, and I am honored to feature one of them weekly lately on the blog. Many of these ladies have enabled me beyond belief into getting some of the best products that I would never have checked out. So far with this feature we have met Laura, Eugenia, Stephanie, Angela, Lissa, Honey and so many more great ladies are to come. I hope you enjoy meeting them weekly as much as I enjoy learning and sharing their tips and tricks with you all.
Summertime Drinks with Keurig: Okay, so this is a super recent post- okay so it was published last week to be exact- but it marks the first of a few things. The first actual recipe post that I have ever created. I mean I have posted some food + lifestyle posts before, but this was the first that I created a recipe and actually penned it on this here blog. I really want to start utilizing different aspects of my life and push myself into more creative ventures rather than just beauty, so trying a few new things such as: food, photography, daily life, maybe some fashion- a bit unsure about the last one. But so far I have some great things to share, and you will probably start seeing more food recipes soon.
So that was a nice walk down memory lane, hope you enjoyed it with me. Told you it was a bit of a long one…. especially since I babble a bit when it comes to memories- hope you didn't mind too much. I will say we have some great things coming up on Makeup Life and Love, and I am super happy to have you all share it with me. Huge internet hugs and kisses- xxo..
Do you ever have a read through your archives? If so, what are your favorite memories?
SHOP THE POST:
[ReviewDisclaimer]