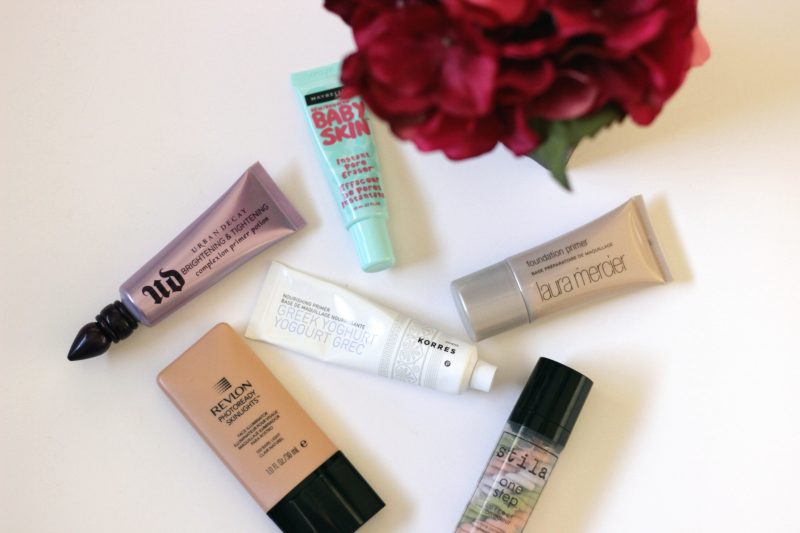 We have covered Foundations + Tinted Moisturizers, we have covered concealers, blushes, pressed powders, brows and nude lips…. So this week I was trying to think what else I can cover- and let me just say I have much more after thinking about it. But low and behold I am shocked I have not yet covered this weeks installment of Covering the Bases: Primers Edition…
I'm not one to over add the list of products in the whole makeup application process. Maybe it because I am a bit on the lazier side and sleep is important, or if it is because I am a big believer of the whole 'Less is More' type of daily makeup- but recently I decided I needed to add a bit of oomph to my daily routine. One to not want to do daily touch ups, or carry around more items in my already ginormous bag of life- so when I rediscovered a love primers lately and realized OMG why have I not been using a primer this long. Here is the long list of primers that I have been loving!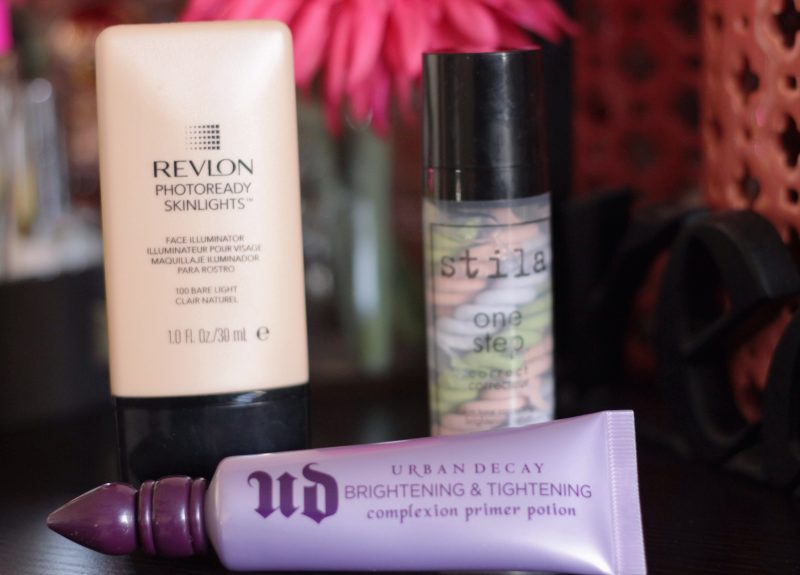 The Skin Tone Tamer- Stila One Step Correcting Primer– $36 USD. This primer is down right AMAZE-BALLS. Three in one color corrector's mixed within this moisturizing serum leaves skin beautiful. A color corrector, a brightener, primer and nourisher all while improving the skin tone, evening out the complexion and smoothing the fine lines. A nice dab of this on the skin, and literally skin doesn't need full coverage- swoon-love!
The Glow Giver- Revlon Photo Ready Skinlights in Bare Light– $7.99 USD. There is nothing like a primer that adds life back into the skin. Slighty sheeny with a bit of 'wake me up' oomph. This primer is a perfect light lending product that gives the skin a solid amount of dewy without making the skin look greasy or shiny but instead adds highlight in all the right places. Simply gorgeous and instant love to the skin.
The Keeping it Bright & Tight- Urban Decay Brightening & Tightening Complexion Primer Potion– $31 USD. One of the first primers I have ever tried and feel in love with fast. Dull Skin? Gone. Fine Line? Gone. Disappearing Foundation? Gone, Gone, and Gone.  This primer is probably one of the best I have tried EVER! Light weight, oil-free and non-greasy this formula literally tightens and brightens the skin. Perfect for all skin types from dry to oil, and from young skin to very mature skin. You need some moisture, or something to help even out your skin tones- This is the ONE!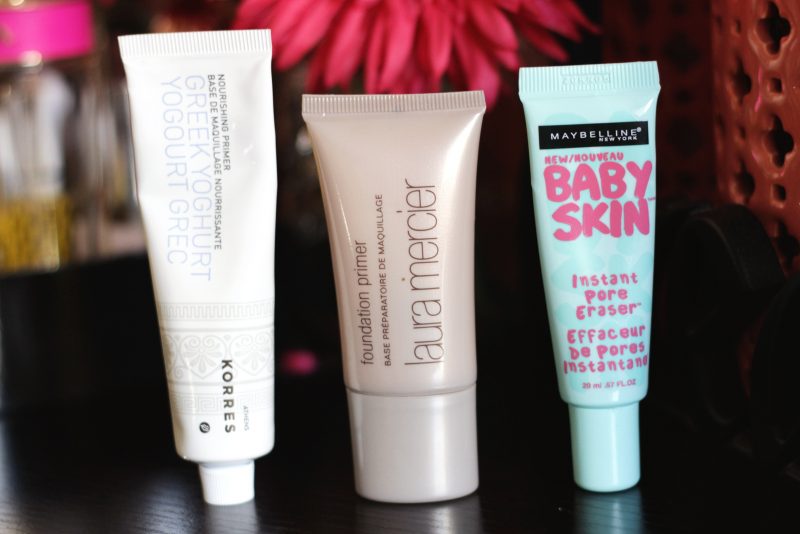 The Nourishing One- KORRES Greek Yoghurt Nourishing Primer– $30 USD. This primer is perfect for those with dry skin. OMG it is a miracle hydrating primer without the nasties. A skin perfectoring, silicone-free primer enhanced with Greek yogurt for some extra long-lasting oomph to the makeup routine. Skin is left instantly soft, even and slightly dewy with this super protein packed gel-like texture. I know in the winter months, my skin drinks this primer up or when I am looking for a bit of a dewy finish with a matte foundation, this does the trick instantly.
The One For All Skin Types- Laura Mercier Foundation Primer–$33 USD.  If there ever has been a primer for all skin types, then this is the one. This vitamin enriched, water based primer is hands down phenomenal. Invisible on the skin this primer is the perfect skin buffer to keep outside elements from skin all while holding foundation in place. Vitamin A, C and E this primer adds some much-needed oomph to the skin. I can see why Laura Mercier is one of the top primers in the makeup game. Simply just phenomenal on the skin.
The Pore Perfecting One- Maybelline Baby Skin– $4.19 USD. I am not one to put this one all over the entire face, so I tend to take a little dab and add it to the areas that my shine is shiny, or the pores are obvious- a la the nose. Super light to the touch, this silicone based primer will fill the areas in temporarily that you need filled so that makeup doesn't sink into the pores. A more in-depth review can be found here.
Let's face it primers are an extra step in the daily routine- that at times is a bit hard to incorporate everyday- ain't nobody got time for that. However when you have a few extra minutes to spare a primer is one of those things that add some oomph and lasting power to the complexion. Whether you use one or two or are like me- a mixer of a few – sometimes primers is what your skin needs.  And lets face it-  the skin needs what the skin needs! 
[ReviewDisclaimer]