Disclosure: This post is written in partnership with Redken via Conde Nast. All thoughts, opinions and tips are my own.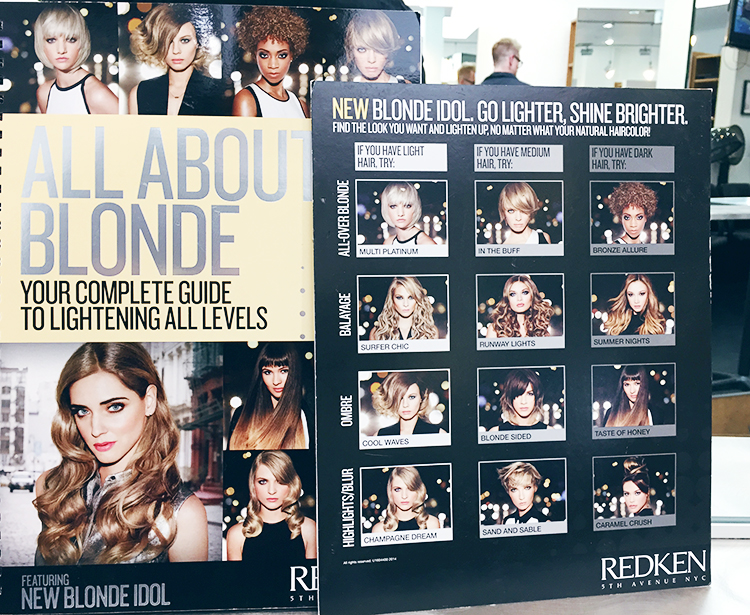 Is it just me, or lately are all celebrities starting to go blonde? From Nicki Minaj to Gwen Stefani even Kim K getting in on the blonde action, everyone seems to have a bit of the whole 'blonde have more fun' idea going on. So imagine when I was given the chance to head over to the most notable zip code in America- yep you guessed in 90210, to see celebrity colorist Summer Sararo at the Gavert Atelier Salon to go-drumroll please-you guessed it BLONDE and also to learn a bit more about the new Redken Blonde Idol line, I was elated with joy. Nervous, anxious and excited I headed out to Beverly Hills to meet with Summer and to learn more about the Redken Blonde Idol line, find out how it went…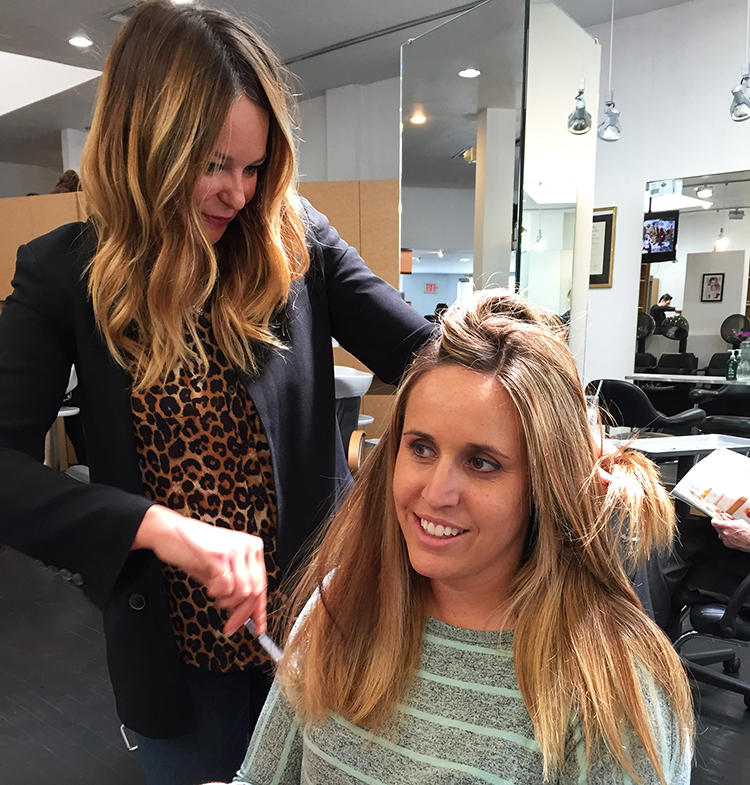 Let's talk a bit about my history with hair coloring. From the time I started to bleach my hair in high school, I have always teetered between going blonde a la Marilyn Monroe and going dark, always finding my color somewhere in between my normal shade of brownish, dirty blonde. I can honestly say I have semi tried it all when it came to color from highlights to ombre to at home dye jobs- but I never quite knew much about color other then the key world: color and bleach. So sitting down with Summer I was given the chance to talk about how to go about finding the right shade of blonde for me. According to Summer, Redken created the Blonde Idol line to help show women that everyone can be some shade of blonde. Ranging from champagne blonde, to platinum all the way to a caramel, honey blonde everyone dark or light haired can achieve their ideal blonde shade via highlights, balayage, ombre or all-over color. When choosing the perfect shade of blonde Summer said it comes down to two things:
JUDGING THE SKINTONE– Pink based skintones do NOT want to ever go to a super yellow based blonde (like a honey) because it often will accentuate pink undertones. Those with a pink skintone should stick with a shady blonde shade, as it was always make them look tanner and never pink.
ALWAYS USE A SWATCH OF NEUTRAL BLONDES– this step is SUPER important when you are going from dark to light. It is the best way to check and confirm what shade of blonde would look best on you and your skin tone while giving a visual feeling before jumping right it.
NOT SURE WHERE TO START– bayalaye and ombre can be awesome starting points to help transition from dark into blonde. But another great starting point is highlights. When it comes to blonde ANYTHING GOES it is all about skintone and the correct application of blonde on the hair to jump in and go lighter.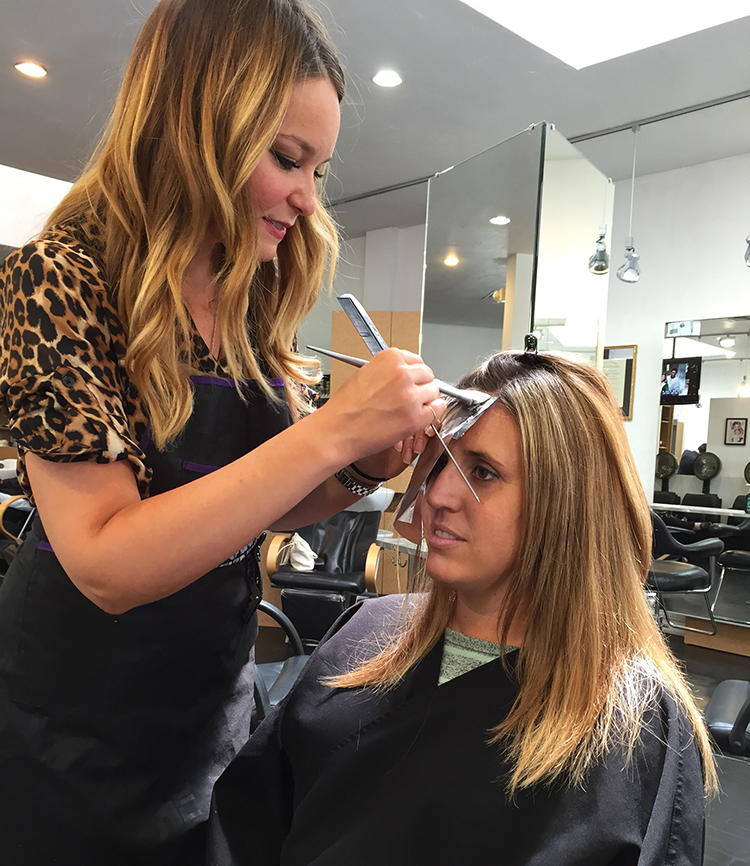 Summer assessed my current hair shade-which currently is a mix of previous blonde highlights and a bit of light brown under tones– to determine that I was a cool toned blonde and that my shade combination should be a: Redken Blonde Idol High Lift Conditioning Cream Base in shade Violet Violet (VV) to give my hair a double dose of cool mixed with the Redken Blonde Idol Blonde High Lift Conditioning Cream Base in shade Pearl P to help give the hair dimension, topped with a bit of a 5/15 Lift Lightener which is an ammonia free formula that helps conditioner the hair while working its magic- this stuff is so good that it can even be used on fragile hair and will help NOT break the hair! Amazing, right? We decided to go with all over highlights to help add some beautiful dimension and natural looking blonde highlights all over would help me looking like I spent a summer away at the beach- instantly sold.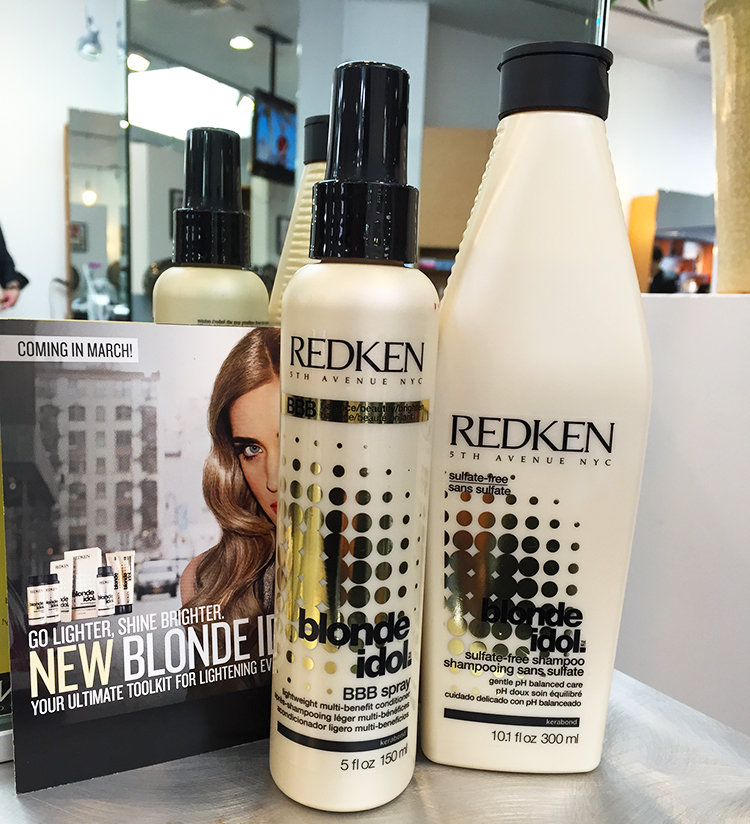 The Redken Blonde Idol line was created in mind that everyone wants to go lighter. From platinum blonde to espresso with caramel highlights, you can still go lighter. After years of unique research the Redken Blonde Idol line was created to help ensure that the shades mixed together would help achieve the most gorgeous shade of blonde ranging from honey blonde to platinum they crafted this line for everyone who has ever wanted to go lighter in mind.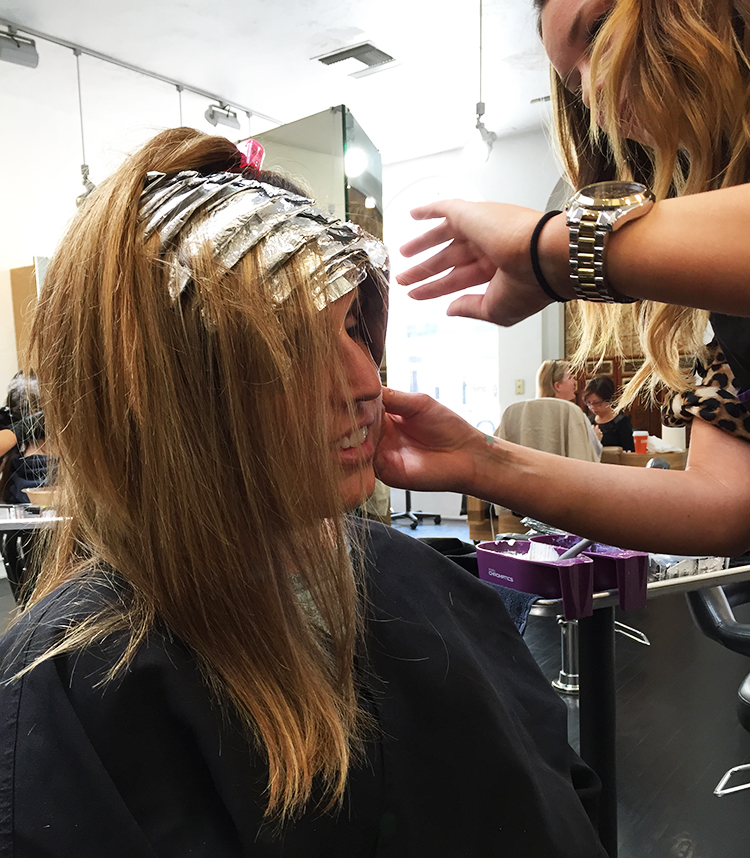 The hair foils went on and the waiting began before I unveil a brighter, blonder me. Since I had an upcoming Hawaiian vacation coming, I asked Summer what tips and tricks she could recommend to ensure that the summer heat and salt water in Hawaii wouldn't take a number on my hair. Heck I want to prolong this blonde, not ruin it on vacation. So she broke down a few key tips:
TIP 1: DON'T WASH HAIR DAILY– so naturally I like to wash my hair daily. Summer recommends that if that is your nature, instead of washing hair every day try to go at least every other day. If you must shampoo your hair everyday due to a oily scalp then Summer recommends alternating between both a sulfate free shampoo like the Redken Blonde Idol Sulfate-Free Shampoo and a normal shampoo. This will help ensure that your hair will hold color and ward of any brassiness as well.
TIP 2: UTILIZE A HAIR CONDITIONER/LEAVE IN TREATMENT- the beach and salt water can leave hair damaged, so Summer recommended that best thing to do before the beach is to lather hair with a leave in conditioner like the Redken Blonde Idol BBB Spray this can be spritzed on the hair and left in during your time in the sun all while protecting your hair from the salt, chlorine and heat AND bonus0 it will also repair your hair at the same time. BONUS: The BBB Spray can also be used as the perfect heat protectant for up to 450 degrees in temperature.
TIP 3: USE A TREATMENT CONDITIONER TO PROLONG COLOR AND MAINTAIN- using a treatment conditioner like the Redken Blonde Idol Custom Tone Conditioner for Blonde Hair (in either Violet for Cool toned blondes or Gold for Warmer toned blondes) will help you prolong your color until your next hair salon visit. This dual chambered conditioner features a awesome custom dial that deposits the correct amount of color deposits based on the weeks out that you are helping you maintain your color all while nourishing your hair. You can you use the conditioner daily if needed on the lower levels, and up to twice a week when you get to weeks four, five and six. BONUS- if you want to add a bit of lavender oomp to your ultra blonde pieces you can take the activated dial pigment and dose hair as a leave on conditioner locking in a bit of the lavender pigments with a blow dryer- fun, right?
Once my hair was completely ready to be washed out, Summer washed my hair and applied a nice hair treatment with the Redken Blonde Idol Hair Mask– OMG this mask was amazing. Not only that but while it was penetrating my hair, I was sitting in a reclining chair watching a movie on the salons flat screen TV above the washing station. At this point my hair feels like it has been pampered to sheer perfection. Leaving the hair mask on for about 10-15 minutes to give the hair some ultra pamper, I sit back, relax and enjoy the movie playing on the screen.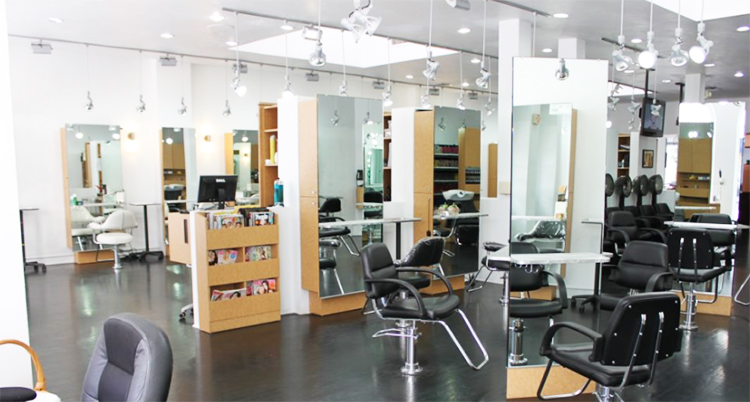 Let's take a minute and talk about the Gavert Atelier Salon, this salon opened back in 2004 and let me just say this salon ROCKS! A serene environment filled with some of the nicest staff I have ever met, each and every stylist and colorist is literally the nicest person you have ever met. The salon is literally in the heart of Beverly Hills on the corner of Brighton Way and Bedford Blvd. The salon itself is a true gem located amongst the hustle and bustle of Beverly Hills, with its bright and airy windows and gorgeous light enclosing skylights- this salon is literally beautiful. Hands down the home to celebrity stylists and colorists alike you can often find Hollywood's finest ranging from Jessica Alba to stars from Dancing with the Stars and Hunger Games; there is never a dull moment at the Gavert Atelier Salon when you are surrounded with the best of the best. The stations are my favorite part as each has amazing lighting, full-length mirrors and ultra lux chairs. I can honestly say I am OBSESSED with this salon- the look and feel are cozy yet luxury. So with that said if you haven't had a chance to check out the Gavert Atelier Salon, you MUST put it on your list when in Beverly Hills.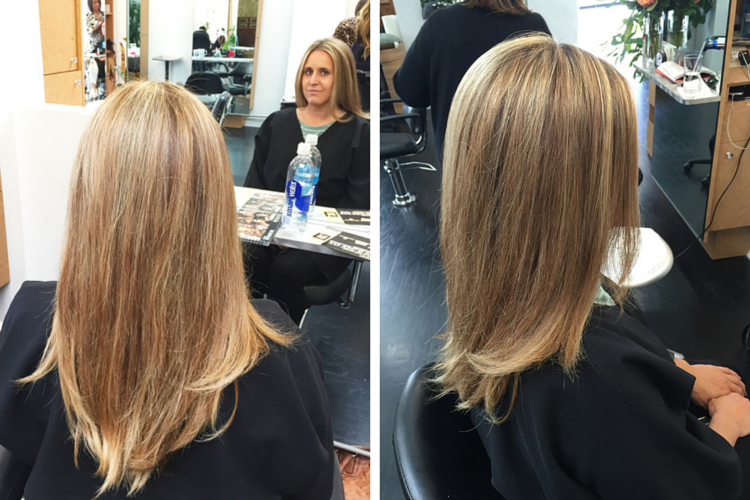 15 minutes are up; my hair is rinsed thoroughly with the most AMAZING hair/scalp massage I think I might have ever had. Off to the chair with Summer to unveil my beautiful new blonde. After the perfect blow out, Summer turns me around and literally I am OBSESSED with my new blonde. The shade is bright and beautiful with gorgeous dimensional highlights all over. I can honestly say this shade of blonde is hands down the BEST blonde I have ever tried- and trust I have tried multiple shades- my hair feels amazing, and my color after 2 weeks so far isn't even close to being brassy. I am IN LOVE! Before leaving the Gavert Atelier Salon, I go over my new hair care regimen to prolong this gorgeous blonde for as long as possible. Here is the breakdown:
Jumping with joy and loving my new hair, I thank Summer and the Gavert Atelier Salon . Off I go, I think this girl needs to hit the town and prove maybe blondes do have more fun…
Have you tried the Redken Blonde Idol line? I promise you won't be disappointed, you want to go blonde, NOW is the time- UNLEASH YOUR INNER BLONDE! Let me know what you think, do you like the blonder me?
Want more information on all things Blonde Idol? Head over to their social media sites and drop them a line on Facebook, give them a shout out on Twitter or follow Redken, as well as celebrity colorist Tracey Cunningham on Instagram for some major Behind the Scenes things with #RedkenBlonde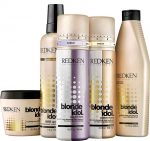 *Thank you Redken via Conde Nast for sponsoring this post. A huge thank you to my lovely friend Megan and a SUPER huge thank you to the Gavert Atelier Salon and to Summer Sararo for being awesome.  As always all opinions are of my own and my own only.