This post has been sponsored by RoC via SocialStars. All thoughts and opinions are of my own. #RoCRetinolResolution #WomenWhoRoC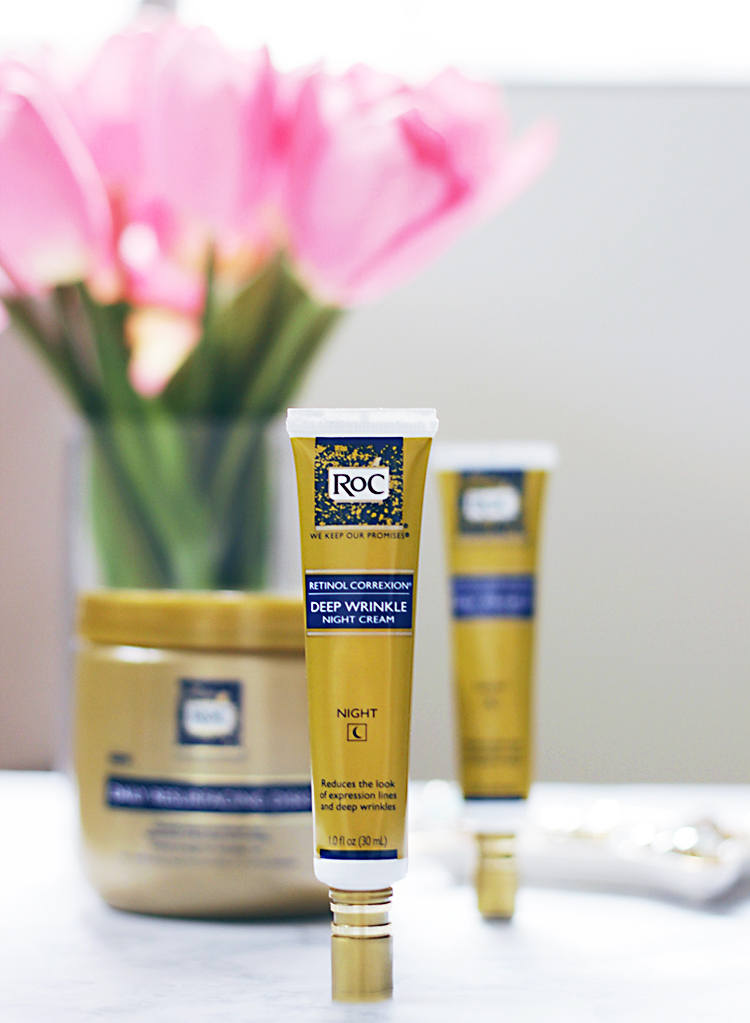 While I realize that we are coming upon Halloween right now, we are also nearing the beginning of holiday season- seriously you all Christmas will be here QUICK, the mall is already breaking out the decorations– as scary as it might be that the holidays are coming fast, you have to admit –it's the best time of the year! Who else is ready to get festive? *raises hand super high* I love this time of the year, and getting ready for our annual Holiday Christmas party- friends, family and neighbors all gathered together to drink, eat and be merry- seriously I love this time of the year! I thought it would be nice to share my holiday prep timeline to help you all look your best as we gear up for the holidays…

ONE – TWO MONTHS BEFORE YOUR EVENT:
Get your skincare on in a MAJOR way! There is nothing worse then looking back at your holiday event pictures and realizing that your skin is looking less than sub-par. So to eliminate that from happening, the best thing to do is kick your skincare into high gear. This year I have turned to a product that I cant believe I ever lived without. RoC Retinol Correxion Deep Wrinkle Night Cream is the crème de la crème of skincare as it super effective to give you results in just 4 weeks. Two times stronger then its imitators, the RoC Retinol Correxion Deep Wrinkle Night Cream, is chalked full of amazing ingredients with the #1 ingredients recommended by all dermatologists for anti-aging- Retinol! Since turning 30 years old, I have started to address anti-aging in a major way- I mean we all strive to stay young forever, right? Stress, poor diet, and the environment are just a few key components that can cause the skin to age quickly. RoC Retinol Correxion Deep Wrinkle Night Cream has become a major essential part of my skincare to get ready for the holidays as it has helped revitalize my collagen depleted skin all while lessening the appearance of pores, fine lines and wrinkles- and the best part! It works its magic all while I am asleep! Seriously you all my skin will be in tip-top shape for all those family photos and friend loving selfies at our Annual Holiday Christmas Party.

ONE WEEK BEFORE THE EVENT:
Get your highlights, faux tan and exfoliation on! If you are in need of a bit of a glow due to the lack of sunshine in your weather forecast, the week before your holiday party is the best time to do it- nobody wants to be oompah-loopah orange in those photos. One week out gives you the ample amount of time to tone that tan shall you choose to go a bit too dark or orange. Soft skin is always in, but dry winter months can make it a bit hard to obtain. Exfoliating the skin will help you get your skin softer and smoother, removing dull layers of dead skin is just want you need to get that glow before your holiday party. Is your hair in need of a bit of reviving? Now is the time to get those roots touched up, highlights applied, or just getting a rocking blowout or hairstyle. You know the saying- 'When you look your best, you feel your best" now is the time!

ONE DAY BEFORE YOUR EVENT:
Get all your beauty stuff done- you know the drill: manicure, shave, wax, thread- whatever you fancy. Have you been dying to play with that deep berry lipstick? Now is the time to test-drive it out. Perfect your favorite cat eye or application of false lashes- the day before any event is the best time to iron out any kinks that might occur the day of the event.

ON THE DAY OF YOUR EVENT:
The day of your event there is nothing else to do but- get ready, enjoy your day and glow! Thanks to prepping your skin in advance with RoC Retinol Correxion Deep Wrinkle Night Cream your skin will be seriously STUNNING in every picture that you grace your presence. Trust me, YOU will be the first thing everyone notices when you walk in the room- prepare to be amazed as you make a lasting impression… and look fabulous!
How do you get ready for special holiday parties? Let me know in the comments below…
[otw_shortcode_divider margin_top_bottom="30″ text="SHOP THE POST" text_position="otw-text-center"][/otw_shortcode_divider]

This post has been sponsored by RoC via SocialStars. All thoughts and opinions are of my own. #RoCRetinolResolution #WomenWhoRoC
* PR SAMPLE
[ReviewDisclaimer]